The Guardian Angel of Hillbilly Heaven
Article and Photos by Kathleen Walls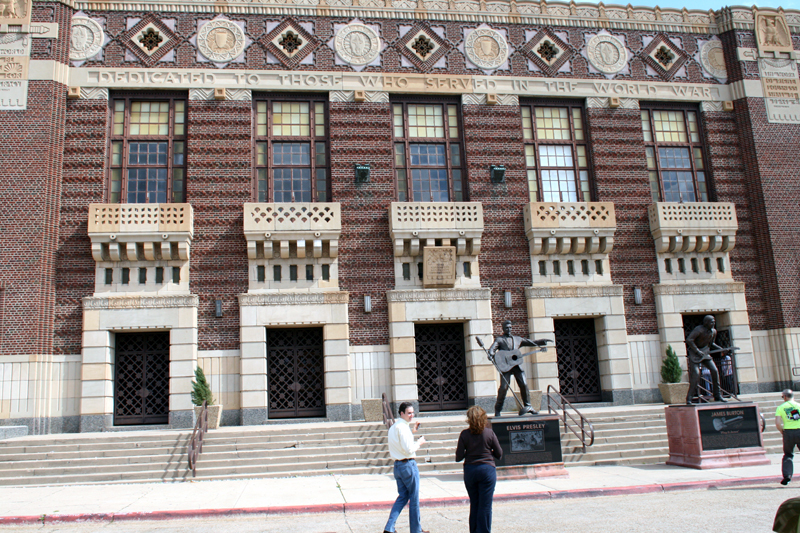 The magnificent Municipal Auditorium in Shreveport
It was like a dream of Hillbilly Heaven. I was walking in the footsteps of Elvis Presley, Hank Williams, Sr., Johnny Cash and many of the other Country Music greats. I was getting a backstage tour of the Shreveport Municipal Auditorium, former home of The Louisiana Hayride. The person reveling this wonderland of one of country music's greatest shrines, was none other than Maggie Warwick.
Maggie Warwick with visitors at the auditorium
When Maggie, then Margaret Lewis, first sought her slice of the country music pie in 1957 at the tender age of fifteen, she could have no idea that her career was to intertwine with most of the greats of country music. The Louisiana Hayride at that time was an outlaw version of the Grand Ole Opry. It was the proving ground where many a young hopeful took his or her best shot at fame. It catapulted some previously unknown talent to the top of the heap. One example was a teenage boy from Memphis. On March 3, 1955, Elvis Presley made his first television appearance on the television version of The Louisiana Hayride.
| | | |
| --- | --- | --- |
| | | |
| Dressing room Elvis used at the Hayride | Elvis portrait | Copy of Elvis' Hayride contract |
Another star was born on a
Saturday night in 1948 when Hank Williams sang "Lovesick Blues" to a Louisiana Hayride audience. Previously, Hank had played unknown bars and local joints. He went on to become one of the Hayride's earliest stars.
Hank Williams and his Drifting Cowboys when they played
The Louisiana Hayride Photo credit Lum York
For Maggie, the Hayride was where it all began to come together for her. She met the greats of Country music there and moved on to a successful career as a singer/songwriter in Nashville. Lewis first signed with Mira Smith, a local business person who ran a small record label and a studio called Ram (short for "Royal Audio Music").
| | | |
| --- | --- | --- |
| | | |
| Pictures at the auditorium, Hank Williams | Johnny Cash | Patsy Cline |
Maggie teaming up with Mira Smith as a songwriting team. They saw immediate success with their "I Almost Called Your Name," which was a hit for Margaret Whiting. This was followed with David Houston's recording of their "Mountain of Love." At this point they decided to move to Nashville in 1966. There they signed on with Shelby Singleton's new venture, SSS Productions, and provided massive hits for Peggy Scott and Jo Jo Benson ("Soul Shake") Jeannie C. Riley ("Country Girl") and Johnny Adams (the country soul classic, "Reconsider Me"). They also were responsible for Connie Francis' hit, "Wedding Cake."
| | |
| --- | --- |
| | |
| The matching statures in frornt of the auditorium of Elvis and most famous band member | James Burton played with TCB Band, Elvis Presley, Ricky Nelson, John Denver many others |
In all, Maggie has had more than 100 songs cut by artists including Dolly Parton, Loretta Lynn, Conway Twitty and Lynn Anderson, and two of her songs are included on the 2005 Grammy-winning compilation of Nashville soul, Night Train to Nashville. Maggie also had a contract with Capital and UK Starlite records. Some of her best work is still available in two different albums: "But I Know What I Like" and "Lonesome Bluebird."
This is a music personage who crossed all the lines. She knew the country music greats, the songwriters, even the politicians by way of her close friendship with Louisiana' Singing Governor, Jimmie Davis who died in 2000 at the age of 101.
Last October, Maggie Warwick co-hosted with "Shot Gun Ken" Sheppard, at a special tribute to Hank Williams, Sr. featuring Jett Williams. There were lots of other talent on hand as well including 13-year-old Matthew Davidson who plays a might mean guitar. The event celebrated the Shreveport opening of the film Last Ride remembering the last 72 hours of the country legend's life. The Louisiana Hayride show was held that same afternoon at the historic Strand Theatre premiered the Louisiana showing of the film.
Maggie Lewis Warwick
At an age where many people retire, Maggie and her husband Alton own the Louisiana Hayride and are working hard to return

Louisiana Hayride to its rightful place as one of the top star studded music venues. Maggie's voice carried her to heights many only dream about. Her talents have earned her the 2008 Offbeat Lifetime Achievement in Music Business, the first time a recipient in this category is as well known as a performer and a songwriter as a business person. Maggie still belts out her personal brand of Rockabilly/Blues/County such as "Shake a Leg" and "Cheaters Can't Win"

and performs regularly in the Shreveport Bossier City area. She is spearheading an effort to create a Louisiana Songwriters Hall of Fame in Bossier City. I have no doubt that when that Hall of Fame opens. Maggie Warwick will be one of the first to be honored for a musical career that is hard to top.
If you love Shreveport Bossier City try this
Virtual Personal Tour of Shreveport/Boisser City celebrating Mardi Gras