Laketown Wharf Resort
Spacious interior at Laketown wharf
Article and photos by Kathleen Walls
My assistant/daughter, Veronica, and I visited Panama City Beach in November (See Off the Interstate) and had a great experience. We stayed at the Laketown Wharf Resort in an Egret apartment, one of three larger vacation rentals, with a full kitchen–it was so nice not to have to squeeze everything into a mini-fridge– a great room, two bedrooms, two baths and over 1200 sq ft of space. We were not there long enough to need it but it was nice having our own washer and dryer in the unit just in case. There was a balcony with a gorgeous water view overlooking the gulf.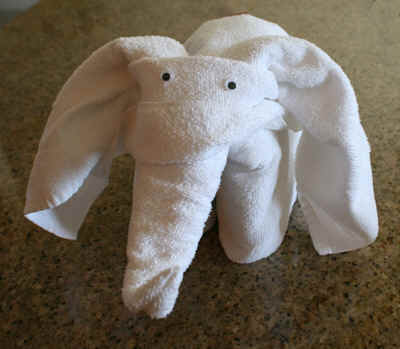 Isn't he cute?
We were on the 17th floor and the view from the walkway in front of our suite was equally fantastic. Here we could watch the nightly dancing fountains show. The attention to detail was unbelievable. For instance, even our dish towels were folded into cute animal shapes with little removable eyes. There were all the amenities anyone could want.
My favorite "little extra" was the dancing fountains. Each night at 8 PM, the music began and the fountains danced high into the sky showing off dazzling colors that changed to fit the music. It's the kind of thing you can watch for hours.
The place is overflowing with pools. There are five pools, some for adults only, some family and one for the kiddies. And remember you are only feet away from the white sand beach and emerald waters of the Gulf of Mexico. There is a fitness center, two covered parking garages, a playground and plenty of lake front seating as well as a pier and wharf surrounding the lake where the fountains are located. We watched the show one night from a table down here but the view was better from upstairs. Still, it is a great place to relax with a drink and let the clear lake waters relax you. The entire downstairs are going to be boutique shops and dining but in November, they were remodeling.
The dancing fountain reflected in the lake
The location is great as it is just a short distance from almost any place you want to go; great restaurants, shopping, museums, attractions and the beach, not to mention more mini-golf courses than you have ever seen in one city. The Firefly Restaurant ( see Fork in the Road) is about five minutes away. Should you have a birthday or other occasion calling for a cake while in Panama City Beach, the very best place to fine a custom decorated one is at Fatty Patty's. They also serve killer breakfasts and lunches. (There will be more about Fatty Patty's in an upcoming issue.)
Two of the gorgeous pools
One of the most unique features about Laketown Wharf is that it is not just a hotel. It offers long term apartment rentals for people wanting to live in luxury just steps from the beach. It also offers condo style rentals for several months which is perfect if you are a snowbird looking to spend the winter somewhere where the only snow-white expanse you will see is the sugar sand beach.
Laketown Wharf Resort is where I wish I was right now.
For more info:
http://www.laketownwharf.com/