Latest Stories
by Kathleen Walls
You know a city has come of age when they repurpose a classic piece of their history. Detroit has done just that with the new Foundation Hotel. It opened the 100-room boutique hotel in May 2017 in what was once in the Detroit Fire Department headquarters. The building that is now the hotel was built in 1929, but this location housed fire equipment from 1840 until the Detroit Fire Department abandoned it in 2013. The end result is a blend of museum, art gallery, upscale dining and lodging with a touch of a local hangout. Read more
by Kathleen Walls
A road trip down Georgia's I-75 from Tennessee to Florida offers lots of fun stops along the way. Navigating I-75 through Georgia can be a nightmare. Or it can be fun.  The difference is in finding good food and interesting attractions with convenient stops en-route. Read more

by Anne Jenkins
Early in October you're standing among hundreds on a historic Main Street watching two long lines of enthusiatic citizens, in groups of three. Each group is holding up a ski with three attached shot glasses topped up with whisky, all trying to drink it at the same time. Pinch yourself, you're in Utah. Park City, to be exact, and they're engaged in a friendly rivalry with Breckenridge, Colorado to see who can get in to the Guiness Book of Records in 2018 for the "Shotski Challenge". Park City won. Breckenridge swears to rise to the challenge in 2019. Everyone has a grand time and lots of money is raised for local charities. Read more

By Renee S. Gordon
Louisiana is internationally famous for its Cajun and Creole cuisine and generally Chef Paul Prudhomme is credited for its introduction and popularization into the American mainstream. You can literally find great food everywhere in the state but ground zero for fresh, locally sourced, regional dishes is the Lake Charles area in Southwest Louisiana (SWLA). Here visitors can craft a special experience and soak up the history that led to this unique culture as well as dive into the adventure, music, art, festival, beverage and dining scenes. Read more

by Tom Straka Photographs by Pat Straka
Back in the Fall 2014 we visited Cave-in-Rock, Illinois, on the edge of the Ohio River where a free ferry crosses over to Kentucky. It is a favorite route of ours and an especially fun alternative that avoids the interstate, facilitating a cross-state route (the long way) on mainly U.S. highways. We've covered the history and geology of the location in the past issue, but missed a key aspect that makes the stop even more attractive.

 

So attractive, we've revisited it.

by Kathleen Walls
It's so nice when a historic building gets refurbished for a new use. Such is the case in Pittsburgh. The Drury Plaza Hotel was once the Federal Reserve Bank of Pittsburgh.  The Georgia marble faced Art Deco building began life in 1931 and was bought by the hotel in 2013 and began renovations in 2014. The Drury has kept many of the historic features. Read more
Story by Tom Straka
Photos by Pat Straka
My spell checker tells me I have two suspicious words in the title. It has not heard of turpentining or a catface. Many of the readers can probably figure out what the former means, but I bet they don't know what the latter is. There are lots of festivals across the country which provide a travel adventure immersed in local history and folk culture. The CatfaceTurpentine Festival held annually in early October in Portal, Georgia is one of those. Read more
by Renee S. Gordon
Musical symphonies are composed of individual movements, distinct sections, written to be played by a large orchestra. Haydn and Mozart are credited with creating the classical symphonic arrangement and later composers have layered the form with creativity and innovations. Royal Caribbean's  newest cruise ship, the aptly named Symphony of the Seas, has deftly blended all aspects of the perfect cruise into one awesome experience much like an orchestral arrangement. Read more
Chuckwagon Roundup
by Kathleen Walls     11-29-2018
Food is an intricate part of Cajun culture. Café Vermillionville, (circa 1835) was built as an inn for salesmen in Lafayette then named Vermillionville. During a Union occupation during the Civil war supposedly a Cajun shot a Union soldier for making advances at the man's wife. Rumors claim the old building is still haunted by the soldier as well a young female ghost. Read more
War Roads
by Kathleen Walls     11-29-2018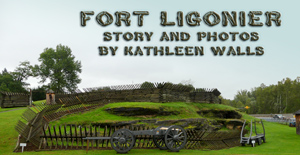 Long before United States was born, there was a world war. It started in the American colonies and spread across Europe. There it was called the Seven Years' War.Read more
Renee's Road    
by Renee S. Gordon     11-29-2018
While academic programming may be considered the most important factor in selecting a college, also essential to success are both the campus and local culture. College tours are an excellent way to experience a slice...Read more
by Kathleen Walls          11-29-2018
Saxonburg, Pennsylvania is a beautiful example of what one immigrant can do for this country. John Roebling and his brother, Carl, came here in 1832 to escape totalitarian conditions in Germany.
.read more
Civil Rights Trail
by Kathleen Walls      11-29-2018
Pittsburgh has so much history related to the Underground Railroad. Senator John Heinz History Center has an exhibit, From Slavery to Freedom, that tells the story..
.
read more
Fork in the Road
by Kathleen Walls         11-29-2018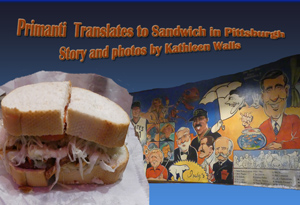 Say "sandwich" in Pittsburgh and it conjures up a different image than anywhere else in the world. In Pittsburgh, a sandwich is often a Primanti created by Joe Primanti during the depression. ...
read more
Renee's Road
At the end of August in 1619 the White Lion landed at Old Point Comfort, in what is now Hampton, Virginia, and exchanged "20 and odd negroes" for food and supplies. These Angolan ...
Read more
Innroads
First Colony Inn is the perfect place to immerse yourself in Outer Banks history while enjoying all the modern conveniences. Lost Colony Inn is not luxurious but it is comfortable and so welcoming. ...
Read more
Renee's Road
The Buffalo-Niagara Corridor in Western New York has the distinction of having always been both a permanent sanctuary and a reliable embarkation point. Geography, accessibility to  the Falls and ...
Read more
Happy Trails
By Thomas Straka            9-1-2018
One of the best attractions along Interstate 81 is the Natural Bridge of Virginia. Early in the nation's history, Hudson River School artists painted the landscapes of America's most iconic natural scenes. These are the large landscapes that hang in the U.S. and state capitols. The Natural Bridge,
Virginia, painted by Frederic Edwin Church, is one of them. That landscape is little-changed from 1852 when he painted it... Read more
Historical Trails
By Kathleen Walls           

  9-1-2018
American's oldest mystery has never been solved.The story began with the settlement of Roanoke in the Outer Banks of North Carolina. The prelude was the earlier all-male expeditions. The first led by Arthur Barlowe and Philip Amadas, in 1584 was more of an exploratory one. One thing they did had a profound on the final settlement; they brought two young natives, Manteo and Wanchese, back to England.

 
R
ead mo
re
Off the Beaten Path
By Renee S. Gordon and Kathleen Walls       

  9-1-2018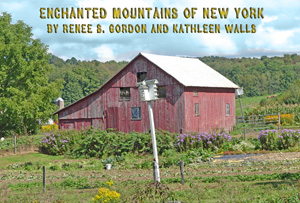 Cattaraugus County New York is known as the Enchanted Mountains for good reason. It may be a lesser known destination but there is so much to see and do among those picturesque mountains you will be enchanted.
Read More
By Kathleen Walls         

  9-1-2018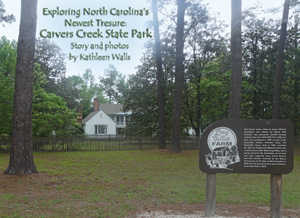 It's always exciting to watch a new state park develop. North Carolina's newest is Carvers Creek State Park. It was authorized in 2005 and opened the first stage in September 2013. Park Superintend Jane Connolly, told us about the park's background. In the mid 1700s Scottish immigrants began moving into the area. Read more
by Renee S. Gordon         

  9-1-2018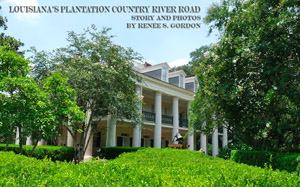 No experience has so impacted the United States as profoundly and lastingly as the years of black enslavement from 1619 to the end of the Civil War. "The peculiar institution" remains a defining characteristic of who we were, are and will become as a nation. How do we align the events of the past with the view of ourselves that we are a country founded on the principles of liberty for all and malice toward none? Read more
 by Renee S. Gordon     

  9-1-2018

In 1793 when Revolutionary War veteran Colonel John Hardenbergh, the first documented white settler in the Finger Lakes area, arrived in the Auburn, NY region it was home of the Haudenosaunee and was called

 

"

Ahsku
by
." Read more
by Kathleen Walls        

  9-1-2018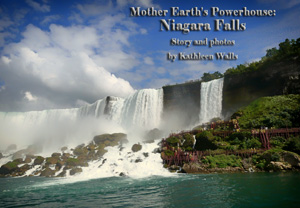 There is nothing more beautiful than Mother Nature's most powerful places. Niagara Falls is one of those special places. I just returned from a visit there and was literally blown away. At the top of Cave of the Winds as I stood on Hurricane Deck I felt as if I was experiencing the most powerful storm ever.Read more


American Roads and Global Highways has so many great articles you may want to search it for your favorite places or new exciting destinations.