Welcome to the new issue of American Roads and Global Highways. There is something new in this issue. I'm adding in a "share" button on the features pages. Please feel free to share on Facebook.
Don't forget to check out our blog. Here you will find timely subjects that occur between regular issues and general travel information. Lots of good stuff there and updated often.
Agri Lanes
Playing in the Dirt at Lomax Incubator Farm
by Kathleen Walls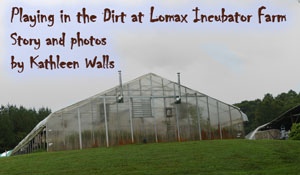 Would be farmers in Cabarrus County, North Carolina have an opportunity to get their hands dirty at Elma C. Lomax Incubator Farm. This is a unique opportunity for local Farmers-In-Training (FITs) to learn what it takes physically, emotionally, and financially to become a farmer. It allows them to rent cheaply, make mistakes in a safe place, and learn from them, in order to spin out into their own place. It's in its eighth growing season.
Art Trails
Cape Town's Hidden Gem
by Anne Jenkins
The mention of Newlands, near Cape Town in South Africa, automatically
means the famed Newlands Rugby Stadium to many devoted rugby fans around the world. But Newlands has much more going for it than rugby. There's the world famous Kirstenbosch National Botanical Gardens, Newlands Brewery, The Barnard Gallery, Newlands Forest and the legendary Foresters Arms, one of the oldest pubs in Cape Town, known to locals as Forries.
Chuckwagon Roundup
Pizza and Beer
by Kathleen Walls
They say pizza and beer go together so here are some of each. Some of the best pizza I ever tasted was at Bob's Brick Oven Pizzeria in Rock Spring, Georgia. Unlike many of the new business owners I meet today, Bob Watts is not a millennial. He's been around the block a few times. He's a former Vietnam era Marine and former business man. He claims, "I'm too old to do things like everybody else." So he doesn't do like everyone else. Like Frank Sinatra, he does it his way and that is much better than your average pizzeria. Georgia recognized this in 2016 when he won Best of the Best for his pizza.
read Chuckwagon Roundup Click Here
Civil Rights Trails
Jefferson School
by Kathleen Walls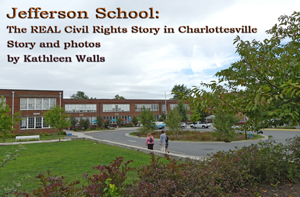 Imagine yourself an African American in Charlottesville, Virginia in 1865. You have never been taught to read or write. Suddenly you are a free person. Now for the first time, you can make your own decisions about your life. You need to get a job to earn money for food and shelter. With that comes going to a store and buying items. What do you need most to move forward and take your rightful place in society? A school. Jefferson School becomes your ticket to upward mobility.
read Civil Rights Trails-Click Here
Exploring With Eleanor
Maritime Adventures in the First Town in the First State
By Eleanor Hendricks McDaniel
Lewes (pronounced lou-is), Delaware, the first town in the first state, has a maritime history that they love to share with visitors. The shoulder season of fall concentrates on more than its great beaches. The weather's warm, and there are still many outdoor things to do. The crowds have departed, and good deals on lodging have arrived. The same logic applies to spring.
read Exploring With Eleanor- Click Here
Elite Street Eats
Ginger 108: Where East Meets West
By Kathleen Walls
Ginger 108 is something special. It's Kinston's first Japanese Lounge. It's a sushi bar with a Southern flavor. It's where you can dine on that perennial Southern favorite Shrimp and Grits with a touch of North Carolina barbeque. It's where East meets West in Kinston.
read Elite Street Eats - Click Here
Fork in The Road
Simple Twist
By Kathleen Walls
It's known as Simple Twist for a reason. The owners are North Carolina locals Nathan and Colleen Roby. Their dream fulfillment started with one restaurant partnership that didn't work out but led them by a simple twist of fate to open a new restaurant together. They opened Simple Twist in Garner, North Carolina. Chef Nate believes in sourcing his food locally and blending them into a magic medley of flavor. He mixes Southern and American cuisine with a new twist. That's just what the people of North Carolina and visitors from all over are searching for so it was well received. They now own three locations in Johnson County and have recently opened a bottle shop and tap room that serves beers from Johnston County and North Carolina's craft breweries.
read Fork in the Road - Click Here
Happy Trails
Medora Covered Bridge
By Tom Straka
Photographs by Pat Straka
If you happen to be crossing Indiana on U.S. 50 or I-65, and would like an interesting side trip, America's longest historic covered bridge fits the spot. Built in 1875, at a cost of $18,142, it crosses the east fork of the White River about a mile east of Medora on Route 235. The bridge was used by U.S. 50 to cross the river from 1926 to 1950, when the U.S. highway was rerouted a few miles north. It was in use for regular traffic until 1973 when a modern bride was built along side of it. Since then it has been limited to foot traffic.
read Happy Trails - Click Here
History's Highway
Oak Ridge-- America's Secret City
By Kathleen Walls
Few places in the world can compete with America's Secret City, Oak Ridge, Tennessee as a history maker. Not only was history literally made here, it was achieved with a level of secrecy that could never be duplicated today. Was the result good or evil? That is still being debated. What is undeniable is that it changed the course of warfare forever. Man had unleashed a power that if misused could destroy the entire planet.
read History's Highway - Click Here
Information Highway ( a different way to promote travel)
Take a Tour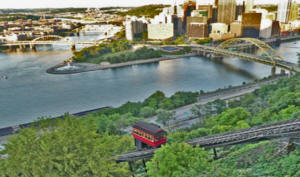 Want to visit fun places but you are not sure what to see there? How about taking a tour that is like having a friend who knows that city well along to take you to the coolest places. You can do that for under $5 now.
read Information Highway - Click Here
Inn Roads
Elvis Slept Here
By Kathleen Walls
In the days when a Model T was the latest craze and everyone wanted one of those new fangled horseless carriages, it was only natural for new roads to spring up around the country. One of the most famous of those roads was Route 66. It began in Springfield, Missouri on April 30, 1926 when a telegram proclaimed it as "Route 66." Originally it was called "The Great Diagonal Way" but the era's equivalent of public relations people felt Route 66 was more promotable. John Steinbeck named it "the Mother Road" in, Grapes of Wrath. It really was the mother of opportunity for people living in the small towns and cities on its route. They opened restaurants, tourist attractions, and motor courts. The motor courts and tourist cabins were the lifeblood of the new Route 66. Travelers needed a place to stay. A few are still alive and flourishing.
Museum Row
Get your Fix on Route 66
By Kathleen Walls
Route 66 Museum has a modest home in the county library in Lebanon, Missouri but it tells a big story. It took me back to the earliest days of Route 66. The first exhibit is Philcheck Service Station. (Love the name. It says it all.) The station sports a Fire Chief and a Skelly gas pumps. A uniformed attendant is coming out to service the Ford Roadster sitting under the frame portico. Remember the days when an attendant came out and said "Fill 'er up?" then wiped your windshield, checked the pressure in your tires and checked your oil?
Movie Trails
Ava Gardner Museum
By Kathleen Walls
Ava Gardner was a star of the first magnitude. A visit to her museum in Smithfield, North Carolina tells a more complete story. It follows Ava from when she was born a country girl in the community of Grabtown just east of Smithfield through the years of stardom and beyond. As a child, the depression hit her family hard and as the youngest child in a family of seven she lived a life bordering on poverty.
read Movie Trails - Click Here
Music Row
Gip's Place
By Kathleen Walls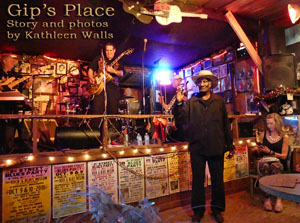 Gip knows how to throw a party. The party is on every Saturday night at Henry "Gip" Gipson's house. It's one of the last of Birmingham's secret treasures. Of course, like much about Gip's kind of music, the Blues, that's somewhat of a contradiction. The "house" is really Gip's shed, backyard, and overflow areas and by now, it's no longer a secret if you live anywhere near the Birmingham area. By the way, it's really in Bessemer, a small city a few miles southwest of Birmingham.
Off The Beaten Path
Half Moon Bay: California's Hidden Treasure
By Kathleen Walls
You've got to get off the interstate to get to Half Moon Bay but it's well worth the drive. There is something there for everyone.
read Off The Beaten Path - Click Here
Photos from the Road
Grand Canyon Railway: A Winter's Journey
By Jim DeLillo
At first glance, one would wonder why go to the Grand Canyon in winter? First, like many Southwest tourist attractions, there are fewer crowds. By some standards, it may even be considered desolate.
read Photos from the Road - Click Here
Renee's Route
"Putting on the Ritz" in Fort Lauderdale
by Renee S. Gordon
When the first documented Spanish explorers entered the Fort Lauderdale region in the 1500s they were met by a native presence. These tribes, the Calusa, Missosukee and Timuqua, were only the most recent of a number of tribes that, according to archeological studies, date from the Neolithic age. The Seminoles, members of the Creek Nation, migrated into the area in 1750 and again in 1809. The Spanish built missions in Florida as early as 1567 but because of the climate the first permanent white settlement on the New River consisted of Bahamians in the 1700s. A census reveals that in 1830 the New River Settlement had a population of seventy.
read Renee's Route- Click Here
Renee's International Route
Baldwin's "Individual Journey" in New York and Paris
by Renee S. Gordon
James Baldwin's roles as author and political activist uniquely fitted him to be both a voice for and shaper of African American political culture specifically and American culture in a broader sense. All of his childhood experiences honed him for his "individual journey" and for the remainder of his life he spoke out against injustice and advocated radical change and neither his influence nor his significance has diminished in the years since his death. His eloquent prose continues to spur us to speak truth to power.
read Renee's International Route- Click Here
Renee's Civil Rights Route

North Carolina's Significent Cities
Renee S. Gordon
People tend to think that African American theater developed after their introduction to European forms of entertainment and cultural influences. Historic research hints at the exact opposite. Herodotus, considered the "Father of History," visited Egypt in 450 BC and noted the historic use of performances in rituals, religions, ceremonies and festivals. It is this pattern that traveled to Europe. The earliest documented evidence of an Egyptian theatrical performance is the 2600 BCE Ramesseum Dramatic Papyrus that includes information on the script and the scenes.
read Renee's Civil Rights Route- Click Here
See the USA with Warren
Head for the Hills
by Warren Resen
These words, in their broadest sense, have been used for eons as a call for escape. They have also been used as a seasonal cry by generations of those living in the hot, humid lowlands south of the Western North Carolina mountains when oppressive summer temperatures and humidity began their inexorable climb into the mountains.
Tibbs Trails and Tastes
Door County Wisconsin
by Christine Tibbets
Gentle adventure in beautiful settings works for me.
Sports requiring skill and stamina, speed and dexterity? Not so much so. That's why I immersed in late summer activities in the peninsula Wisconsin named Door County to see what might be right for me.
A bingo for sure! Door County calls most of what I did Silent Sports.
Traditional Trail
Museum of Appalachia
By Kathleen Walls
Want to see all of Appalachia but don't have the time to travel that far? Instead visit Museum of Appalachia in Norris, Tennessee. This Smithsonian affiliate is filled with artifacts, a recreated Appalachian village, and a wonderful home-cooking style restaurant and gift shop where you can purchase a piece of Appalachia to take home with you.
read Traditional Trail- Click Here
Weekend Explorer
The Amana Colony
By Kathy
Barnett
Does anyone out there remember what it was like before the world of microwaves? When they first came out, my mother got one right away. At first, she used it for heating water for tea and warming leftover soup or vegetables. She was afraid to use it for much else. They were so expensive at first, I couldn't afford one as a young bride and mother. But every time I watched "Let's Make A Deal" on television, I dreamed of winning the door with a microwave behind it.
read Weekend Explorer- Click Here
Public Disclosure-- Please Read
I recently learned of a law requiring web sites to let their readers know if any of the are "sponsored" or compensated. We also are to let readers know if any of our links are ads. Most are not. They are just a way to direct you to more information about the article where the link is placed. The hotel link on this page is a paid link, however it is one I feel is very helpful in booking a hotel. I think readers are smart enough to know an ad when they see one but to obey the letter of the law, I am putting this statement here to make sure everyone understands. American Roads and Global Highways may contain affiliate links. Further, as their bios show, most of the feature writers are professional travel writers. As such we are frequently invited on press trips, also called fam trips. On these trips most of our lodging, dining, admissions fees and often plane fare are covered by the city or firm hosting the trip. It is an opportunity to visit places we might not otherwise be able to visit. However, no one tells us what to write about those places. All opinions are 100% those of the author of that feature column.