Happy New Year to all our readers. Welcome to the Winter Issue of American Roads and Global Highways. I was honored to be chosen as on of the judges in Flight Network inaugural World's 50 Best Beaches Campaign. Although my choices were US beaches, Florida and California, that didn't win, I have to bow to the majority. It's sad that so many American travelers believe we have nothing worth seeing here. Of course, there is much to see overseas but lets don't forget our home places that are equally interesting and worth a visit.
Don't forget to check out our blog. Here you will find timely subjects that occur between regular issues and general travel information.
Agri Lanes
Hinnant Family Vineyards and Winery
by Kathleen Walls
Just like good wines, Hinnant Family Vineyards and Winery is well aged. Daphne Evans, Hinnant's Wine Club Director, offered us a tasting while she told us the history of the vineyard and winery.
Art Trails
The Long Walk
by Anne Jenkins
The Bosque Redondo Memorial at Fort Sumner, a New Mexico State monument, hidden away on the outskirts of tiny town of Fort Sumner needs to be visited and needs to be absorbed. It's a memorial honouring the Navajo and Mescalero Apache, and "the long walk," a sad period of history which lasted lasted from 1863-1868.
Blog
Latest Blog Stories
by Kathleen Walls
There is so much to see in this fantastic Virginia town that has nothign to do with the headlines. Charlottesville: Uniting Past and Present
There is so much to see and do inFlorence South Carolina I never knew about until I visited.
Florence, SC: A Suprise Treat.
A bit of humor with the moral "Where there's a will, there's a way."
A Handicapped Hunter.
Chuckwagon Roundup
Best of the Best: Award Winning Southern Restaurants
by Kathleen Walls
I've been busy traveling on many press trips and conferences in the South lately. In my travels, I have visited a lot of award winning restaurants. Some are upscale but others family-style places. Here are a few you should visit if you are in their area.
Civil Rights Trails
A Letter's Legacy : Birmingham's Civil Rights Trail
by Kathleen Walls
Letter from the Birmingham Jail is one of the most notable documents from the Civil Rights movement. On a recent press trip to Birmingham I got to visit and appreciate these places in a whole new light. It's one thing to read about a place or see it on TV. It's an entire different matter when you walk in the footsteps of these folks.
Exploring With Eleanor
Tracking The Star Spangled Banner Trail
By Eleanor Hendricks McDaniel
Mary Pickersgill, a Baltimore banner maker, was hired to stitch a giant flag (30- by 42-feet). It was so large it had to be constructed on the floor of Brown's Brewery. She enlisted the help of others, including her indentured servant, Grace Wisher, a black teenager. Her home has been converted into the Star-Spangled Banner Flag House (www.flaghouse.org) that's open to the public. You can see the tribute to Wisher and others, along with artifacts and displays that depict that intensive period.
read Exploring With Eleanor- Click Here
Elite Street Eats
The Old Mill Room: Flavored with History
By Kathleen Walls
The Old Mill Room in Charlottesville, Virginia is the perfect dining spot after a visit to Monticello. It transports you to an earlier time. In fact, The Old Mill Room, part of the Boars Head Inn Resort, has links back to Jefferson. The entire lodge is owned and operated by the University of Virginia Foundation. The ties to Jefferson are deeply embedded. The resort's 3,000-acre tract was part of Virginia's first land grant and was originally the site of Terrell's Ordinary that housed many westbound travelers. In 1800, Thomas Jefferson convinced his friend, Eliza Trist, to move to Albemarle County. When Eliza's son, Hore Browse Trist, decided to purchase to purchase land, this was the parcel Jefferson helped him buy.
read Elite Street Eats - Click Here
Fork in The Road
Germany Without the Airfare
By Kathleen Walls
Want to experience Germany but can't afford the airfare? There's a solution. Visit Hollerbach's Willow Tree Cafe in Sanford, Florida. I visited recently on a press trip and what a treat!
read Fork in the Road - Click Here
Happy Trails
Catocin Furnace
By Tom Straka
Photographs by Pat Straka
Sometimes you stumble on fascinating road trips. We stumbled on one between the Antietam and Gettysburg Battlefields. The hour drive between the two battlefields passes through Catoctin Mountain Park in Maryland, a federal recreation area managed by the National Park Service.
Information Highway ( a different way to promote travel)
Take a Tour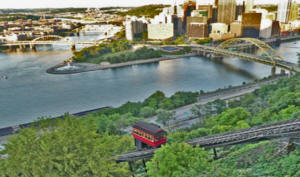 Want to visit fun places but you are not sure what to see there? How about taking a tour that is like having a friend who knows that city well along to take you to the coolest places. You can do that for under $5 now.
read Information Highway - Click Here
Inn Roads
Florence Hotel: A Blend of Old and New
By Kathleen Walls
We expect a hotel to have all the modern amenities and conveniences. It's a plus when they have a unique personality and interesting history. Hotel Florence fills the bill all the way. It's a small 64-room boutique hotel in historic downtown Florence, South Carolina so you get very personal attention when you stay there. It was a Choice Hotel's Ascend Collection Platinum Award Status Winner in 2015 and the winner of the Ascend Hotel Collection brand's 2016 Hotel of the Year Award so they know it is doing things right.
Museum Row
Joplin's Mineral and History Museum
By Kathleen Walls
How often do you find a cat in a historical museum? Add to that how often does said cat "write" for a local paper? Well, meet Percy, the greeter for Joplin History and Mineral Museum. I was introduced to him on a recent visit to the museum by Brad Belk, museum archivist and community historian. Percy is remarkable modest considering his fame. He studied me carefully with his wise amber eyes than granted me the privilege of allowing me to pet his sleek gray and white body.
Off The Beaten Path
Hampshire County, West Virginia
By Kathleen Walls
West Virginia was born out of the War Between the States. Few other states were as divided in their sentiments. Hampshire County more than most of the other counties. It was part of the new Union state but bordered on Virginia, the most staunch of the Confederate states. Many of Hampshire County residents still thought of themselves as Virginians. It's no wonder that so much of this county's history is written in blood.
Photos from the Roadside
Pikes Peak: Leave Your Car at the Bottom
by Jim DeLillo
Sure, you can drive to the top and get a bumper sticker that reads "This Car Climbed Pikes Peak", but it's more rewarding to get the t-shirt proclaiming the feat done with your feet.
Renee's Route Texas
The Real Texas: Grapevine, Amarillo, and McAllen
by Renee S. Gordon
Dallas-Fort Worth International Airport (DFW) is so large that Manhattan Island would fit inside its 17,207-acres and it has its own postal zip code. Many of the thousands of people who pass through daily have long layovers and DFW offers the affordable Grapevine Visitors Shuttle service that stops at locations of interest throughout the area. Year round Grapevine, Texas is a great destination for a brief layover, extended stay or point of departure for the ultimate Texas road trips.
Renee's Route New Mexico
The Spirit of New Mexico
by Renee S. Gordon
The earliest archeological evidence of human habitation in New Mexico (NM) dates from 25,000 B.C. At that time the Sandia people migrated into the region developing crop cultivation, architectural techniques, weaving and pottery making through the centuries and between 1200-1500 A.D. the Pueblo Indians founded villages, along water routes in the area. First contact with Europeans occurred in 1536 when Cabeza de Vaca and Estevanico, a black enslaved explorer, reached southern N.M. Juan de Onate established the first Spanish capital in 1598 in the Royal Province of New Mexico. Gov. Pedro de Peralta established a third capital in 1609, after the others failed, in Santa Fe.
Renee's Route Natchez Trace

The Natchez Trace Parkway: Living the Legend
Renee S. Gordon
Trace is a French word for animal track and the fabled Natchez Trace was created centuries ago by bear, deer, bison, etc., as a migratory path to locate food sources, water and salt licks. Paleo-Indians, who migrated into the region, followed this footpath when traveling and hunting. The earliest documented European explorer, Hernando de Soto, arrived in 1541 and was met by native resistance that lasted more than 200 years and is interpreted along the Trace. The Trace linked settlements in Kentucky, Ohio Valley and Tennessee with the southern region of the Mississippi River.
read Renee's International Route- Click Here
RVing
Small Town Atmosphere: Big City Fun
By Kathleen Walls
Campers and RVers, do you hate dealing with big city traffic and congestion but love to visit culinary destinations, art heavy communities or historical places? If so you will love Kinston, North Carolina. It's a small town that has a lot to offer. There is a peaceful 55 acre campground on the Neuse River that is about a mile from where many of the local attractions are located.
Tibbs Trails and Tastes
Birmingham, Alabama creates a Lively vibe
by Christine Tibbets
Expect one vibe but discover another. Ever happen to you as you travel?
That's my Birmingham, Alabama experience: remarkable discoveries beyond my expectations.
Wild Road
Central Florida Zoo and Botanical Garden
By Kathleen Walls
Central Florida Zoo and Botanical Garden in Sanford, is Central Florida's shining jewel when it comes to learning about our fellow mammals, birds, reptiles and amphibians. It has always been one of my favorite small zoos. I revisited it recently.
Public Disclosure-- Please Read
I recently learned of a law requiring web sites to let their readers know if any of the are "sponsored" or compensated. We also are to let readers know if any of our links are ads. Most are not. They are just a way to direct you to more information about the article where the link is placed. The hotel link on this page is a paid link, however it is one I feel is very helpful in booking a hotel. I think readers are smart enough to know an ad when they see one but to obey the letter of the law, I am putting this statement here to make sure everyone understands. American Roads and Global Highways may contain affiliate links. Further, as their bios show, most of the feature writers are professional travel writers. As such we are frequently invited on press trips, also called fam trips. On these trips most of our lodging, dining, admissions fees and often plane fare are covered by the city or firm hosting the trip. It is an opportunity to visit places we might not otherwise be able to visit. However, no one tells us what to write about those places. All opinions are 100% those of the author of that feature column.