Our group leader, Laura, led us down a winding dirt road just wide enough for a car that looked like the scene of some B grade horror movie. As the road petered out we saw a small, cinderblock building with a huge bonfire blazing behind it. Instead of being slashed by a monster at the end of the road, we reached one of Tallahassee's best-kept-secret fun spots, The Bradfordville Blues Club.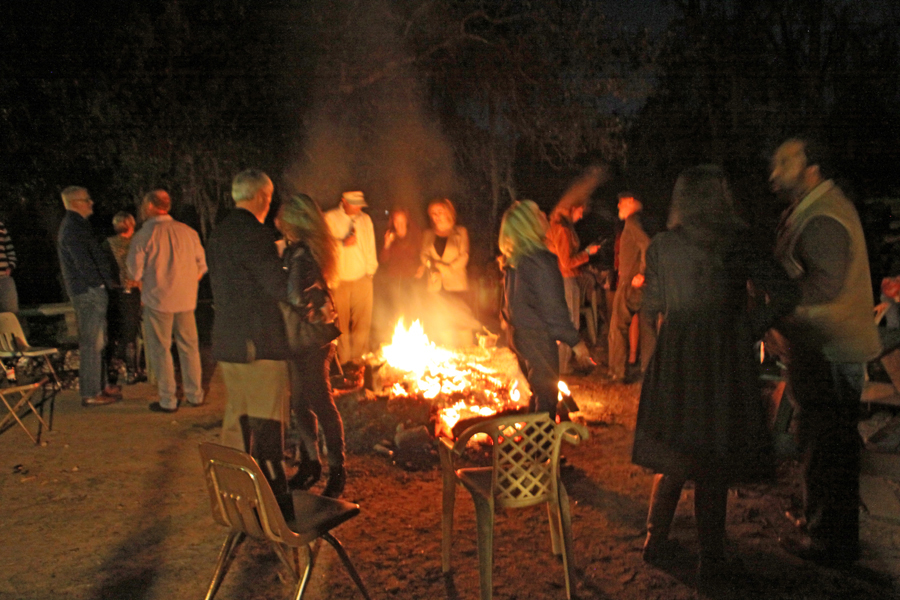 Patrons gathered around bonfire behing the club
The building and location is nothing fancy and once you enter the club, you know you have arrived at an authentic juke joint. Few are left anywhere and perhaps less than a handful remaining in Florida. This is the kind of place where the Blues, America's authentic music, was born. It rose up in the Mississippi Delta as the sound of a people crying out for justice and fair play and finding its outlet only in the music of the Blues. Eventually, it gave evolved into Jazz and Rock and Roll.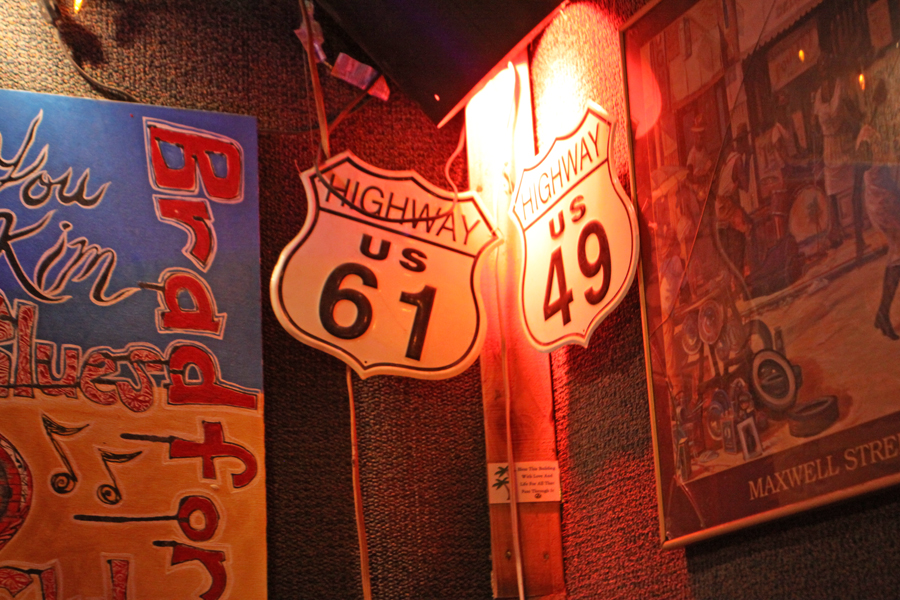 Highway signs at Bradfordville Blues Club reminicent of the Mississippi Crossroads where
Robert Johnson supposeldy sold his soul to the devil in exchange for being a great Blues player
The state of Mississippi has designated 185 points as important enough to rate a Blues Maker. Only 13 are out of Mississippi and Bradfordville Blues Club is the location of the only one in Florida. The club began in 1964 when Allen Henry, Jr., his wife Marion, and his sister Inez Henry Haynes, opened the original club on the property. It was called the C. C. Club, The Henrys, an African American farming family, had hosted baseball and musical events here on weekends. It later was renamed the Bradfordville Blues Club under the ownership Gary and Kim Anton.
Some really big name stars have played the C. C. Club and the Bradfordville Blues Club like Little Milton, Jimmy Rogers, Bobby Rush, James Cotton, Carey Bell, Bobby Blue Bland and scores of other top notch Blues bands as well as musicians who play the music that grew out of the Blues like Zydeco and Jazz.
The night we visited, Johnny Sansone was rocking out a fantastic mixture of Blues, Zydeco and New Orleans style music. Johnny Sansone has won so many awards it is hard to list them all. He was nominated for seven 2012 music awards, Including The Blues Music Awards, presented by The Blues Foundation, Song of the year winner for Contemporary Blues Male Artist, Album of the Year​, in 2013 Best Harmonica Player by New Orleans Best of the Beat Awards for Once It Gets Started, his The Night the Pie Factory Burned Down was nominated for song of the year and he was nominated for best male contemporary Blues artist by Blues music foundation awards, Best Blues artist , Best Blues Release , Song of the year, At the Offbeat Best of the beat awards 2013.. Pretty impressive. Listening to him for just a few minutes lets you understand why.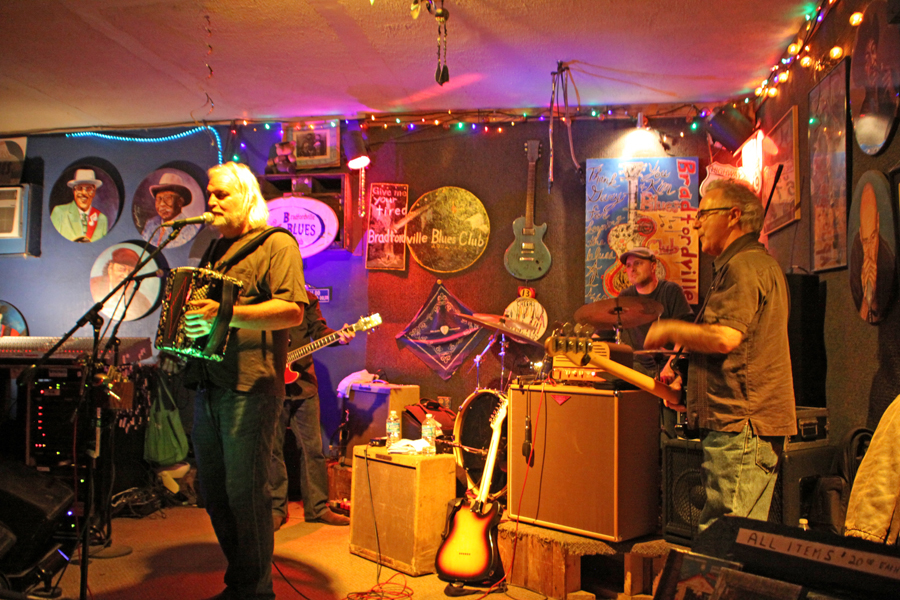 Johnny Sansone and band on stage
That night he was joined by a local favorite, Bill Wharton, the Sauce Boss, who as the name suggest makes a mean hot sauce as well as plays a hot washboard and guitar. I sampled his sauce and it was a spicy as his music.
Gary Anton told us a little about how he came to lease the Bradford Blues Club. "It was in '92 or '93 that Dave Clayton began managing the club; Dave really put it on the map. He had some really big name players here. When we got here Inez (Inez Henry Haynes one of the original Henrys family) was almost 90 and could not remember who played here."
He talked about the earlier history when the Henrys had a log cabin with a piano and would sell shots. There was a popular baseball team called the C. C. Saints who played here. Folks would sit out here all night long. Some big names, Andre Dawson and some big names from the Negro League played out in the field. He brought the past to life making us visualize generations of Henrys, some of them still agrarian farmers and some college professors at FAMU.
He explained about the Chitlin' Circuit where Black musicians would circulate around the country and play the clubs. "This was on the after-hours circuit. There were three clubs downtown that were high-brow: I mean ties, dressed to the nines. Mostly Black patrons but I talked to some white folks that were out there too. After the shows the rumor is some of these musicians would come out here and sit in with whoever was playing. I talked to two people who said that B. B. King, Ray Charles, Fats Domino and Chuck Berry all played here during that time."
He continued, "When Dave was running the club. He started the tradition of painting and naming the tables for the bands that played here."
You can also see on the walls hand painted autographed plaques of other musicians who played here. The kinds of bands that make you tap your feet and join the swaying, weaving, bouncing dancers on the floor. The lighting and atmosphere all blend into making this a true blues club. That is why, when Dave could no longer make it work, Gary and Kim knew they needed to step in and keep the tradition alive.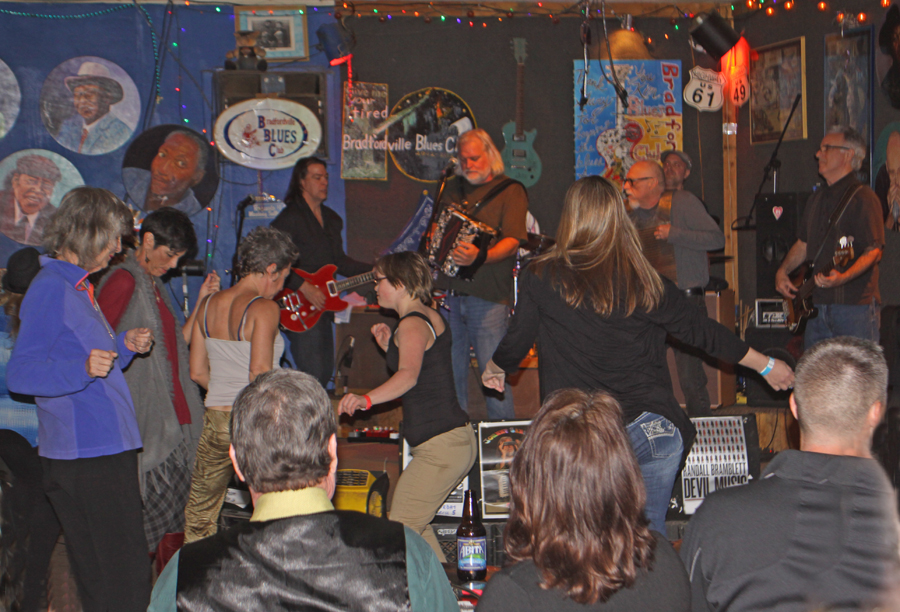 Dancers go all out at Bradfordville Blues Club
During the band break, we all went out back to stand around the fire. Musicians and patrons all gathered there. Ernestine Fryson was busy in the little wood hut frying her fish with a secret recipe she won't divulge. It evoked an earlier time.
Ernestine Fryson cooking her fish

If you visit Tallahassee, this is a "must visit." As Gary describes it, "It's all about music… It's a good time."

For more info:

http://www.bradfordvilleblues.com/

For more about the Blues:

http://americanroads.net/street_party_summer2015.htm

http://americanroads.net/music_row_summer2015.htm

http://www.americanroads.net/summer12-Inn_Roads.htm

http://americanroads.net/musuem_summer2015.htm

American Roads and Global Highways has so many great articles you may
want to search it for you favorite places or new exciting destinations.