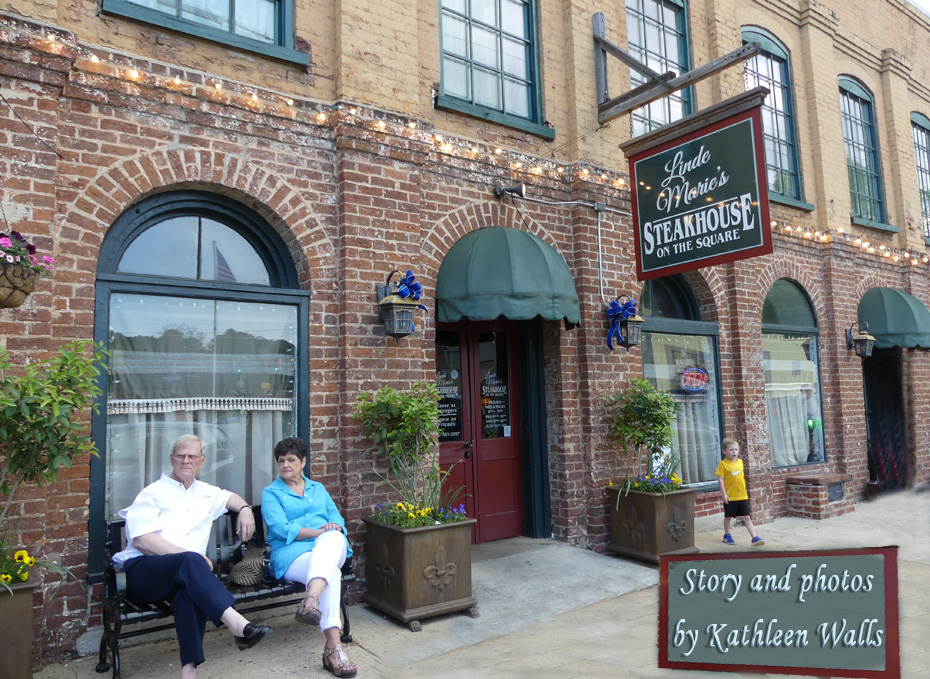 When she opened Linde Marie's Steakhouse on the square in Cave Spring, Georgia in 2013, Linde Marie Wentz is quick to admit "I don't know what I was thinking." One thing she knew was, "It had to be here in this building."
The building she chose is a natural. It's a beautiful brick two story with arched windows and doors right on the square. It was built between1850 to 1854 and has been many things over the years; a candy store, other restaurants, a grocery and first telephone service in the area was housed in it.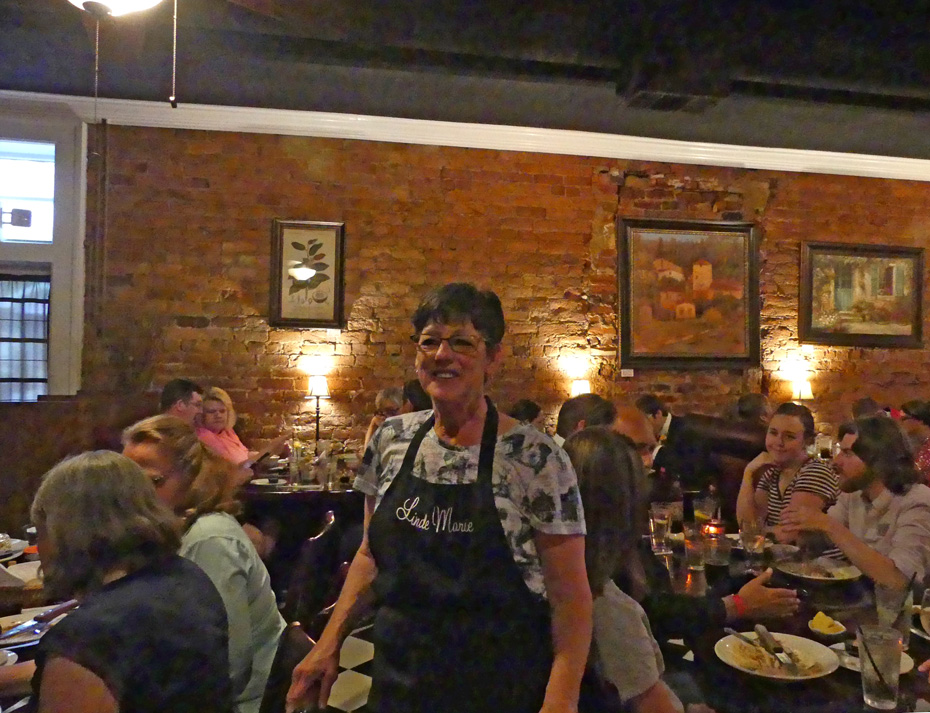 What Linde Marie did know was her children were solidly behind her and ready to help. Her oldest son and his wife made up for Linde Marie's lack of restaurant experience with a diverse knowledge of how the restaurant business works. Linde Martie's own charm and determination lent the other needed ingredient for a successful venture. Linde Marie's Steakhouse opened in 2013.
The decor welcomes you as soon as you enter. The old brick walls are decorated with unique pictures and art objects. The art will be different each time you visit as it changes regularly. Linde Marie explained. "We have an arrangement with the collectable store. It's all priced and for sale. Sometimes we sell it and sometimes they come in and change it out."
The attention to the food and service details like all the beef is aged at least 21 days: almost everything served was homemade right there, and servers are happy and friendly, paid off. By 2015, Linde Marie's Steakhouse was garnering awards. Georgia Department of Economic Development's Tourism division awarded them "100 Plates That Locals Love" designation in July 2015 for Marie's Stuffed Chicken, a dish her son created consisting of grilled chicken breasts, stuffed and smothered with spinach artichoke dip. The dish is featured in the state's culinary guide, Georgia Eats.
That was just the beginning. Nearby Rome's newspaper Times Tribune readers honored Linde Marie's Steakhouse in 2016 with Best Dining and Best Steak and in 2017, with awards for Fine Dining, Best Steak and Best Restaurant.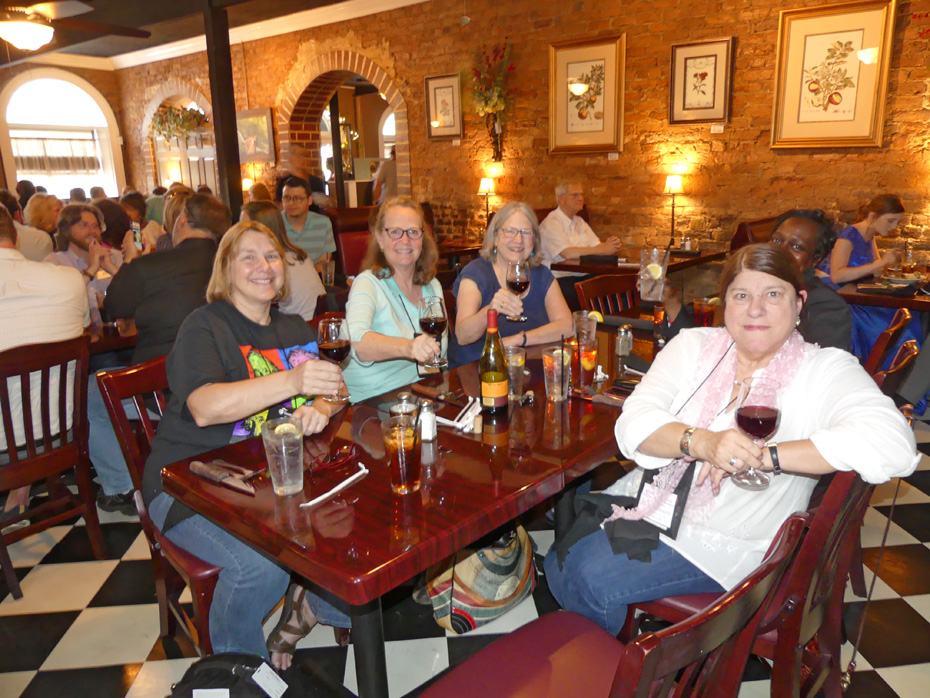 Cave Spring's natural limestone cave filled with impressive stalagmites and its unique "Devil's Stool" formation is just across the street so Linde Marie's is perfect after a day exploring the cave and cooling off in the spring with its permanent 57-degree temperature which flows through Rolater Park. A bonus is that as you leave the park and head for Linde Marie's Steakhouse you pass a historical treasure, The Vann Cherokee Cabin. The cabin was a rental property owned by Cherokee Chief Vann until he was marched away on the Trail of Tears. We had already had an exciting day when I visited the steakhouse.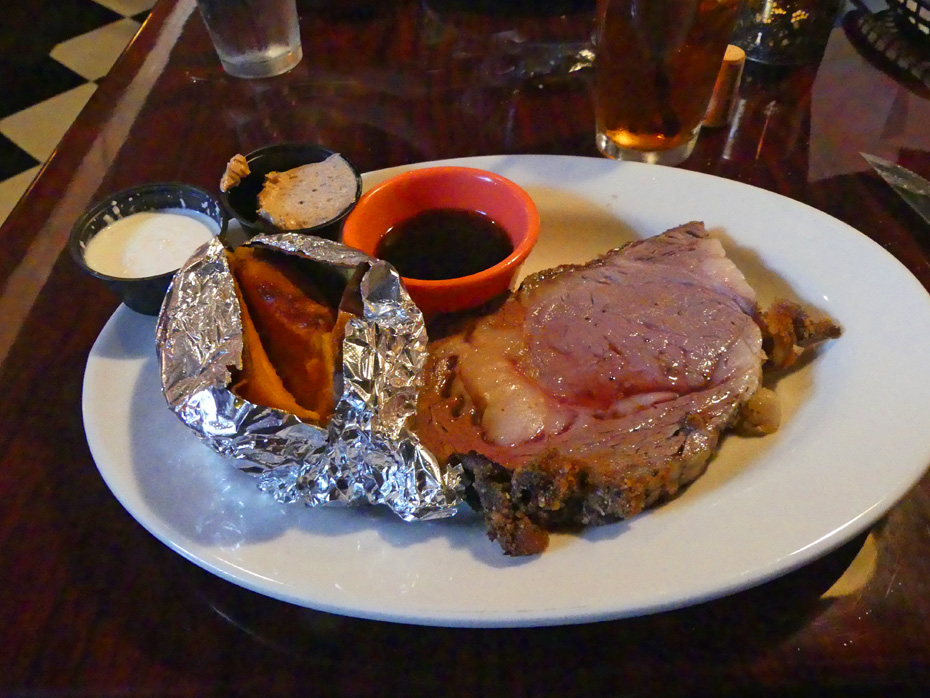 Since it is a steakhouse I had to go for the beef. I tried their prime rib. That just added to an already fantastic day. It was cooked just as I ordered, seasoned with a crusty blend of herbs and spices, and served with AuJus and horseradish sauce. A baked sweet potatoe was just enough of a different touch.
For an appetizer I had the Fried Green Tomatoes. Tip here; when in Georgia always get fried green tomatoes if available. It's a Georgia law. Just kidding: but it should be. Some of my friends got Fried Onion rings. These are not usually my favorites but these were very tasty.
This goes to prove even the smallest town may have a gastronomical treasure that can hold its own with world famous eateries. So go explore.
For more info: