There are several species of bunch and Muscadine grapes native to Florida; in fact, the southeastern U.S. has the greatest genetic diversity of grapes worldwide. The first recorded reference to wine made from grapes grown in the "New World" was by letters from French Huguenots in the 1560s. They told of makeing wine from wild Muscadine grapes growing at what is now St. Augustine. Florida's wine producing days are deep rooted.
They offer complimentary tours and wine tasting at their over 28,000 square feet facility. Our tour guide gave a very educational presentation about how wine is made at Lakeridge. You can also enjoy a video presentation, viewing deck, gift shop and picnic area seven days a week. They often host events such as arts and crafts festivals, jazz concerts, harvest festivals, grape stompings. Their wines consistently win awards.
Lakeridge was proud to receive three silver medals for Southern Red, Blanc du Bois, and Southern White, and two bronze medals for Proprietors Reserve and Sunblush at the 2013 Los Angeles International Wine & Spirits Awards held May 15-16 at the L.A. County Fair.
The wine business in Florida is not new. Discounting those early French Huguenots, Eden Winery, located in the tiny community of Alva near Fort Myers, is Florida's oldest winery. The Kiser family began planting some bunch wine grapes over thirty years ago. Today they make six wines and offer tastings daily.
San Sebastian Winery
Incidentally, since those early Huguenots started it, wine making in Saint Augustine is still going strong. San Sebastian Winery located in one of Henry Flagler's old East Coast Railway buildings near the historic district, in combination with its sister winery , Lakeridge, produces 11 different wines, including one sparkling and two dessert wines; Cream Sherry and Port. They are the second largest winery in Florida. San Sebastian Winery did very well at the 2013 Los Angeles International Wine & Spirits Awards earning a total of four medals including two Best of Class Gold Medals for Vintners White and Rosa. They were also awarded two silver medals for Blanc De Fleur and Vintners Red.
Tasting surrounded by oak barrels
at San Sebastian Winery
San Sebastian bottles much of the wine made by their sister winery but does ferment its own port and sherry. The upstairs tasting room is delightful. It is filled with aged whiskey barrels used for the port. The old barrels lend an ambience to the room no stainless steel vat can match.
Nikki Whitney, who led out tour, offers many helpful pointers about the art of wine tasting and how to tell really good wines from poor or mediocre ones. She feels education is a really important part of their tours.
They have a large wine shop with a wide assortment of interesting items, gift baskets, gourmet foods and wine accessories. They offer daily tours and tastings sessions at their expansive tasting counter. On weekends, their third floor "The Cellar Upstairs Wine, Jazz and Blues Bar" is a great local spot. You can enjoy live music and a selection of light appetizers and sandwiches. Naturally they serve San Sebastian Wines as well as imported and domestic beers.
All the way at the other end of Florida, the state's southernmost (at least that I could find) winery is Key West Winery. As might be expected of anything in Key West this place is not your traditional winery. Instead of grapes, their wines are made from blends of tropical fruit grown by their parent winery in St. Petersburg. Florida Orange Groves and Winery, Pinellas County's first and only tropical, berry and citrus winery. Hurricane Class 5. a blend of key lime, pineapple, mango, watermelon and passion fruit. It's no wonder this white sangria has become their top seller.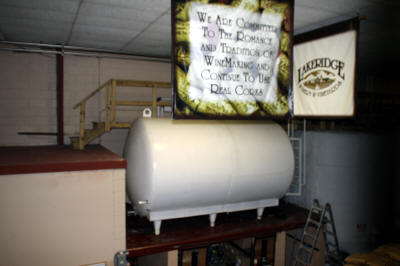 Stainless steel tanks have replaced the
more picturesque barrels here in Florida
Not only have the vineyards and wineries caught on in a big way in the Sunshine State but festivals are rapidly becoming a way to promote this Florida product.
The Annual Sandestin Wine Festival has been promoting Florida's fruit of the grape for 27 years. The oldest, continuously running wine festival in the state of Florida draws thousands of people to The Village of Baytowne Wharf at Sandestin Golf and Beach Resort. Wine connoisseurs to wine novices join together and find more than 600 different wines to sample and chat with more than 80 vineyards both nationally and internationally. The 28th Annual Sandestin Wine Festival will take place April 10 - 13, 2014
New wine festivals are popping up regularly. Amelia Island, Florida began hosting its own Annual Amelia Island Wine Festival last year. The second annual festival will be held on October 12, 2013 on the banks of a peaceful lagoon at the Shops of the Omni Amelia Island Plantation. Besides having tastings of many fine Florida wines, there will be wine makers from Argentina, Chile, Australia, New Zealand, and South Africa.
How many wineries does Florida actually have? Florida's department of Agriculture recognizes 23 Certified Florida Farm Wineries. To qualify for this certification, a winery must meet certain tests.
They must produce or sell less than 250,000 gallons of wine annually. They must maintain a minimum of 10 acres of owned or managed vineyards in Florida and be open to the public for tours, tastings and sales at least 30 hours each week. Only wineries meeting these criteria may make annual application to the department for recognition as a Florida Farm Winery.
Naturally, there are many other great wineries who don't fit in this group but still are great places to visit. I gave up after discovering about 90 Florida wineries. These are just a drop in the wine glasses to get you thinking. Best way to discover these treasures for yourself is go on the road and do your own wine tasting expedition.
Click here for books on how to make great wine
at home.
For more info:
Black Horse Winery http://www.blackhorsewinery.com/
Tangled Oaks Vineyard and Winery http://www.tangledoaksvineyard.com
Lakeridge Winery http://www.lakeridgewinery.com/index.php
Eden Winery http://www.edenwinery.com
San Sebastian Winery http://www.sansebastianwinery.com
Key West Winery http://www.thekeywestwinery.com/
Sandestin Wine Festival http://www.sandestinwinefestival.com/
Amelia Island Wine Festival http://www.ameliawine.com/