These are precious and endangered places. Each year they face more dangers from natural causes such as hurricanes and salt water incursion and even worse from human causes such as development and waste dumping. Visit them while that still exist in their primal states and do all you can to help to preserver these natural treasures.
A pair of snowy egrets looking for food
Creole Nature Trail winds through Calcasieu and Cameron parishes. Originally established in 1975 by the Louisiana legislature as a scenic route. was recognized as a National Scenic Byway by the Federal Highway Administration in 1996. It was upgraded to an All-American Road in 2002. That is the highest possible designation, considered a destination unto itself.
The Creole Nature Trail is truly a destination. It is filled with refuges, wildlife sanctuaries, beaches, recreation areas and trails. You could spend a day, a week or even a month, fishing, hiking, camping birding, or just exploring the natural beauty, and never see it all. There are a few small stores along the Nature Trail for limited supplies but plan on bringing most items you will need.
Animated display at the Cameron Prairie National Wildlife Refuge
One good place to start is the Cameron Prairie National Wildlife Refuge. It serves as a visitors center and had restrooms–important since they are scares along the Trail– and a small museum to help you understand what you will see as you meander along the Trail.
One of my favorite exhibits inside the museum is the animated Cajun who "gon' tol' you about dat swamp, me."
He goes on to explain all about the wildlife found there and is "joined by an animated woman, Tante Marie in a pirogue who continues the tale of all the creatures found in the refuge.
Great blue heron in wades in the water
Outside, I could spent hours watching the alligators, turtles and waterfowl from the boardwalk. There are records of 250 bird species on the refuge. In early spring, you are sure to see migrating warblers, barn and tree swallows, kingbirds, kingfishers, orchard orioles, and yellow-billed cuckoos. white-fronted and white ibis also nest on the refuge as do purple gallinules, roseate spoonbills, great egrets, and great blue herons. I saw several herons, egrets and purple gallinules. Naturally. I saw lots of alligators and turtles. If you are lucky, you might spot an elusive bobcat and have a pretty good chance of seeing some nutria, otters and deer.
Mosquito hawks get well fed here
As we wended out way towards the gulf through sparsely populated Cameron Parish, there were still remnants of the destruction caused by Hurricane Rita in 2005.
Cajun Man's Swamp Cruise
Black Guidry tells us about his watery paradise
Another great way to get up close and personal with Louisiana's wetlands is to take a Swamp Tour. I took the Cajun Man's Swamp Cruise run by Ron "Black" Guidry and loved every minute even though it rained. The tour is located off of highway 182 on marina drive about 15 miles west of Houma. Black promised "We all gonna pass a good time." He did not lie.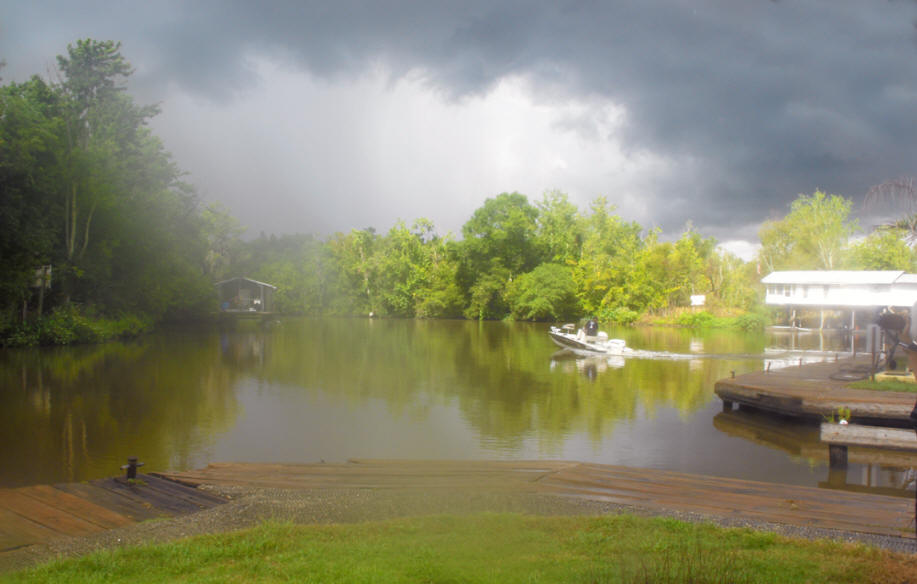 There is somthing mystical about Louisiana's waterways in the rain
Black took us out in a pontoon boat down a canal and into a bayou deep into the wetlands, the marsh, freshwater and saltwater, and swamp. There is a difference. A swamp is boggy wetland where water seems to have almost no current, although its water does rise and fall with the ebb and flow of the tides. The wetlands refer to Louisiana's coastal wetlands that lie between the Sabine River on the west and the Pearl River on the east. They tend to be brackish or salty.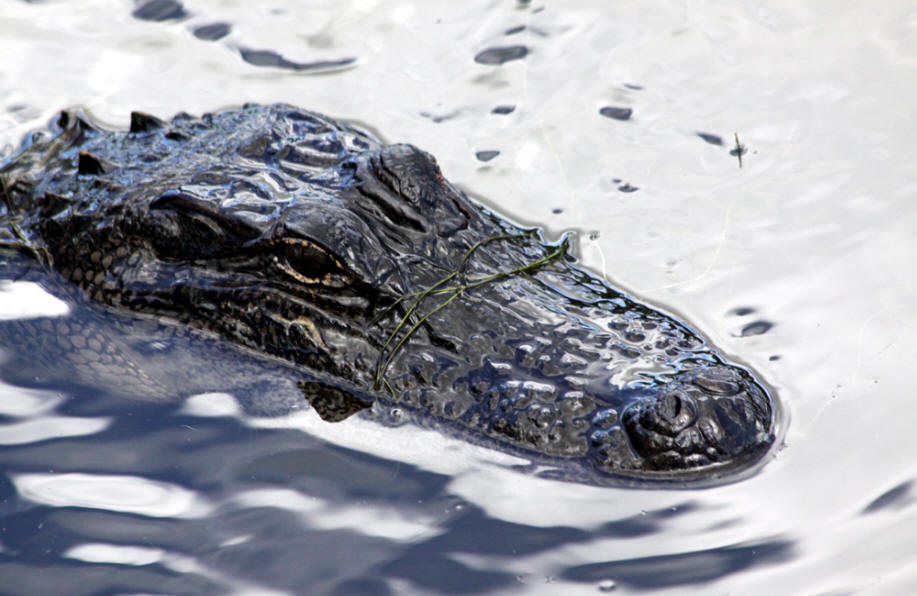 Lots of 'gators to get up close and personal with here
A few other clarification that will help you understand Louisiana's unique culture and geography: a bayou (pronounced by-you) comes from a Choctaw word "bayuk" and a pirogue (pronounced pee-roag) is a small wooden boat originally carved from a hollowed tree log usually poled but sometimes paddled.
We spotted lots of water birds. The vegetation is unique out there. Lots of bald cypress trees with the knobby knees protruding from the water. Spanish moss hung on lots of the trees and there was a lot of flowering scrubs along the water's edge. One with red flowers was particularly noticeable. It is called a tropic creeper. The alligators stole the show here, too. Black has several he has trained to come to his call. One, Mamma, about an seven to eight foot one came right to the boat and took some chicken he offered her from a long pole. Black showed us the nests of baby 'gators along the bank. He explained how he was saving Mama's life by feeding her. He told us, "Alligators don't eat every day so 'cause I feed her when I come out here, she won't take the chicken they bait the poles wit''"
Bayou Terrebonne Waterlife Museum is a small yet interesting museum in Houma that focuses on the wetlands and the culture of the Acadians. One of my favorite exhibits here is the oyster rake which let me actually experience scooping up oysters from the beds like the actual oystermen do.
This turtle was posing for me
The huge stuffed alligator is a favorite with kids and everyone loves to take their picture with the life-sized cutouts of RJ Molinere and Jay Paul Molinere of Swamp People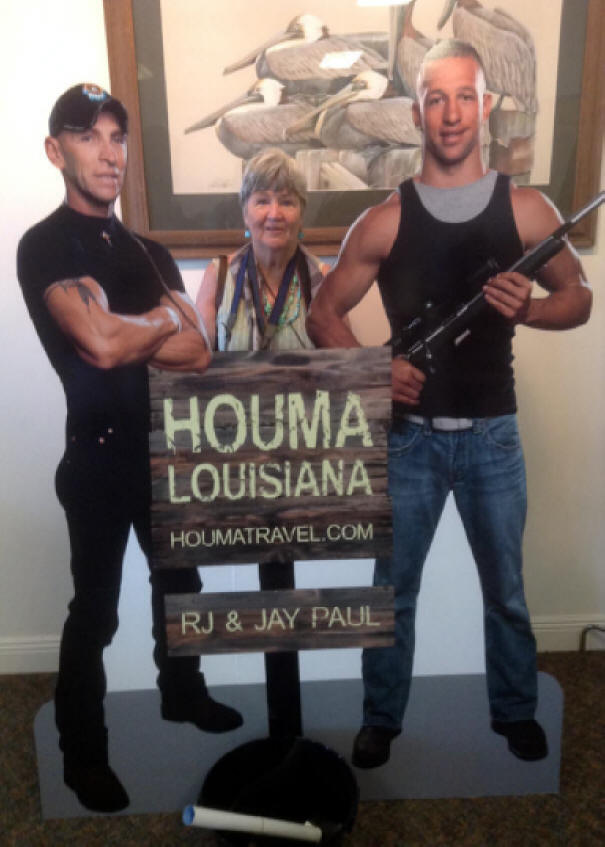 The Swamp People got me
In front of the museum is the Acadian Deportation Cross Monument was created by the Societe Nationale de l'Acadie . It was created to track the history of the French people who were expelled from Canada and came to be known in Louisiana as "Arcadians" or "Cajuns." It is one of 10 in the entire world and the only one in the U.S.
There are many of these places but I am only giving you a taste of a few. Go discover the rest of these treasures for yourself in the wild and wonderful wetlands of Louisiana.
For more info:
http://www.creolenaturetrail.org/
http://www.houmatravel.com/do/art-and-museums