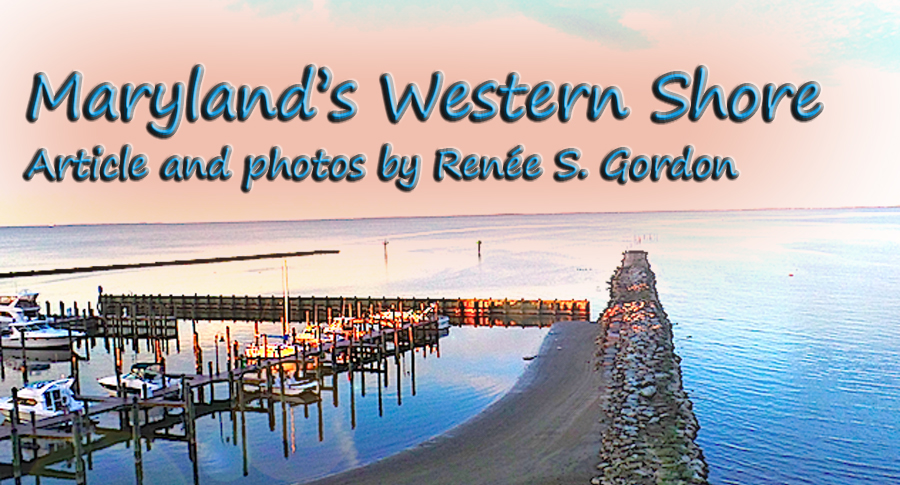 The Chesapeake Bay was created approximately 10,000-years ago from melting glaciers and it is home to 238 varieties of finfish, 173 species of shellfish and nearly 3,000 plant types. It is the largest estuary in the country and the third largest in the world flowing 200-miles with 11,684-miles of shoreline.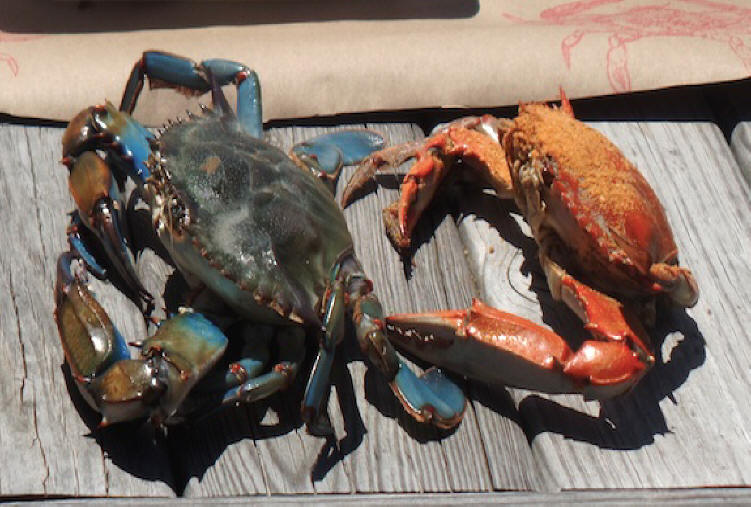 The bay is a narrow waterway bisecting Maryland that is part of the Atlantic Ocean. The towns and villages located on the western shore are a fishing, hiking, boating paradise that has unique offerings for history lovers and those seeking a peaceful getaway. http://www.Visitmaryland.org
At the time of European contact there were as many as 14,000 Native Americans in the area with the Piscataway Indians living along the western shore. Captain John Smith, in 1608, was the first to document and map his exploration of the area. The bay was named Chesapeake from the native word "chesepiooc," meaning "Great Shellfish Bays." As proof of the abundance of oysters, archeologists have found a 30-acre midden heap 20-ft. deep filled with oyster shells.
Maryland is one of the original colonies. In 1632 the Catholic Calverts were given 12-million acres of land that encompassed all of Maryland and a large part of PA. They established a colony founded on religious tolerance and free trade. The 189-mile Religious Freedom National Byway trail helps visitors explore significant sites connected to the area's religious history. Bit.ly/rfsbyway
Early colonists raised mainly corn, tobacco and wheat and their diet consisted of large amounts of seafood. Turtles quickly became the slave's main diet to such an extent that a law was enacted that limited their owners to serving them once a week. The area continues to focus on agriculture and seafood. Choosecalvert.com
The Southern Maryland Agricultural Development Commission has created a trail challenging visitors to buy and eat at local farms. The trail incorporates wineries and farms that were selected for their quality, commitment to excellence, educational opportunities, views and overall uniqueness. Guides are available online. http://www.somarylandsogood.com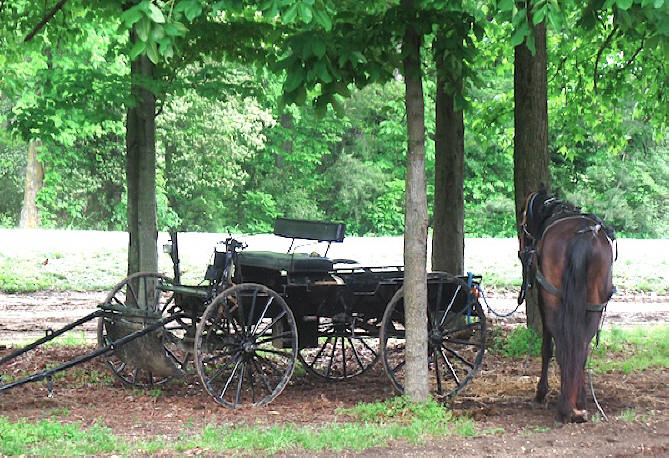 In 1939 seven Amish families moved to rural southern Maryland because they felt that Lancaster, PA was too crowded and they were opposed to some of PA's laws regarding education. Maryland exempted the Amish and in in 1972, Wisconsin vs. Yoder, ruled that mandating the Amish children attend beyond 8th grade violates their religious freedom. More than 200 families now farm in the area. Clover Hill Dairy is an Amish owned dairy that is renowned for the superior quality of their products and the Amish Farmer's Market sells fresh seasonal produce, flowers and baked goods.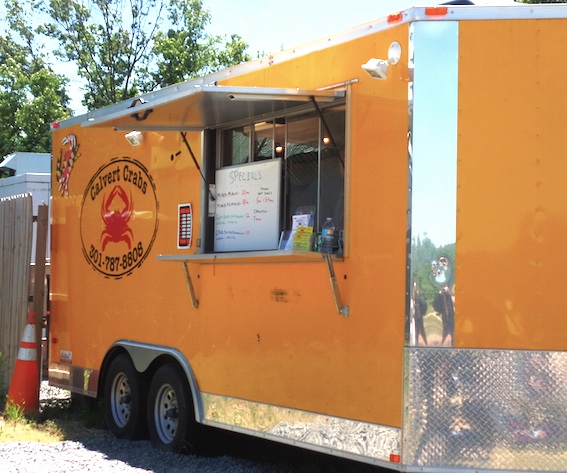 Spider Hall Farm, a 362-acre working farm, offers interactive tours, hands-on activities, events and special programs for children. It is a 7th generation farm and one of the few that continues to grow tobacco. Food trucks enhance the experience with Maryland's best crabs. http://www.Spiderhallfarm.com
The American Chestnut Land Trust is approximately 3,000-acres purchased to preserve and connect people to the land. It is the last intact watershed in the region. Within the ACLT visitors can take guided hiking and canoeing trips and discover 1,000 wildlife species. Tours of the site feature a 90-ft. long beaver dam, a rain garden and a food forest consisting of foods that the early population would have found growing naturally. http://www.Acltweb.org
Battle Creek Cypress Swamp Sanctuary is one of the northernmost swamps in the nation. A boardwalk leads through the swamp and provides great views of Bald Cypress trees that tower up to 100-ft. An on-site museum displays information and dioramas about the geography and plant and animal life of the swamp.
Briscoe Gray Heritage Farm is a 196-acre tract of the Calvert Creeks Rural Legacy Area. It features an example of a "rolling road", one used as early as 1725 to roll wooden barrels of tobacco to the wharves. The George Rice farmhouse and three outbuildings are also located there. Rice, an African American purchased his land in 1902 and resided there until 1938.
The 545-acre Flag Ponds Nature Center is a must. The area is 12-20 million years old and boasts 3-miles of nature trails and 4 habitats within .05-miles. Once fishermen caught fish in the ponds. Modern visitors can hunt for fossils along the beach and they are guaranteed to locate some. Examples of fossils are on display in the visitor's center.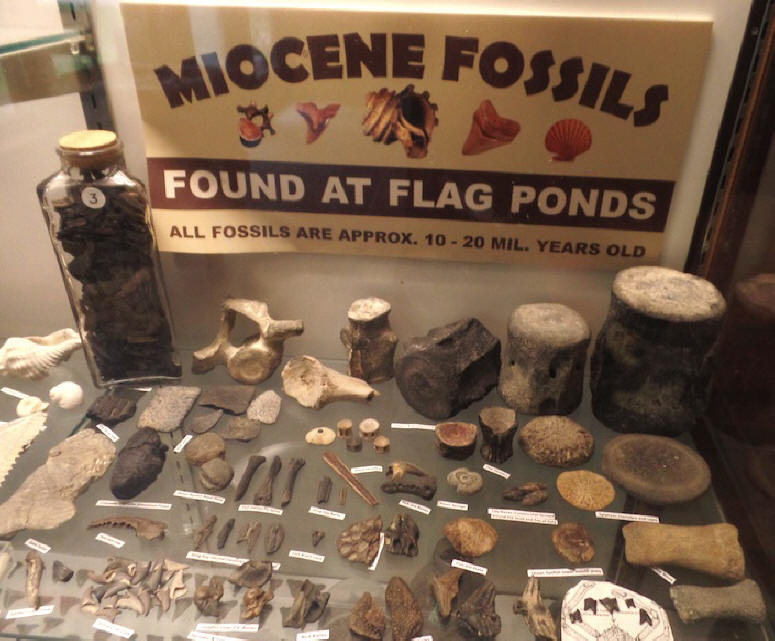 The state's smallest county is Calvert, home to the Calvert Cliffs. The cliffs are 30-miles long and 120-miles high and are over 10-million years old. They are imbedded with more than 600 species of prehistoric fossils from whales to seabirds. There are 13-miles of marked trails.
North Beach and Chesapeake Beach are the twin bayside beaches. North Beach is located on the northern tip of Calvert County and has a .50-mile boardwalk and 7-block waterfront. The Bayside History Museum places emphasis on the history of North Beach. The beach offers fishing, swimming, kayak rentals and boat slips.
The best way to learn about Chesapeake Beach is to follow the Historic Heritage Trail. It was developed as a resort area in the 1890s. The Chesapeake Beach Railway operated from 1900 to 1935 and its story is related in the Railway Museum housed inside a former station. The Railway Trail has wonderful views of Fishing Creek and the surrounding terrain.
Mallows Bay Park has the largest collection of historic shipwrecks, the Ghost Fleet, in this hemisphere. The 185 documented wrecks have created a unique ecosystem that is filled with wildlife and supports recreational fishing, boating, kayaking and hiking. It is possible to sail in and around the fleet.
The area is filled with Native and African American history. Blacks constructed many of the vessels, they worked aboard some of these ships and some enslaved people entered the region through the shallow waters of the bay. An outstanding educational program, Through Piscataway Eyes, is also available. It seeks to relate the history and culture of the Piscataway on the soil of their state homeland. This authentically native interpretation allows visitors to learn and experience the native lifestyle and influence on the larger culture.
North Beach and Chesapeake Beach are twin bayside beaches. North Beach is located on the northern tip of Calvert County and has a .50-mile boardwalk and 7-block waterfront. The Bayside History Museum places emphasis on the history of North Beach. The beach offers fishing, swimming, kayak rentals and boat slips. #1Xmas town
The best way to learn about Chesapeake Beach is to follow the Historic Heritage Trail. It was developed as a resort area in the 1890s and the Chesapeake Beach Railway operated from 1900 to 1935 and its story is related in the Railway Museum housed inside a former station. The Railway Trail has wonderful views of Fishing Creek and the surrounding terrain. http://www.baydreaming.com
Numerous events and activities take place at the Chesapeake Beach Resort & Spa. It is a destination in itself but it is located within an easy drive of all the main attractions on the Western Shore. It offers rooms with waterfront views, fine dining, a spa menu of treatments, a casino and a vast array of water sports. Rock the Dock, a series of concerts, is presented on the beach in a unique Band Shell. http://www.chesapeakebeachresortspa.com
| | |
| --- | --- |
| | |
Visitors can go from sea to stars in only a short drive. Spaceflight America and Science Center is an excellent walk into the history of spaceflight. This museum is filled with artifacts and interpretive galleries that will awe you. Everything here is a highlight but you must not miss a full sized replicated space station, the earliest digital camera, a 1998 model that cost $15,000 and held 6 pictures, Russian, Chinese and American space gear and an authentic Mission Control console. With all those wonders my favorite was the medical treatment apparatus. In space astronauts need speedy diagnosis and this milk crate sized device takes 30-seconds to complete a full analysis of every possible medical condition. http://www.Spaceflightamericamuseum.org
| | |
| --- | --- |
| | |
The Patuxent River Naval Air Museum relates the history of more than 70-years of naval aviation in a newly opened $5.6-million facility within an indoor-outdoor complex. A replica of the first, 1911 naval airplane, greets you in the foyer. After visiting exhibits in the main museum visitors proceed to the Flight Line, 21 planes including experimental and supersonic planes. The test pilot school is on the adjoining base and these are actual planes tested there. People who were part of the program give the tours and insider information such as, army navy and marine planes must be 90% compatible so that parts are interchangeable. The final stop on the tour has full sized flight simulators that allow visitors to select their own combat mission. This is another hidden gem. http://www.paxmuseum.com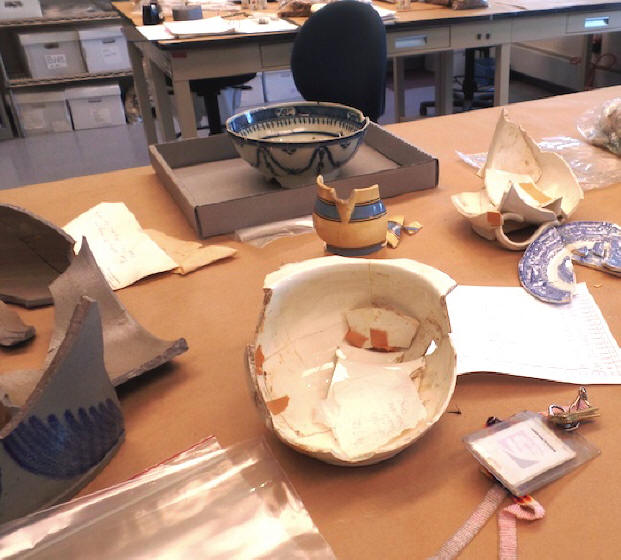 Why stop on the surface when you can dig deeper at the 560-acre Jefferson Patterson State Park and Maryland Archeological Conservation Laboratory. Once the site of a, 10,000 BC, woodland Indian village, it now contains interpretive trails and more than 65 archeological sites. The conservation lab features artifacts, 90% from MD and 10% federal and offers tours and public archeology days. Spotlighted on the grounds is the site of Sukeek's Cabin. Sukeek, Jane Dawson, an African American lived there from 1880-1920. She died the day she received a letter that her son was killed in WWI. http://www.jefpat.org
James Bowles purchased 2,000-acres in 1699 and erected a 2-room cabin. In 1703 his slaves built the main house. Records indicate that in 1723 he purchased 263 slaves and in 1729 he sold the tobacco plantation. During the War of 1812 out of the owner's 60 slaves 48 escaped to the British. One slave escaped during the Civil War and joined the USCT.
Sotterley Plantation is the sole remaining tourable Tidewater plantation. Mansion tours begin with a 10-minute orientation film. Important features of the house include the magnificently slave carved tulip poplar alcoves in the drawing room and a 1760 Chinese Chippendale staircase. A slave cabin on-site houses "To Be Enslaved," an exhibit that interprets the slave experience in the region through artifacts and displays. http://www.sotterley.org
The 1880s Old Wallville School is a significant site in American history. This tiny building functioned as the separate African American High School. Teacher Harriet Brown discovered that white teachers with the same experience and education were paid nearly double the salary of black teachers. She went to the NAACP where a young attorney, Thurgood Marshall, took the case. In 1937 it was ruled that unequal salaries violated the 14th Amendment and this landmark case laid the groundwork for equalization of salaries. http://www.oldwallvilleschool.org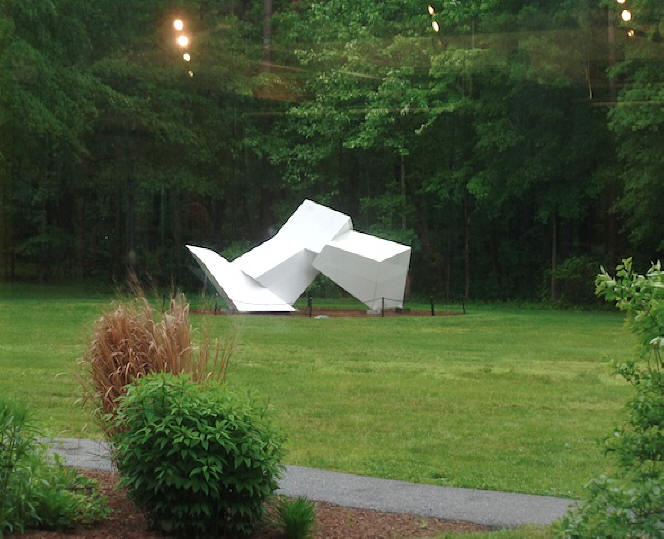 The Annmarie Sculpture Garden was founded n the 90s and it became a Smithsonian Associate in 2003. A museum, surrounded by more than 25 outdoor sculptures, showcases rotating exhibits. The most famous sculpture in the garden is Antonio Mendez's "The Oyster Tonger." It as the first sculpture purchased and depicts an oysterman in honor of the men who fished the region. http://www.annemariegarden.org
Serenity Farm is a 250-acre working agri-tourism farm. It was a native Acquintanacsuck village, a landing point for John Smith in 1609 and a campsite for British in the War of 1812. The farm is family owned and offers tours, a petting zoo and a farm store.
Previously it was the Smith tobacco plantation and recently 23 graves of enslaved infants and adults were discovered. The most recent grave dates from 1810. Some of the bodies were exhumed for DNA testing, one individual's face has been reconstructed forensically and visitors can see his face across the centuries. They named him Lazarus. The burial ground has been kept as they would have been and a documentary, "Remembered by the Wind," is being filmed. http://www.serenityfarminc.com
The Western Shore is ground zero for seafood and farm to table dining. I could make dozens of recommendations but here are a few favorites.
Walls Bakery is renowned as the 3rd generation bakery of delicious eclairs. They are made from scratch and are the favorites of movie producers and presidents. http://www.wigwamwallsbakery.com
Rex is located inside a 1920s movie theater and decorated with posters of movies that were once shown there. Rex's specialty is modern twists on comfort food and their signature Rex Charcuterie is outstanding. The restaurant is in the heart of Leonardtown's Arts and Entertainment District, the only one in southern MD.http://www.therexmd.net
Brick Wood Fired Bistro is not to be missed. You may have seen some of the kids on "Chopped Junior" from their children's cooking classes. They use wood-fired ovens, locally sourced foods and herbs that are grown on the restaurant's roof. The menu changes seasonally and it features a 6-course bourbon dinner. brickwfb.com
If after you have heard about all the wonders of the Western Shore of Maryland you still aren't convinced, remember the US Oyster Festival. The festival will be held October 15-16 and highlights the National Oyster Shucking Contest and the National Oyster Cook-Off. There is nothing like it. http://www.usoysterfest.com
Southern Maryland's western shore is an outdoor paradise that begins only 30-miles south of Washington, DC. http://www.charlescountymaryland.gov/tourism and http://www.visitstmarysmd.com
American Roads and Global Highways has so many great articles you may
want to search it for you favorite places or new exciting destinations.