Alligators? Fun? And what about snakes? Not so sure of that? Well if you are gliding down that bayou with Captain Tom Billiot on his Cajun Pride Swamp Tour you can relax and enjoy the wildlife. Even those huge alligators are fun to watch.
I took the tour a few months ago on Travel South's Geaux See Louisiana's fam trip and loved it. Aside from the fun and educational quality of the tour, it's an easy jaunt for anyone visiting New Orleans to take. It's located on 25 miles of privately owned Manchac Swamp near Laplace, just 25 miles from New Orleans.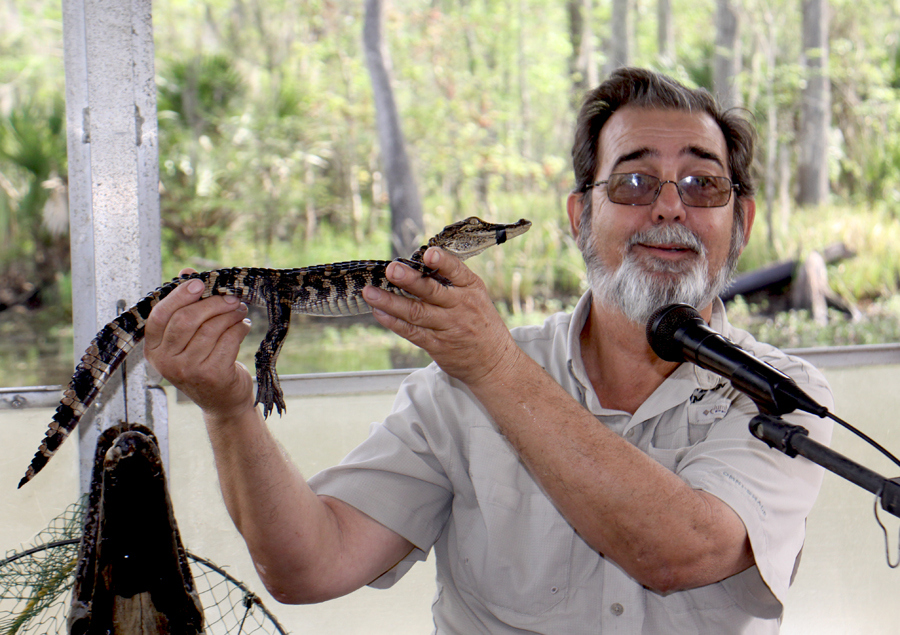 Captain Tom displays a small alligator he brought onboard to show.
Captain Tom is a native Louisiana Cajun. He grew up around her and speaks the language literally and figuratively. He begins the tour by explaining the difference between a swamp and a bayou. A swamp is the entire area, hundreds of acres consisting of fresh and brackish water, marsh and woodlands. The bayous are small natural streams whereas canals are manmade.
We were only aboard our trusty vessel. Swamp Runner, for a few minutes when someone shouted "A 'gator!" Sure enough, there was a small alligator swimming near out bow. Captain Tom noted that he was young. "That little 'gator is about three years old. Alligators grow about a foot a year. The first three or four years tell of they gonna make it or not. They grow about a foot a year. They got about 45 eggs in a nest. 'Bout 35 might hatch. After four years might be about four or five make it. That's why they got such a big program of collecting Alligator eggs."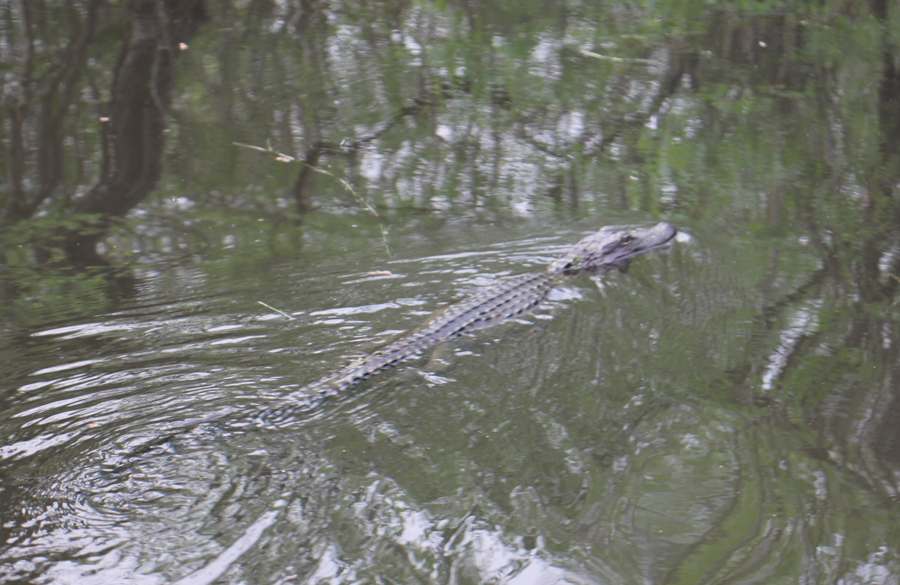 Larger 'gater swimming near our boat
Captain Tom knew his 'gators. Within a few minutes, he pointed out a larger one swimming towards us just its eyes showing above the dark water. He was about four feet long. Soon there were others. Some lying on logs or the bank.
Note the swollen belly on the first alligator. He is digesting whatever he ate.
Captain Tom pointed out one rather chubby fellow. He was lying atop a partially submerged log. "He got something in there. If it's a rabbit it might take a month to digest. if it's a bird sooner. He's letting the sun help him digest it. The body temperature gets up to 80 or 90 degrees. That melts all the fat down so he can digest it."
Anhinga drying her wings
There were numerous birds as we drifted down the swamp slowly. The captain pointed out an anhinga drying her wings on a tree branch. He explained that the anhinga was designed better for swimming than flying. She had to dry her wings before she could fly as she had no preening gland. It's tail was even shaped like a rudder. There was a snowy white egret perched on a cypress stump. We soon spotted a fish crow.
Snowy egret on cypress log.
Turtles were all around on the logs lying in the water. Captain Tom pointed out cooters, soft shells, sliders and snappers and others. Wildlife was all around us. On the boart as well, Captain Tom brings out a baby 'gator tolet us all get up close and personal wiht the reptiles. We all took turns holding it.
Gina, one of our travel writers, holding the little alligator
Trees and plants abounded. He pointed out the red maple and cypress, the state tree.
He brought out a small skull and fur from a nutria and told us about how they had been introduced into the swamp and then multiplied by the millions. The state put a bounty on them to try and eradicate them. "We about got 'em on the run we got 'em down to under a million now."
One of the raccoons on the bank waiting for a handout
We stopped and pulled near the bank. Captain Tom tossed out a few heads of lettuce. Within minutes, a family of raccoons emerged from the dense vegetation and began feasting on the lettuce. A crow began competing and pulled out some of the lettuce where the raccoons could not reach it.
Family of raccoons eating the lettuce
There is a poignant scene of how fragile life can be in the swamp. We passed a cemetery where hundreds of residents of a small community are buried after the community was wiped out by a hurricane in 1915. There is a small Cajun house called Trapper's Cabin preserved on the shore to give you an idea of what life was like in this swamp in the early 1900s.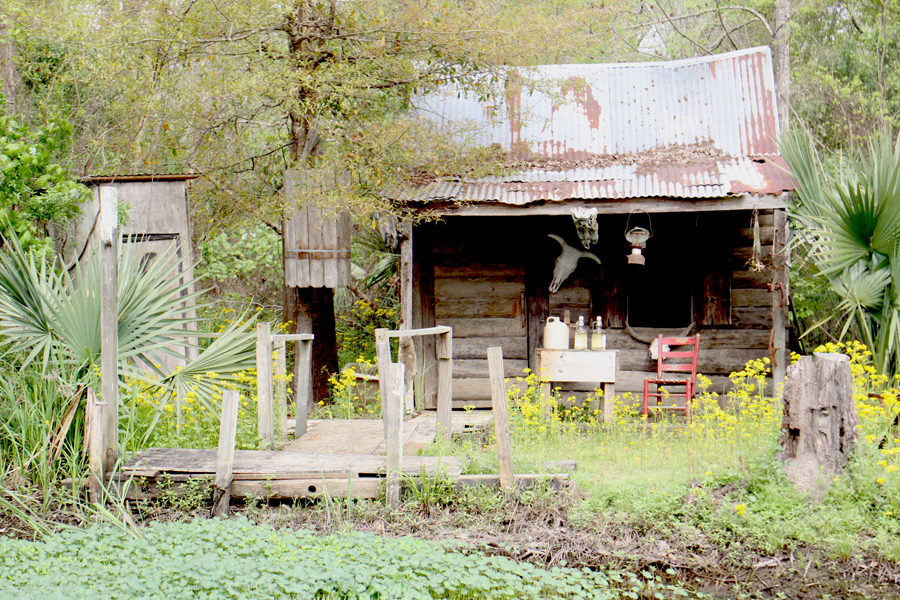 Trapper's Cabin
I later learned that the cabin, cemetery and surrounding swamp are alleged haunted by the ghost of voodoo priestess, Julie White, who lived out here. Shortly before the day of her death, she predicted "One day I'm gonna die, and I'm gonna take all of you with me." Sure enough she supposedly died on the day of the hurricane. To this day, people allegedly hear her screams echoing thought the swamp.
It's a beautiful and mysterious environment but it's much more fun to visit it than to try and live out in that swamp.
For more info:
http://www.cajunprideswamptours.com