New Orleans
by Warren Resen
Photographs by Jeanne O'Conner
The "Big Easy," was an eagerly awaited stop on our road trip. It was a city we had never before visited and were looking forward to the sights and sounds of this storied place.
Up to this point we had slept in a tent, a KOA cabin with no facilities, questionable motels and some decent but unremarkable cookie cutter chains.
The Monteleon


In New Orleans we would be staying for three nights at the Hotel Monteleone on Rue Royal in the heart of the French Quarter.

This 126 year old grand dame of hotels boasts five generations of family ownership, truly a remarkable achievement in today's corporate climate. There are employees working at the hotel with 50 years of service and it is not uncommon for the hotel to host families who have been returning as guests for three generations. As a guest, you know you are not in a cookie cutter chain hotel when an attentive staff member addresses you by name. The Hotel Monteleone is a proud member of Historic Hotels of America.
The Monteleon's rooftop pool
The original 64 room building, called the Commercial Hotel, had been occupied by Union Troops during and after the Civil War. It was purchased in 1886 by Antonio Monteleone who had arrived not long before from Italy where he ran a successful shoe manufacturing business. It wasn't long before the Monteleone name appeared on the hotel's marquee.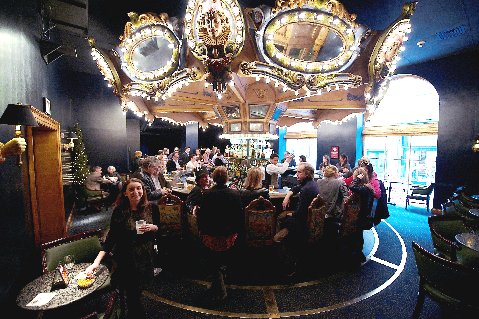 The Carousel Bar
Over the years the hotel grew to 600 elegantly furnished guestrooms and suites, making it the Quarter's largest full-service hotel. During its long history, many amenities have been added and not being satisfied with perfection, the Monteleone family continues making improvements.
In the late 1940's, Hotel Monteleone's world-famous Carousel Bar opened and has been a highlight for guests and tourists ever since. Unlike rotating bars of later years, usually located on top of buildings, Hotel Monteleone's revolving Carousel Bar is at street level giving patrons easy access from the lobby, a great relief to anyone having an aversion to heights. On the other hand the hotel's roof top pool is located on the 16th floor, very unusual in the middle of the French Quarter. The pool and adjoining bar give guests a feeling of being on a tropical island in the sky.
Staying at the Hotel Monteleone afforded us the opportunity of stepping out the front door and into the heart of the action. No matter in which direction we turned, there was something to see and do.
| | |
| --- | --- |
| | |
| Bourbon Street protesters | A French Quarter reveler |
Driving and parking in the French Quarter can be difficult so we opted to leave our car parked in the Monteleone's garage since many of the city's attractions are available by foot and trolleys are a convenient mode of transportation. They are frequent and inexpensive; one way fare is $1.25 per person but only $0.40 if you admit to being over 65.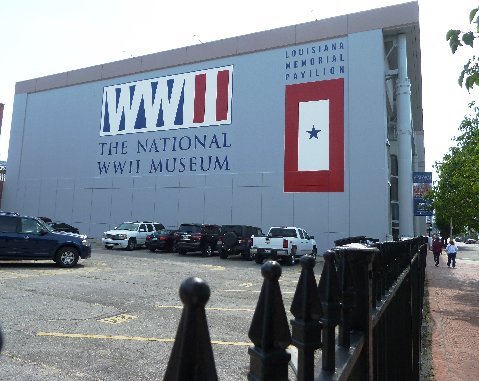 National WWII Museum

The famous Bourbon Street is just one block away from the hotel's front door.

Car traffic on Bourbon Street is banned at night and crowds out for a good time fill the street. Highly amplified rock music blares from bars nestled cheek to jowl as hawkers do their best to lure customers inside. Of course there is also the obligatory group holding up a large cross praying for sinners to repent.

One night's visit to Bourbon Street is sufficient to get its flavor. Bourbon Street is for those who like neon lights, bar hopping, noise and bragging rights to say they've been there. Locals shun it, except for the restaurants.

The real music, and where the locals go, is one block north of the Quarter to Frenchmen and Decatur Streets. There each bar, tavern and restaurant offers a different type of music. Not only is the music authentic and not highly amplified, but prices are generally cheaper than on Bourbon Street.

Daylight brings a different feel to Bourbon, Royal and surrounding streets. The architecture in the French Quarter is truly amazing. Street after street is filled with historic buildings dating back to a time when the French and Spanish controlled the city. A Kodak/iPhone moment waits around every corner.

Iron grilled balconies festooned with flags and plants are everywhere as are restaurants offering a selection of gastronomic treats. When New Orleans was the Capital of the Spanish province of Lusiana from 1762 – 1803, that was the way it was spelled then, Bourbon Street was called Calle De Borbon.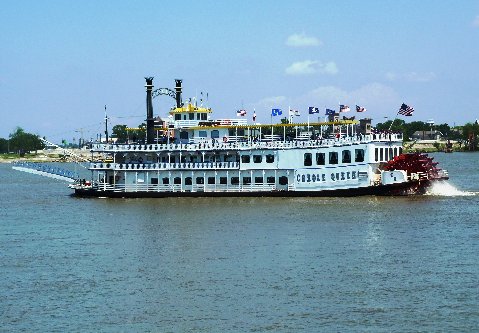 Paddleboat on the Mississippi river
From the lobby of the Hotel Monteleone you can easily walk to the Mississippi River and Riverfront Park, the IMAX Theatre, the Aquarium and the NATCHEZ, an authentic Mississippi River paddle wheel steam boat. It's a big tourist attraction and fees for adults are $25 per person and up for a bland, narrated 2 hour cruise. If you just want to experience being on the Mississippi than that's OK. What you get to see, coming and going for two hours, is the commerce of the river: tugs, freighters, boat yards, a gas refinery and rusting factories including one belonging to a major sugar manufacturer with buildings so old and rusted it seems the only thing keeping the walls standing is the rust. There was supposed to be live Dixie Land Music during the cruise. Apparently the band took the day off when we were there. There are more interesting and less expensive ways to spend your time in New Orleans.
In New Orleans, face almost any direction, you will find historic sites and museums, especially museums. A short trolley ride will drop you almost at the foot of the Contemporary Arts Center featuring local artists. Next door, and not to be missed, is the Confederate Museum and across the street from that is the world class National WW II Museum (for more about the WWII Museum) displaying the most comprehensive collection of memorabilia of the war in the European and Pacific theatres during that time I've ever seen. These attractions are in the aptly named Warehouse/Arts District. Live theatre is everywhere but for this visitors will need easily obtained current information.
New Orleans Musical Legends Park on Bourbon Street

New Orleans is of course famous for its fabulous food. But that is a subject for a specialized article. (For New Orleans food) One fun place that I can recommended is little vest pocket piece of space grandly named the New Orleans Musical Legends Park on Bourbon Street.

It's an open air venue with bronze life-size statues of famous musicians of the past.

On the bandstand, performers entertain from early morning to late at night in old New Orleans style and it's free.

Cafe Beignet is located in the park offering reasonably priced local foods and of course you must try one, or more, of the locally famous beignets.

The park is only one block from the front door of the Hotel Monteleone, an island of serenity in the heart of New Orleans's French Quarter.