When Ponce de Leon claimed what he probably thought was an island for Spain, he was technically, and unknowingly, claiming All of North America including Canada and Alaska.

To understand St. Augustine's rightful place in American history we have to start with British history.


Newly erected Ponce de Leon statute on A1A
10 miles north of St. Augustine
Jamestown, VA was founded 1607, abandoned in 1610 and reestablished in 1616. The Pilgrims landed on that famous rock in 1620.
In 1565, fifty-two years after Ponce de Leon's landing, St. Augustine was founded by Pedro Menendez de Aviles, an Admiral in Spanish Navy. This was 42 years, and in the century before the first Jamestown settlement, and 55 years before the Pilgrims disembarked by stepping onto that rock
But ask most people which is the oldest European city in the continental USA and the answer is usually Jamestown. Why? St. Augustine was Spanish and Jamestown was English and as you well know, the victors write the history books.
St. Augustine was the capital of Spanish Florida for 200 years and is the oldest continuously occupied European settlement and port in the Continental United States. It remained the capital of East Florida when the territory changed hands between Spain & Great Britain in 1763 and was capital of the Florida Territory (US) until it was moved to Tallahassee in 1824.
The heart of St. Augustine is at King and St. George Streets. Everything radiates out from there; sightseeing attractions, museums, restaurants and lodgings. To get an overview of the city, its history and places of interest, a trip on one of the hop-on/hop-off sightseeing lines is the best way to get oriented.
200 year old (plus) wooden schoolhouse
One block east of St. George St. is Aviles Street (Pedro Menendez de Aviles), the oldest street in St. Augustine. It's an easy walk south from King St. to the Gomez-Alvarez House, the oldest house in St. Augustine. The cobblestone streets and old homes are a photographer's delight. Ancient coquina walls still show indents of invader's cannon balls.
Historic St. George St. north of King St. is pedestrian friendly and lined with restaurants and shops selling history, trinkets and T-shirts. Some visitors have been heard to comment negatively on this use of such a historic area without realizing that in the old days it was taverns, buggy whips and muskets. It's always been a street of merchants.
Most prominent in this area of the city is Flagler College which was originally the Ponce de Leon Hotel. Flagler College is today one of the top rated 4 yr liberal arts colleges in the country.
Flagler College
Built by Henry Flagler and opened in 1888, the hotel was the height of luxury. It had every known modern amenity for that time including electricity. The system was designed by Flagler's friend Thomas Edison.
Being able to turn lights on and off with a button was a novelty. It was so new that some guests were afraid to touch the buttons fearing they would be electrocuted. No problem. The staff was at their disposal to do the deed.
The original museum quality art has been preserved throughout the building. Dining room windows and leaded glass decorations were designed by Louis Comfort Tiffany. I believe the college has these treasures insured for an amount in excess of $30 million.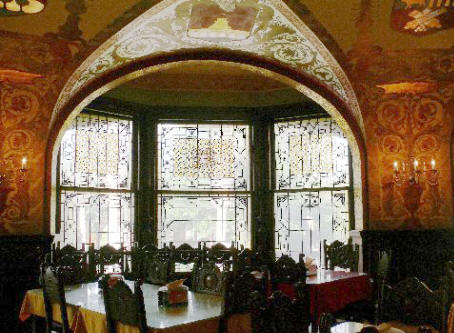 Flagler College dining room with some of the Tiffany windows
Today this magnificent building is home to students studying, eating in the opulent dining room, socializing, working their electronic devices and possibly no longer aware of their fabulous surroundings after a couple of weeks in residence.
A guided tour is the only way to see and experience the building's magnificent interior since security measures were imposed. Do take it. It's really worthwhile.
In 1917 a publication called Gullible's Travels published a humorous rendition of a (supposed) visitor's reaction to visiting St. Augustine and the Ponce de Leon Hotel:
"The hotel's named after the fella that built it. He come from Spain and they say he was huntin' for some water that if he'd drunk it he'd feel young. I don't see myself how you could expect to feel young on water. But, anyway, he'd heard that this here kind o' water could be found in St. Augustine, and when he couldn't find it ….he went into the hotel business and got even with the United States by chargin' five dollars a day and up for a room."
At the same time, Flagler also built the Hotel Alcazar across the street for the more athletically inclined of his guests. It featured a huge indoor swimming pool, Turkish Baths, Steam Room, and Massage Room and was the center for physically active guests of both hotels.
Author with Ripley's hidden David
The Hotel Alcazar was purchased in 1946 by Ohio newspaper magnate Otto Lightner and reopened as the Lightner Museum housing, on 3 floors, an eclectic collection of the treasures of America's Gilded Age and probably every family heirloom your descendants ever sold or discarded.
All of the athletic facilities previously mentioned have been retained as museum pieces except for the swimming pool which today is home to the Alcazar Restaurant and various retail shops.
Florida and Henry Flagler are synonymous, but no more so then in St Augustine where Henry Flagler and his family are buried in the church he built.
A few blocks north of the Old City's North Gate is the first Ripley's "Believe it or not Museum." The building was previously a hotel owned and operated by Marjorie Kennan Rawlings author of The Yearling, Cross Creek & other books. There is one item here not shared with any of the other Ripley museums.
Surrounded by a tall ficus hedge, planted so as not to offend passersby's by the unclothed depiction of the male form is DAVID, one of only two full scale reproductions of the original in Florence, Italy. It was carved from a block of marble quarried in the same Italian quarry as the original and was commissioned for the 1963 New York World's Fair.
Docents at Fountain of Youth
The Castillo de San Marcos is St. Augustine's signature attraction and the oldest masonry fort (coquina stone) in the Continental United States.
Construction of the fort began in 1672, one hundred and seven years after incorporation of St. Augustine. Its construction took 23 years. The Castillo de San Marcos was attacked twice in the 1700's but was never taken by an invading force.

There are self-guided and docent led tours of the inside of this historic fort. Visitors even learn of the time when the United States imprisoned leaders of the Seminole Nation here.

The Fountain of Youth is one of Florida's oldest tourist attractions and had remained unchanged for generations. If you visited it once, there was no reason to return. But now descendents of the original owners have brought life back to the old girl.


Only existing authentic pirate's treasure chest in the world
Archeologists have uncovered foundations of early Native American and Spanish villages. Restorations are underway to recreate prior habitations and special events are featured throughout the year.
The new St. Augustine Pirate & Treasure Museum was in Key West for 5 years until its owner Pat Croce, former owner of the Philadelphia 76ers, realized Key West was a party town.
He moved his treasures lock, stock, and musket to St. Augustine where it opened in late 2010. The only remaining pirate's treasure chest in the world, purchased by Mr. Croce for $1 million, is displayed inside.
The museum is a touchy, feely place. Almost everything here is to be handled including two authentic old cannons which can be fired, my favorite thing to do, electronically.
Docent at Colonial Quarters
The museum, located directly across from the Castillo de San Marcos, became an instant success when opened to the public and continues to draw people of all ages.
Backing up to pirate's museum, where the Spanish Quarter once stood on King St., is the brand new Colonial Quarter (also a Pat Croce project) featuring three centuries of Spanish and English occupation. Costumed tour guides walk visitors through the centuries while village "residents" busily work at their trades.
At the downtown Municipal Marina, visitors can take guided eco-tours, a two-hour bay tour on the tall ship FREEDOM under full sail or be entertained by a trip on the BLACK RAVEN, a painstakingly detailed reproduction of a pirate ship.
As a frequent visitor to St. Augustine, I'm frequently asked where to stay. That is a subjective call. There are many fine inns and hotels.
One of my favorites is the St. Francis Inn. It is the oldest continuously operating inn in the oldest continuously occupied European city in the Continental US and run by Joseph Finnegan who bills himself as the oldest inn keeper of the oldest inn in the oldest city.
The original structure, a 1-story building, was built in 1791 with the first travelers being hosted in 1845. The Inn was expanded over the years now has 3 stories plus some adjoining residences. It is not a cookie cutter motel. An added benefit for guests is their St. Augustine beach front building available to guests for daytime use.
St. Francis Inn
The question of dining availabilities always comes up. Walking to restaurants in the Old City is normally a pleasant stroll but a listing of places to eat, even briefly, where Spanish, Minorcan, French, Greek, Italian, American and other cultures are represented would take more room than I am allowed here. Even this article is but a brief capsule of things to do and see in St. Augustine.
Many towns and cities along the coast, from Jupiter north, claim to have been the place where Ponce de Leon actually landed. No matter, St. Augustine has a lock on the claim and has made the most of it over the years, especially during this the 500th anniversary year of Ponce de Leon's purported landing.
The next big celebration will be in 2065 for the 500th anniversary of the founding of the city. This will be something for our children and grandchildren to celebrate.
Thankfully St. Augustine's history will be preserved and not torn down to put up high-rise condos or gated communities.