The State of Louisiana goes by many names: The Bayou State, Pelican State, Sportsman's Paradise, Sugar State, and Creole State among others. Rather than a case of multiple personalities, it is a testimonial to Louisiana's diversity.
Motorists rushing to distant destinations on I-20 in northern Louisiana unknowingly by-pass a delightful part of our country. It is an area known as Louisiana North, a confederation of 29 diverse parishes.
Exiting the Interstate in the Shreveport area and taking I-49 southeast towards Natchitoches, travelers enter a countryside that in many cases would be familiar to people who lived here in the late 1800's.
Mile after mile of historic one-room whitewashed wooden churches with their prominent bell towers appear at almost every turn. Church bells are still rung on Sunday mornings to call the faithful to prayer. This is an area where the words of the Gospel Hymn, "Give Me That Old Time Religion," still ring true today.
History is never far from sight when passing old farms, general stores, and residences some in need of TLC which frequently adds to their charm. The majority of these strictures are still in use today. They represent a by-gone era, but using another almost by-gone term, they offer passersby's a "Kodak Moment."
Travelers will find the cost of overnight stays at many of the area's unique and often historic accommodations below what they would normally expect to pay in more heavily traveled areas. Food, with an emphasis on traditional local and Creole recipes, is always an important component of every event in Louisiana. It is a gastronomic feast that always means "bring your appetite." This is not the area for pretty little citified salads.
A good reason to leave the Interstate is to visit the charming city of Natchitoches. Founded in 1714, it is Louisiana's oldest city beating New Orleans by several years and is the oldest permanent settlement in the thirteen states included in the Louisiana Purchase of April 1803
Passing the sprawling campus of Northwestern University, you enter downtown Natchitoches on the on the banks of picturesque Cane River, an important shipping route during the days of King Cotton. The first glimpse of downtown evokes images of New Orleans, its big sister 275 miles to the south. The comparison is fleeting. This city has none of the hustle and bustle or parking problems of New Orleans except perhaps fleetingly during some downtown festivals.
Brick paved Front Street is the entryway to the 33 block National Historic and Plantation District along the banks of Cane River Lake where more than 100 historic homes can be seen as well as French and Spanish forts. Lodgings, B&B's, antique shops, and excellent restaurants are within easy reach. The folks at the Convention & Visitors Bureau can supply maps and information.
IMPORTANT INFORMATION: First time visitors are initially confused when they hear locals talk about the city using the local pronunciation which is "Nack-A-Tish."
Natchitoches was the location for the filming of many scenes in the movie Steel Magnolias, based on a true story about the citizens of this community. Not surprisingly a self-guided Steel Magnolias Tour Map is available at the downtown Convention and Visitors Bureau.
A visit here is not complete without doing the downtown Historic District Walking Trail. Winding your way through the city will take you to rue St. Denis and the Walk of Honor where plaques honor notables from the film industry, arts, and literature, as well as others who have made significant contributions to the city. It is a smaller version of Hollywood's Walk of Fame. This area has been the location for more than 130 movies and plaques honor notables such Hollywood luminaries as John Wayne, Julia Roberts, John Ford, Dolly Parton and many others.
It is the distinctive architecture of the downtown's buildings with their decorative wrought iron balconies that initially gives the city of Natchitoches its New Orleans appearance. Unlike its bigger relative to the south, the atmosphere here is laid back. Citizens smile and say hello when passing and on-street parking is normally not a problem except possibly during their special festivals.
One of my favorite shops on historic Front Street is
Kaffie-Fredrick General Mercantile. Founded in 1863, it is the oldest general store in Louisiana and an important landmark in the city.
Entering the front door is like stepping through a time machine. Welcoming shoppers is an unadorned interior where the merchandise is the focus, not fancy fixtures with goods locked behind glass nor is there loud music blaring from speakers. Unadorned and sometimes unpainted tables stacked high with house wares, tools, hardware, utensils, classic toys, clothing and trinkets are instantly available for shopper's inspection and purchase. How refreshing.
While you are downtown, visit the Lousiana Sports Hall Of Fame & Northwest Louisiana History Museum just down the block from the Convention & Visitors Bureau. This architecturally award winning building celebrates the achievements of more than 300 athletes, coaches and other sports figures of Louisiana. The history museum section of the building highlights unique cultural traditions from early Native American civilizations to the present time and the building's flowing interior was specifically designed to evoke images of the region's rivers and plowed fields.
In a state where most outsiders assume Gumbo is Louisiana's official food, Natchitoches is famous for its meat pies which have been awarded the title of the Official Meat Pie of the State of Louisiana.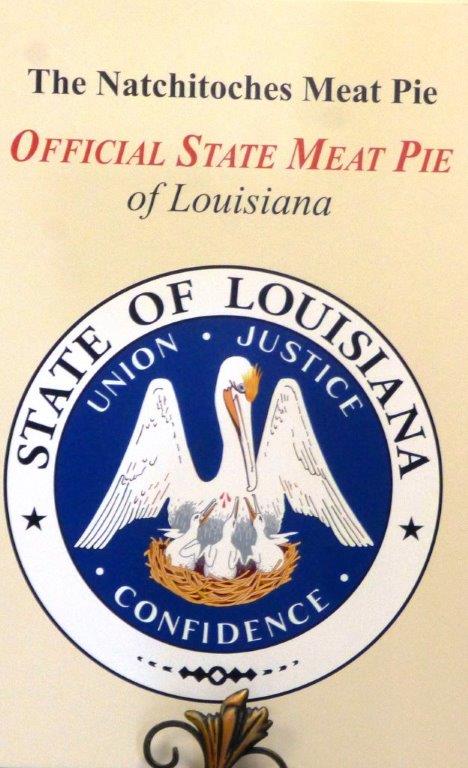 A visit to Lasyone's Meat Pie Kitchen & Restaurant, which has been opened since 1967 in downtown Natchitoches, will let you experience the same gastronomic treats locals have been enjoying these many years. Lasyone's is a family style eatery featuring local specialties that can be enjoyed in the restaurant's unique dining rooms, ordered for takeout, or shipped to your front door.
The area's Early American history is most evident to visitors when taking a self-driving tour of Cane River National Heritage Area with its plethora of restored plantations. This 35 mile-long river landscape is considered by many to be possibly one of the most beautiful stretches of plantation country in the South.
A must stop is Melrose Plantation, a legendary plantation established by a family of color around the time of the Louisiana Purchase. In 1796 it was originally known as the Yucca Plantation. The plantation's main house, named Melrose, was built in 1833. In 1844 under, the ownership of the Henry family, it also became a hub of art and education.
The Melrose Plantation's most famous resident was Clementine Hunter (1886 -1968) an African American field hand and cook. It was in here In her 50's that she first picked up a paint brush and began to create scenes from her memory of people, life, and scenes of the Cane River area and Melrose Plantation. (More about Clementine Hunter)
She was the first self-taught African-American artist to receive national media attention and the first African-American to have a solo exhibit at the New Orleans Museum of Art. Clementine Hunter became renowned as one of the South's premiere primitive painters and Louisiana's most famous folk artist. Many of her works are on display at the plantation in the African House, in major museums, and are treasured by private collectors.
According to the National Park Service, "In colonial Louisiana the word Creole indicated New World products derived from Old World stock and could be applied to architecture, livestock, food, and people." Most are familiar with Creole food and music but are unsure of how it is applied to people.
The Park Service goes on to say that, "Creole historically referred to those born in Louisiana during the French and Spanish periods, regardless of their ethnicity. Creole transcends racial boundaries. It connects people to their colonial roots, be they descendants of European settlers, enslaved Africans, or those of mixed heritage, which may include African, French, Spanish, and American Indian influences."
During the Christmas Season, the owners of some of the older historic homes observe an old Christmas tradition of displaying their trees hung upside down from ceilings, a custom that began in 12th century Europe. The upside down Christmas tree was considered to be the symbol of Christianity. The photo below, taken in the 1847 Italian Revival Soldini House,is an example of what a decorated up-side-down tree looks like. .
The Williams family has owned this house since 1916. Mr. Jack Brittain, a descendant of the Williams family, explains the tradition to visitors while also showing off the family's extensive private collection of Clementine Hunter paintings, one of which is visible on the wall behind the up-side-down tree.
Northwest Louisiana with its year-around activities, good food, friendly people, rich past and bright future should definitely be a stop on everyone's list. It is a delightful destination for travelers wanting to experience the gentler lifestyle of an earlier time.
All of the information you need to make your visit memorable can be found at LouisianaNorth.com and Natchitoches.com. But remember, be prepared when you hear someone talk about NACK-A-TISH.