The many villages with their Cape Cod style architecture are charming. It is not surprising that this area is frequently referred to as the mid-western Cape Cod. It's a world without any chain restaurants or big box stores. How delightful. How retro. It's also located on the imaginary line that places it half way between the Equator and the North Pole.
Villages with names like Egg Harbor, Fish Creek, Ephraim (where by ordinance, buildings must be painted white) Bailey's Harbor, and Whitefish Bay are only a few of the delightful destinations. There is a different story to be learned about each village's name when you visit. Some names are historical and some humorous. Surprisingly, the villages manage to maintain an individual flavor.
Door County is a relatively small land area, about 70 miles long, but offer visitors much to see and do. Live theatre is a feature of the American Folklore Theatre in Peninsular State Park Amphitheatre (open air) in Ephraim. The 500-seat Birch Creek Music Performance Center features a diverse program in the historic Egg Harbor barn. The Third Avenue Playhouse (TAP) features live performances in a converted Sturgeon Bay movie theatre.
Eight Lighthouses on the peninsula plus three on the mainland are a bonanza for lighthouse buffs. The county boasts a total of eight local wineries, enough to warrant a brochure publicizing the Door County WINE TRAIL. Each winery offers a distinctive array of wines with their own labels and of course the ever popular tastings.
Art happenings abound in almost every village. The Door County ARTS MAP helps visitors find things of special interest. In fact, colorful and informative brochures about the venues of Door County are available at almost every stop visitor's make.
Every village has an abundance of eateries, with water views whenever possible, that make choosing just the right one a toss of the dice. Since this is a tourist based economy, most restaurants feature menus for all meals. Locals will bend over backwards to be helpful and answer almost any question. Just ask.
It was a relief finally landing in Green Bay after a long travel day. Driving on the bridge over Sturgeon Bay Canal onto the Door County peninsular, I arrived in time for dinner at The Cookery in Fish Creek with its laid back atmosphere, unique local specialties and local beer. The Cookery's menu included interesting selections of local fish, imaginative food combinations and a nice choice of selections for vegetarians.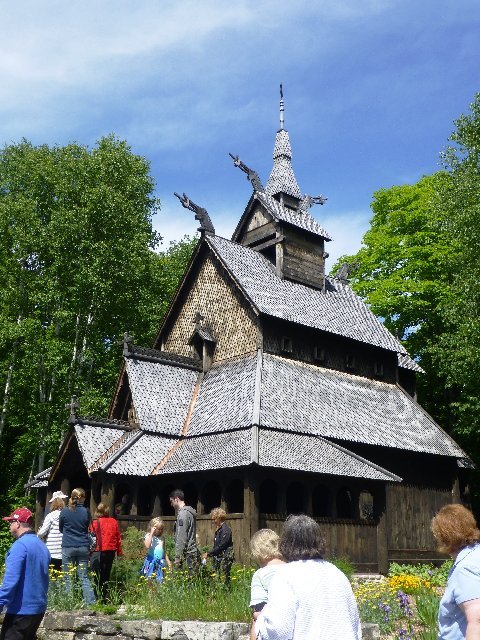 The Stavkirke church, Washington Island
This 70-mile sliver of land defies a single description as a destination. It has 300 miles of shoreline, is famous for its endless rows of cherry trees, a collection of unique communities, boutique shopping, picturesque lighthouses, and two ferry-only accessible islands on its north end which transport visitors to yet other worlds.

Before leaving the peninsular, consider the many available outdoor activities from which to choose: hiking, biking, boating, fishing, camping and other possibilities.
The ferry to Washington Island (depicted in the header) travels over waters so treacherous that early French explorers named the area "Portes des Morts" or Death's Door. This is where Door County got its name. Have no fear though. You are traveling in a large ferry not a birch bark canoe.
In 1850, Washington Island became home to the second oldest Icelandic settlement in the US. An interesting stop on the way to the Rock Island ferry while still on Washington Island is The Stavkirke, a replica of church whose design was common in Norway in medieval times. It is definitely a picture taking moment.
The ferry to Rock Island deposits passengers in a state park without cars or electricity. Reservations for primitive camp sites can fill up almost a year in advance of the season. Far removed from any light pollution, this has got to be one of the best night sky viewing places I've ever visited.
Short driving distances between villages and other places of interest on the peninsula are easily managed allowing visitors to tour much of the area on their own with the aid of the numerous available free brochures. But a time saver when it comes to finding special places to visit is to take one of the many Door County Trolley narrated tours. Experienced drivers/guides relate tales about local history, visit villages, and out of the way places which visitors might never discover on their own.
Dramatic finale to preparing a Fish Boil
Not to be missed is the area's famous FISH BOIL at one of the eateries featuring this treat. The fish boil was originated by Door County's Scandinavian settlers over 100 years ago to economically feed large groups of fishermen and lumberjacks.

My first experience with one was at Rowleys Bay Resort in Ellison Bay which also has a large restaurant facing a bay of the same name.
Water in an iron cauldron is brought to a rolling boil. At the proper time the "chef" adds kosher salt, onions, red potatoes, veggies if desired, and then chunks of fresh local lake caught white fish while the fire is being tended to.
For the finale, kerosene is poured into the ring surrounding the pot. What it does is to create a very hot fire which can easily soar to ten or more feet in height sending the scum on the top of the ingredients that have been cooking in the pot out over the sides including the grease and fat from the fish removing any fishy taste. At no time, despite the intensity of the fire which stuns and amazes first time viewers, is any of the food burned. The final product is delicious chunks of Lake Michigan white fish with any fishy taste totally gone.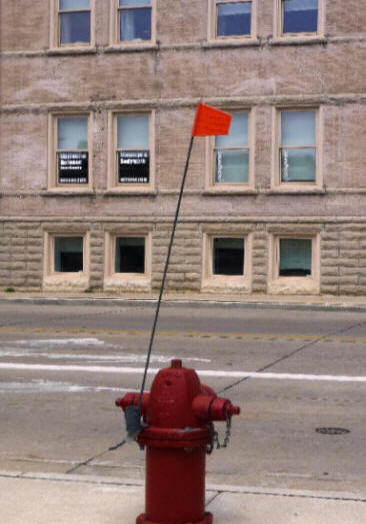 Snow height indicator
Door County, recently named a Top 5 summer getaway, is also a hotspot for winter activities. The area does get enough snow to host winter activities as I saw by the extension on a fire hydrant in Sturgeon Bay which sported a bright orange plastic on top giving me

a hint at snow accumulations.
Because of an amazing number of restaurants, wineries, and other places of interest on the peninsula, I can only report on the ones personally visited and even then there is not enough room here for me to do justice to all that I did visit.
During my visit to Door County, I found that all of the restaurants at which I stopped had delightful, knowledgeable servers and generally unhurried service. I don't mean slow, I mean relaxed.
Of special note is Wilson's Restaurant & Ice Cream Parlor in the village of Ephraim. Opened in 1906, it is a landmark. As would be expected, this is not a new era chrome and glass experience. The soda/food counter, original Wurlitzer Juke Box, and other remnants of the past make for an old timey atmosphere where families keep returning generation after generation. The food is good and portions generous but keep lots of room for the ice cream specials.
Breakfast was shared with friends at Door County Coffee & Tea Co. in Sturgeon Bay, a mecca for coffee lovers. Their coffee experts buy beans from around the world and import only 'Specialty Class 1 Arabica beans' which are then roasted and ground on the premises. Their specialty coffees are available to take home and there is a restaurant in which you can try their coffees while dining.
Wineries are a major attraction on the peninsula. The largest and oldest is Door Peninsula Winery and Distillery in the village of Carlsville. Their wine tastings are augmented by tastings of their unique distilled spirits in another section of the building and olive oil tastings in yet another section.
A more laid back wine tasting experience was to be had at Harbor Ridge Winery in Egg Harbor. This is Door County's newest winery and the owner has a sense of humor when it comes to naming his wines. Displaying some of the labels at home is sure to bring smiles to the faces of your guests.
Cherry Pit Spit course with distances marked.
Did you know that Cherry Pit Spitting is a competitive sport? Check out the Orchard County Winery & Market in Fish Creek. They have acres of cherry trees which when harvested wind up in wine, pies, juice, and jams or bought whole.

They can be bought whole or ground.

Just remember to spit out the pits which you can do on their marked "Cherry Pit Spit" course.
Readers might feel there is too much emphasis here on wineries. Well, they are hard to miss when driving the local roads. The signs are everywhere. However they are a major part of the local experience and are well spaced for convenience stops.
My visit to Door County was in late June and the only downside was the aggressive mosquitoes. More annoying though than the mosquitoes was trying to connect to phone service. For AT&T customers, finding a signal is almost as difficult as spotting Big Foot. Finding a Wi-fi location was almost as difficult. The upside was I generally couldn't get phone and Wi-fi service. The iPhone stayed in its case most of my visit. The silence was wonderful
More information for your trip planning can be found on the excellent web site of the Door County Visitor's Bureau at Doorcounty.com.