Six ways to connect
past with present in Independence, Missouri
Article and Photos by Christine Tibbetts
(unless otherwise noted)
Off they went from Independence, Missouri in 1845, heading west, and I imagined myself going along, blazing a trail west from Independence, Missouri.
My journey? A holiday next door to Kansas City.
For 250,000 people, those 170 or so years ago, seeking a new life was the plan. Pioneers and gold seekers. Missionaries and Mormons.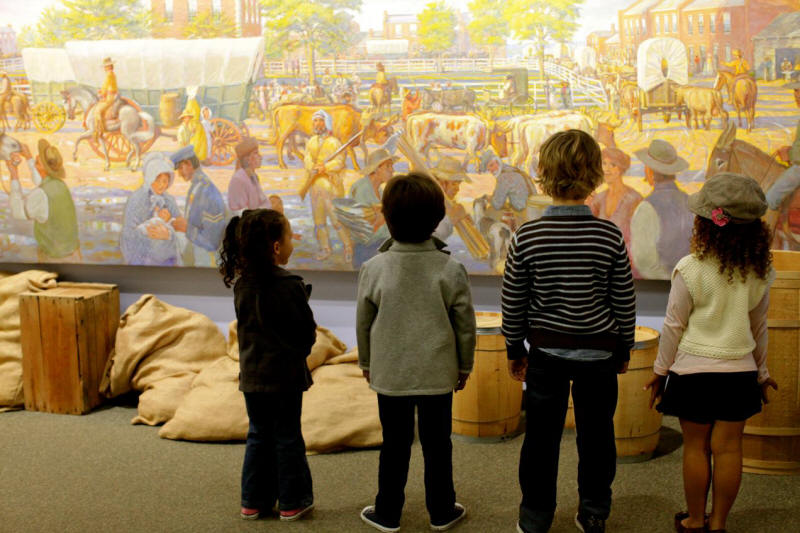 Kids studying the mural at National Frontier Trails Museum
C

redit Independence Tourism Department
I learned that and more in the National Frontier Trails Museum where curator and administrator David Aamodt bubbles over with facts and admiration for the people equipping wagons and themselves for 900 miles on the Santa Fe Trail, or 2,000 miles on the Oregon Trail.
Detours too for gold seekers forging the California Trail.
"Maybe 400,000 people headed west from Independence," Aamodt suggests. "A numbered list? Hardly. They just went—didn't have to declare anything to anyone."
Bustling 1840s frontier city then, devoted to western departures. Middle of America destination now, offering context to history, enthusiasm for historic preservation and plenty of culinary pleasures.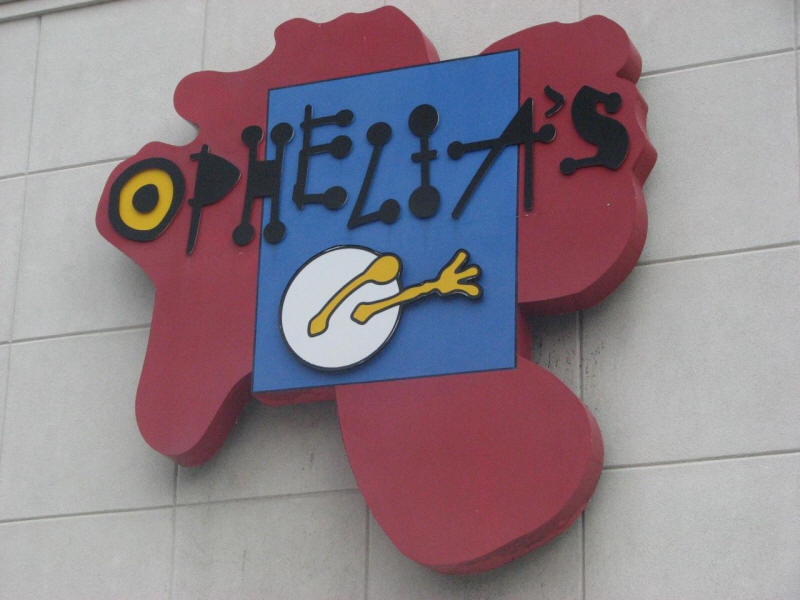 Unique sign at Ophelia's

Inn and restaurant on the Square
Contrast too. Stay in a stylish inn named Ophelia's on the downtown square and in the morning, after a sumptuous breakfast, hop on a covered wagon drawn by mules.
Start that narrated ride in front of the 1859 Jail where legendary bank robber Frank James stayed in 1882, around the corner from Clinton's Drug Store where Harry S. Truman earned $3.00 a week sweeping the floor. Age 13 and his first job.
That's how I found Independence non-stop for two days: familiar history enriched by enthusiastic historians—scholars and hobbyists, passionate advocates and delighted local residents.
I expected a simple side trip with Kansas City my real vacation. I discovered a wealth of Independence pleasures.
Curious isn't it? Thousands came to Independence to leave and I discovered abundance for staying.
Harry Truman weaves in and out of everything because he was a walker, and Independence his hometown.
The Truman Presidential Library Garden
You could start with a visit to the home he and Bess loved, or to the Presidential Library and Museum, but I'd recommend the Frontier Trails Museum first.
Get a perspective here. This is not a story of immigration and settling; people transported their life's possessions to Independence to move onward.
Heart-wrenching, reality-of-it-all exhibit in the Trails Museum: heirlooms families held on to along the Allegheny Trail, jettisoned on the Oregon Trail when harsh conditions forced load lightening.
I choked in front of the abandoned tall clock in the museum, knowing how dear my grandfather's clock is to me, easily moved in a truck from New Jersey.
Take a moment, or more, next door because the Chicago & Alton 1879 Depot tells interesting stories, and the restoration and furnishings are exquisite.
Were some railroad depots classier than others in their hey days? Apparently so considering the design details in this two-story yellow and green depot master's home, office and train-waiting rooms.
Connections to history happen all around Independence. On the same block as my stylish overnight Inn, I boarded Ralph Goldsmith's mule-drawn covered wagon to hear trail stories.
Ophelia's is on the corner of Main and Maple and the covered wagon crosses Liberty Street where western pioneers crossed too.
Startling opportunity to reflect about the vast differences of their life journeys, and my own.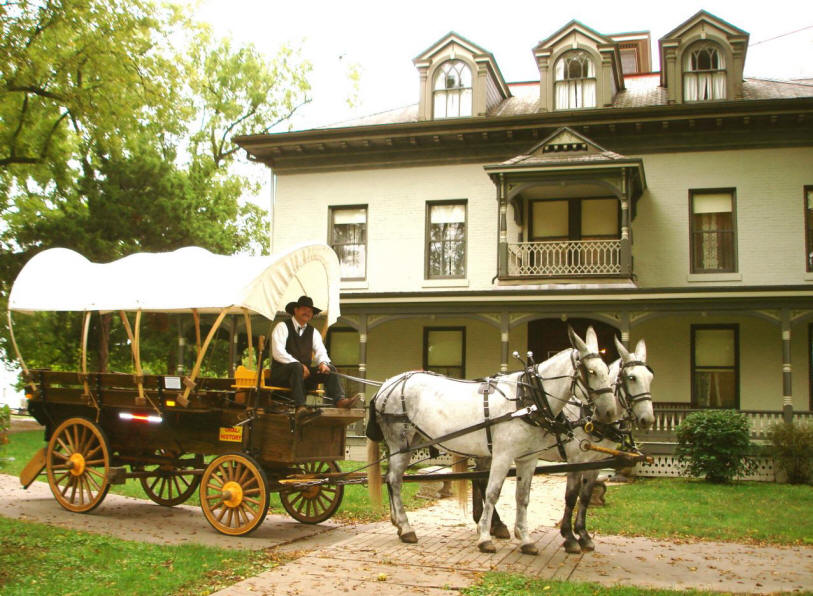 Wagonmaster Ralph Goldsmith Credit Independence Tourism Department
Wagon master Goldsmith is a fine storyteller, clearly delighting in the details of the Independence era when 24,000 mules and horses needed new shoes to head west.
Retrace his Missouri mules' steps to return on your own to the Bingham Waggoner Estate where docents say 95 percent of the furnishings, chandeliers, art and carpets are original.
How often is that ever the case when you visit historic preservations? Elegant and ornate these




rooms, master millwork, four-foot long Swiss music box, rare Currier and Ives clock, handcrafted mantles and tile for all the fireplaces.
The home depicts the Victorian opulence of the wealthy Queen of the Pantry flour-milling Waggoner family.
Genre artist and politician George Caleb Bingham lived here from 1864-1870 when he painted "Order No. 11" protesting displacement of 20,000 area residents by government troops and declaring, "Injustice does not always pass unnoticed."
The art of genre artist George Caleb Bingham

The home was built in 1852 along the Santa Fe Trail. Stroll a quarter mile along wagon paths where swales are undisturbed.
Hair art
Leila's Hair Museum on a busy Independence thoroughfare named South Noland connected me to family records of western-heading families.Talk about an unlikely location for a stellar experience. Leila Cahoon is a teacher of hairdressing students--- and artisans of the ancient art of human hair weaving.
Her hairdressing school is 53 years old and she traces to the 15th century "the art of creating wreaths and jewelry from human hair."
They are complicated art and meaningful family records. "I've identified 30 techniques and learned




of them," Leila says, "all by carefully taking apart hair designs and building them back.
As the only hair museum in the world, she says, preserving and teaching these techniques is vitally important.
Leila's collection includes 500 human hair wreaths, and cases full of intricately shaped hair brooches, chains, watchbands, earrings and neckpieces.
Some framed hair designs are horseshoe shaped; Leila says that's so families could add to them as the family grew. I counted 86 names on one and 156 names on tiny bits of paper pinned to bits of artfully placed hair on another.
Others include carefully lettered identifications---whose hair with a birth date, and sometimes a death.
"Genealogy before the camera was invented," she says.
A handsome hair wreath hangs in the Second Empire home known in Independence as the Vaile Mansion.
Vaile Mansion Credit Independence Tourism Department
Thirty one rooms enjoyed by Sophia and Harvey Vaile, moving to Missouri from New York and amassing more than 2,000 acres. He founded the Star Mail routes, contracting with the U. S. government to deliver mail between Independence and Santa Fe.Thirty one rooms enjoyed by Sophia and Harvey Vaile, moving to Missouri from New York and amassing more than 2,000 acres. He founded the Star Mail routes, contracting with the U. S. government to deliver mail between Independence and Santa Fe.
The home is included in National Geographic's Guide to America's Great Homes.
Family furnishings were sold at auction after he died in 1894 so period pieces and reproductions have been gathered since the city acquired the house in 1984 and the Vaile Victorian Society embraced its care.
Second Empire is the Vaile Mansion's French Revival style and simply entering the massive front door framed with 10-foot windows to the vestibule with 13-foot ceiling could be tour enough.
Community of Christ Church skyline
Stay longer for four more big experiences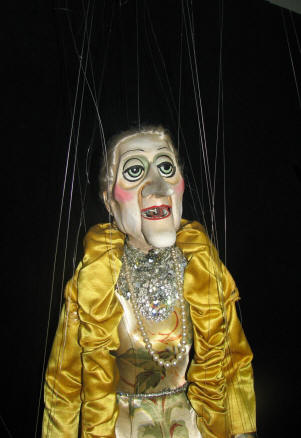 Puppetry Arts Institute
You'll need two more days to experience President Truman's home and library, half a dozen fine restaurants, the faith explorations possible at the Community of Christ Temple and Latter Day Saints Visitor Center.
Save an hour or two for sheer delight at the Puppetry Arts Institute in the Englewood neighborhood.
For more info:
o:
Visit Independence.com 800-748-7323
Ophelia's Restaurant & Inn 816-836-4004
Frontier Trails Museum 816-325-7575
Bingham Waggoner Estate 816-461-3491
Vaile Mansion 816-325-7430
Pioneer Trails Adventures 816-456-4991
Lelia's Hair Museum
816-833-2955