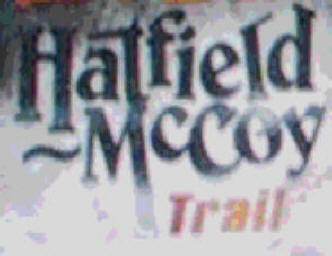 Article and photos by Kathleen Walls



The Hatfield McCoy feud was too big for one state to contain it all. It raged along the Tug Fork of the Big Sandy River that separates West Virginia from Kentucky. The Hatfields mainly lived on the West Virginia side while Kentucky was home to most of the McCoys but the families and the feud spilled back and forth over the states' border.
| | |
| --- | --- |
| | |
| Papers on file at the Coal House show both Anse Hatfield and Randall McCoy were in Confederate Army | |
Some link it to a killing of Asa Harmon McCoy, Randall McCoy's brother, on January 7, 1865. Asa had joined the Union Army although Randall had fought for the Confederacy and was in a Union Prison when Asa was shot. Devil Anse Hatfield also was in the Confederate Army but deserted after West Virginia became a state (See more here) and rejoined the Union. He still professed Confederate sympathies. Most of the people in the Tug Fork area were Confederate in their beliefs so Asa was considered a traitor even by many of his own family. Although a lot of people believe slavery was the main cause of the Civil War, they do not realize that West Virginia was a slave holding Union state as was Maryland and Kentucky.
Portrait of Randall McCoy at the
Big Sandy Heritage Center
Posed newspaper photo of Anderson Hatfield
at Matewan Museum
Asa McCoy owned slaves and while he was hiding out one of his slaves brought him food. Confederate Vigilantes, called the Logan Wildcats and originally started by William Anderson "Devil Anse" Hatfield, tracked him by following his slave's footprints in the snow. It is commonly believed Devil Anse was not present at the shooting. His Uncle, Jim Vance, was the likely shooter.
However, since over a dozen years elapsed between that and the next incident it seems improbable to consider this the cause of the feud. Meantime, Devil Anse prospered due to his timbering activities. He was often involved in land deals that ended up in court. One such deal occurred when he acquired land belonging to a young lawyer, Perry Cline. Cline was married to Martha McCoy and his sister, Martha Cline, was married to Asa Harmon McCoy. Cline was so disgruntled by the loss of his land that he left West Virginia and moved to Pike County Kentucky closer to the McCoy family.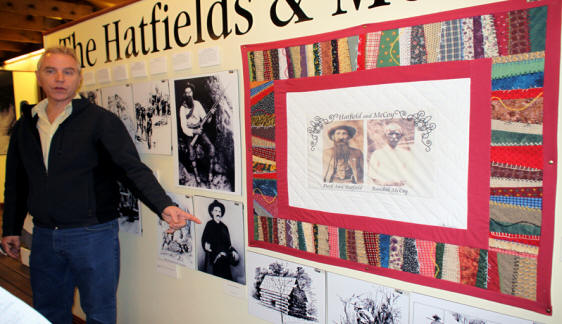 Bill Richardson pointing out Bad Frank Phillips at
an exhibit in the Matewan Depot Museum
Matewan Depot Museum
I am going to tell the story in a chronological order but that will cause some doubling back to visit the actual sites if you follow it that way. (Take note, many of these sites will require walking on steep hills so wear comfortable shoes.) There are many more twists and turns to the tale but it would take a book to tell them all.
Matewan, which is featured in another story of violence, has a wonderful little museum located in an exact reproduction of the former depot that tells a lot of the history of the feud. There are many photos of the family members and news article from the era.
An ATV on the Hatfield and McCoy Trail

It is also a trail head on the Hatfield and McCoy ATV Trail. This is a great way for ATV riders to get up close and personal with the countryside and sites involved in the feud. If you do not have an ATV there are several outfitters that rent them.

The towns around the ATV Trail allow ATVs on the streets so you can come down off the trail and dine, sightsee or spend a night in one of the towns.

This was my first ATV ride and I loved it but did get covered with mud. It's a good idea to wear something that can be washed off easily and if you are going into town for any length of time, you may want to bring a set of clean clothes and shoes.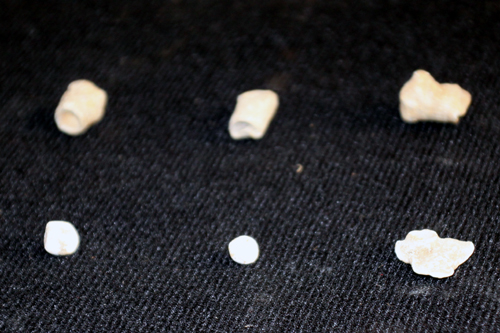 The bullets found at the site of the McCoy house
Coal House
The Coal House which houses the Tug Valley Chamber of Commerce was where my interest in the Hatfields and McCoys found its focus. Bill Richardson, a renowned Hatfield McCoy historian and filmmaker, met us there and showed us some of the many artifacts related to the feud. The most exciting are a group of shells found at the Randall McCoy house shootout. These were unearthed when the show The Pickers was filmed here. These were actual bullets fired by the McCoys as the Hatfields attacked from the nearby hillside. Once you visit the Coal House and see the many photos and artifacts related to the story you will be drawn in as I was. It is almost a magic carpet back to the era of the feud. The Coal House had other historical significance as well (See Coal Wars Article.)
Bill Richardson offers tours of the Hatfield and McCoy feud area if you wish a guided tour.
Sign at the site of the Hog Trial
Pig Trial and Election site
Your next must see spot is the site of the famous "Pig Trial." The cabin where the trail was held is in Pike County, Kentucky at the intersection of Rt. 1056 and Rt. 319, about 4 mi. from Matewan, WV. It overlooks the Tug Fork. The cabin which was also Judge Anderson Hatfield's home is a faithful reproduction of the original. The judge also known as "Preacher Anderson" to distinguish him from his cousin, Devil Anse. In that time, the cabin was also the local polling place for elections in Pike County Kentucky. Elections were a cause for a big festival where families from both sides of the river would gather for fun and festivities.
Much of what happened later had its beginnings here. In the fall of 1878, Randall McCoy claimed a pig in Floyd Hatfield's possession was his based on his notch marks on the pig's ear. Floyd was a cousin of Devil Anse Hatfield.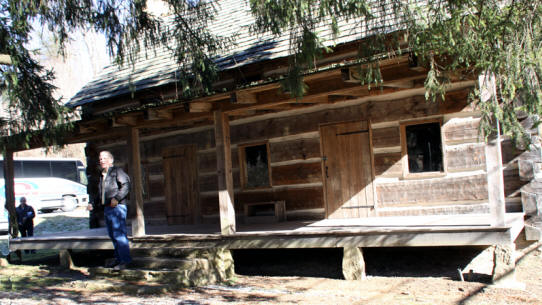 The site of the Hog Trial and the elections

Preacher Anderson, wishing to remain impartial, appointed a jury of six Hatfields and six McCoys to decide the case. At the trial, Bill Staton, Floyd Hatfield's brother-in-law, testified that he saw Floyd notch the pig in question's ear.

When the jury voted, Selkirk McCoy, a nephew of Sarah McCoy, voted with the Hatfields. He was employed by Devil Anse in his timbering operation, possibly a factor in his vote.

In June 1880, Bill Staton paid the ultimate price for his testimony. He was shot and killed by Sam and Paris McCoy, Randall's nephews. The two boys were tried and acquitted in a trial presided over by Valentine Hatfield, uncle of Devil Anse.
"Hatfields & McCoys", a drama about the feud, is performed each year at the Cliffside Amphitheater at Grandview, WV. Left to right, Roseanna, Devil Anse, Randall and Cap, Anse's youngest son..
At the same location on election day in 1880, another event fanned the flames. Johnson "Johnse" Hatfield, Devil Anse's oldest son and a notorious ladies man among the young ladies of the Tug Fork area, cast his eye on Roseanna McCoy, Randall's 21 year old daughter. After spending just one day together, Rosanna was in love and wished to marry. Johnse claimed he also wanted to marry her and took Rosanna home with him to his father's house. Devil Anse was not pleased but allowed the couple to remain. Johnse soon began to cast his wandering eye on other young ladies and Rosanna found herself pregnant and alone. She returned to the West Virginia side of the river but her father would have nothing to do with her. She moved in with her aunt Betti McCoy. Johnse continued to make clandestine visits to see Rosanna while still romancing others which infuriated her brothers. They captured Johnse and claimed they were going to turn him in to Kentucky authorities for his moonshining activities. Rosanna feared for his life. At that point she was eight months pregnant and made a midnight ride to ask Devil Anse to rescue Johnse while not harming her brothers. Devil Anse complied and Johnse was rescued with no one killed. But the fuse was still simmering. Johnse garnered additional hatred by marrying Rosanna's 16 year old cousin, Nancy McCoy.
The next incident began at the same site during the election on August 7, 1882. Ellison Hatfield, Devil Anse's brother, got drunk and got into an argument with three of Rosanne's brothers. The McCoy boys shot and stabbed Ellison repeatedly. Ellison was brought home for his wife to nurse. The McCoy brothers were arrested by Hatfield constables who proceeded to take the prisoners to Pikeville to stand trial. Devil Anse and a party of Harfields intercepted the constables and took the three McCoy boys into their own custody.
Paw Paw Shooting
Devil Anse had the McCoys held prisoner on the West Virginia side of the river by some of the Hatfield men until they knew the fate of Ellison. On August 9, Ellison died of his wounds and Devil Anse gave the orders. Pharmer, Tolbert and Randolph, Jr. were brought to the banks of the Tug Fork and led across about six paces into Kentucky. They were tied to small paw paw trees and shot to death. Although several of the Hatfields were indicted by Kentucky authorities, nothing happened. Most people believed it was justice and West Virginia refused to extradite the Hatfields to Kentucky. Because of the extradition problems, the feud lay mostly dormant for several years.
You can see the place they were executed from either side of the river. If you are on the Kentucky side of the river there is a marker near Buskirk, KY on State Highway 1056. It is about a mile from Matewan.
Randall McCoy's well. The home was to the right rear and the
Hatfields attacked from the hillside to the left rear.

Randall McCoy's

Well and Homesite

It is logical to believe Randall and the other McCoys were enraged over this situation. By now Perry Cline, the lawyer who had lost his land to Devil Anse, had gained political influence in Kentucky. He was able to influence the governor, former Confederate General Simon Bolivar Buckner, by promising and delivering the vote from Pike County. He offered rewards for the capture of the Hatfields and authorized bounty hunter "Bad Frank" Phillips and others to go into West Virginia after them. Another factor that may have influenced Buckner was that at this time as the industrial age needed the coal found in this region, the railroads were coming into the Tug Fork area and Buckner wanted it to appear a peaceful environment for business.

The Hatfield's, hearing of this new development, decided to "finish off" the McCoys. Over a New Years Eve celebration they hatched a plot to raid the McCoy home.
Copy of the arrest Warrant for the Hatfields
located at the Big Sandy Heritage Center

Randall's homestead is located on Hwy 319 in Pike County, Kentucky. There is a highway marker that pinpoints the location. When you visit it now, all that remains is the well. The location of the house is marked and you can visualize the firefight. The home was not the simple cabin used in the miniseries, it was story and a half and had two large rooms separated by a covered porch.

It occurred on January 1, 1888. The Hatfields raiders set the house on fire in an attempt to smoke out Randall. Instead, they ended up shooting Alifair, Randall's grown daughter, near the well and his teenage son, Calvin, as he tried to make the safety of the corn crib. Randall's wife Sarah, was struck in the head by a gun butt and severely injured.

Randall escaped and later moved the remainder of his family to Pikeville.

Grapevine Creek, near present Matewan, on January 19.

Up until this time people had considered the Hatfields somewhat justified for their killings. Now public opinion swung away from them. The states of Kentucky and Virginia almost went to war over Bad Frank and other bounty hunters' incursions across the state line.

At one point, the Hatfields with a large body of men met Bad Frank and his "deputies" at Grapevine Creek and a gunfight erupted. No one was killed here but Bad Frank continued a relentless pursuit. Nancy McCoy had left Johnse and married Bad Frank.

Devil Anse Rock

For those of you who want to go far off the beaten trail, you can visit Devil Anse Rock. It is about a quarter mile off Double Camp Branch road near Newtown, Mingo County, West Virginia at GPS coordinates 37 36.696 N 82 4.847 W near the Ellison Hatfield Cemetery. The earliest burial dates to 1881, and is the grave of Ephraim Hatfield. The cemetery contains 21 burials including Ellison and Elias Hatfield, brothers of "Devil Anse" Hatfield

It was at Devil Anse Rock that Bad Frank and his men tracked and found Jim Vance and Cap Hatfield. Philips killed Vance with a point blank shot. Cap escaped.
The logs from Valentine Hatfield's cabin at the museum in
Chief Logan State Park. There are plans for the
cabin to be reconstructed at the park
Chief Logan State Park
Many of the Hatfields saw the way things were headed. In 1888, Valentine Hatfield, Devil Anse's brother and the judge who had acquitted Sam and Paris McCoy, and seven others were arrested by a posse led by Frank Phillips and returned to Kentucky to stand trial for the murder of Alifair McCoy.
Soon you will be able to see Valentine's cabin formerly located on Beech Creek. The cabin was disassembled and the logs are now at Chief Logan State Park, where it is going to be rebuilt and used as a museum.
Because due process had been ignored and illegal extradition preformed, the case went all the way to the United States Supreme Court (Mahon v. Justice, 127 U.S. 700 (1888)). However they ruled 7 to 2 in favor of Kentucky. that, "even if a fugitive is returned from the asylum state illegally instead of through lawful extradition procedure, no federal law prevents him from being tried in that stare"

Pikeville College
Eight members of the Hatfield clan were tried in Kentucky. they were all found guilty. Ellison "Cottontop" Mounts, Ellison Hatfield's mentally handicapped illegitimate son, was executed by hanging on February 18, 1890 The other seven including Valentine Hatfield, received life imprisonment. Valentine died in prison in Feb 1890. Anse made no move to rescue Cottontop or any of the imprisoned members of the clan. For the most part, Cotton Top's death marked the end of the feud.
A sign on a hillside of Pikeville College campus in Kentucky marks the site of Cottontop's execution. As in the miniseries, Cottontop did cry out "the Hatfields made me do it" just before he was hung as portrayed in the miniseries. <![if !supportLineBreakNewLine]>
<![endif]>
Devil Anse's grave at the Hatfield Cemetery
Hatfield Cemetery
Anse died of pneumonia on Jan 6, 1921 having outlived Randall who died Mar 28, 1914. Randall suffered most in the feud, losing five of his children to violence. Roseanne died supposedly "of a broken heart" in 1889, just before her 30th birthday. Medical records as to cause of death were skimpy then but "died of a broken heart" was a common euphemism for suicide.
Even Randall's death was more painful. He caught fire while lighting a fireplace and died from burns.
The Hatfield Cemetery is real must see even though it is located a steep hill accessed by a rocky path. It is located off Hwy 44 near New Town, West Virginia. Devil Anse's grave is marked with a life sized stature made in Italy from Carrara marble at a cost of around $3500. Johnse is buried next to his father. Before his death, Anse became a Christian and was baptized. Legends claim when he was dunked into to the creek, the water around him boiled.
Exhibit at the Big Sandy Heritage Center about the feud
The Big Sandy Heritage Center
Located in Pike county Kentucky, the center is housed in the historic railroad station in downtown Pikeville. It's a good place to visit to learn about the feud. Everett Johnson, the musuem's longtime curator, is a fountain of knowledge about not only the famous feud but all things related to Pikeville's history. The museum is a gem.
A trip like this can be planned to take in so much activities on both sides of the state line and you will find many other activities in both West Virginia and Kentucky no matter your interests.
For more info:
This Tour Map from Pikeville CVB is very helpful finding the sites in my article as well as may other relevant ones.
http://www.tourpikecounty.com/wp-content/uploads/2013/09/Hatfield_McCoy_Brochure_lowres.pdf
http://tugvalleychamber.com/things-to-see---do.html
http://hatfieldmccoycountry.com/things-to-see/
http://www.bigsandyheritage.org/