Outer Banks
National Scenic Byway
Article and photos by Christine Tibbetts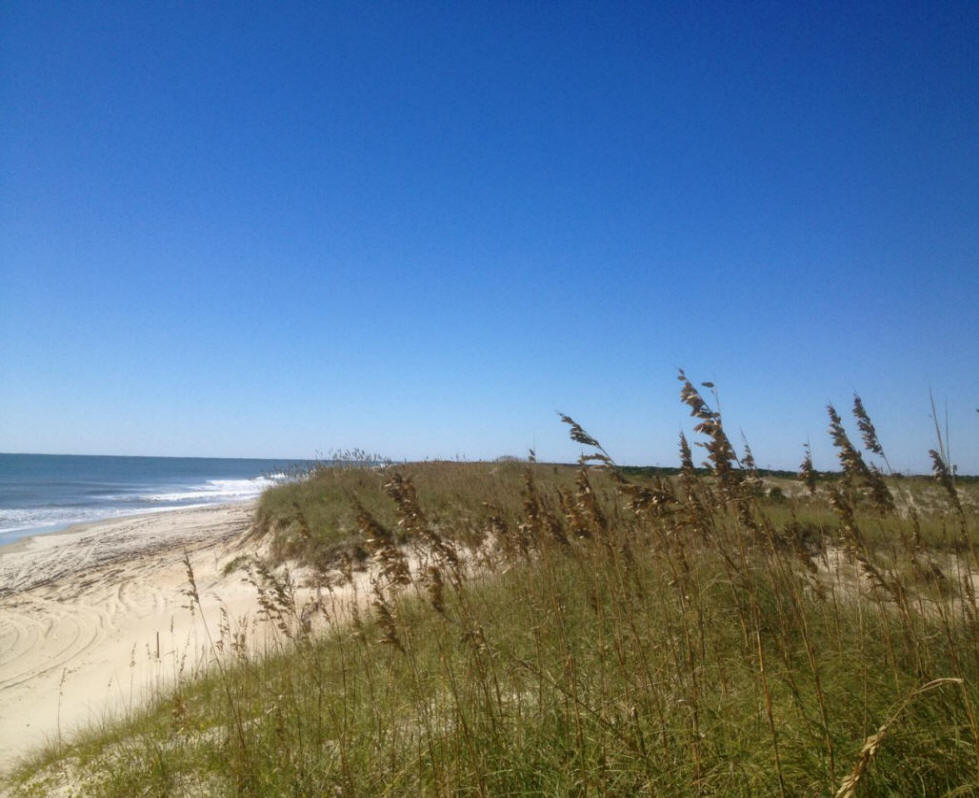 Pristine beaches with easy access



Start this trip in the middle. The National Scenic Byway hugging North Carolina's fabled Outer Banks provides more tastes and treasures than a traveler could ever access driving all 138 miles north to south.
View from the ferry leaving Ocracoke Island





Guess that means two holidays in two directions, especially when it suits your traveling style to meet up with local people whose life stories are rich with heritage and culture.

Sure, the Outer Banks offer grand beach house vacations as always but the newly designated Byway status opens new doors too.

America has 124 other National Scenic Byways – a designation difficult to earn. Try to find Mary Helen Goodloe-Murphy when you go to the village of Rodanthe. She championed the massive Byway application effort.

Discover 21 villages along this route from Whalebone Junction on the north (think Nags Head and Cape Hatteras National Seashore) and North River to the south near Cape Lookout National Seashore.
View from Owens Motel in Nags Head


Village populations run in the several hundreds, with big-city Beaufort just south of the Byway a charming 4,095. Northern gateway Nags Head topped 2,800 in the last Census.
Here's why these numbers matter for vacationers: people stay put here to live their lives, and you can figure out why they do, meeting them in the groceries and eateries, on fishing docks and sandy banks, over lush dunes and on pristine beaches.
Eavesdropping along the Outer Banks Byway works well too. Businesses are small so conversations travel and the persistent good cheer with which residents greet one another and strangers tells a tale of community joy.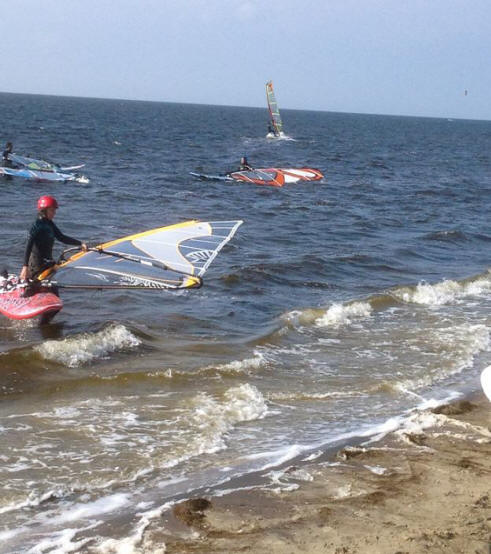 Haulover attracts wind surfers




Breakfast bonus
Plan a simple, basic-food meal –-breakfast, lunch or dinner--at Sonny's in Hatteras Village and you'll likely meet Belinda Willis. Her family runs the general store.
"We have an intense history here, fishing for a living," she notes matter-of-factly. "This is the same way we have always lived.
"Just walk along the waterfront and meet people living their lives, talking their talk," Willis says.
I suggest the first week of May for the second-annual Hatteras Storytelling Festival. Find facts on Facebook.
Willis also recommends "September and October is a great time to come to Hatteras for the skies, and because the clouds are astronomically beautiful."
There's still more a visitor can learn at breakfast in an Outer Banks fishing village. The Lee Robinson General Store sells no cigarettes but does sell matches.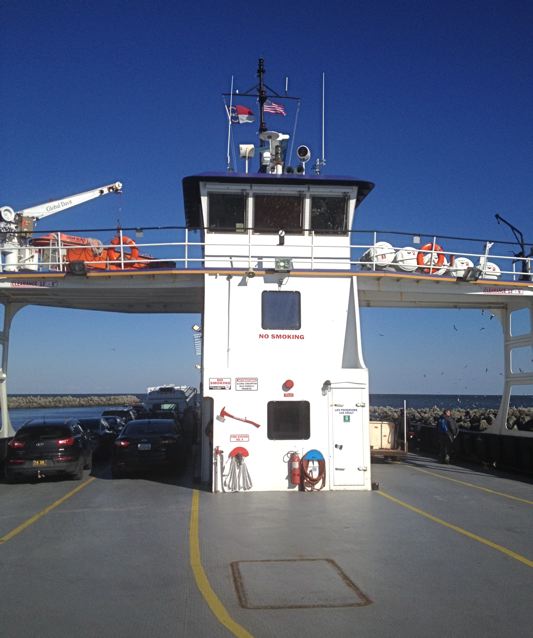 Ferry arriving at Beaufort

"Bonfires on the beach are important for moon dancing, fixing S'mores and to watch those skies," Willis says.
On the top end of this National Scenic Byway, listen around the dining room at Sam and Omies, a Nags Head icon since 1937. When the hostess is the great granddaughter of the founder and cook is third generation in the same kitchen, I know local lore is abundant.
Longevity suits visitors too at Sam and Omies; a woman from Maine told me she'd been coming here for 30 years and finally moved to nearby Arlington.
Original family members have a big restaurant presence and owner of 12 years, Carol Sykes, says she spent summers in Nags Head because "Daddy's family and mother's had cottages."
Her grits have substance, the tuna salad's carved right from the day's catch and the clam chowder has been declared one of the 100 best foods to eat in North Carolina.
Lighthouses
Bodie Island Lighthouse



Visit four lighthouses along this Byway, grasping new reverence for the station keepers and their extraordinary life-saving work where two of the world's most powerful ocean currents collide.
Contemplate the cold south-flowing Labrador currents and the warm northward flowing Gulf Stream, and their ever-changing underwater dunes called shoals.
Add value to lighthouse stories you hear with a visit to the lifesaving station in the village of Rodanthe. The name's lyrical and quite pleasing to say after some practice: Chicamacomico.
Conversations with the historic site manager, James Charlet, deliver passion about the men saving lives, especially the 1918 rescue when the British tanker named Mirlo exploded, and even the ocean caught fire.
See the actual rescue boat and then walk on the pristine beach to muse about heroism along these Outer Banks.
Here's your lighthouse agenda, adjusted of course depending on where you launch the Scenic Byway journey. They're 20 miles apart, National Park Service Interpreter Patrick Gamman told me, because "you can see light for 18 or 19 miles."
Bodie Island is northernmost with a nice Visitor Center. Be in the know and say "body." Horizontal stripes on this one with the light blinking 2-1/2 seconds on, 2-1/2 off. Can't climb it.
Imposing base of Cape Hatteras Lighthouse



Cape Hatteras
soars 198.5 feet, considered the world's tallest brick lighthouse, climbing the 248 spiral steps OK in summer. Stellar National Park Service museum in the stationkeeper's home, and big bookstore at the entrance.
This light flashes every 7-1/2 seconds; the black and white stripes are angled like old barber poles
I'd allocate several hours here, walking the grounds, resting during the 15-minute documentary, absorbing the excellent exhibits.
I'm a hiker, thrilled to discover the walking route from Cape Hatteras Lighthouse to Buxton Woods Coastal Reserve. Maritime forest in the midst of maritime rescues is an exceptional combination.
Ocracoke is the next lighthouse, heading south on state Highway 12, so on the way stop in the Hatteras Village Red and White grocery because you might bump into Coastal Reserve activist Jon Burrus. His family traces their Hatteras roots back 350 years he told me.
Ferry required to reach Ocracoke and its 1823 lighthouse -- short, no stripes, no climbing. Such fine cuisine, museums and enthusiastic residents that Ocracoke is a story to tell separately. Beaufort on the mainland is too.
Cape Lookout Lighthouse visits require a three-mile boat ride to its National Seashore location, and that's after the ferry transport from Ocracoke to Down East. This Byway is an adventure of many details.
The National Park Service has a visitor center at the access point, next door to the handsome and interesting Core Sound Waterfowl Museum and Heritage Center.
This lighthouse is diamond patterned, or some call it a diagonal checkerboard, showing sailors north-south direction in the center of the black patterns and east-west in the white.
Climb the Cape Lookout 207 steps May through September when you can also visit the Keeper's Quarters Museum.
Seafood stew - Dinky's Waterfront Restaurant in Hatteras
Fine dining along the Byway
Long, lingering dinners with exquisite service and flavors abound along the Outer Banks National Scenic Byway. Here are my top four, but I suspect if I return I'll expand the list.
Owens' Restaurant in Nags Head, Cafe Pamlico at the Inn in Buxton, Dinky's Waterfront Restaurant in Hatteras and Dajio on Ocracoke Island. Hold them up to any fine dining standards you have, but know you can dress casually.
To order your copy of Fish House Opera from Amazon, Click link.



Reviews of Fish House Opera:

The authors expertly blend exhaustive and impressive research with a novelist's flair for characterization, setting, dialog, and drama.
-- Leslie Leyland Fields, author of The Entangling Net and Surviving the Island of Grace

This book is a window into American culture and a tribute to enduring values. You'll enjoy every word.
-- Philip Gerard, author of Brilliant Passage and Cape Fear Rising


Click here to choose an
Outer Banks Vacation Rentals. See the Outer Banks yourself this vacation!



Viewing life 'on the edge of the nation'

Down East fishing dock (photo by GW Tibbetts )

Fish House Opera is a book loaded with interviews and insight with fishing families in the southern communities on the Outer Banks National Scenic Byway. Likely to build enthusiasm to get there for more conversations.

Our lives are intricately and fiercely interwoven with the water.

This is a mixed blessing of a lifestyle.

Fishing families live by values truly American: independence, risk-taking, freedom.

The fisherman is a keen observer with a wealth of knowledge

Commercial fishing has been part of Down East life since before 1684.

This is where everything is swinging and nothing is for certain.

That living on the edge of the nation notion comes directly from the Byway management plan; Fish House Opera authors are real-deal local residents Susan West and Barbara J. Garrity-Blake.

Authentic voices all the time on this journey and here's another example; I learned about the book out on the water with Capt. Mike Scott of the Albatross Fleet---boat builder, fisherman, lifelong resident.