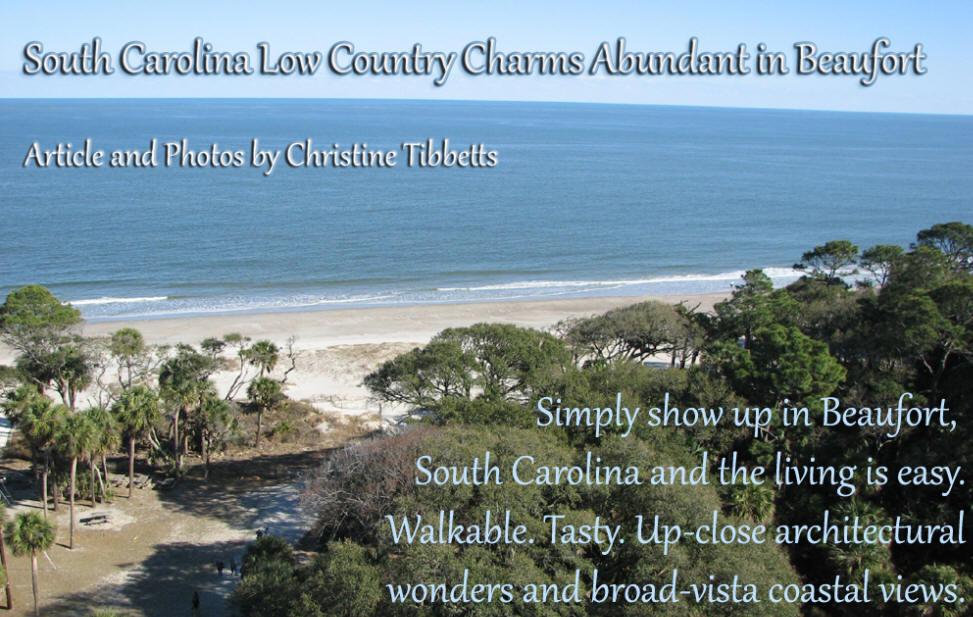 If you know (or imagine) you love Savannah and Charleston, Beaufort, South Carolina will suit you well, and in a smaller-city comfortable way.
I recommend booking a downtown room, either an historic inn or the boutique hotel. Here's why:
Cuisine so fine and so abundant that walking to and fro feels best. Several blocks are all that's asked of visitors walking between meals and lodging, museums and shopping, marshes and tidal river gazing.
For certain book a guided walking tour of the neighborhoods; carriages are available but to me the walkabouts felt more grounded in personal Beaufort history and experiences.
Sherman didn't burn these homes because Union troops were living in them; that means the architecture is abundant, and an interesting mix of carpenter built and simple styles.
Walking tours with historians or solo strolls with friends include dozens of handsome and historic homes.
Keep an eye on trees too because 34 of them have interesting signs about their place in Beaufort history.
Meet the families
The history in this South Carolina community involves families still living in those homes built hundreds of years ago. I met some of them in art galleries downtown and in the eateries.
The Beaufort River borders downtown so that guarantees riverfront patios for libations and conversations, swings to hold two or three for gazing and dreaming, brick and tabby walkways for serious exercise or ambling along.
The 1897 Beaufort Inn fills and entire downtown block.

Nine miles away is the Atlantic Ocean so watch the tides change twice daily and see the brown pelicans watching you.

The marina is bustling and tours are available. Because Beaufort is in the midst of a chain of sea islands, the water is a fine way to learn the island personalities, then make good choices when you return by land.

Fine dining distinguishes Beaufort – strolling distance from my boutique City Loft Hotel and also from an expansive, four-corner property, the 1897 Beaufort Inn where high tea is served in the afternoon. The Rhett House Inn is another fine lodging choice, earning its 19th AAA Four Diamond ranking this year.
Blueberries and granola
Lowcountry Café
Green tomato soup one of
many takeaway foods from
Lowcountry Market and
farm stand
Mid-afternoon high tea
at the Beaufort Inn

Here's a dining overview but I suspect I didn't meet every chef or experience each harbor, island or downtown restaurant design. You'll be well served with each of these

<![if !supportLists]> ˇ <![endif]> Lowcountry Produce Market & Café was hopping with live acoustic music my second evening in Beaufort. Since my visit was a driving trip, the backseat held packages of green tomato soup and granola with cranberries and pecans. Brothers design the exquisite food served here and as takeaway from the farm stand in nearby Lobeco. Check out their sunshiny building, originally a Post Office.

<![if !supportLists]><![endif]>

<![if !supportLists]> ˇ <![endif]> Saltus River Grill for fine dining and a harbor view. Sunset divine my dinner evening after a Beaufort River Tour. Takeout might even be pleasant with abundant tables, benches and wide swings along the park bordering the river.


<![if !supportLists]> ˇ <![endif]> Emily's Restaurant and Tapas Bar for fine dining too in an energetic downtown setting. Easy to linger over many courses, creative bartender, hushed but dramatic lighting.

<![if !supportLists]><![endif]>

<![if !supportLists]> ˇ<![endif]>Wren Bistro is where I lunched, and only excessive people go to dinner same day as that lunch. Definitely recommend the shellfish and lobster bisque. Most people were ordering gigantic sandwiches on interesting breads.


<![if !supportLists]> ˇ<![endif]>Blackstone's Café is the kind of Formica-table top place I like to eavesdrop on local folks. It's also the first time I had shrimp and grits for breakfast, a luscious, lingering meal served until 2:00 p.m.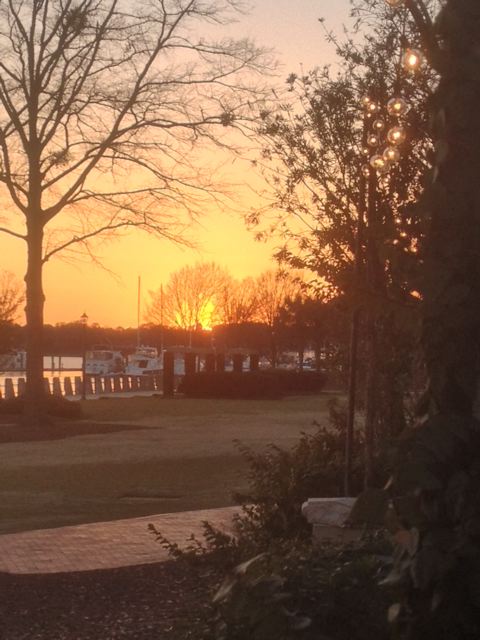 Sunset at the Saltus River Grill

Go to your local library and to the movies to prepare for a Beaufort holiday because books and films began here.

Pat Conroy wrote "Water is Wide," "Great Santini" and "Lords of Discipline" in the home easy to walk in front of today.

Not so easy to see is the filming site of "Big Chill" but I reflected on my 1960s-college era self climbing carefully on a sturdy wrought-iron fence to look at the house.

Portions of "Forest Gump" were filmed on the bridge across the Beaufort River, as walkable as it is scenic.

Older than Charleston

Seems Beaufort was discovered before Savannah and is older than Charleston. Think 1711 for the starting point of this little city now numbering 12,000 residents.

Meeting people with ties to real stories, sharing family tales passed down for generations gave depth to the architecture I saw, the food I ate and the art I wanted to buy.

Choice, not happenstance, brought people back to Beaufort and for visitor me discovering how they regained their homes after the Civil War made architecture gazing ever so interesting.

River tour boat captain Dick Goodenough calls the fleeing of wealthy white families in 1861 "the great skedaddle."

I found the return of a child born into slavery, purchasing the home he served as a houseboy, then elected a state and national legislator one of the most important walking tour tales I ever heard.

Robert Smalls was also trained to manage the owner's boat which he commandeered through the blockade when the Confederates in charge stayed late on land one night in the city watering holes.

Smalls presented the boat to Union forces and you know how the war turned out. Five miles of Highway 170 connecting nearby Port Royal to the Georgia state line is named for Robert Smalls.

You'll certainly notice an enormous home even on a solo stroll – the one with an especially dramatic front-yard tree. Dubbed "The Castle," this 1860 home was used as a Union hospital.

Both sons of this family died in the war but their father returned, dug up the silver he had buried in the outhouse and bought his home again.

Walking tours with local folks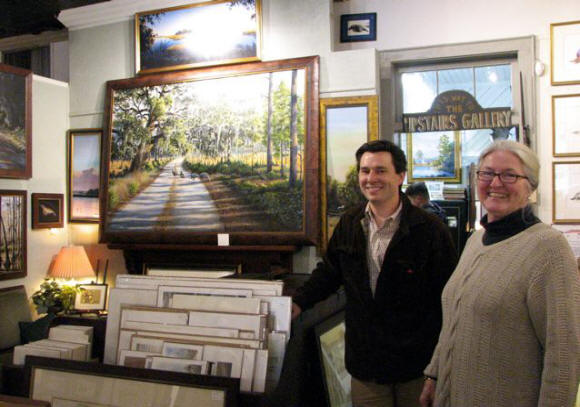 Nancy Ricker Rhett and son William Means Rhett III spark charming conversations about Beaufort art,
landscapes, culture and heritage in Rhett Gallery.

Ten returning-family stories were shared on my walking tour by Collin Davidson with Beaufort Touring Company; he grew up here.

Meet the Rhett family if you'd like to know the essence of South Carolina's low country. Four generations of painting, carving, sculpting, mapping – and talking about Beaufort and her heritage in their gallery on 901 Bay Street.

Gregarious group, this talented family, seeming to love their local culture as deeply as their visions of landscapes, birds and animals.

Enormous works of art here, and bins of exquisite antique maps. Watercolor scenes and illustrated books. Landscapes in oil, miniatures painted on ivory piano keys and wooden waterfowl sculpted feather by feather.

Counterpoint to the distinguished Rhett Gallery is Greenfish Gallery where Murano glass artist Kelly Davidson declares, "We're really silly here, having fun."

Her stories connect in a heritage way too because her first grade class in Beaufort had lunch with their teacher on Fridays on the porch of that big house known as The Castle.
Folk art and Gullah cultural traditions abound in Red Piano Too gallery, just across the bridge from downtown Beaufort, on St. Helena Island.
Beaufort's downtown streets are enticing and the shopkeepers interesting. Expect a mix of stylish apparel, fine American crafts and whimsical folk art, plus the circa 1804 Verdier house museum and several historic churches.
A chain of sea islands
Hunting Island State Park offers five miles of pristine beach,
plus amazing driftwood collections and the 167-step lighthouse

Choose excursions on the neighboring islands.

Pristine beach – five miles of shoreline - on Hunting Island in the state park, and a lighthouse with 167 steps to climb for grand 360-degree views. Driftwood alone is worth the trip.

Friday morning is the right time to visit Parris Island to behold the graduations of new Marines, and stop in the museum.

St. Helena Island lured me two ways: folk art including Gullah artists in the Red Piano Too art gallery and Penn Center, which was America's first school for freed slaves. I didn't know to go hungry so I missed the Gullah Grub restaurant and frogmore stew. Next time.

Rental homes are available on the private, gated Harbor Island and golfers seem to choose Lady's Island.

Fripp Island is described as feeling like an exclusive resort but I didn't reach this southernmost of Beaufort's chain of sea islands.

For more info:

www.beaufortsc.org

800-638-3525