Wildlife Wilderness Week in Pigeon Forge

By Christine Tibbetts
Wilderness is the winter view behind Music Road Hotel, with easy city access from the front.
In between, an especially gracious gathering-place lobby and living room.
Pigeon Forge in the winter. That's my recommendation. Think not about the adrenaline rush of family fun you already know about in this Smoky Mountain neck of the woods. Tennessee woods.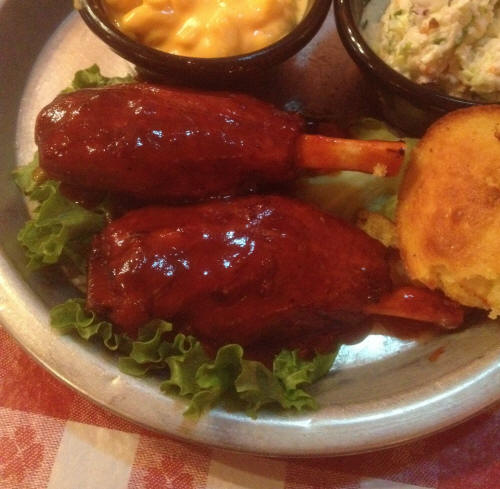 Some food's fancy and some's down to earth in Pigeon Forge restaurants.
Hog legs are tender shank meat at Bennett's Pit BBQ.

Plan instead to immerse in folklore and ballads, generations-tested stories and old-time music, with access to mountain trails plus bears, possum, owls and oh the birds.

Wildlife Wilderness Week – that's the Pigeon Forge focus to claim as late January 2015 unfolds. I missed the first 23 of these annual weeks, ignorant I guess, and then attended the 2014, wrapping myself up in authentic Smoky Mountain voices and some serious down jackets and woolen socks.

Outdoors is a choice; indoors guaranteed in Pigeon Forge's expansive conference center. Possible indeed to open your heart and soul to the energies and memories and traditions of the Smokies embracing Wilderness Wildlife Week, inside.

In between the listening and the learning, I found finer culinary than anticipated. My fault assuming summer crowds in Pigeon Forge choosing the wax museum and NASCAR-style racecars preferred fast food.

The truth? Excellent dining is abundant enough to stay all week. Remember Bullfish Grill, Old Mill Pottery House Café and others.

Pack some colored pencils or bright highlighters because the program choices are abundant and enticing, impossible to keep straight in your head. The booklet lists 355 opportunities.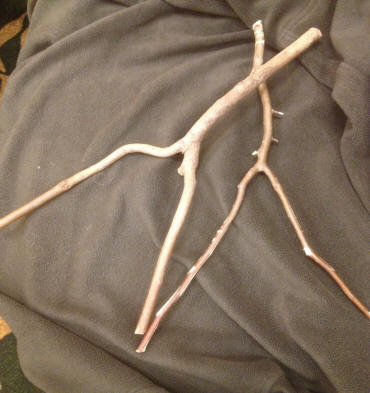 Forked sticks guide dowsers to water, and to bodies.

One morning I learned how to be a dowser. Forked stick or metal rods equally reliable to expert dowers Charlie and Sandy Monday. Not so much for me.

"The stick works for four out of 100 people," Charlie says, and when it does, watch out. Almost impossible to hold on. One teenager in my class possessed the gift and her muscles popped as the stick pulled and guided her.

Water's not the only goal; dowsers seek bodies too. Unmarked graves in historic family cemeteries. Male or female, head this way, or feet. Really.

"Metal dowsing rods held parallel cross over when passing over a body," Charlie says. "Practice on marked graves so you know the gender, rods always point to the head of a woman and feet of a man."

Astonishing detail like that abounds through Wilderness Wildlife Week. Sometimes the legends, folktales, myths and facts cross over too, like those dowsing rods.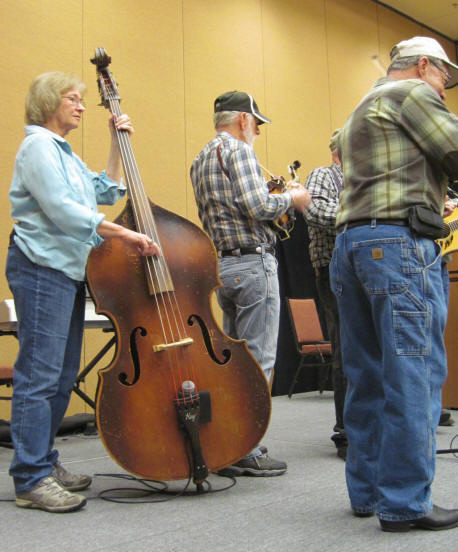 Dowser and musician---Sandy Monday shares
multiple heritage skills at Wilderness Wildlife Week.

Sandy Monday also plays the standup bass and her bluegrass band invited audience members to clog along in an early evening concert. Footwork guidance provided.

Music of the Smokies filters through every day, concerts sometimes including a little history.

Here's another kind of handy knowledge: should you trap a possum and consider dinner, feed the critter for a couple of months before the feast. Don't cook while he's still processing goodness knows what meals from nature.

Possums have been holding on by their hind feet since the age of dinosaurs because of opposable thumbs back there I learned in a class called Possumology taught by Doug Elliott.

Simple mountain man? Maybe but also a harmonica-playing, guitar strumming musician, poetry reciter and author of maybe a dozen books.

Books, CDs and art could be reason enough to schedule Wilderness Wildlife Week time simply to accomplish a year's worth of gift buying. Distinctive gifts.

Program presenters and other artisans in the region of the Great Smoky Mountain National Park fill a big exhibit hall, equally happy to share their stories as to sell their art and their craft.
Pressing wildflowers of the Smokies the old-fashioned way requires three
to four years, says artist and author Mary Phillips who lives in Boogertown.

Milling about is almost as interesting as devoting all day to one program after another.

"I have yearned for the mountains my whole life," Becki Pearson told me as we thumbed through Doug Elliott's book display.

"When I was a child in the Texas panhandle, I used to cry because other people could live in the mountains and I didn't."

Decades later she came to Pigeon Forge on her honeymoon. "Came back to stay six months later.

"These speakers bring to life what I've known in the books," Pearson said, hurrying off to another session.

Retirees to the Smoky Mountains aren't the only ones filling Wilderness Wildlife Week. Kids do too. First grades and high schoolers, all ages.

Seems to be a serious academic week-long field trip for homeschooling families from throughout the nation.

Pigeon Forge is seven miles from the Sugarlands Visitor Center entry to the national park. Pretty drive on a stretch of the Foothills Parkway.

Cherokee, North Carolina is on the other side, providing knowledgeable presenters about the Trail of Tears and enduring Cherokee culture and heritage.

Jon Elder is a member of the Bird Clan, one of seven Cherokee clans of matriarchal lineage.

To learn from him as his mother Betty Walkingstick also sat in the audience felt a mighty privilege. Elder showed lots of family photos on a big screen, some history about which I knew a bit like George Guess a.k.a. Chief Sequoyah who developed the first-ever syllabary of Cherokee language, and some I didn't.

Yonaguska was a new name to me. Translates to Drowning Bear, a Cherokee who died in 1859, managing to stay behind during the forced relocation in the 1830s.

His stories will bring new understanding when I visit Cherokee.

In addition to just plain fun, that's the point of this winter week in Pigeon Forge: new depth to familiar stories and songs, crafts and traditions.
Hikes in the Great Smoky Mountain National Park reveal charming
scenes, and come in all levels from gentle and easy to strenuous.

Nine million people visit the Great Smoky Mountains National Park every year. Go in January and February and some trails will be closed but the ones you do hike are inspiring.

Walk on your own or choose from 45 guided hikes and field trips as part of the Week. Easy or moderate or strenuous all options but you won't mistakenly choose one too hard.

The hiking desk is staffed to guide your selection with four and five choices each day. They'll even help you keep a log in five-mile increments to earn ribbons and prizes after you get to 50 miles.

Margaret Roy Steverson wins with the title "Walkingest woman in the Smokies" and didn't start until she was 45 trying to ease arthritis and bursitis.

I'm not challenging her 12,000 lifetime hikes and walks, averaging 10 miles a day for a total of 120,000 miles in the Smokies but I admire her other nickname---a difference maker.

Enough learning. Choose afternoon or evening concerts. Music fills conference rooms and stages in big halls throughout Wilderness Wildlife Week. Old-time music. Ballads. Hymns. Shape-note singing.
Walk to this old home place in the national park to imagine families
singing the ballads you heard during Wilderness Wildlife Week.

This is a glorious week for mandolin, harmonica, fiddle, banjo, spoons, mountain flutes and recorders, guitar and bass.

So many harmonies. Choose Lost Mill String Band every time you see them on the program. This husband-wife duo shares songs as old as 300 years, sharing Appalachian folk legends behind the ballads.

"How precious, priceless really, it is to stand in an old home place, pick up the dirt where the Ma and Pa living here grew food, and sing the old-time songs," says singer and musician Joan Miller Paul.

Boogertown Gap presented mountain music with deep heritage roots too. Photos of local folks through the centuries filled large screens as this husband-wife team gave historical perspective to the tunes and their words.

Real community this Boogertown Gap, settled in the 1790s, also known as Oldham's Creek. You have to cross four or five gaps to get there, between Pigeon Forge and Gatlinburg.
Ride the Great Smoky Mountain Wheel even on a cold January day
—simple stroll from t

he conference center.

Possibilities to think new thoughts are ever-changing in the exhibit hall too. Close to a wildflower pressing, watercolor painting writer of children's books I found a discoverer of creatures never seen before. Hundreds of them in the Great Smoky Mountains National Park.

"New to science" is what Park rangers say about 923 discoveries, and more anticipated with ongoing biodiversity inventories by Discover Life in America.

These scientists will let the rest of us volunteer on vacation to help find what excites biologist Charles Cooper.

"What we can't see is actually holding up what we can see."

I'm thinking the seen and unseen in Pigeon Forge and the Wilderness Wildlife Week could sustain one in the glories of the Smoky Mountains for a long, long time.

Could next year's 25th anniversary offer even more?

800-251-9100

Wilderness Wildlife Week Jan. 24 – 31, 2015