Meeting The Civilians of Gettysburg
By Christine Tibbetts
Seminary Ridge Museum opened July 1, 2013, ten paintings by artist Dale Gallon enlarged as eight-foot murals, joining four floors of interactive story-telling exhibits with films, music, voices and thoughtful compassion.
No disrespect intended, but the battles of Gettysburg and their strategies elude me. Re-enactments too.
Travel to famous, greatly honored places should excite and uplift, so I've skirted Gettysburg for a lifetime.
Poor attitude for a traveler. I see the error of my ways now that I've walked the battlefield, visited some 1863 homes and hospitals, paid attention to the letters and diaries of Civil War civilians, and opened my attitude to the musing available in the outstanding Visitor Center and Museum in the National Military Park.


"Day's End July 1st" by Dale Gallon, commissioned for the Gettysburg Seminary Ridge Museum
Evening of July 1, 1863 Gettysburg, PA - The wounded being collected & treated on the east side of the Seminary
As the sun sets over the destruction of battle around the Seminary, wounded soldiers (mostly Union) are being gathered, and carried into the building. Others lie on the ground outside. Confederate forces are establishing a camp for the night. Nearby General Robert E. Lee confers with his officers, utilizing the vantage point of Seminary Ridge to evaluate the terrain in front of them beyond the town of Gettysburg. Lee can just discern along the clearly visible landmarks of Culp's Hill, Cemetery Hill and Cemetery Ridge, Union infantry and artillery units streaming into new lines.


This is not a recount of what's obvious about the soldiers to historians and battle strategists. This is a story suggesting where to muse about the other people.

Seminary Ridge Museum is a major place. So is Shriver House Museum. Bed and breakfast inns with specific echoes from the battle days too.

"Voices of Duty and Devotion" opened July 1, 2013–150 years to the day after the Battle of Gettysburg began Seminary Ridge Museum: four floors of personal, reflective, history-based conversations in the 1832 building from which Union General John Buford watched early battle developments July 1, 1863.

You too can see that sweep of Pennsylvania land from the cupola of the museum. Red flag meant Civil War hospital located here, and this cupola held a red flannel petticoat, presumably belonging to Mary Ziegler.

She was the cook for seminary students, her husband Emanuel the steward. Together, after the battles, they encountered many people seeking their men.

That included the couple who walked 21 miles over mountains from Chambersburg, looking for their son Charlie.
Civilians are the story in the Shriver House Museum
in downtown Gettysburg where Director
Nancie W. Gudmestad shares details
filled with research and tenderness.
Four sons had died in the war and the Zieglers helped them locate Charlie on the third floor of the Seminary; he recognized his parents, and died.
See what I mean? In Gettysburg I found civilian stories, people embattled for sure but not in battle. Clearly I could have encountered them had I visited earlier, but now preparations for the sesquicentennial bubble with discoveries.
Helped me muse about life those days in my petticoats had Gettysburg been my 19th century birthplace.
Hettie Shriver was 27 when the soldiers appeared in front of her house on Baltimore Street; daughter Sadie was seven and Mollie only five.
Husband George, of course, was off to war. Next door lived 15-year-old Tillie Pierce who later wrote her view of a neighborhood suddenly filled with soldiers, guns and canons, wounded, dying and dead men and dead horses.
I time traveled, exploring every bit of the Shriver family home with director docent Nancie W. Gudmestad. Sometimes I put myself in Hettie's shoes, sometimes the little girls'.
Their home as you and I visit is 152 years old, meticulously restored; scientific testing proves copious amounts of blood spilled in the attic floor where Confederate sharpshooters set up.
As I tried to be Hettie, in her kitchen, I found scant personal wisdom wondering how I'd help my little daughters process life with 24,000 seriously wounded men in our town of 400 buildings, and 12,000 dead men and horses.
Many Union and some Confederate wounded entered this
front door when today's Baladerry Inn served as a hospital
during and after the battles of Gettysburg, July 1863.
The civilian experiences intrigued other travelers when I chatted over breakfast at the Baladerry Inn, travelers who had not yet discovered the Shriver House Museum. I recommend planning a few hours there.
It's in the midst of a charming downtown so let the musing settle with some strolling, shopping, dining, sipping.
Then go, or go again, to Seminary Ridge Museum. Formal opening was July 1, 2013; here's what I know from a hard-hat visit in September the previous year.
"We will talk about history and religion in ways not always possible," Barbara Franco told me, because of being a historical society and an active seminary. She's the founding executive director, passionate about ideas and the stories behind the stories.
"The Seminary was in the center of the battles," she said, America's first seminary and still active today. I didn't meet the current leader of Gettysburg's Lutheran Theological Seminary, but the life story of Samuel Schmucker who founded the school is interesting to know when you go.
Anti-Slavery, Princeton theology graduate. First wife died, second wife a woman from Virginia with slaves. A dozen children combined.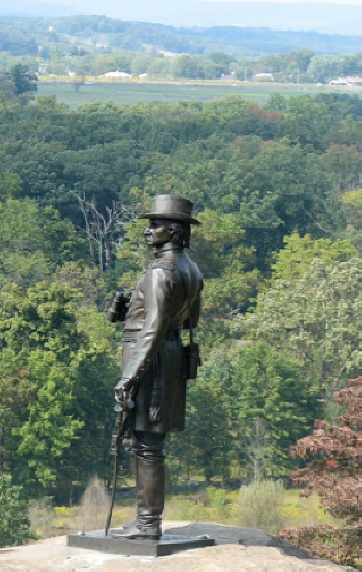 Overlooking the battlefield next to the sculpture
of Maj. Gen. G. K. Warren on Little Round Top
allows daunting contemplation.

Could their conversations have been as lively as their household? The galleries and interactive exhibits designed for every floor sound energetic too.

Videos on every level. Music true to 1863. Diary stories. Interaction with the Ziegler children, Hugh age 10 and Lydia, 12, growing up in the Seminary when the soldiers arrived.

Life cast figures in Seminary Ridge Museum should give reality checks to visitors like me, wondering about the wounded and their helpers.

"More than 600 patients were here," Franco said, "and we know the names of at least 400, plus nurses and doctors."

The museum is reaching out to their descendents, Franco said. "We want to know what happened afterwards.

"What is the continuing impact of what happened in Gettysburg in July 1863?"

Other intended consequences of the exhibitions, seminars and conversations developed for Seminary Ridge Museum are:

•considerations of compassion and empathy

•religion and slavery from 19th century viewpoints plus what Franco calls

•"the unfinished work for freedom."

Incentive for me to return yet again.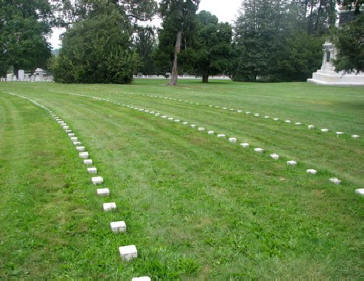 The look of Soldiers National Cemetery --
so different from Arlington and Normandy

Consider too a November trip.

Remembrance Day is celebrated with a parade and ceremony and a somber luminary event in Soldiers' National Cemetery.

Nov. 19, 2012 was Dedication Day and Lincoln's brief remarks delivered four months after the battles were the focus. Steven Spielbeg was the guest speaker.

Sure you and I memorized "Four score and seven years ago ..." decades ago and see photos of children in black paper hats doing so this decade.

Meant more hearing it here. In context. I believed that was Abe's voice as I stood in the National Military Park Museum gallery dedicated solely to his two minutes of thoughts.

Edward Everett gave the main speech that 1863 day, two hours worth, setting aside the land to bury Union soldiers.
Looking at life as it was lived just prior to the battles
is a powerful part of Gettysburg experiences.
This is the Sherfy family farm, with a worm fence in
front, movable as needed
Exhibitions, touch-screen videos, films, interactive audio displays, artifacts, thoughtful questions, abundant galleries abound in this museum, well worth another story and a longer trip.
But here's a tip when you go: try to be a stowaway in the Cyclorama because it is so fascinating the 15-minute limit is not sufficient. Here's how:
Entry is a long, steep escalator. Exit is a stairway. Linger quietly on the steps and you might get to see the show again.
This detailed painted battle scene is 42 feet tall and 377 feet long, hanging on rings like a shower curtain with weights on the bottom.
Weighs 11 tons. Atlanta's Civil War scene Cyclorama is 40 feet smaller. Gettysburg's was painted by Paul Dominique Philippoteaux, first seen in Boston in 1884, apparently a short-lived genre, replaced by motion pictures.
President Abraham Lincoln arrived in this train station
to share a few short remarks at the dedication of the
cemetery for Union soldiers killed in Gettysburg.

Look straight ahead at this massive painting, walking the circle to see it all. Elsewhere in town, take a look at the Diorama for another perspective.

This is a private business, presenting a 30-minute light and sound show of the three days of battles across 6,000 acres. The little scale helped battle-challenged me to get some perspective.

These 20,000 hand-painted soldiers are the scale of HO train models, director Sharon Widener told me. That's 1/72nd scale.

Same scale for almost a thousand cannons and horses on 800 square feet. Don't think I misled you when you enter this corner building on Steinwehr Avenue. Diorama's in the back; t-shirts and trinkets in the front.

Good idea to sleep comfortably and dine well while traveling; even more true perhaps in Gettysburg with so much to contemplate. Musing time makes sense.

I added to the contemplative time in bed and three-course-breakfast inn built in 1812, Hospital Road is the address, battlefields on three sides, bike-riding distance from the National Military Park.

Funny to me the name is Scottish since the history here and the access opportunities are so Civil War.

Baladerry Inn was a Civil War hospital and I found that a powerful concept simply standing at the original narrow front door, wondering about wounded Yanks and Rebs in first-floor rooms to my left and right and up the stairs to three rooms you can reserve.
Proprietor Judy Caudill creates three-course breakfasts
every morning for guests in the Baladerry Inn.

Same wooden floors. Some of the same wavy-glass windows. Innkeepers Judy and Kenny Caudill consider the enormous weeping Douglas fir at their door as much a treasure as the sweeping views across the front and side yards.

They balance new rooms and renovations with powerful history. Their land was the George Bushman family farm, and records show Brig. Gen. Strong Vincent, mortally wounded in the Gettysburg battle, died at Bushman's.

The Twelfth Corps hospital treated 1,131 Union and 125 Confederate soldiers, Judy told me. That means right where I was.

In my own room at the Baladerry Inn, I thought about Catherine Hoffman Bushman in hers. Age 38 when the battles began. Bullet piercing her quilt.

I thought about Charlie's mother too, and all the children. And Hettie Shriver's husband George who died in the Andersonville prison.

I'll be back.