That's because there are many, the views are spectacular and the towns which anchor them are destinations too.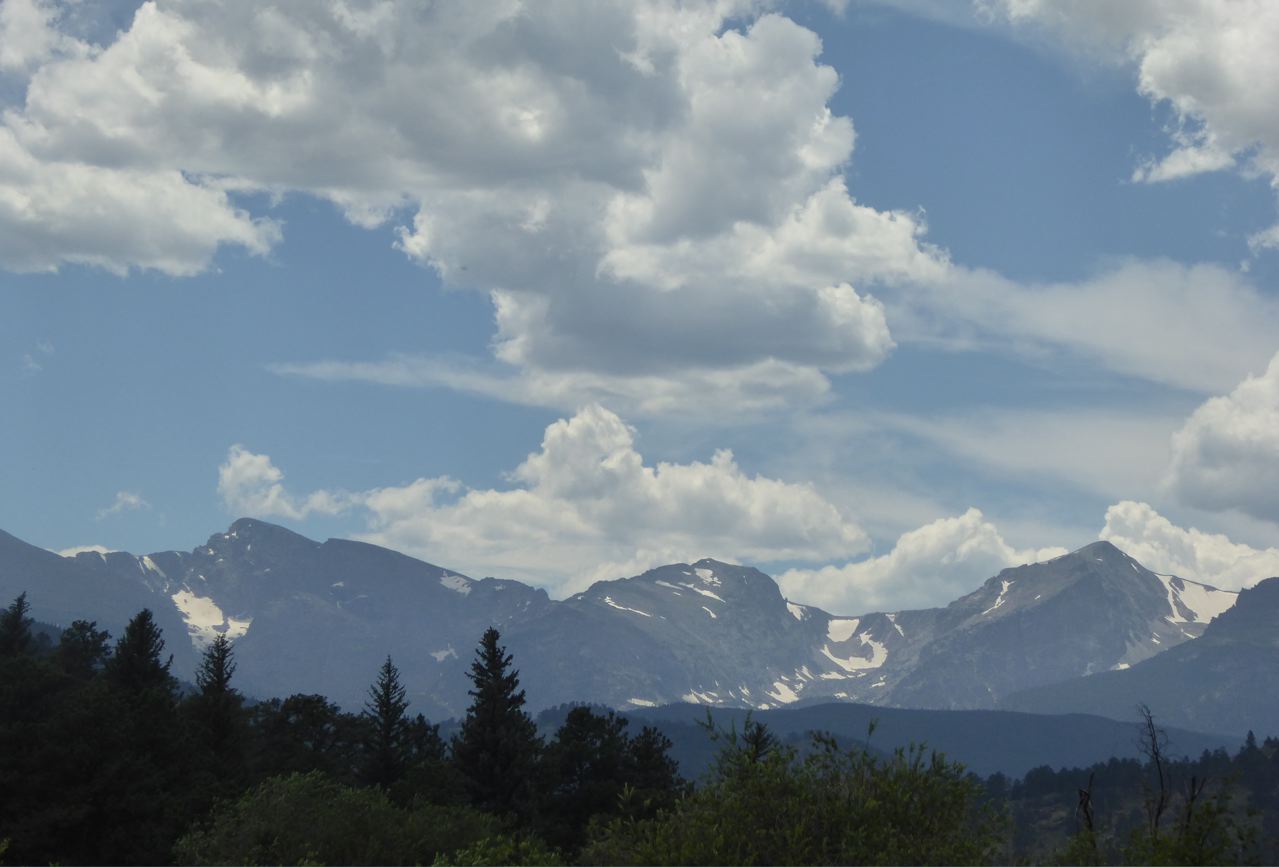 Blue skies in Estes Park
The road trips themselves, the four towns for dining, exploring and sleeping well, and the top of the Park on Trail Ridge Road could redefine the "all roads" metaphor. These are key stops:
<![if !supportLists]> · <![endif]>Fort Collins
<![if !supportLists]> · <![endif]>Grand Lake
<![if !supportLists]> · <![endif]>Estes Park
<![if !supportLists]> · <![endif]>Winter Park
No matter which one you choose, accessing the others is possible, and desirable. I found each to be distinctly different from the other so you could plan one long road trip or several through the years.
Touch the glacial ice in Rocky Mountain National Park from the top of Trail Ridge Road.


Rocky Mountain is a national park without lodging so sleeping nearby is the way to go. Here's what worked for me:
Misty Mountain Lodge in Estes Park /td>
Misty Mountain Lodge in Estes Park is a cozy set of well-appointed cabins just a few miles from a Park entrance; stick with the wilderness theme because the proprietors fix S'mores every night in a front-yard campfire
The same starry skies over the Park offer light shows from Misty Mountain, crisp and brilliant from either of the outdoor hot tubs.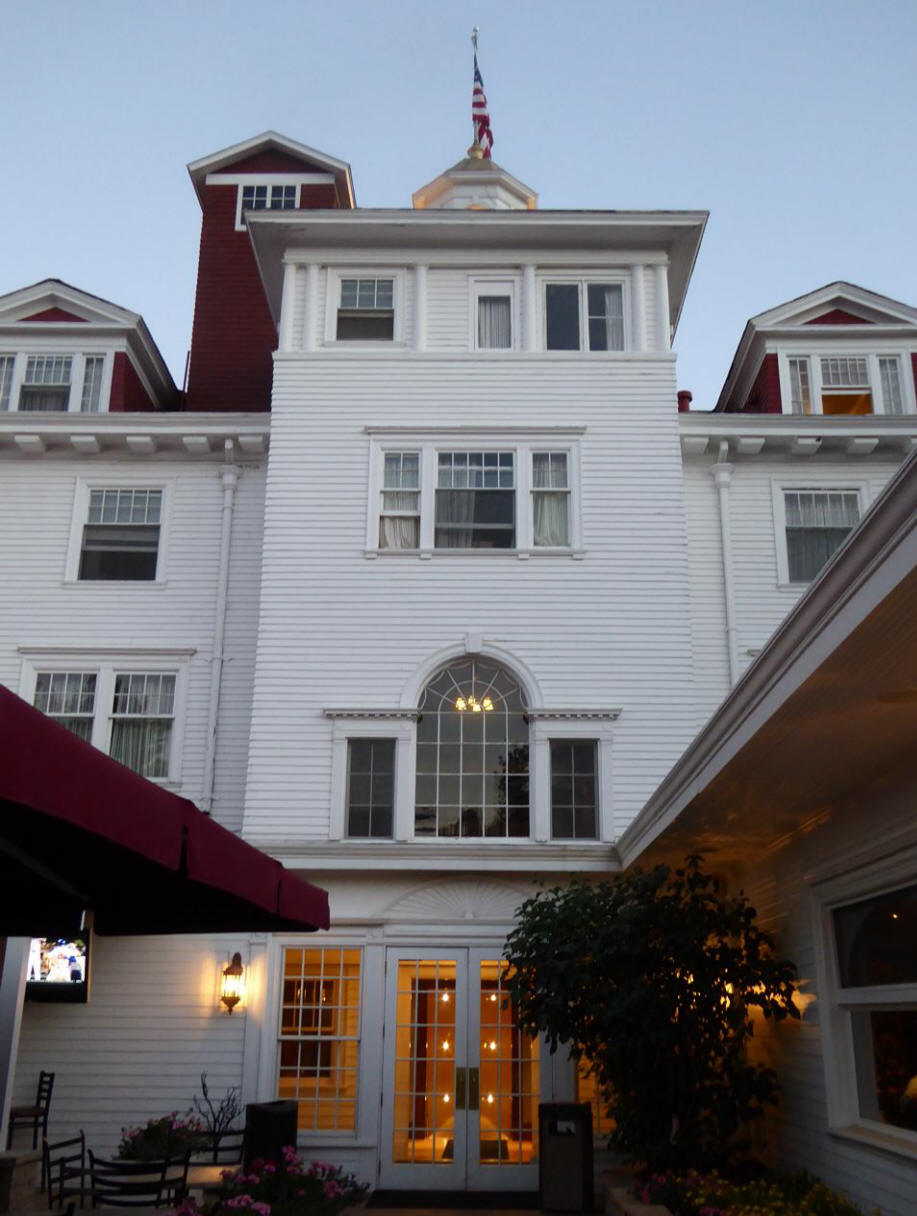 Stanley Hotel in Estes Park
Or choose the elegant Stanley Hotel in Estes Park, which sits high on a hill over the bustling downtown with 140 rooms, handsome architecture, and an original Stanley Steamer in the lobby.
I think some people choose Estes Park as their headquarters because of the lively shopping, abundance of fine eateries and strolling opportunities along the meandering downtown river.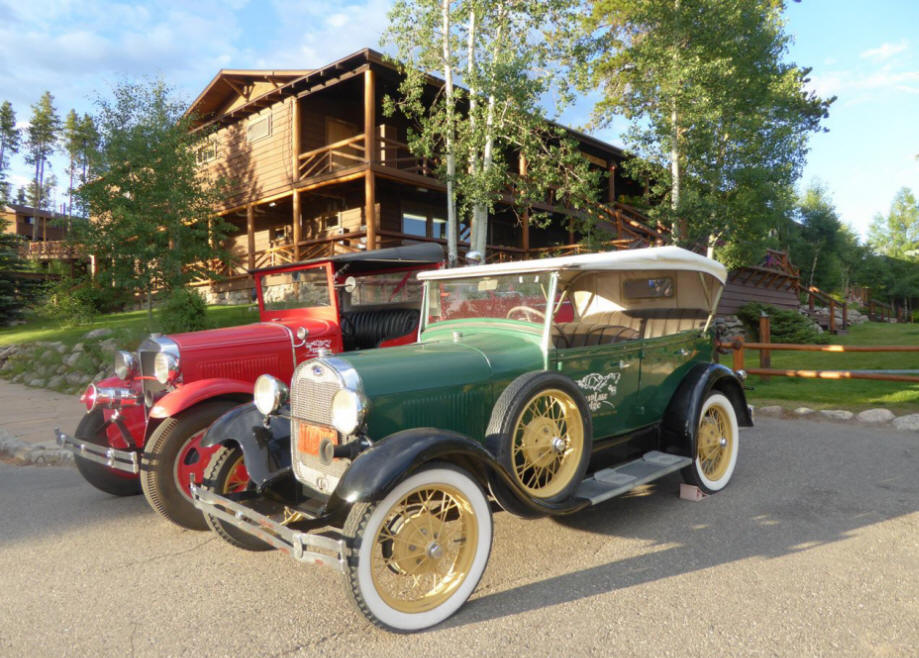 Grand Lake Lodge opened in 1920
Grand Lake is equally enticing in a completely different way; it's on the other side of the Park---which celebrates its centennial all year, culminating Sept. 4, 2015.
Move in to the u>Grand Lake Lodge to commune with the spirit of visitors when it opened in 1920; three sides of the property border Rocky Mountain National Park and views from the porches, the grand dining room and throughout the property give a sweeping sense of history.
Names you know like John Muir and Theodore Roosevelt cared about this place and names you'll grow to appreciate as I did like Enos A. Mills and Roe Emery who made it possible to do what we can do there today.
Mills was a naturalist credited as the driving force to protect these Park lands; walk right up to his modest cabin along Highway 7.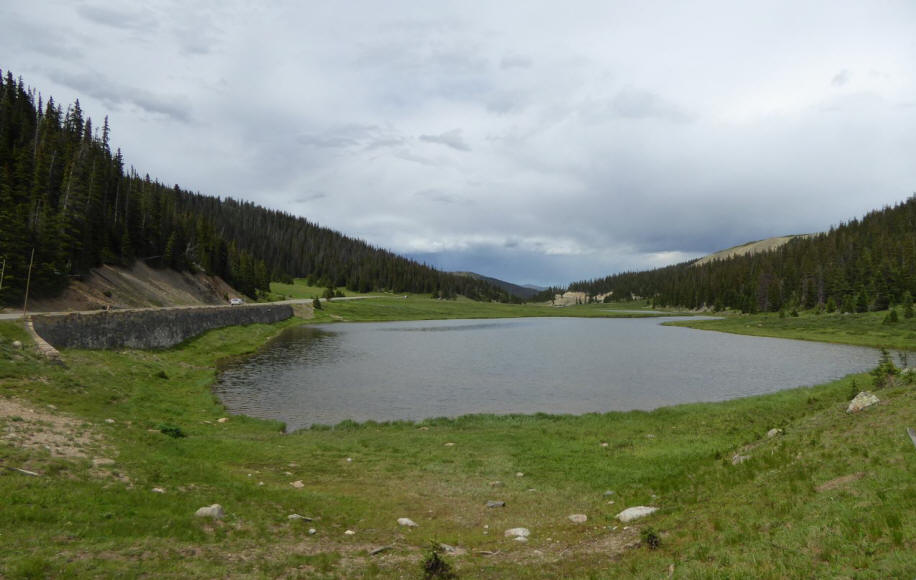 Muse about the mysteries of the Continental Divide driving between
Estes Park and Grand Lake through Rocky Mountain National Park
Emery launched the circle tour from railroad stops to Estes Park, up steep switchbacks and over the top of the mountains to Grand Lake and then across the Continental Divide at the Berthold Pass, elevation 10,759.
We can do that too in our own vehicles. Thrilled that I did, and highly recommend either direction.
Boat houses on Grand Lake feature logs with the bark still in place
Another Grand Lake lodging option is the Western Riviera with every room facing the lake, easy walk to spectacular experiences:
<![if !supportLists]> · <![endif]>Narrated boat tour all around the lake
<![if !supportLists]> · <![endif]>Walking tour with two loops, each just under a mile, an illustrated history booklet. Solid tip—allow sometime inside the Kauffman House to learn local lore from the docents and to view the extensive collections of lifestyles here in the late 19th and early 20th centuries.
<![if !supportLists]> · <![endif]>America's highest-elevation Yacht Club and home to the Lipton Cup regatta races every August
<![if !supportLists]> · <![endif]>Wooden-sidewalk downtown with old west architecture and a delightful city center park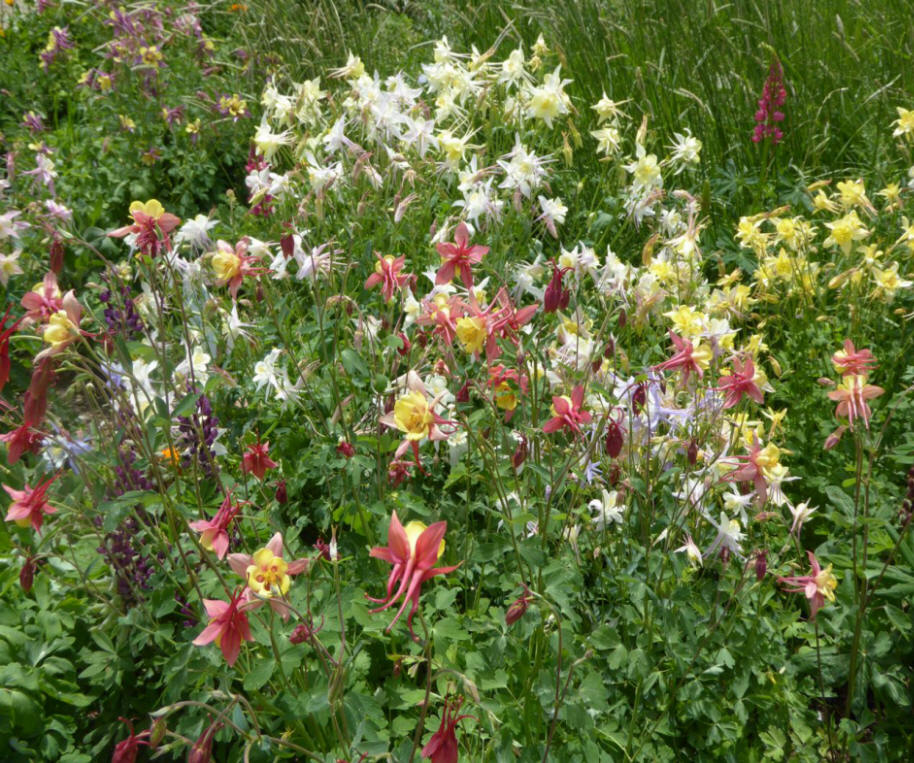 Flowers bloom when snow's not falling in Winter Park
Winter Park

is all about being outdoors. Ski slopes that double as mountain bike trails abound but that doesn't mean visitors like me who do neither have to only watch the adventuresome.
Smell the flowers means something here because wildflowers fill meadows and blossoms of many hues fill planters all over the town.
Curious partnership in Winter Park that ought to be sincerely so in other places I go, but never have I felt the camaraderie so strongly between a resort and a town.
Lodge in the magical environment of Winter Park Resort or stay downtown and walk just a few blocks to the city park to mingle with the community.
Rarely a day from late June to early August when free concerts aren't happening, and that means families with their babies and their dogs, lovers, friends of all ages and solo strangers like me gather on the wide lawn, picnic, sip a beverage, genuinely act happy to be where they are, together.
The air's a bit thin at elevation 9,500 in Winter Park; I paused a few times with a pounding heart in my walks but the abundance of flowers gave me good reason to be still.
Forty percent less dense, this air, than other places because of the reduced atmospheric pressure. I respected the science by drinking gallons of water.
Year-round ski lift in Winter Park
When I rode the lift at the Resort, it was filled with bicycles and expert riders for the Freeride Festival. If you ever wanted to trail the Tour de France, try this.
Follow the Enduro superstar bikers and head to Winter Park Resort to watch them in action.
RRiding the ski lift with them certainly felt like I was in a year-round resort with an international flair even as I looked at trees and grass on the slopes.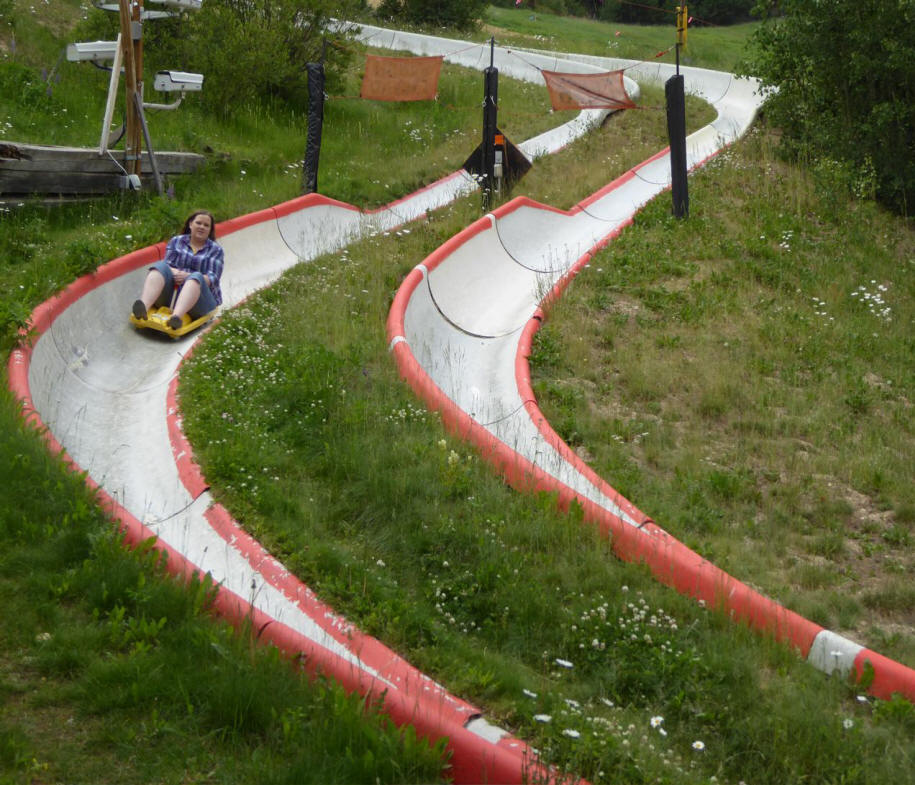 Alpine slide in Winter Park
Colorado's longest alpine slide is at Winter Park Resort, plus mini golf, disc golf, a human maze and GyroXtreme. Sometimes people go inside to eat but nature seems the preference with abundant patio seating.
South from Grand Lake is the direction to find Winter Park./span>
Fort Collins is the northern point in this foursome, straight up Highway 25 from Denver or south from Cheyenne, Wyoming.
Day trips to Rocky Mountain National Park quite possible.
Outdoor piano in Fort Collins
I stayed in a Quality Inn & Suites because it was a block from the MAX rapid transit. New in the summer of 2014 and efficient, plenty of on-off stops to access music, art, food – walkabouts everywhere.
Fort Collins might be a synonym for strolling. Vehicle free blocks in the city opened up access to artist cooperatives, patios and courtyards for imbibing and for listening to music, bookstores and stationery centers, shops with stylish casual clothes and latest technology in outdoor gear and fabrics.
Didn't matter I had no bike; Fort Collins shares them free for a day, or $10 on the spur of the moment.
Ever been to a city with a full time Bike Coordinator job? I had not until this holiday.&
The Gardens on Spring Creek in Fort Collins
Lots of cities have elegant botanical gardens; Fort Collins has an interactive, user-friendly come-back-often gathering place called the Gardens on Spring Creek.
Sustainable edible gardening, kids' interactive spaces, cooking classes, community plots, indigenous plants and rock gardens among the many spaces. span style="mso-tab-count: 1">&
Articulture they call this: Art + Horticulture. Allocate a big bunch of time or you'll be sorry you have to leave.
Good idea to find the map of 42 natural areas as soon as you arrive in Fort Collins. That's the way to choose which of the free hikes you prefer, and where to meet naturalists and rangers.span style="mso-tab-count: 1">
HHorsetooth Reservoir ought to be one of them—stunning as a drive and even better on a standup paddleboard. Your teacher and guide can be Lindsey or Brad Modessit at Mountain Whitewater Descents; they sailed 6,000 miles in the Caribbean with their two little children.
Four towns, one national park, sweeping views along every roadway – claim this Colorado portion of America as top of your bucket list.