Coffee connects well with construction in Americus, Georgia. Think globally here as in fair trade farming and homes for people in debilitating poverty.

Brass footsteps embedded in the sidewalk in Albany, Georgia provide a path for singing while walking--songs of immense Civil Rights meaning still presented by Freedom Singers from the early 1960s in the former Mount Zion Baptist Church.

Those steps are in sight of Albany's Civil Rights Institute.
National Park Service rangers tell tales of shocking conditions endured by prisoners of war in Andersonville Prison, and also by POWs throughout American history.
With a little guidance and particular intention, visiting Southwest Georgia gives deep meaning to the ways people have treated one another through the decades – and how some are doing so today with deep care and concern.
Call it a Human Rights Trail, but don't look for wayfinding signs.
This is a personal journey, taking to each experience your own world view. . . and drawing from every stop deep meaning if you so choose.
Here's the way.
Allocate at least three days. Longer is better if you intend to engage fully. Even longer than that is a great idea to add in fun stuff like kayaking on the secluded Flint River and entering the African veldt at Chehaw, the 800-acre nature park with 100 acres, an American Zoological Association accredited zoo.
Build in time for lingering breakfasts, lunches and dinners. Doesn't matter you didn't already know Georgia's Albany is equally at home with traditional Southern cultural cooking as well as with trendy tastes and new culinary discoveries.
Set your suitcase down at Merry Acres Inn in Albany and do short road trips to the neighboring communities.
Coffee, construction, communal living
Four specific experiences in Americus link human rights in profound ways, richer by thinking of them together. One's all about the past, and two engage people in this town of 17,000 every day as they honor the dignity of others around the globe. Yet another creates a community in year-long internships sharing values of hospitality, sustainability, kindness and fairness.
Each offers ample opportunity for visitors.
<![if !supportLists]>· <![endif]>Cafe Campesino
<![if !supportLists]>· <![endif]>Global Village Discovery Center
<![if !supportLists]>· <![endif]>Koinonia Farm
<![if !supportLists]>· <![endif]>Andersonville National Historic Site
Start this human rights journey with coffee, or tea, breakfast or lunch. At Cafe Campesino coffee roasters commit to being fair, celebrating people, doing the right thing and walking the talk.
That's why they work with small scale farmers in coffee lands around the globe, shaping co-ops with fair pay. Don't take my word, or theirs. Contracts are transparent, posted online, receiving third-party certification as a Certified B Corp.
Meet their farmer partners through photographs filling the walls of the cafe, along with original paintings and weavings by artisans in the lands of shade grown, organic coffee. Twelve acres: that's the farm size a of Cafe Campesino grower.
Here's why I think meeting the folks in this 19-year-old coffee business matters. They're redefining what success means in business. Human rights rank at the top.
Across the street from the coffee roasting facility is a trip around the world, where Habitat for Humanity's international headquarters invites visitors into houses just like the ones they build uniquely suited to conditions in each country.
Global Village and Discovery Center is the name. Walk paved paths to visit homes just like the ones making a difference for 9.8 million people in 70 countries.
Teaching that one in five people in the world live in poverty and unstable conditions, Habitat's village opens with a settlement intended to be temporary living but continuing as the only option for many families.
Sobering this part of the human rights journey in Southwest Georgia. Uplifting too with the Habitat guiding principles: sweat equity from the recipients of a home, no profit for Habitat, an affordable mortgage for the new resident. Self-reliance – not vulnerability -- is the goal.
Just stroll the village, or dig a little deeper into the realities of global poverty with a documentary film, signage throughout the site and conversations with knowledgeable staff.
Good idea to reflect awhile here before continuing on the human rights trail.
Koinonia Farm
Difficult to say, easy to visit. Coy-no-nee-a I think nails the pronunciation.
This is a hospitable place and I highly recommend asking for a tour and lunch. People are the point, and sharing a meal and stroll around the grounds opens conversation.
Living here on purpose, with intention, is the point. Men and women, of color and white, some with kids, engage in year-long internships. They like the idea of community being a house and church all in one, each person committed to the others.
Visitors like me on the human rights trail aren't necessarily committed likewise, but the chance to be among people of purpose is affirming.
Koinonia residents raise pecans, grapes and blueberries, grassfed beef and pastured hogs, chickens for eggs and other produce. Farming biologically to them means no herbicides, fungicides, insecticides.
Guess what: they partner with Cafe Campesino for 100 percent fair trade coffee. Cinnamon spiced pecans, granola, peanut butter, jams and jellies are among the foods prepared on site and available on line.
Life wasn't always as calm as you'll find it at Koinonia. Watch the hour-long documentary of historic footage for the facts. As an interracial community in the late 1950s and early '60s, the communal house church farm created a stir in Jim Crow South.
Now retreats are possible, leisure travelers can spend a night or several in cottages for a modest fee of $50, or visitors can camp and park RVs. Snowbirds have been known to stay all winter.
Kids have a special place at Koinonia too; Peacebuilders Camp lasts a week for youth ages 11 – 14. The peace and justice agenda? Farm life, sports, games, field trips, exploring stories about past and present peacemakers – and learning about human rights.
Andersonville National Historic Site offers a vital component along this trail of human rights discovery. Desolation and despair at this Civil War prison are today replaced with remembrance and reflection.
It's also so complex and robust that a full day stay is not too long. Plan on a lot of walking to get up close, or choose the free audio tour and take your car from spot to spot.
Arrive anticipating stillness. Thoughtfulness. Respect. Even the white-tailed deer I saw along long wooded driveway winding into the grounds seemed somber and hushed.
Pack a lunch from an Albany eatery, or at Cafe Campesino so you can stay all day.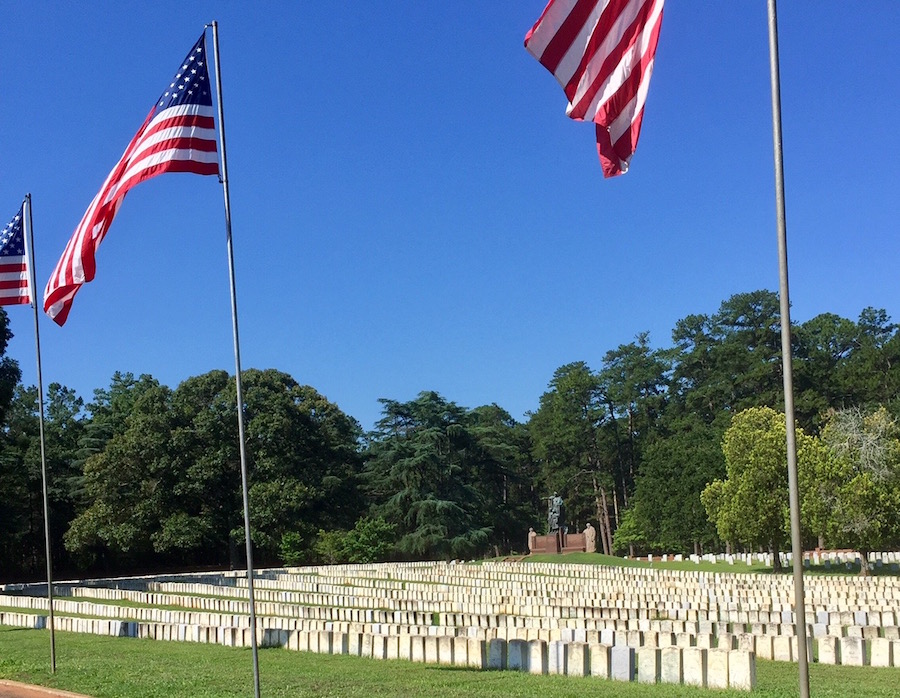 Highlights include:
<![if !supportLists]>· <![endif]>America's National Prisoner of War Museum
<![if !supportLists]>· <![endif]>The prison site where 13,000 soldiers died in 14 months, mostly from disease and starvation
<![if !supportLists]>· <![endif]>Andersonville National Cemetery, where prisoners were buried in trenches and today's veterans in proper graves
Human rights considerations are abundant, and stories about the people in Andersonville Prison add depth to the actual quotes from survivors.
Consider this one:
A 19-year-old prisoner from New York was assigned to work in the Andersonville hospital where he secretly recorded names and burial sites, smuggling the list out when he was released.
Dorence Atwater teamed up with battlefield nurse Clara Barton and a US Army Quartermaster expedition to mark those graves, an astonishing 95 percent identified.
If you notice headstones very close together in some cemetery sections, that's because Atwater also knew men were buried together in trenches.
Mark your calendar
April 2018 the National Prisoner of War Museum at Andersonville will be 20 years old. Good chance the National Park Service will seal that anniversary in comprehensive, meaningful, respectful ways.
Albany eateries with a human rights flavor
Carter's Grill and Restaurant
Signature dishes for more than 45 years: fried chicken, oxtails, chitterlings, oxtails and peach cobbler. Family style tables, buffet serving, abundant vegetables and cornbread.
Just a block or two from the Civil Rights Institute and Mt. Zion Baptist Church where the Freedom Singers perform second Saturdays every month at 1:00 p.m.
Pearly's Famous Country Cooking
Breakfast and lunch fare cooked as ordered, closing at 2:00 p.m., no Sunday hours.
Profit sharing, paid vacations, fair wages. Management view "Care where you're going, not where you've been. Windshields more important than rear-view mirrors."
Stewbos
Entrepreneurs Stewart Campbell and Bo Henry appear to weave their business and lifestyle philosophies into lodging and dining. That enhanced the human rights journey for me experiencing three of their properties: Merry Acres Inn, The Catch, Harvest Moon. They have more.
For more information:/p>
87877-750-0840
Guidance for Albany and for day-trip destinations nearby including Americus and Plains.