Staying put is enticing once the slog of air travel is accomplished but I discovered a slew of alluring reasons to roam from one all-inclusive resort to another on a Cancun vacation.
Looking down is every bit as lovely as gazing out to the horizon.
Fine reasons. Destinations of excellence. Travel with your beloved.
Two changes of address are probably a big enough goal but my trail points to six resorts in a partnership that calls itself the Excellence Group.
Three use excellence as part of their name; two declare themselves finest and the smaller boutique partner is known as beloved. Another will open September of 2016 in the Dominican Republic.
My focus centered on the adults-only Excellence Riviera in Cancun and the family-friendly Finest Resort in Playa Mujeres.
The drive between them is only 30 minutes, with views of downtown Cancun merging into the wetlands of the tip of this peninsula, and a driver who lives nearby sharing local stories.
I've avoided all-inclusive resorts for decades, doubting I'd be able to engage in local culture or notice the nuances of community life in parts of the world far from my own.
Changed my mind in Cancun as I discovered cultural heritage amidst the revelry of all-inclusive, abundant spirits.
Here's why I think my trail worked, meeting my needs to interact with culture, heritage and tradition in the midst of luxurious pampering.
Culinary abundance
Cruise ship dining through the years struck me as excess and not necessarily fine dining -- probably why I expected the same at my all-inclusive resorts. Wrong.
With 10 restaurants at Finest Playa Mujeres and 11 at Excellence Riviera I discovered 21 executive chefs, each with skill subsets and culinary styles distinctly different from the other.
None of my dining experiences repeated the others. Choices ranged from tapas to multi-course formal meals, from buffets to exquisite wait staff attention, to open-air palapa style spaces or air-conditioned interiors.
Linen tablecloth full menu service for breakfast, overlooking the sea, equals vacation pampering, and indeed I found my huevos motulenos delicious. That's fried eggs on a tortilla with a sauce of ham, green peas and white cheese with fried plantain on the side. Blue agave is the honey for additional breads.
However, the vast serve-yourself buffet breakfast in a big enclosed setting fed my cultural needs differently.
Here's how:
A glass of orange juice is possible if familiar is the way you like to eat and drink while traveling, but the Excellence Riviera juice bar lured me with its rainbow of rich colors -- juices made from fruits not found on trees in my neighborhood.
A glass of high-vitamin juice with fruit by the sea enhances a spectacular breakfast.
Sugar for coffee or perhaps toast at this buffet requires pondering eight choices: muscovado, anise, walnut, cocoa, almond, coffee, powdered and cinnamon.
Toast is complicated too because this is a two-room buffet with one devoted to breads! At least half are Mexican breads of exquisite varieties, prompting much questioning of the baker on duty. That's a room of culinary heritage.
In another buffet display, bowls of amaranth, ground wheat, dried apricot, pistachio, pumpkin seeds, fine chopped nuts and grated coconut made me wonder how much could I eat to experience each toping.
With 21 restaurants and more executive chefs, food at Excellence and Finest
comes in delightful portions and exquisite design.
Lunch and dinner at both resorts offered equally different details and opportunities to explore local and international flavors. Each also mastered the art of elegant presentations.
Portions at Excellence Riviera and Finest Resort restaurants surprised me. These chefs appear to focus on flavor instead of excess, pleasant pairings instead of supersizing.
Looking behind the hedges
Learning to look beyond the beauty turns out to be an important skill at these all-inclusive resorts -- not easy because gorgeous abounds. Neither Finest nor Excellence seemed concerned with pointing out the cultural surprises that excited me, but clearly built them in place.
You'd be right to expect an abundance of colorful perfectly-sculpted landscaping. Roaming about one afternoon in Finest Resort I happened to peer over a thigh-high hedge and found a labyrinth. The next hour I had my own private party, the meditative kind on a winding path of big flat stones leading to a central peak, one rock higher than the others.
Quiet moments of reflection in the midst of holiday revelry quite possible
along this stone path at Finest Resort Playa Mujeres.
Want to muse about why that's a surprise to stumble upon and not an item on the maps and brochures?
Hammocks are tucked in coves of trees away from the main paths at Excellence Riviera, a nice touch for privacy. Had I just hopped in and started dozing, good chance I might not have noticed the sweat lodge.
This too is not broadcast, reserved I suspect for the discerning traveler who would appreciate 90 minutes in an ancient ceremony with a shaman. This is high on my list of reasons to return … with advance planning.
Find a true shaman at Excellence Riviera Cancun, guiding an authentic sweat lodge experience
Add water to spa massages
A full-body massage or two clearly spells vacation for many travelers but even more is routine at Excellence Riviera and Finest Resort. Call it taking the waters.
Seventeen water treatments boost the immune system before massages at Excellence Group resorts
One hour in an astonishing array of 17 water treatments is considered the ideal preparation for each massage. No additional cost, and your own personal valet accompanies you each splash of the way.
The routine varies a bit in each resort so did not feel redundant. Finest offered a pepperminty scrub within the steam room; Excellence encouraged a longer walk on the refloxology stones.
Water pressure felt more dramatic on neck, shoulders and from a surprising belly massage spout at Excellence; the cold plunge pool at Finest offered less shock because warmer water was nearby.
Since I consider the baths in Baden Baden, Germany, also in Budapest and the outskirts of Machu Picchu among my finest international experiences, discovering these waters in Mexico was a fine heritage surprise.
Abandon any notion of a hairdo because water pours from above in several of the treatments.
The very idea that booking a massage includes personal attention for an hour of water care designed to strengthen my immune system told me I was on a trail of cultural insight.
Use this mini bar
Skittish about unwanted, unexpected costs when you slip a soda or candy bar from a hotel mini bar? Everything included means something different here.
Empty the 'fridge, and the shelf above it with spirits---bottles of rum, tequila, gin, vodka, whiskey, if you like. More will appear.
Put the empties, or room service dishes if you ordered any, in the nifty corner cupboard and they'll be silently removed or replaced. This clever cupboard opens from your room, and also from the outside wall with a housekeeper key.
No intrusive knocks on the door, no unsightly trays in the hallway or your room.
More to the art than a glance
A big red LOVE towers over the portico at Finest Resort and the same color red hangs from the lobby ceiling in firm yet fluffy shapes.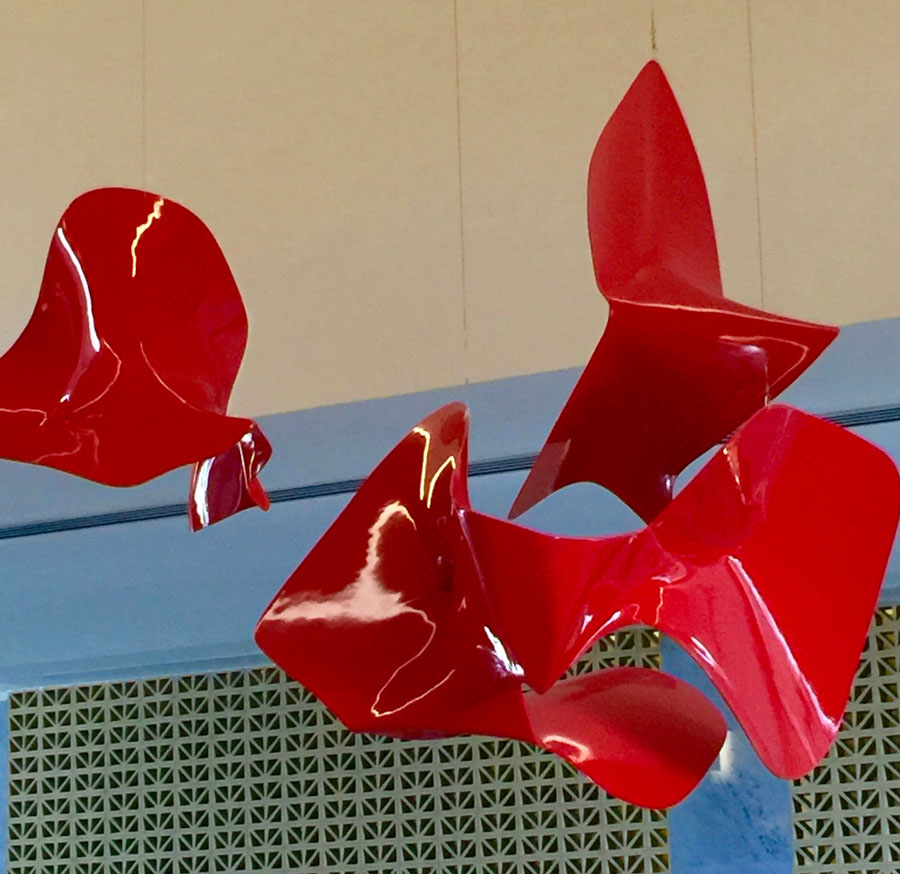 Look up as well as out to the sea at Finest Resort for ceiling sculpture by Pep Llambias
Good chance most travelers barely notice them because the excitement of an unfolding vacation dominates.
I rather enjoyed sleuthing out the clues, learning that sculptor Pep Llambias works in words, creating visuals to evoke thinking of other words---unconscious or free association emotions.
Don't you think love is a good one for a romantic getaway?
LOVE greets every arriving guest at Finest Resort in Playa Mujeres.
Fantasy and Imagination appear abundantly as emotion words, concepts and realities elsewhere at Finest Resort too, in play spaces designed for children in groups of ages from pre-schoolers through teens.
Rooms and suites
Pillow menus generally indicate a hotel cares about comfort levels and if the six on my bed weren't just right, I could order from a menu of five more. So I did.
My Excellence Riviera room included a sofa, comfy chairs and desk space, but created a sense of anxiety because the gorgeous marble floors throughout included a step down to the living room.
With expansive picture windows and sleek marble floors luring my eye outward, I was spooked about forgetting to step down. My solution? Put the desk chair right in the middle of the passageway.
Swim up to your room, and out again at many resort locations
if you choose certain ground level suites.
My Finest Resort room set new standards for balconies flowing from luxurious bedrooms. The corner was a Jacuzzi tub for two, with entry from the bedroom, and views to the luscious grounds.
Slip back to the room from the tub or onto a bed-sized sofa discreetly curtained on the balcony. Prefer modesty? The large balcony patio includes comfortable wire chairs, tables and unending views. Access those from traditional sliding glass doors.
Artistic chairs, secluded sofa adjoining jetted tub and grand views
from upper level rooms and suites at Finest Resort.
Ground level suites offer swim-up access if you think you'd like to float directly from your room to the interconnected pools, lagoons and lazy rivers.
Keep exploring the options
Since experiencing more than one resort on a Riviera Maya vacation is quite possible, contemplate your ability to leave once settled into a life of luxury.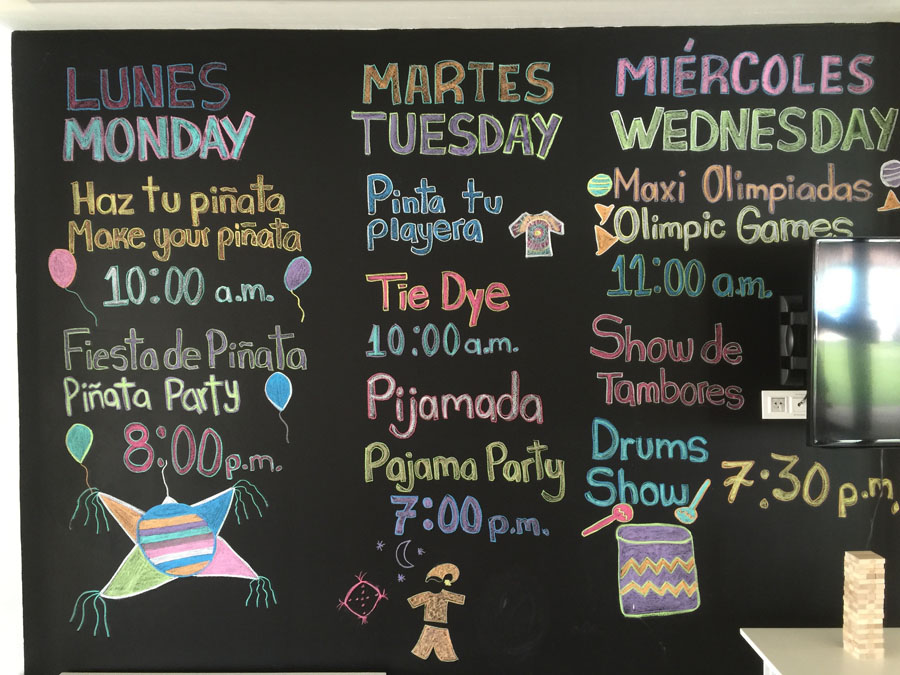 Families with children have options too at Finest Resort. Excellence properties are adult only
Day trips are alluring too because this region near Cancun is rich with Mayan experiences and tours can be arranged through the resorts.
American Roads and Global Highways has so many great articles you may
want to search it for you favorite places or new exciting destinations.