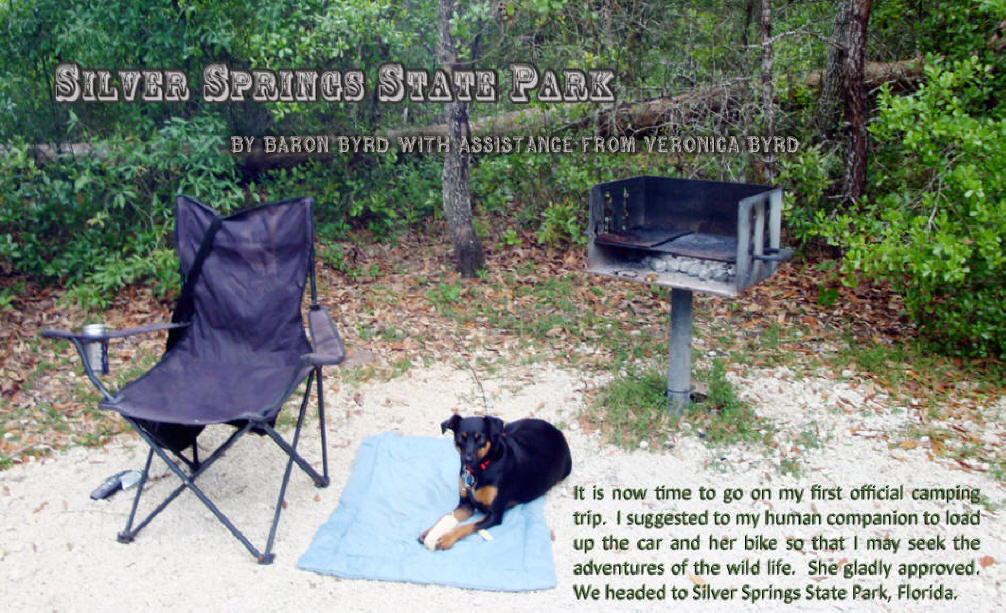 This park is now merged with Silver Springs, Nature's Theme Park, located just east of Ocala, Florida. The springs are one of the largest artesian spring formations in the world, producing nearly 550 million gallons of crystal-clear water daily. I'm sure one would never thirst again. The 1960s television show Sea Hunt was filmed here, as were countless movies, including one of the Tarzan movies and Creature From The Black Lagoon.
| | |
| --- | --- |
| | |
| A view of Silver Springs wiht the glass bottom boat in the background | I'm standing in front of the fountain |
Hiking, camping, and biking are popular, but by the looks of it. I sure wished that I could have had the opportunity to have gone canoeing or kayaking down the clear river. My other half explained to me that that probably was not a good idea due to the fact that the alligators are always hungry and would have found me exceptionally delightful for an appetizer. At least I could say that they have good taste. There are 5,000 acres of pure freedom to roam, as you may know I could have tromped every nook and cranny of that in no time flat. It is my duty to cover as much ground as one possibly can, that sounds like doggie heaven to me. Just sayin'.
After my human companion and I set up our site we journeyed through the park, I had the honor to lead the way as she rode her electric bike which only would travel at the speed of 15 miles per hour. I now had the chance to show her what I was made of, I'm sure that I must have been soaring through the air at least 50 miles an hour. In my world the faster you go the more you see.
| | |
| --- | --- |
| | |
| Our campsite | I take a break with my human at the fountain |
While hiking, there is a good chance you will come across the wonderful wild life of Florida white-tailed deer, wild boars, wild turkeys, foxes, American alligators, Sherman's fox squirrels, gopher tortoises, coyotes, bobcats and even Florida black bears. So unfortunately my human had to keep a tight leash on me, but little does she know I wasn't afraid. I'm sure I could have taken them on all at one time. Lucky for them we did not run across these so called wild animals.
The camp sites are set up extra wide for those who are traveling in RVs as well as us campers. There are all the essentials that are needed electric and water hook ups, also a barbeque grill, and a fire pit. They do sell firewood, so of course we did have our pit blazing.
| | |
| --- | --- |
| | |
| The glass bottomed boat | Some turtles sunning on a log in Silver Springs |
There are 10 cabins located there, my partner did not want me to explore that area, she was afraid that I may go greet the visitors with warm doggie kisses. I do not see the problem there, after all who could resist me.
The park is very well lit up, with clean bathrooms and hot showers. Later on that late afternoon as we were at our site my human decided to fix us a bite to eat; while she was busy I knew this was my chance to make a break for it. I am a very clever boy and I figured a way to come out of my harness and off I went as fast as lighting. My first stop was a couple of sites down I saw my kind there, I just wanted to go see if they were having as much fun as I was. I was headed for the Pioneer Village to see what was hanging around there from the old days but I was captured and returned to the campsite.
The next day we drove about a mile to where the famously known glass bottom boat is located. We explored one of Florida's oldest tourist attractions. Glass bottom boat tours of the springs began in the late 1870s. I am not very familiar with numbers but I think that must be the oldest thing in the world.
We strolled through the park and saw beautiful landscaping. They had the most unique looking trees that I have ever seen and believe me I have seen many many trees in my day. It's a dog thing. These trees were growing twisted and bent every which way.
| | |
| --- | --- |
| | |
| A twisted tree frames the kayaker paddling on the springs | The shade sure feels good |
A colony of rhesus macaques monkeys were brought to Silver Springs in 1938. The monkeys were released by tour boat operator Colonel Tooey, to enhance his Jungle Cruise ride.
Unfortunately we did not see any monkeys, but we did see a pizza shop and of course we ordered my favorite, "Pepperoni" we brought it outside near the water and enjoyed every bite of it. My other half was trying to convince me to savor every bite, I don't know who she is trying to kid, in my world the faster you eat the more you get.
For more info:
http://www.floridastateparks.org/silversprings/default.cfm