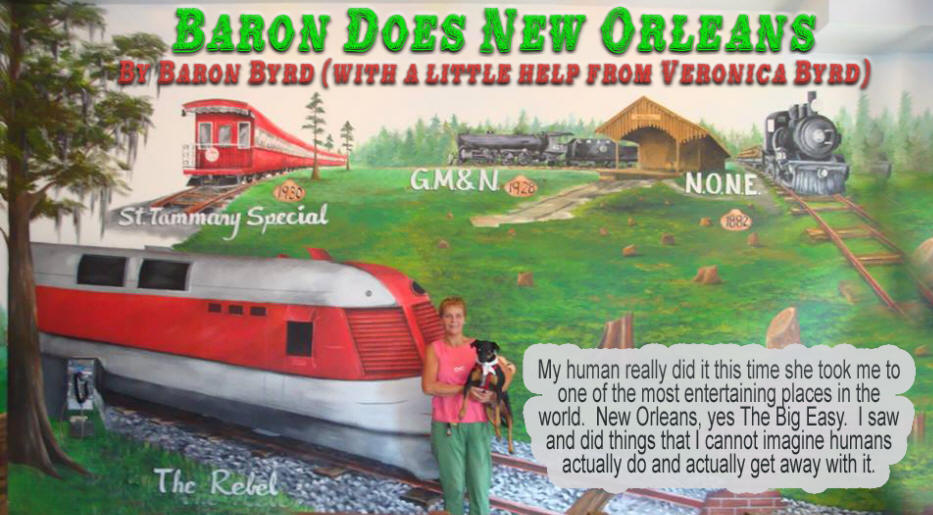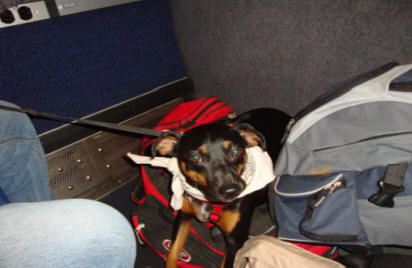 I got to guard the luggage on Amtrack
I even had an opportunity to ride Amtrak Train from Slidell, to New Orleans, and I must say that I was amazed by that experience as I looked out of the window I saw nothing but water on both sides. What's a poor dog to do with no trees in sight.
My human sidekick assured me that we will be amongst trees after 7 miles of what she called Lake Pontchartrain. Well, that sure is a tail wager for me. That was the largest lake I had ever seen.
Some of the Red Dress Runners
But I must say that this trip is about to get even crazier. I danced in the streets with men wearing red dresses. I am not sure if this is normal for humans, especially men, but I had the time of my life. They have this event once a year The Red Dress Run.
This is how it all started on August 7, 1987 a young lady wearing a red dress emerged from an airplane that had landed in southern California to visit a friend from her high school years. Shortly thereafter, she found herself transported to Long Beach, where her friend intended to introduce her to a zany running group called the Hash House Harriers. One member, noting her gender and attire, urged that she just wait in the truck until her host returned. With that she ran into history sporting her red dress and heels.
The tradition of the Hash House Harriers Red Dress Run quickly spread to every corner of the globe, including Beijing, Montreal, Ho Chi Minh City, Helsinki, Moscow, Tokyo, Washington, DC, Hobart (Australia) and countless other locations. Over the years, the Red Dress Run has been very successful in raising millions of dollars for a wide variety of local charities. The New Orleans Hash House Harriers attracted 7,000 participants to their Red Dress Run in 2010, raising more than $200,000 for 50 local charities.
As we continued through the streets of the French Quarters I was truly amazed at such talented people that were performing in the streets doing everything from playing jazz instruments, dancing and creative fine art work. People were everywhere and everyone was so happy with everyone, maybe those drinks they were carrying had something to do with it. My human explained to me that that was the way things are done here.
| | |
| --- | --- |
| | |
| New Orleans means Mardi Gras | What a great city to tour |
My owner looks at me and says its beignet time. Well even the name sounds crazy, I have no idea what a beignet is so she directs me into this place called Café Du Monde. All I know is I sure did like the smell of this place, and the taste was even better than the smell. I now know what beignets are. It is a deep fried crispy doughnut totally covered with powdered sugar. How can it possibly get any better than that.
For more info:
http://www.neworleansonline.com/neworleans/festivals/reddressrun.html