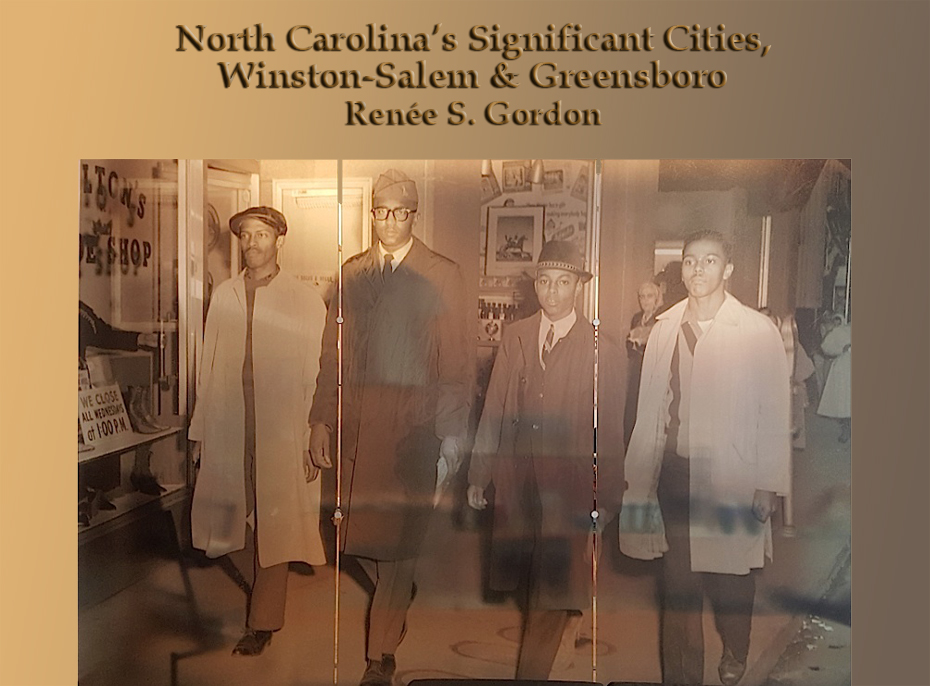 People tend to think that African American theater developed after their introduction to European forms of entertainment and cultural influences. Historic research hints at the exact opposite. Herodotus, considered the "Father of History," visited Egypt in 450 BC and noted the historic use of performances in rituals, religions, ceremonies and festivals. It is this pattern that traveled to Europe. The earliest documented evidence of an Egyptian theatrical performance is the 2600 BCE Ramesseum Dramatic Papyrus that includes information on the script and the scenes.
Theater was the perfect mechanism through which culture, religion and history could be preserved and passed on. It is oral, dramatic and easily adapts to the inclusion of song and dance. It can also be used as a nonthreatening vehicle to convey ideas, provoke discourse, protest, satirize and entertain. It has maintained its importance in the black community and in Winston-Salem in 1989 Larry Leon Hamlin dedicated himself to creating a festival to showcase, promote and honor the best of American black theater. He joined with Oprah Winfrey to establish the first festival and it has been held biennially since then.
The National Black Theater Festival (NBTF) has grown to include more than 50 performances, an award ceremony and gala, comedy shows, workshops, seminars, International Vendor's Market, celebrity interactions and cultural tours. Additionally, a National Black Theater Hall of Fame & Museum is planned. The next festival will be held in 2019 but it is never too early to plan. facebook.com/National-Black-Theatre-Festival
Winston-Salem is a cultural mecca and has outstanding accommodations, dining and entertainment venues, historic sites and unique museums. It is compact enough to walk to most destinations but large enough to be cosmopolitan with a big dollop of southern hospitality. www.visitwinstonsalem.com
The Diggs Gallery at Winston-Salem State University is one of the 10 best African American galleries in the US. It also boasts an outdoor sculpture garden and two stunning murals by John Biggers. www.wssu.edu/diggs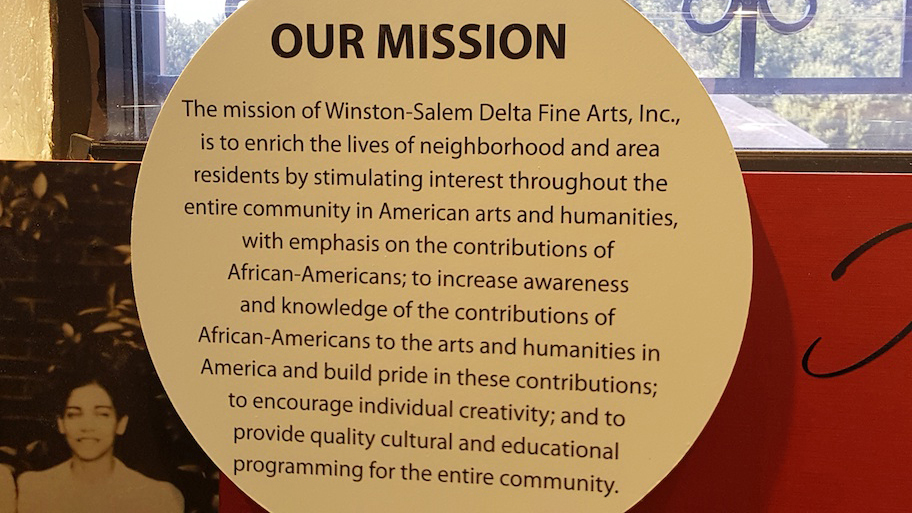 In 1972 the Delta Fine Arts Center was founded by a chapter of Delta Sigma Theta Sorority Inc. It showcases the art and material culture of the delta region. Deltaartscenter.org
Sawtooth School of Visual Arts is a community art school, in what was the Hanes Factory, holds classes and workshops in a wide spectrum of creative arts. Programs encompass all skill and age levels. A variety of exhibitions are held and the gift shop offers superb area crafted objects. Currently they are hosting the NBTF Hall of Fame Pop-Up Exhibit. www.sawtooth.org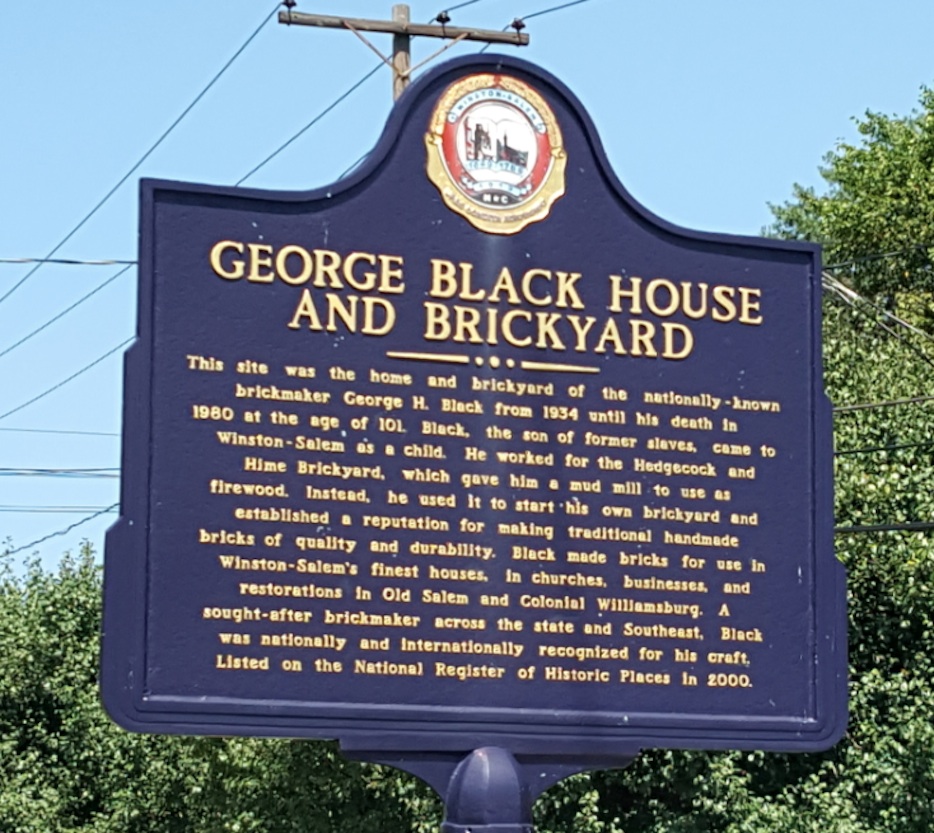 Old Salem was always noted for its industry and creativity. Moravians established the town in 1766 and many of the structures remain. A walking tour includes 14 stops and the gardens. Specialized African American Heritage Tours are offered that interpret the lives of free and enslaved blacks within the community with emphasis on the African Moravian congregation.
Stops include St. Philips African Moravian Church and MESDA, the Museum of Southern Decorative Arts. Many of the sidewalks in Old Salem were constructed from bricks made by George Black, the son of former slaves. He made his bricks in a shop behind his home even after brickmaking became mechanized. A sculpture of Black is on view downtown. www.oldsalem.org
MESDA exhibits decorative arts from the years 1660-1860. Visitors can request a legacy of African American influences tour that takes you through otherwise inaccessible galleries. Exhibits feature portraits by Joshua Johnson, 1st black portraitist in American art history, works by James Woodward, Abraham the silversmith and furniture by Thomas Day. Day was born free in 1801 and by 1850 owned the largest furniture business in NC. A signed jar by Dave is also on display. The museum also displays the original lower floor of the home of Harriet Jacobs with the staircase her owner threw her down for refusing his advances.
The art of eating and drinking is taken to creative heights in Winston-Salem. There are several Moravian food trails and a variety of venues in the Downtown area.
Black Mountain Chocolate was founded in 2007. It offers guided tours, samples and is the winner of the "Best in NC" or its chocolate chip cookies. www.BlackMountainChocolate.com
Carolina's Vineyards & Hops was the first vineyard in the state to sell exclusively wine, beer and cheese from within 150-miles. They offer a tasting lounge and private event space. www.carolinasvineyardsandhops.com
Mary's Gourmet Diner, the city's first farm to table restaurant, is a Winston-Salem favorite for breakfast. All dishes are made from local, fresh ingredients and prepared when you order. www.breakfastofcourse.com
There are three black-owned restaurants in the downtown area. They are affordable and are all worth a visit.
Meta's Restaurant was the first black-owned, soul food, restaurant in the area. Guests are served buffet-style, portions are large and the atmosphere is homey.
Award-winning Sweet Potatoes Restaurant (Well shut my mouth!!) features southern food with a gourmet twist. sweetpotatoes.ws
Vivián Joiner and Chef Stephanie Tyson established Miss Ora's Kitchen, a casual restaurant and carryout venue, next door to their first restaurant, Sweet Potatoes. The menu is limited but no less delicious. www.missoraskitchen.com
While visiting you can stay historic. The 2016 Winston-Salem Kimpton Cardinal Hotel is a 1929 Art Deco building that was owned by Reynolds Tobacco Company and was the prototype for the Empire State Building. The 174-room hotel also offers an adult rec room with basketball court and bowling alley. The onsite restaurant, Katherine Brasserie & Bar, features French cuisine. This boutique hotel is ideally situated for activities in the Downtown area. Thecardinalhotel.com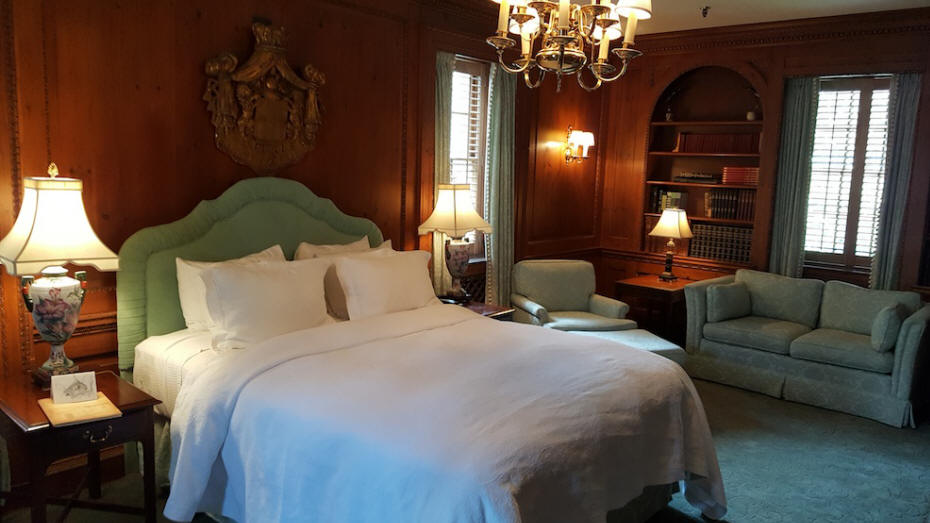 In the 1930s Bowman Gray, President of Reynolds Tobacco Company, built an 87-acre, 60-room mansion. Graylyn is now the sole luxury boutique hotel and conference center in the region. The historic accommodations are elegant with modern touches and designer linens and amenities. The Graylyn has hosted, among others, Presidents Carter and Ford and Oprah Winfrey and Maya Angelou.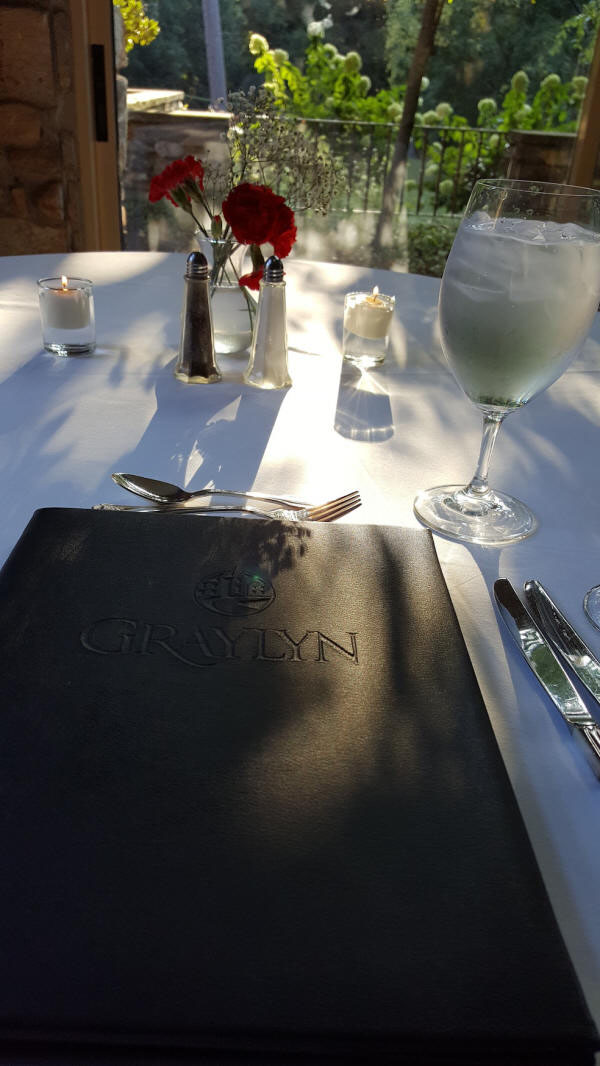 Executive Chef Greg Rollins presides over Graylyn Estate dining. Menu options are seasonal and based upon availability of local and Fair Trade products. My personal favorite is the scallops and grits with gastrique and sauce white cheddar. www.graylyn.com
Greensboro is a 45-minute drive and just as Winston-Salem has a significant history so too does Greensboro.
Greensboro, North Carolina has been the location of many pivotal events in African American history and there are a number of sites that both memorialize and interpret those events. The history stretches back to the earliest residents, the Cheraw and Keyauwee tribes. Nonindigenous settlers, largely Quakers, Germans, Scotch-Irish and English migrating from the North, entered the region in the 1740s. Slavery was an established practice in the colony and by 1800 more than 25% of the population, approximately 100,000, was comprised of slaves.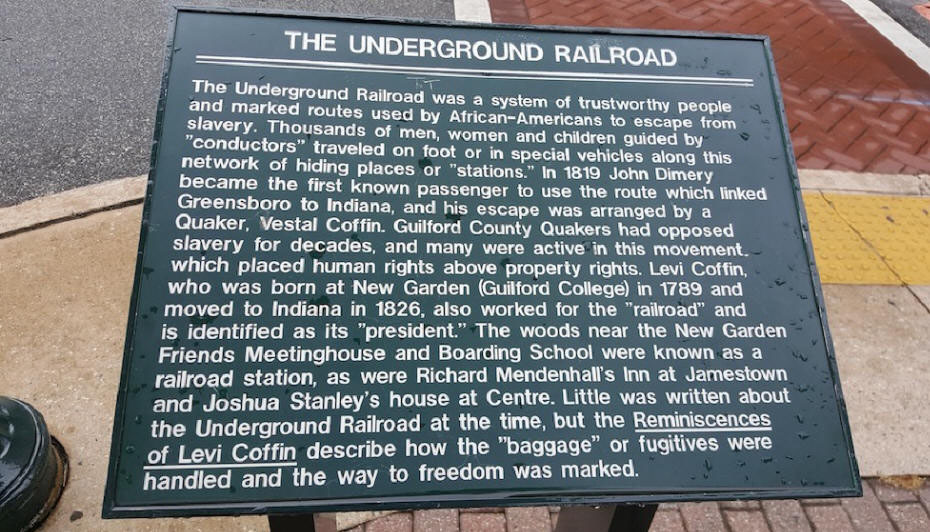 In 1808 42-acres were purchased to establish the town of Greensborough, named in honor of Revolutionary General Nathanael Greene. The Quaker religion had come out against owning slaves in 1776 and in the 1820s they began to leave the state because of the state's stance on the issue. When the Civil War began there were 361,000 slaves in the state and NC seceded on May 20, 1861, the last state to do so. www.visitgreensboronc.com
In 1920 Governor Bickett stated, "White government shall be supreme and unchallenged." The struggle against racial inequality and injustice was ongoing and on February 1, 1960 four male students from A&T University organized a protest that would change the game. At that time blacks could not dine-in in the downtown F. W. Woolworth. They purchased their food and carried it outside. After strategizing, on that date, they took seats at the counter, requested service and refused to move until served. The protest grew into a growing, daily, event, until blacks were finally served on July 25, 1960. It was not until 1963 that all of Greensboro's public venues were desegregated. Sit-ins as a form of protest rapidly spread to 54 additional cities. In 1993 the city's Woolworth closed. The four original protestors were present and ate a final meal at the counter with a menu and pricing from 1960.
On the 50th anniversary of the sit-in Woolworth's, February 1, 2010, the International Civil Rights Center and Museum (ICRCM) opened displaying the original black counter and red and green metal stools in their original location as the central exhibit. The 3-story, 17 exhibit, museum preserves much of the 1929 Art-deco building including the stairs. The tan tiles on the floor indicate the area of the original store, grey tiles mark the sections that were once adjacent shops.
Guided tours are offered and begin with an introduction to the realities of the Declaration of Independence followed by a short video. The 90-minute tour interprets African American life from Reconstruction through Jim Crow, Segregation, the Civil Rights Movement and culminates with a display of President Obama.
Displays include videos, artifacts, memorabilia, documents, dioramas, interactive stations and photographs. Highlights of the collection are not limited to an authentic Klan robe, a traveler's Green Guide, a segregated Coca Cola machine and the lunch counter exhibit. There is a replica of a room in A&T's Scott Hall of the type used by the four students to meet and plan the protest and visitors stand in front of the counter and become part of the protest via a life-sized video.
The museum's gift shop has more than your usual souvenirs. The books and tee shirts are informative and in many cases unique. www.sitinmovement.org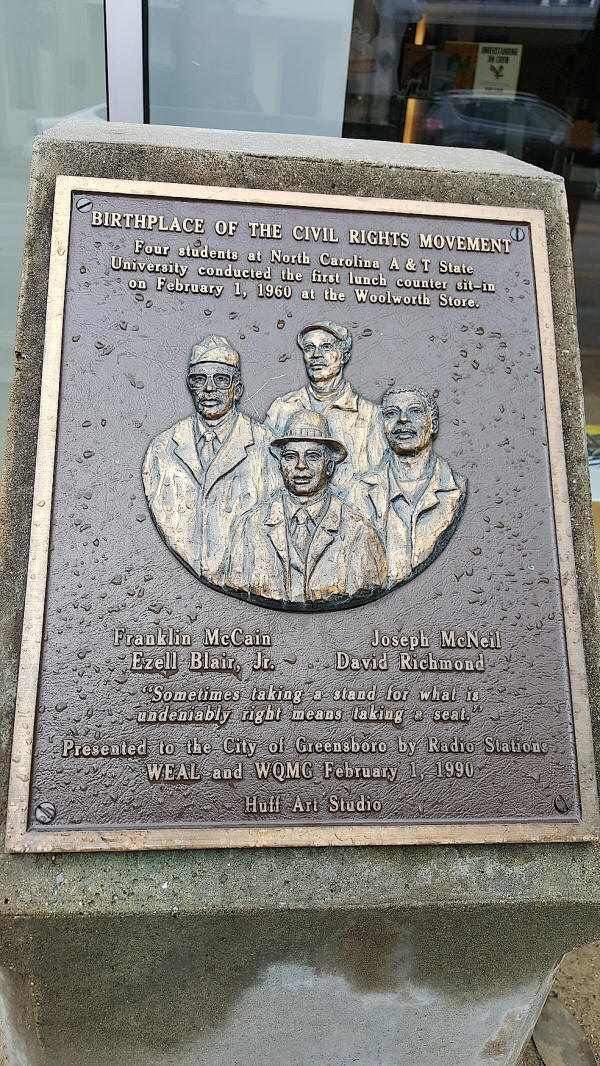 February 1 Place is adjacent to the museum and was the site of the entrance the four men used and bronze footprints of the four are imbedded in the pavement around the venue. The Walkway of History is on February 1 Place. A plaque situated there that honor the Underground Railroad and Levi Coffin, an area Quaker who moved to Indiana in 1824 to establish an UGRR station. He is remembered as the "President of the UGRR".
The Greensboro Four Monument (photo by Professor Upton) was dedicated on February 1, 2002 on the campus of A&T. James Barnhill sculpted the four students, David Richmond, Franklin McCain, Ezell Blair Jr. and Joseph McNeil leaving Woolworth's following the sit-in. The 15-ft. work required more than 6,000-lbs. of clay.
President Obama paid tribute to Greensboro in 2008. www.visitnc.com