Once before we had a president who was involved in real estate. This one didn't build using other people's money for his own profit. This one build, with his own hands, homes for people who would not have a home of their own otherwise. Jimmy Carter was a different kind of president and a different kind of person than the average politician. I recently visited the Jimmy Carter Presidential Library and Museum in Atlanta. It brought back my nostalgia for those times.
Our 39th president was a man of honor who sought peace when possible but was willing to fight for his country if needed as proved by his more than seven years of service in the U.S. Navy. One of his quotes shows his understanding of how we became the great country he was privileged to govern. At a meeting at the Department of Education in February 1977, he said, "We become not a melting pot but a beautiful mosaic. Different people, different beliefs, different yearnings, different hopes, different dreams." Later in the session, he said, "I need you to help me. We're all in it together. I'm no better than any of you. I recognize that I ought to be not 'First Boss' but 'First Servant.'"
His presidential library shows much more of this humble man who wished to make life better for his fellow Americans. The Library is made up of an archives and a museum of about 69,750 square feet. It is not a library as in shelves of books but a museum and a research facility. Slightly less than half is exhibit space and the rest storage space for approximately 27 million pages of Jimmy Carter's White House material, papers of administration associates, and other documents, photographs, and hundreds of hours of film, audio and video tape related to President Carter. The facility is placed amid a peaceful 35 acres of Japanese garden where one can stroll and relax. There is a small cafeteria with a patio overlooking the gardens. You will want to spend a lot of time visiting this museum and may need a lunch break.
The first thing most people think of about the White House is the Oval Office, the heart of every presidency. Each president decorates the Oval Office to his personal needs. A few items remain constant: the Presidential Seal in plaster relief on the ceiling, the white marble mantel from the original 1909 Oval Office, and the U.S. flag and the President's flag behind the president's desk.
Here at the Carter museum, the oval office is displayed as it was during Jimmy Carter's presidency; painted off-white with salmon, gold, and green upholstery and drapery. The oval rug replica, originally designed for the Oval Office during the Ford administration, is slightly smaller than the original one allowing museum visitors to walk through part of the office.
There is so much to see here I will only hit the highlights. Start with "The Man from Plains- Plains to Politics 1924 -1977" exhibit to view President Carter's early years. Born into a farming family during the Great Depression, Jimmy Carter understood being poor because he often was in that state himself. He lived through some of America's most tumultuous times, WWII, Civil Rights fight, Vietnam War being the most notable.
In speaking of his early life, he said. "Except for my own parents, the people who most deeply affected my early life were Bishop Johnson, Rachel Clark, my Uncle Buddy, Julia Coleman, and Willis Wright. Two of them were white." Jimmy Carter's early life made him a leader in championing the rights of minorities.
Exhibits show how Jimmy, Roslyn and the Peanut Brigade moved him from "Jimmy Who?" to "President Carter." Inaugural pictures show his deep love and respect for his wife, Rosalynn.
A section of the exhibits is devoted to Rosalynn's work as First Lady. She was very involved in his presidency and worked to aid the mentally ill. She worked closely with him to farther Civil Rights and meeting with foreign leaders to advance American causes.
As president, Jimmy worked tirelessly for peaceful solutions. The pen he used to sign the SALT II (Strategic Arms Limitation Treaty) with Soviet President Leonid Brezhnev is on display. Although the senate failed to ratify the agreement due to Russia's invasion of Afghanistan, the terms were adhered to by both sides until recently, thus preventing another nuclear arms race that might have triggered a nuclear war.
Another exhibit shows that while Jimmy Carter wanted peace he was not willing to let Russia trample American ideals. The exhibit shows a once classified letter called a "Finding" approving secret support for Afghan Rebels fighting the Soviet Union and ordered the CIA to keep Congress informed.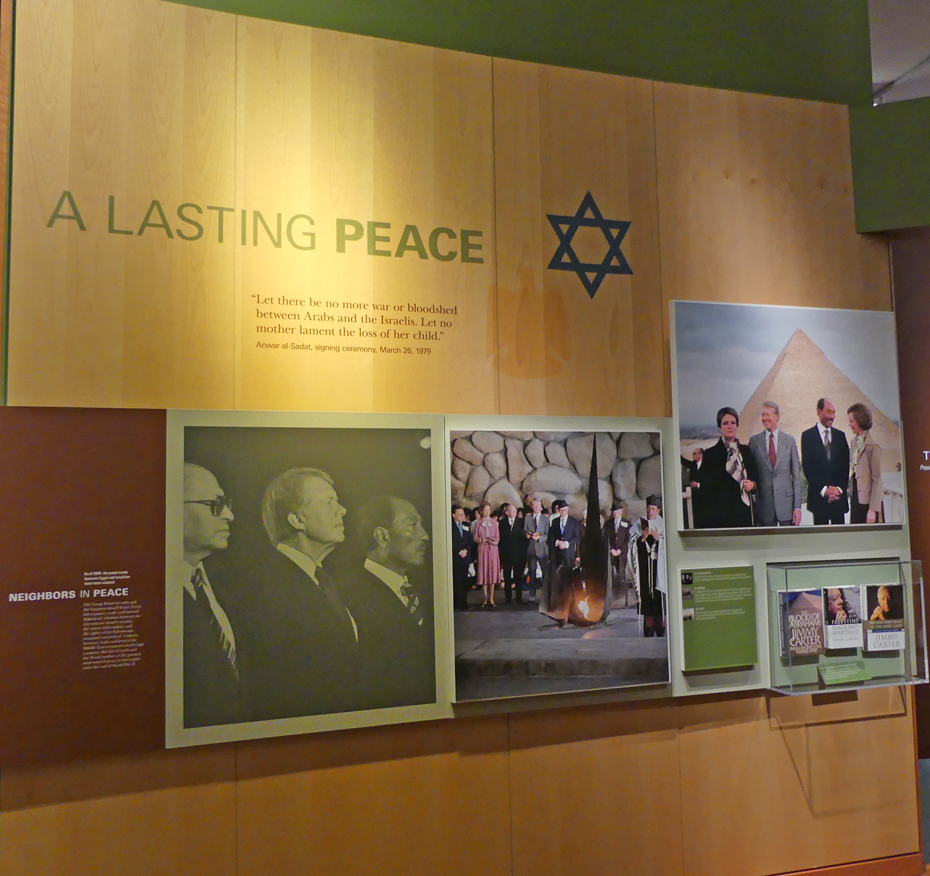 Perhaps Carter's most lasting contribution to world peace was his Camp David Accords signed by Egyptian President Anwar El Sadat and Israeli Prime Minister Menachem Begin. The peace has held to this day and kept the Middle East more stable for many years. On March 26, 1979, the two leaders met with President Carter on the north lawn of the White House and signed the agreement. President Carter proclaimed to the throng gathered in person and the worldwide TV audience, "Let those who would shatter peace -- who would callously spill blood -- be aware that we three and all others who may join us will vigorously wage peace."
President Carter was one of the first presidents to recognize the human impact on our environment. He considered the founding of an energy commission one of the important goal of his presidency. "Throughout my entire term, Congress and I struggled with energy legislation. Despite my frustration, there was never a moment when I did not consider the creation of a national energy policy equal in importance to any other goal we had."
He fought to keep our public lands and wildlife safe and protected. In 1980, President Carter signed the Alaska National Interest Lands Conservation Act.
His last year in office was darkened by the Iranian Hostage Crisis. The Iranians had taken hostage 52 Americans and held the American Embassy. Carter first tried diplomatic measures to gain their release. When these failed. he authorized a rescue effort, Operation Eagle Claw, which failed due to weather conditions and mechanical failures. The hostages were finally released on the day Carter was leaving office.
Carter's achievements after leaving office are showcased here as well. He continued an earlier project of volunteering to build housing for the poor through Habitat for Humanity. After leaving office, he along with Rosalynn, establishing The Carter Center which sponsors programs promoting human rights in third-world countries, monitoring elections in newly democratic countries and working to fight disease. The Carter Center is very near to eradicating guinea worm disease in the world.
If it suceeds, this will only be the second desease ever totally eradicated. Smallpox is the other.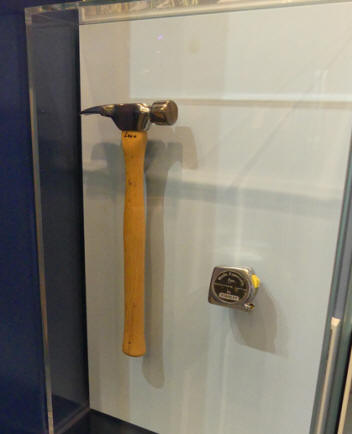 Since he left office, the medals and awards he received are numerous and prestigious. Just a few are the Nobel Peace Prize for "untiring effort to find peaceful solutions to international conflicts, to advance democracy and human rights, and to promote economic and social development; Jimmy and Rosalynn Carter were awarded Presidential Medals of Freedom, the nation's highest civilian honor by President Bill Clinton; a Grammy Awarded for "Best Spoken Word Album" for his audiobook Our Endangered Values: America's Moral Crisis. He was one of only two Presidents to receive a Grammy. The list could go on for pages. He also had a Navy submarine named for him.
President Carter is also the author of over a dozen books, fiction and non-fiction. These are on display in the Library.
There are those who say "President Carter didn't do much." I have to agree there were many thing he "didn't do." He didn't get us into a war costing thousands of lives. He didn't lie to the American people. He didn't twitter his time away instead he worked towards his goals of peace and prosperity for all Americans. In fact as he told an Observer reporter several years ago what he is most proud of is some of the things he "didn't do." "We never went to war. We never dropped a bomb. We never fired a bullet. But still we achieved our international goals. We brought peace to other people, including Egypt and Israel. We normalized relations with China, which had been non-existent for 30-something years. We brought peace between US and most of the countries in Latin America because of the Panama Canal Treaty. We formed a working relationship with the Soviet Union."
One exhibit of him and Rosalynn building a habitat home with their own hands says it all. His tools, a hammer and tape, encased in glass speak volumes of what this man is, a builder not one who tears things, or people, down. Not bad things to have on your record in my book.
For more info:
https://www.jimmycarterlibrary.gov/
Public Disclosure-- Please Read
I recently learned of a FTC law requiring web sites to let their readers know if any of the stories are "sponsored" or compensated. American Roads and Global Highways' feature writers are professional travel writers. As such we are frequently invited on press trips, also called fam trips. Most of the articles here are results of these trips. On these trips most of our lodging, dining, admissions fees and often plane fare are covered by the city or firm hosting the trip. It is an opportunity to visit places we might not otherwise be able to visit and bring you a great story. However, no one tells us what to write about those places. All opinions are 100% those of the author of that feature column.