Strawberry Shortcake Festivals

By Mary Emma Allen
A young guest at Plant City's Strawberry Festival
Photo credit Kathleen Walls
Strawberry festivals provided memorable events in my childhood. As you travel today, you may find other towns have these taste tantalizing affairs, or those surrounding other foods raised in the local area.
The one in our town was conducted by the ladies of the local Methodist Church, although anyone could attend. For a small fee, you enjoyed strawberry delights - shortcake, pie and homemade ice cream. No other food was served, so it was mainly a dessert social time, something we looked forward to during strawberry season each year.
At first it was held at Jack and Nellie's large farmhouse with spacious lawn, back and front porches. There were continual sittings. Church ladies continued to make biscuits, churn ice cream as people arrived. The pies had been made beforehand.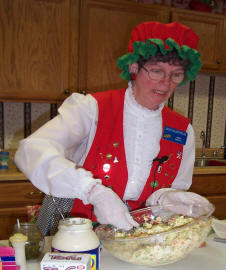 Chef prepares a treat at Plant City
Strawberry Festival.
Photo Credit Kathleen Walls
Eventually the event became so large that it was moved to the town hall with kitchen and large indoor space for serving. At any of these, adults visited and children played games in the yard. As we girls grew older, we helped serve.
Around the country, strawberry and berry festivals take place in many small towns. Restaurants also include berry desserts on their menus.
During this season, you may want to serve these tasty treats in home for family and guests.
Berry Tarts
You can make fruit and berry tarts with many different types of crusts. These include traditional pastry crust, as well as those made with wheat pastry flour, cookie crumbs (vanilla or chocolate) and graham cracker crumbs,
Arrange your fruit in the crust and then coat with a ORANGE/LEMON GLAZE. In a small saucepan, combine 3/4 cup fresh orange juice, 1/4 cup fresh lemon juice and 3/4 cup honey.
Bring these ingredients to a boil over medium heat and stir constantly. Simmer for about 20 minutes, until slightly thickened. Cool. Then pour desired amount over the fruit in your crust. You may not want the entire amount.
Some cooks like to spoon vanilla or chocolate pudding over the crust first, then add the fruit of choice and brush the fruit with glaze. Amount used depends on individual preference because the glaze is quite sweet. You also can use a strawberry
A beautiful shortcake


Berry Shortcake
We often purchase the frozen buttermilk biscuits and bake only what we need for the particular meal. While warm, we spoon mashed berries and fruit over the biscuit and top with whipped topping or a spoonful of vanilla ice cream.
I've found that by using the frozen biscuits, there isn't any waste. I suppose I could bake my usual recipe of biscuits and freeze the leftover ones for future use.
(c)2013 Mary Emma Allen
(Mary Emma Allen writes from her home in New Hampshire. She writes books for children and adults and teaches workshops on family history writing. Currently she's writing a Civil War era children's book based on her family history. E-mail: me.allen@juno.com .)