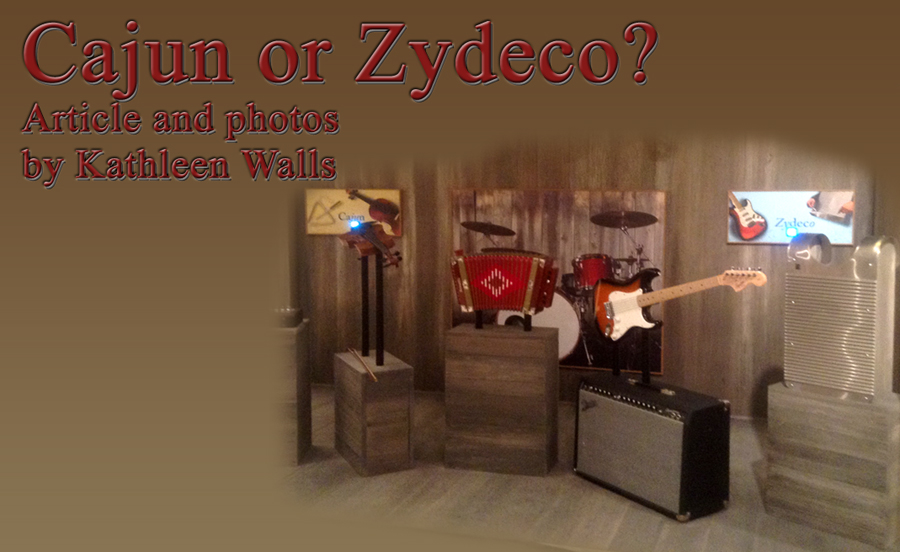 Is it Cajun or Zydeco? That's the most common question folks ask when they hear Louisiana music. Well, Cajun music is the "folk music" of the Acadian people exiled from Canada who settled mostly in southern Louisiana. It will usually have fiddles along with an accordion, and guitars. Modern Cajun music has borrowed some from County and Western.
Zydeco is the music of "Creoles of Color" in south Louisiana. Like the Cajuns, the early Zydeco music comes from people who spoke French but Creole French rather than the Cajun dialect. The main instruments are also accordion, and guitars but there won't be a fiddle and there will be a rubboard or frottoir made of corrugated metal worn like a vest and rubbed (originally just an old fashioned washboard was used) and drums which will not be in Cajun bands. Zydeco has elements of Rhythm and Blues and Pop.
If you visit Creole Nature Trail Adventure Point, a brand new facility that opened in March of 2015 and features interactive displays and colorful dioramas. One exhibit explains Zydeco and Cajun music. You can experiment with the different instruments as some of our group are doing in the photo below. Plus you have the bonus of enjoying up-close views of bayous and marshes and smell the mouth-watering aromas of Cajun cooking.
Both Cajun and Zydeco borrow heavily from one another and both share some similar culture so both music styles are fun. The custom of the old fashioned dance hall still is alive in Louisiana and some of the clubs I visited recently offer one or both of this typical Louisiana music. Unlike typical nightclubs, the dancers range from children to seniors. Everybody is having fun in a family friendly environment.
Both forms of music are part of everyday life in Acadiana. On a recent visit to Lake Charles for Mardi Gras, we enjoyed the music of The Crowley Playboys while waiting for the parade. As you can see in the image below, these "boys" really put their hearts into their traditional Cajun music.
Randol's is located in Lafayette. Considered the heart of Acadiana, Lafayette is known for its Cajun food and music. Lafayette was recently voted "The Happiest City in America." Jessie Guidry, Vice President of Communications at Lafayette Convention and Visitors Bureau, had this to say about his city. "Live music is at the heart of what we do. It's who we are and what we love."
Randol's certainly exemplifies all of these qualities. Frank Beaulieu Randol opened Randol's Resturant and Cajun Dancehall in 1979 on the land that was once his family's plantation. The food is great, crawfish, fried alligator, deep fried soft shell crabs, gumbo, etoufee and their own special BBQ crabs. The dance floor is roomy with the band ensconced on a stage to the rear. The decor is rustic, corrugated tin blended with exposed wood beams and a hardwood floor that shows the patina of many feet dancing on it over the years. Art is primitive Cajun and Creole paintings in simple wooden frames enlivened with occasional touches of whimsy like the Mardi Gras parasols displayed over the bandstand. The solid wood tables are covered with practical red and white checkered oilcloth tablecloths. This is fun and family place; kids are welcome and can enjoy themselves here without worrying about fancy linens.
Bayou Delight is the place to visit in Houma for a toe-tapping, two-stepping good time. They have a great menu filled with Cajun dishes but on Friday and Saturdays, it's the music that will draw in the crowds. There are three different musicians that you will find there. We arrived early on a Friday and had reservations for an upfront table. Reservations are a good idea on those nights. The place was already almost full when we arrived even though the music had not started yet.
Larry White, was playing that night. He is a one-man-band that turns out some very danceable Cajun songs like Jolie Blanc and My Toot Toot. He describes Bayou Delight as "Houma's best known little secret."
All ages are welcome here too. That seems to be a staple of the Cajun dancehalls. We watched one father with two little boys. The kids were checking out the dance floor before the music even started. Once Mr. White got into full swing, everybody got into the act. One older couple were really fun to watch. She was very Cajun with a delightful accent and he was a tall Texan both well into their eighties but they moved across that dance floor like a couple of kids. They love Bayou Delight and told us "We come every Friday night."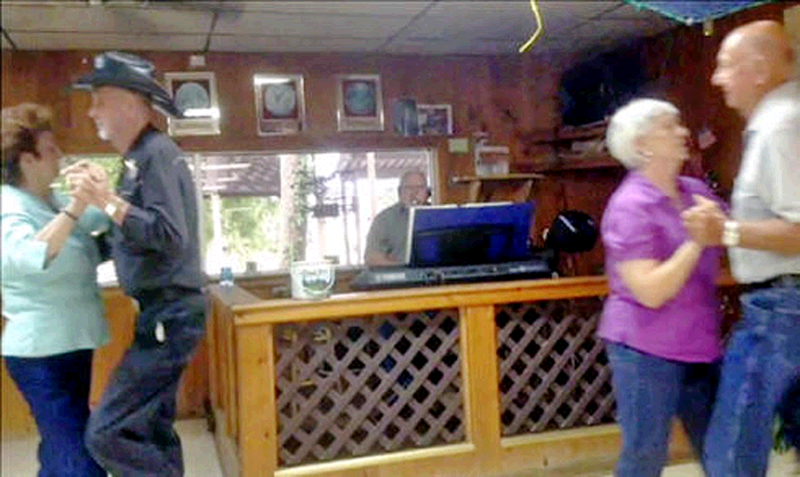 The next club I visited, Blue Moon Saloon. It was much more rustic and had a hard rocking Zydeco band the night we were there. This place is unique. It features many different kinds of music and is strictly a dance hall not a family restaurant. It is located in the yard and on the back porch of a guesthouse in Lafayette and I doubt the guest do much sleeping Wednesday through Saturday nights. The joint was really jumping. When you walked in you just could not keep still. That music really got to your soul and made you move your feet.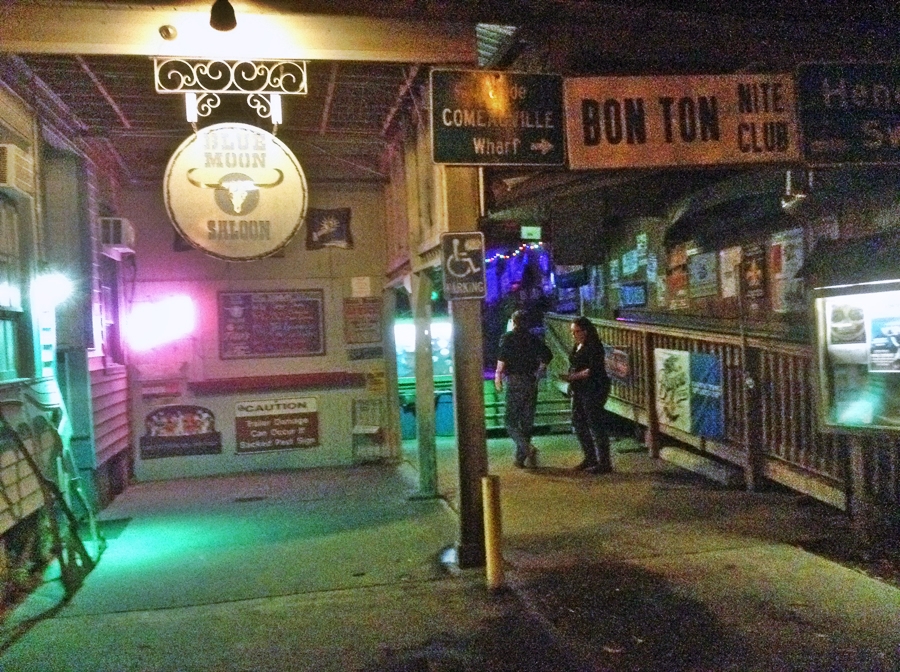 It opened in April of 2002 and had been a raging success ever since. In spite of its humble appearance, it has been named in the Top 100 Bars by Southern Living and Best Place to Experience Live Music Downtown by the Downtown Lafayette Association who also voted Blue Moon Guest House the Best Place to Stay Downtown in 2013. This place rally swings.
Next time you visit Acadiana, search out those special places that help keep the soul of Louisiana music alive. No matter if its Cajun or Zydeco, you will love it.
For more info:
https://www.facebook.com/pages/Bayou-Delight-Restaurant/160620160641484
http://www.visitlakecharles.org/creole-nature-trail/