This story is dedicated to Aretha Franklin, Detroit's own Queen of Soul. She passed away August, 16, 2018. May she always have "R E S P E C T."
Say "Detroit" and any music lover will think "Motown." Yes, Motown is a big part of Detroit's musical history but it's not the whole story. Not by a long shot. Blues and Jazz were part of Detroit. Rock and Roll is mixed in and even a touch of Country. I visited recently and explored Detroit's culturally diverse musical background.
Baker's Keyboard Lounge
<![if !vml]>
<![endif]>
Baker's Keyboard Lounge claims to be the oldest continuously operated jazz club in the world. Their fried chicken wings, collard greens and baked mac and cheese are tasty. What's even greater is clowning around on the same stage where Louis Armstrong, Ella Fitzgerald, Fats Waller, Nat King Cole, Aretha Franlkin and most of the biggest Jazz names played.
<![if !vml]>
<![endif]>
Baker's opened May 1934 as a diner but the owner's son, Clarence Baker, added a piano and some jazz music. The first thing you notice in Baker's is their bar. It's a giant piano, minus the playability but with plenty of charm. We were there for lunch but at night, they still have live music.
Detroit still honors its Jazz heritage with the Detroit Jazz Festival, the largest free jazz festival in the world held each year around Labor Day weekend. The festival this year is August 31st - September 3rd, 2018
Fox Theater
Fox Theater began in the golden age of movies but as television stole many movie patrons, the Fox turned to the world of music. Today, it's the largest surviving movie palace from the 1920s. We visited during the day so we had access to the entire theater.
Our guide, Juanita, led us on a tour of the 1928 era building. The architecture alone makes it a worthwhile stop. The lobby, features Egyptian, Indian and Oriental motifs, covers half a block and rises six stories high. The most impressive feature is the theater ceiling. It is made to look like a giant round tent that drapes slightly and in the midst of this splendor there is a globe chandelier centered in a starburst design. I'd hate to have to clean that beauty. It's 13 ft wide and weighs 2,000 lb with 1200 pieces of colored glass in its design.
In May 1956 The Fox hosted three performances by Elvis Presley. Others who have played there are Prince, Bruce Springsteen, Bob Dylan , Frank Sinatra, Sammy Davis Jr., The Temptations, The Supremes, Smokey Robinson and other Motown greats. During the early 60's The Motown Revue was an annual Christmas Tradition. The Fox underwent a massive restoration in 1988 and reopened with Smokie Robinson and the Count Basie Orchestra.
Near the dressing rooms, there is a wall devoted to autographs by the entertainers who performed there. I was surprised to see Bill Monroe of the Blue Grass Boys there. I later discovered the Grand Ole Opry show preformed in a rare 10 state break from Nashville in 1991. Opry performers featured on the show included Ricky Skaggs, Minnie Pearl, Bill Monroe and Holly Dunn. Naturally Aretha Franklin played the fox to a full house on June 22, 20012.
The Fox was designated a National Historic Landmark in 1988 and placed on the National Register of Historic Places in 1985.
Orchestra Hall, Paradise Theater, The MAX
There's a music venue that predates the Fox and Baker's. It's Orchestra Hall, original home of the Detroit Symphony Orchestra. The first concert took place on October 23, 1919. During the depression, the symphony moved and Orchestra Hall closed down.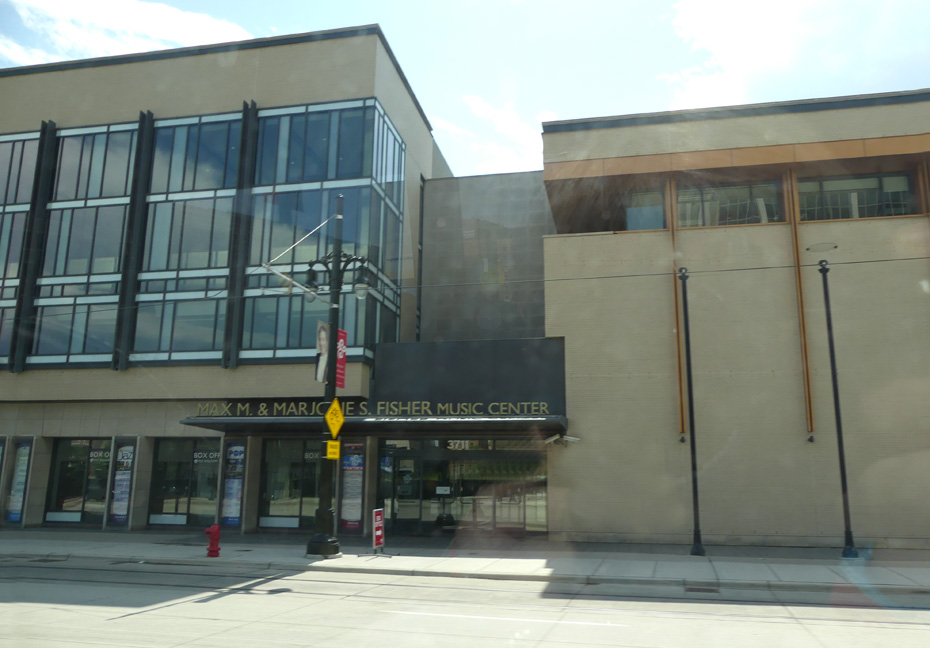 It was resurrected under the name Paradise Theater and opening on Christmas Eve of 1941 with Duke Ellington. It hosted the most beloved Jazz artists of the era including Ella Fitzgerald, Billie Holiday, Count Basie, and Louis Armstrong.
The venerable hall has undergone renovations in 2002 and 2003 including the creation of an adjoining auditorium for jazz and chamber music. It then morphed into the new Max M. and Marjorie S. Fisher Music Center, commonly known as "the MAX. It gained its rightful place on the National Register of Historic Places in 1971
Motown
Tanasha was our guide to tell the story of how, in 1959, Berry Gordy, Jr. began the music label that changed the world forever. The Empire on West Grand Blvd consisted of the eight buildings where Motown Records operated until 1968. The street has been renamed Berry Gordy, Jr. Blvd.
We started in the originally business offices. After the business moved, Berry Gordy's sister, Esther Gordy Edwards, saw the need to create a museum to showcase the early days of Motown.
"The Motown Sound," a 15-minute video takes you through the early history. It starts off when Berry Gordy received a royalty check for a song he wrote for $3.19. Smokey Robinson who was present told him "If that's what you are going to earn, you might as well be in business for yourself."
That's exactly what Gordy did. Using $800 borrowed from his family, he began Motown Records. He said, "I want to make music with a great story and a great beat that everyone can enjoy."
The world was changed because of that. Smokey Robinson sums up why Motown was important not only musically but as a civic milestone. "When we would go to the South and do shows. On one side of the stage would be white people and on the other side were black people. Total separatism. And by the time we would be finishing up, not only would they be talking and laughing, they'd be dancing together. It was a great time for progress and people of good will were coming together and saying, 'Hey, there's a little bit of me in you and a little bit of you in me.'"
It was the music of my mid-teen years when the country was under tremendous stress. Vietnam War was killing off young men by the thousands. Civil Rights were being recognized slowly. We were approaching the Nixon era of the most dishonest political climate the country had seen up to that time. Yet the happy bouncy songs of Motown's artist made everyone want to dance and sing along.
The exhibits showcase those singers and songs. One wall is covered with famous album covers. I still have a few of those old albums. (If you look at the right corner of my albums above you can see the Motown emblem on them.) There is a hat and silver glove from Michael Jackson who recorded as a child with his siblings as the Jackson Five here. There are costumes worn by many of the stars; suits worn by the Four Tops, gowns worn by the women.
Another fun thing to do here is sing in the studio. Mike McLean, a young engineer with Motown, created a precursor to the present day synthesizer echo chamber. He created it by cutting a hole in the ceiling putting in speakers so you come out with a bigger vocal sound.
There is information about Berry Gordy and how he formed Motown. He worked an assembly line at Ford Motor Company which he hated, but as our guide told us it was a "Blessing in disguise because he began writing lyrics in his head in time to the rhythms of the assemble line."
Another thing Gordy took from his assembly line work was the rough crude metal that began at the beginning of the line became a shining star when it emerged. He wanted to do the same thing with his musicians.
To this end he hired Maxine Powell to turn his rough-cut diamonds into sparkling gems. She not only taught the singers stage presence, but grooming, poise and social graces. She made Motown's artists looked sharp and move smoothly and naturally when they preformed.
We moved next door to the first home Berry Gordon bought. He and his family lived on the second floor and the first floor was Hitsville, USA and Studio A. The Gordy apartment was simple. The family's dining room table was often used as a shipping desk in the early days.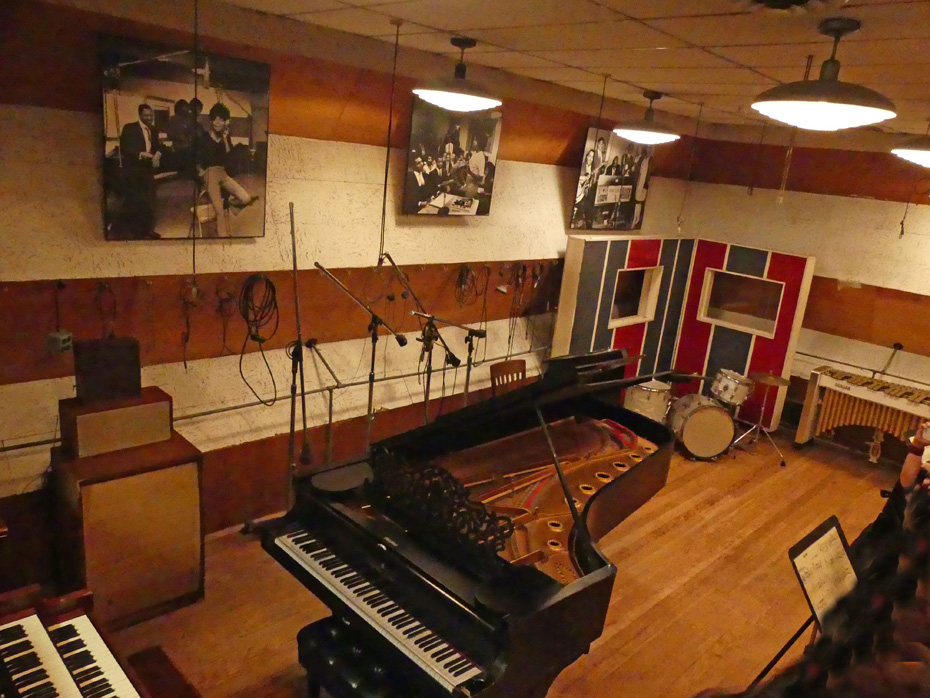 The climax of the tour is standing in Studio A singing and dancing to My Girl. Remember The Temptations? It's a thrill to be in the same studio where these stars recorded. It's only the only place on the tour you are allowed to take inside pictures.
The control room separated from the main studio by a glass, was a small kitchen originally. The studio was a garage remodeled by Mr. Gordy, Sr. It was nicknamed the "Snake Pit" because of all the wires and mikes hanging down. The mike and drums here were the ones used by Stevie Wonder. The backdrop for the drums was so they didn't overpower the other instruments. The Steinway piano was built in 1877 and here since 1972. Sir Paul McCartney visited a few years ago. When he tried to play it and found it way out of tune, he had it shipped to New York and had it retuned but Gordy didn't want the outside changed. It was the instrument all of these stars played and he wanted it to look the same.
There's a candy machine from the 1970s. Gordy instructed that no one was to change the position of one candy, Babe Ruths. That was because they were Little Stevie Wonder's favorite candy. Other entertainers would often leave change on top of the machine and that little blind boy would go get his candy.
IMPORTANT: If you want to take this tour, book online ahead of time. Tours fill fast and if you wait until you arrive you may not get a spot.
Country and Rock
The musical legacy of much of Detroit's music has its roots in the Great Migration of the early 20th Century. African Americans and equally poor folks from the mountains of Appalachia made their way to Detroit in search of jobs. They brought their musical roots with them and in the mid-twentieth century that melted into what became Rock and Roll.
One of the country musicians playing here in the earlier part of the twentieth century was guitarist Jack Scott. Scott was one of the first musicians to begin merging Country into Rock and Roll with his Rockabilly Sound in the early 1950s.
William John Clifton Haley, born in Detroit's Highland Park, area carried that sound a lot farther when Bill Haley and the Comets released Rock around the Clock.
Majestic Theater
The Rock tradition continues in Detroit. One hot spot is the Majestic Theater, built in 1915 for vaudeville and silent movies. Today it combines bowling with Rock, Hip Hop, and Electronic. Jack White started here when he was half of the White Stripes Duo.
Downstairs one of the oldest bowling alleys in the country combines bowling with music offering Rock and Roll Bowling. Upstairs, the Magic Stick offers a dance floor and a variety of music acts. The original theater space is currently being renovated and will be a concert venue.
Third Man Records and Shinola
It's a musical marriage made in Detroit as Third Man Records llabel was originally founded in Detroit in 2001 by Jack White of the White Stripes. Third Man Records has partnered with Shinola and opened a record production and event facility complete with a stage in a building complex it shares with Shinola in the Cass Corridor.
Shinola recently began producing high end turntables to play those records. Not surprisingly Third Man Records first pressed album is The White Stripes' first release which was originally recorded in the Cass Corridor. There were also reissued Tamla Record's 45s, (one of Berry Gordy's multiple labels) which include Marvin Gaye and the Supremes. It's the first Detroit pressing plant to launch since 1965.
You can watch the pressing through a window in the rear of the store. The stage, located in the main part of the store, will offer intimate concerts. The venue opened on Black Friday in 2015.
Want to get into the act? There's a living-room like setting with a juke box, listening booth, photo booth and a recording booth.
Wander next door to Shinola and enjoy a large collection of records and turntable. There's a cozy listing area, lots of record industry memorabilia and lots of pictures of famous musicians. There's even a small coffee bar at the front of the store for light snacks.
The Birmingham Museum's Creem Collection
Probably the largest cache of Creem, which billed itself as "America's Only Rock 'n' Roll Magazine," in the early 1970s is found at Birmingham Museum. Birmingham is an ultra-upscale suburb of Detroit known for its shopping.
Creem, started by Barry Kramer and his editor Tony Reay in 1969, had its headquarters in Cass Corridor originally. It was second in circulation only to Rolling Stone Magazine. Creem invented the term "punk rock" and "heavy metal." In 1973, they moved to the Birmingham area.
LLeslie Pielack, Birmingham Historical Museum Director, and Caitlin Donnelly, Program Assistant, welcomed us to the museum and told us much of the history of Birmingham (which will appear in future issues) then led us into the Charlie Auringer Reading Room.
Charlie Auringer, was a rock music photographer and long-time art director with Creem. He donated his collection of magazine memorabilia to the museum. Music lovers can research their favorite musicians here. Leslie said of Creem, "It was like the Facebook or Twitter of the day. If you wanted to know what was going on with your favorite musician, you bought Creem."
The room is a recreation of the Creem office. There's the desk with an IBM Selectric typewriter used by staff to type their stories. There's even a life-sized cutout of writer/editor Lester Bangs.
Detroit's musical heritage is deep and wide. Many of the musicians' homes, recording studios and other significant places are located here as well. So just consider this a start.
We'd love your comments!
For more info: