You might stop at the West Tennessee Delta Heritage Center in Brownsville just for a break as you travel along the Tennessee Music Highway. You might think it's a visitor center. It is. It is also so much more.
If you're a music fan, you will think you stepped into a small corner of Heaven. The center is set up as a series of small museums: West Tennessee Cotton Museum, The Hatchie River Museum, Felsenthal Lincoln Collection and the one that caught my attention the most, West Tennessee Music Museum.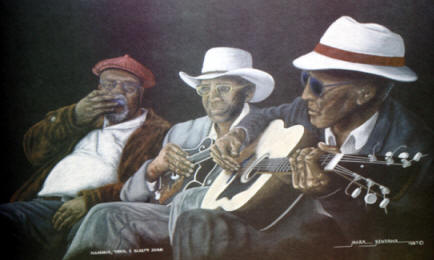 The Bluesmen

I hadn't given much thought to some of the great names in music that hailed from places other than Memphis in West Tennessee. Here I realized what I had been missing. I discovered a whole cadre of blues musicians.

"Sleepy John" Estes from Brownsville, Tennessee and his band members; James "Yank" Rachell, a guitarist and mandolin player, and Hammie Nixon, a harmonica player. They were know as the Brownsville Bluesmen.

Sleepy John began performing professionally at the age of 19 and continued until his death in 1977 at the age of 78.
Linzie Butler makes his harmonica talk

He earned his nickname because of his habit of falling asleep while playing. His innovative lyrics and crying style made him a blues pioneer.

While in West Tennessee. I had the good fortune to meet a great blues musician who played with "Sleepy John," Linzie Butler.

Linzie hails from nearby Jackson , Tennessee. He might be found playing at the Heritage Center, one of West Tennessee's Blues Festivals or performing at venues around the world. That man can really make a blues harmonica cry.
| | | |
| --- | --- | --- |
| | | |
| Eddie Arnold exhibit | Carl Perkins exhibit | Denise Lasalle Exhibit |
Another big name musician from the area was Eddie Arnold who born in Henderson, Tennessee. In 1934, at age 16, Arnold played his first gig on WTJS-AM Jackson, Tennessee. From there on it's musical history. Arnold went on to be a Grand Old Opry star and was ranked 22nd on Country Music Television's 2003 list of "The 40 Greatest Men of Country Music.
There is an exhibit for Carl Perkins who also was born in a west Tennessee town, Tiptonville. He lived his life in the spotlight and traveled the world but died quietly in nearby Jackson, Tennessee on January 19, 1998. His recording of Blue Suede Shoes was part of what touched off the beginnings of Rock and Roll.
Sleepy John's house and Flagg Grove School

Another singer/songwriter I had never heard of before but after listening to some of her music I was quickly converted is Denise Lasalle, who currently lives in Jackson, Tennessee.

She earned the title "Queen of the Blues" but also is very talented in Rhythm and Blues, Soul, Pop and even has a Country influence. Married, But Not to Each Other, a #16 hit on the R and B charts was included in the 1979 album, The Best of Barbara Mandrell. Her cover version of My Toot Toot, reached #6 in the UK. Her song Trapped By A Thing Called Love in 1971 reached #1 on the national R&B chart. She was inducted into the Blues Hall of Fame in 2011.

When I ventured out behind the museum, I struck musical gold history again. I was thrilled to be able to explore 'Sleepy' John Estes Home and The Flagg Grove School. You might ask, "What does the Flagg Grove School have to do with music in West Tennessee?"

If I told you it was where Anna Mae Bullock attended school, you still might shrug, "So what."
One of the Tina Turner exhibits

Well, Anna May, who was born around here in Nutbush and attended the Flagg Grove School as a child, metamorphosed into a music star anyone will recognize, Tina Turner.

The school was sitting in a an old field deteriorating. Sonia Outlaw-Clark, the center director, and a group of local citizens gained possession of the old building and brought it on the Heritage Center grounds in 2012. That year's annual Tina Turner Heritage Days, held each year on the third weekend in September, was a big success.

This year, the school house was restored and officially opened for "Tina Turner Heritage Days." Sonia told me how much Tina helped make this newest exhibit a success." She had contributed financially and with memorabilia, gold records and costumes. Even her yearbook. They are all on display.

Tina even sent her personal assistant Rhonda Graam to help. When Rhonda came here she had never been here before. We traveled all over Nutbush. Tina had sent a whole list of places 'I want to know if this is still there. I want to know what's here'"

The school is also set up to show what it was like going to an African American school in the 1940s and 50s.

Aside from visiting the museums and school, there are many other musicians with roots in west Tennessee. You will just have to go see for yourself.

For more info:

http://www.westtnheritage.com/
Ads fund American Roads so please consider them for your needed purchases.
If you enjoy the articles we offer, donations are always welcome.