When most Americans hear the name Andy Warhol, they think of Campbell's Soup cans. Those Campbell's Soup Cans paintings may be his most recognizable work but it is far from the entirety that was Andy Warhol.
A recent visit to the Andy Warhol Museum in his home town of Pittsburgh refreshed my interest and increased my knowledge of this artist. Because his artwork spanned my coming-of-age years, much of his art and subject matter was familiar. His Elvis, Elizabeth Taylor, Jacky Kennedy and Nixon chronicled America's larger than life figures of the mid 20th century.
The lobby begins to enlighten you about Andy. There is a live camcorder of his grave here in Pittsburgh. Fans still bring some strange objects to his grave. Most notable are the Campbell's Soup cans.
The museum is arranged from top to bottom. All but the second floor, which is a changing exhibit with different Special Exhibitions shown throughout the year, is about Andy Warhol, the artist and more important the person.
After your introduction to Andy Warhol on the ground floor, you begin your visit on the seventh floor, 1920s–1960s eras. There you find the young Andy Warhol, images of his mother, childhood pictures of him, and memorabilia depicting life for a sickly shy boy in steel mill era Pittsburgh. A scrapbook of his beloved movie stars. One Shirley temple autographed picture is so indicative of the era both of these very different stars were born into. Andy was born on August 6, 1928 in the midst of the Great Depression. Perhaps accounting for his tremendous work ethic, drive to succeed and love of money and commercial success. This floor showcases his college work and his beginnings doing commercial art. This was probably a big influence leading Andy into his pre-Pop Art for which he is most famous.
The sixth floor brings us to the 1960s, the era to which Andy Warhol is most often placed. I admired the well know pictures of Elvis 11 Times showing Elvis Presley looking as if he had just stepped off the set of Flaming Star.
Here too were the Marilyn's, the Jackie's, and the other celebrities that so impressed Warhol. Naturally the Campbell's Soup cans were prominent. The silk-screening work which Andy used extensively in this stage of his work is found here as well.
The part of Andy Warhol I hadn't realized is here too. He created Exploding Plastic Inevitable>. This was the preview of today's rock shows with their light and sound effects. He dabbled heavily in screen and video projects. He produced The Velvet Underground and Nico's first album which garnered little to no notice at the time but has since become one of the most influential and critically acclaimed rock albums in history, foreshadowing the rise of Punk Rock. It is named "number 13" on Rolling Stone Magazine's list of the 500 Greatest Albums of All Time.
Andy also produced more than 60 films between 1963 and 1968. The museum has an interactive Screen Test Machine where you can do your own screen test on this floor.
An incident that occurred on June 3, 1968 had a profound effect on Andy Warhol and his work. A mentally ill, feminist writer, Valerie Solanas, shot him. Solanas was the author of a work called the SCUM Manifesto, which urged women to "overthrow the government, eliminate the money system, institute complete automation and eliminate the male sex." Based on this premise she had authored a play called Up Your Ass and approached Andy at his "Factory" as he called all of his studios, in regard to his producing the film. Many of Andy's previous films had been seized by the police as "obscene" and he believed this one was a police trap as he found it so pornographic. Instead, he offered her a small part in two of his own films. He misplaced her script and when he could not return it she became paranoid. She then shot him stating "He had too much control in my life."
Andy barely survived the assassination attempt and it had a profound effect on his ongoing focus. Much of his work became more commercially driven rather than artistic. He summed up his goals with this statement, "Making money is art, and working is art and good business is the best art."
As you travel downward the fifth floor is devoted to 1970s. The floor is filled with portraits and photographs. There is the Silver Clouds Room where you wend your way through floating silver balloons. Again there are more insights into Andy Warhol the person. Both Andy and his mother were cat lovers. He is said to have owned 20 cats at one time, all Siamese. Hester was his original cat and when he feared she was lonely for feline companionship he brought in a second cat named Sam. The two must have taken to one another as they began cohabitating. Andy named all the offspring Sam and gave them away to his friends.
He apparently loved dogs as well as since in one of his self portraits he is pictured with a dog snuggled close to his face. There is a stuffed Great Dane named Cecil on the fifth floor along with a majestic lion. Warhol is quoted as saying "I never met an animal I didn't like."/p>
The fourth floor is devoted to the 1980s. You find many of his later works and works of other artists influenced by Andy Warhol. When I visited there were works by Chinese artist Ai Weiwei.
The Andy Warhol Museum is the most comprehensive single artist museum in the world. Andy's packrat tendencies helped provide so much material that there is a section in the museum on the third floor in the archives section where curators comb through the cardboard boxes where he stored what he considered "Time Capsules." He kept almost every piece of paper and other items he got his hands on from receipts to used postage stamps and junk mail. Not only paper went into the boxes. They included such unlikely objects as unopened soup cans, Campbell's of course, to Fiestaware, a popular colorful dinnerware popular in that time frame. If Andy Warhol had not been a famous and rich artist, he would have been considered a hoarder.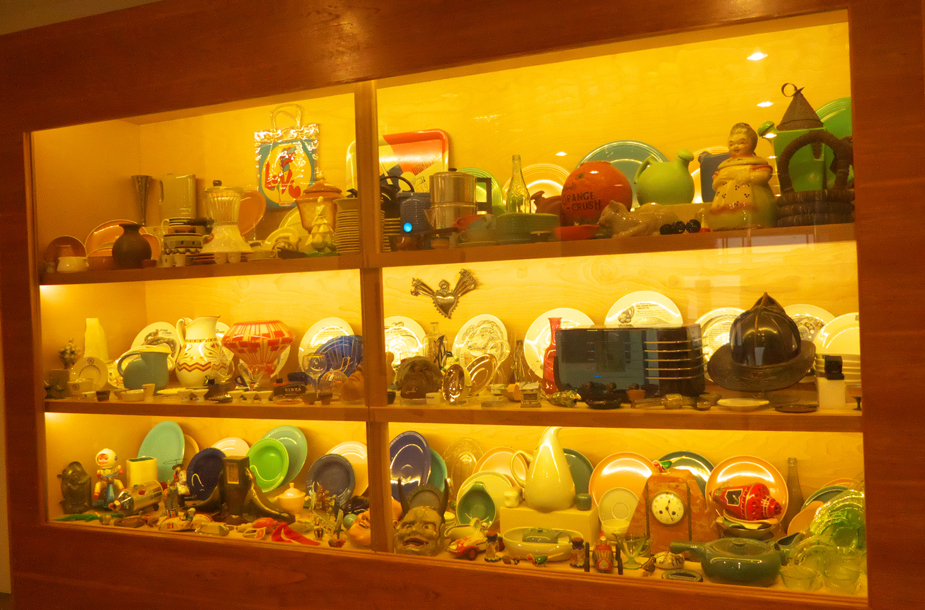 Andy Worhol was in one way, a man of his time and in another far ahead of his time. He was openly homosexual way before Gay Pride. At the same time he was a devout Catholic. His art was a comment on much of the world as he saw it, but on the two most vital political issues of the time, the Cold War and the Vietnam War, he was strangely silent.
He was Pop Art's Bad Boy and a devoted son who created a book with his mother, 25 Cats Name Sam and One Blue Pussy . His mother who did the calligraphy for the book inadvertently left out the "d" after "name" Andy insisted it remain that way. In one of his later books, he commented, "When you do something exactly wrong, you always turn up something."
Everything in the museum's floors devoted to Andy Warhol is a small glimpse into the life of one of America's most iconic and controversial artists.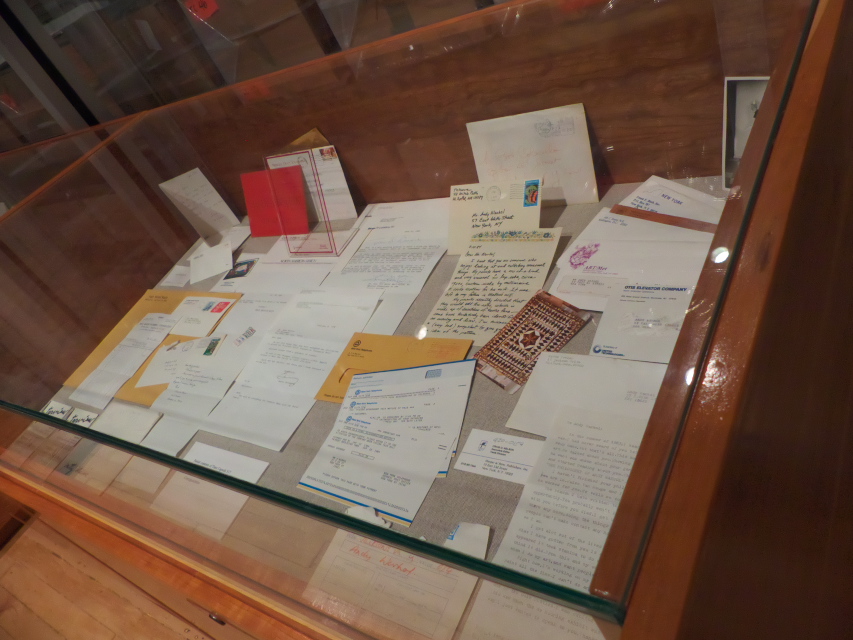 I asked an artist and collector friend, Ronald Ruble who has also collected and studied art for over 50 years, about his take on Andy Warhol and he replied, "I didn't know him, but I wish that I had. I don't even own any of his work, though I (again) wish that I did. He was undoubtedly the leading artist in the Pop Movement in art. He changed the art world in such a way that it will never be the same. His influence was gargantuan, not only in America, but throughout the world. His art spawned almost all segments of modernism in art that is being done today. He is still not appreciated by the non-art public, but with knowledge, will come the acceptance that he deserves."
For more info: