Not many people think of the work and effort it takes to put on a world class spectacular event each year. One place represents that year round part of Mardi Gras more than any other in the world, Blaine Kern's Mardi Gras World. This is where you can see Mardi Gras in action year round. Since 1947, Blaine Kern Studios has built those stunning parade floats for Mardi Gras and lots of other events as well.
Entryway to Mardi Gras World

I recently visited Rock Ranch (see article) and loved the Chick fil A

chicken there. Blain Kern also built the four-story-tall cow that graces the Atlanta Braves baseball stadium. They build for such well known names as Universal Studios,

Walt Disney World, Toho Park in Japan and many other entertainment centers. But Mardi Gras is where it all began and the first focus of the company. No wonder Blaine Kern is known as "Mister Mardi Gras."

This is a "living museum" as well as actual workshop type of attraction rather than a classic museum and the tour is so much fun. Just entering the building, you feel like it is a fantasy world. Costumed mannequins representing many of the past Mardi Gras maskers line the walls.
Artist at work

Our guide, Kyle , explained that for Blaine Kern, Mardi Gras is an all year long event. There are 50 parades, each of them with their own theme, spread out over 12 days but as soon as one Ash Wednesday arrives, Blain Kern starts out building for the next season.

Kyle took us into the prop shop first. One young female artist was hard at work sculpting details for a float figure. She was seated on the floor totally dwarfed by the far-larger-than-life figure of a heavily muscled male super hero who looked like The Hulk and appeared about to charge at the bad guy at any moment. I was fascinated.

Our guide explained "This is where all the props are made. There are three basic stages to creating the props, sculpting where we use sculpting station to Styrofoam sculpt, then the paper mache station where we take flour, water and brown paper and cover the Styrofoam and painting station.

We use paper mache for three reasons, for recycling. You see a lot of random upper bodies here. We can reuse a prop the paper mache lets create a whole new prop by covering it with paper mache.

Secondly for its for structural purposes Some flexible material cannot stand up to the elements so we cover it with paper mache and it makes it a lot more durable.

Thirdly. it is difficult to paint Styrofoam so we cover it with paper mache and it is a lot easier to paint."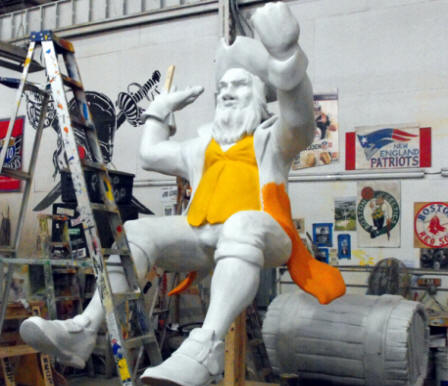 Whiskey Rebellion figure being redone

We moved on to the next area where he showed us how the props from artists graphic image were created by cutting several sections of Styrofoam with a jigsaw then taping or gluing the layers together. He explained it is like assembling a three dimension puzzle.

The attention to detail and the creation of such lifelike props in such overpowering sizes are amazing. He showed us how an previous year's Egyptian pharaoh was turned into a 16th century aristocrat to represent Queen Anne's War for this year's parade.

The fiber optic work is so detailed that it requires a lot of workers. Leviathan has 50,000 fiber optic lights on him. He is a signature float so possibly about 50 people will have hands on him: 30 artist and 20 builders.
Collection of heads waiting to be reused

Other models are made from fiberglass since it lasts a lot longer. Unique pieces like this can be as old as 35 years old. They can be reused over and over by using the paper mache over it to change it to fit whatever is needed that year.

One great example is a Paul Revere for this year's "Great Battles" theme. The horse was created ten years ago as a race horse with a jockey on him. The jockey was removed and a brand new Paul Revere was seated on him.

After the prop shop, we moved into the warehouse. He showed us the Disney floats for the Disney World Mardi Gras Parade.
One of the signature floats complete with restrooms

A huge train called Smokey Mary was a big signature float with lots of fiber optic lights on it and can hold 200 people. Smokey Mary and Leviathan actually have moving parts and blow out smoke. They even have bathrooms built in them. Some are double and triple decks.

Tires are different, There is no air but are solid rubber. Maximum speed is about 15

miles per hour but on parade routes they usually go about three or four mile per hour.

A new float might cost about $50,000 and a revamped older one about $10,000.

It is so different seeing them here than it is when you see them in a parade.

We saw Rocky, a huge lion, Abe Lincoln, Count Dracula, the Three Stooges, Beauty and the Beast and countless other figures. This is a huge fantasy land where you are surrounded by the stuff of dreams and nightmares. I felt like a big kid again. I didn't want to leave and return to the real world at the end of the tour. I bet you will feel the same when you visit.

For more info: