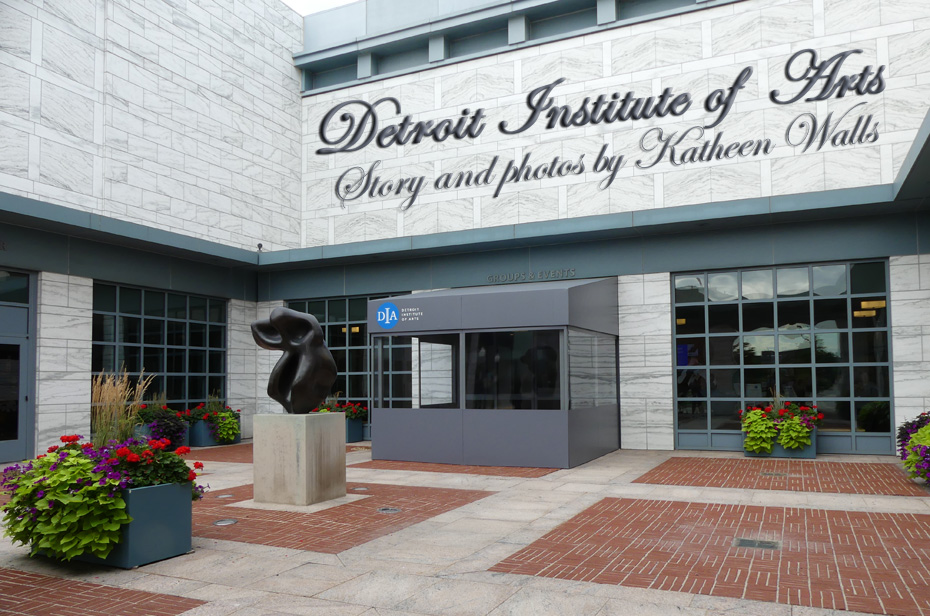 Detroit Institute of Arts is filled with more than 65,000 pieces of art from the earliest civilizations to the present day housed in over 100 galleries. A visitor from outer space could spend a day, or more, at the museum and come away with a pretty complete understanding of world history.
In the Native American art collections, our alien could observe photographs of ancient pyramids built by people with primitive tools. He could study exhibits of many of their tools and everyday objects.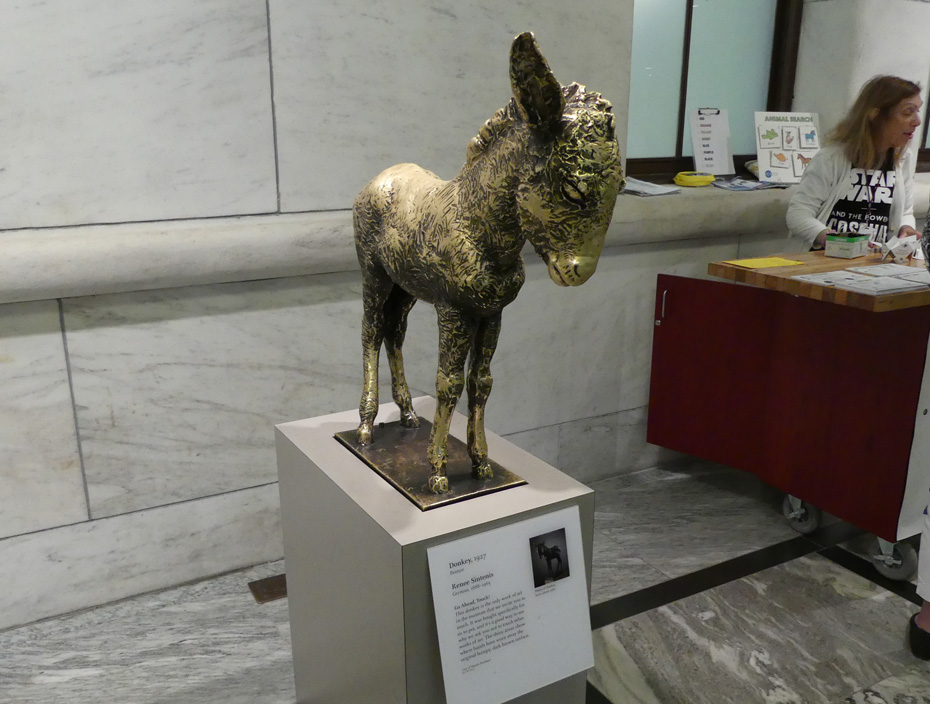 Our native animals would become real to him. Like the Donkey, an approximately half sized sculpture by Renee Sintenis. Incidentally this is the only object in the Institute visitors are invited to touch. The shiny parts where hands have touched have lost their original dark finish and are now shiny. It's a clue why most objects are hands off.
Places like Egypt and the Babylonian Empire are presented with both paintings and artifacts from that early civilization. The pharaohs and the culture of people who lived many thousand years ago become understandable. Art brings their everyday life to visitors.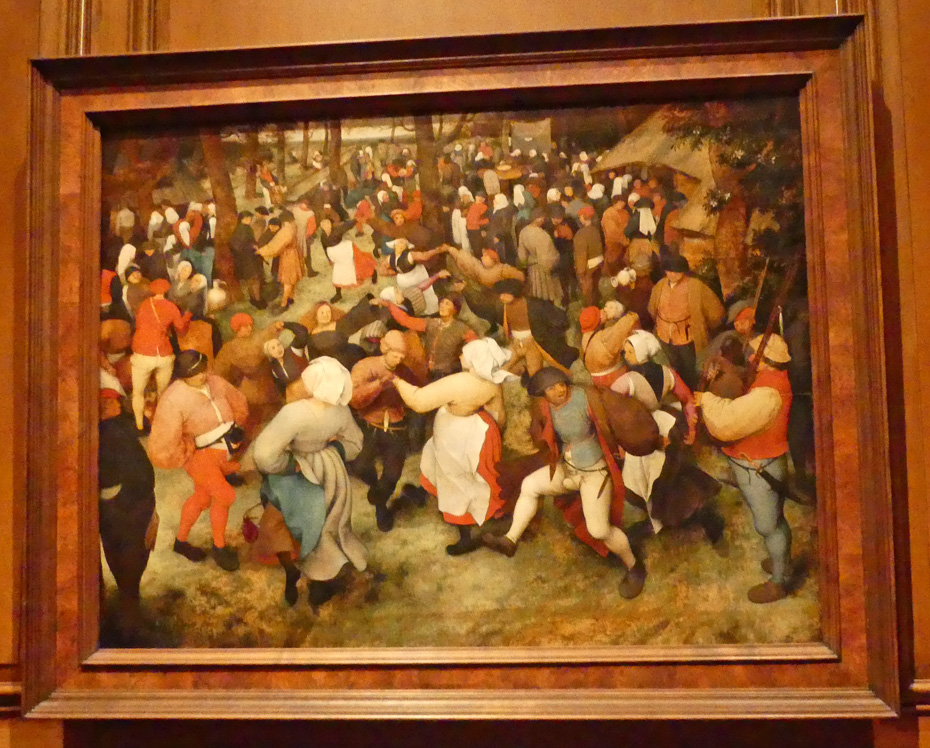 Our alien would learn that customs, costumes and national politics differ from country to country and era to era. He might have learned that modern brides wear white but in the 16th century Netherlands, you would have worn your best black dress. Another odd fashion accessory which has fortunately gone out of style is men's codpieces, an accessory that men strapped to their trousers to accentuate their manhood. Pieter Bruegel the Elder captures the scene at a peasant wedding in his native country in 1566. It's called The Wedding Dance. Our guide, Carlene, explained an item of political significance. There's a man in a red military coat with his back turned to the audience who seems to be manhandling a guest. Putting a person with their back completely facing the audience was considered an insult. The man is probably one of the conquering Spanish soldiers who the people of the Netherlands would have resented.
Diego Rivera's Detroit Industry murals are my favorite. It's 27 panels of fresco murals occupying an entire glass-roofed wing. Diego Rivera gained fame in his native Mexico as a painter of indigenous people. These done during the Great Depression when the rise of unions was occurring in the manufacturing industry, are filled with symbolism.
The murals are considered Rivera's best work. However, they sparked criticism in that era as Rivera was a Marxist and many clergy and political right wingers condemned his work. In particular one panel depicting a possibly Christ Child being administered a vaccine by a nurse/mother/Mary and doctor/father/Joseph. In the background, three scientist/magi are conducting a research experiment.
The murals are filled with symbolism. He honored the earth on an end panel with two fertile looking women holding fruits and vegetables with a baby in a sugar beet root system. Sugar beets being a big Michigan agricultural product at that time. On an upper panel, Carlene pointed out, "He depicted each of the races of man who do the work using all the materials such as coal representing the back race, limestone for the white race, sand for the yellow race, and iron ore for the red race.
On the main South Wall panel, he shows the entire creative process of blasting furnaces, conveyor belts, right down to the final inspection process of making a car. It's portraying man and machine matched together. You are left with the question, is man imitating the machine or the machine imitating man?
In the North Wall main panel he depicts the stamping machine as Coatlicue, the Aztec Godess of Destruction and Creation, because he wants to say overtime you make something you are destroying something else, polluting the water."
An environmentalist in the 1930s long before it was considered important by most people; he studied the Ford River Rouge Complex and Parke-Davis Pharmaceutical plant. Park Davis most likely was the inspiration for two panels portraying two sets of scientist. One group is working on poison gas and the other group is producing vaccines for medical purposes.
The Detroit Institute of Arts does what all good museums do; it makes you think and ask questions.
For more info:
We'd love your comments!