Following Matthew
(Posted Oct. 13, 2016)

"Just six days after Matthew wandered through town and created a lake here on Avenue Menendez, we are up and running. There are over 250 businesses that are up and running and welcoming guests in the tourist industry. We have over 30 hotels with over 5000 rooms ready to be occupied." With these words Richard Goldman, President/CEO of the St. Augustine, Ponte Vedra and the Beaches Visitors and Convention Center, made it clear not even a hurricane can dampen the spirit of the people of St. Johns County.
Speakers at press conference. (L to R) Richard Goldman, Cindy Stavely, Joe Finnegan, Carol Dover, and Will Seccombe
Standing on the porch of the Pirate and Treasure Museum, one of those attractions that are open and welcoming visitors even as we attended the press conference to announce that fact to the world, we watched visitors not only here but across the street in historic Castillo de San Marcos and next door in the Colonial Quarter.
Filled trolleys plied the street informing visitors about the history of America's oldest city. The sun shone brightly and a light breeze wafted across the bayfront. Such a perfect day it was hard to believe the fury that occurred here only a few days ago.
One example of how this turnaround is occurring is the Pirate and Treasure Museum. Cindy Stavely, Executive Director of this museum and several other St. Augustine properties told how she learned what was happening during Matthew. "We had about 5 inches of water inside the museum. Somebody sent me a video on Friday. This whole courtyard was under water and I was 20 miles west of here evacuated with my horses. I was freaking out not knowing 'cause it wasn't even high tide yet…. 7 o'clock on Sat morning I came here. All the water was gone. I called a cleaning company at 8 am. By 9:30 they were here and sucked all the water out. Had this whole property cleaned and ready for dryers by noon on Saturday. All the artifacts were fine, just ready to be dried and cleaned up… I had these floor pulled out that morning and replaced by 4 pm. It's like a better Pirate Museum…It's amazing to me how quickly after seeing the water that was here but that's what St. Augustine is all about."
Joe Finnegan, owner of St Francis Inn, which has withstood whatever nature chose to throw at it since 1791 told how he got the inn back so quickly also. "It stood up to Matthew unfortunately Matthew didn't watch the door so some water got in. But we are back up and running thanks to a great staff that came in and worked around the clock we've been up and running since Tuesday. We work together to get things done so our visitors can have a great experience."
Carol Dover, Executive Director of Florida Lodging Association and Will Seccombe, President and CEO of Visit Florida also spoke of their love of St Augustine and how important it is to preserve these historic treasures.
After the conference I walked over to Castillo de San Marcos. It was just the way it has been since 1672 when the city was already over 100 years old. People were reading the informational signs and waiting for the ranger led tour. From looking out at the shrimp boats in the bay and seeing the sun reflect off the giant cross where Pedro Menendez landed over 450 years ago I could see no signs of the raging torrent this had been just six days ago. Peering into the lowest level portions of the old fort, everything was clean and waiting to teach visitors about the history this precious relic of bygone days has seen.
I strolled over to St. George Street and saw the happy hum of businesses feeding and entertaining visitors. A pair of street musicians was ensconced on one of the side streets. A musician was on stage in one of the courtyard restaurant. Art galleries and shops were open. You can get a feeling of all the attractions available to make a wonderful vacation spot in this article.
Sure there were a few that had not yet opened. I could see crews busy inside bringing opening day nearer. So as Cindy Stavely said, this is what St Augustine is all about! So if you were considering a trip here, or even if you weren't, come on down and see what St Augustine is all about. Their hashtag tells it all #StAugustineStrong.
For more information::p>

http://www.floridashistoriccoast.com/



(Posted Oct. 12, 2016)

Shands Bridge connecting Green Cove Springs in Clay County with St. Johns County was reopened late Sunday so I was able to cross the St. Johns River and check out one of my favorite places to see the damage Hurricane Matthew left in his wake. The damage was devastating and widespread but I am happy to report St. Augustine although thoroughly drenched and covered with fallen trees but is recovering. Here is a totally unofficial but eyewitness photo report of a few of the places I visited. Bear in mind I only drove through a small part of the county so this is superficial but I hope helpful if you are wondering how St. Augustine is faring. I didn't get to Vilano Beach which is the worst hit area of the county.

ThThe worst of the damages in both Clay and St. Johns counties appeared to be from water and trees downed by the wind rather than as was the case in Flagler County, massive wind damage to structures. Naturally there were many structural; damages but not as bad as I feared.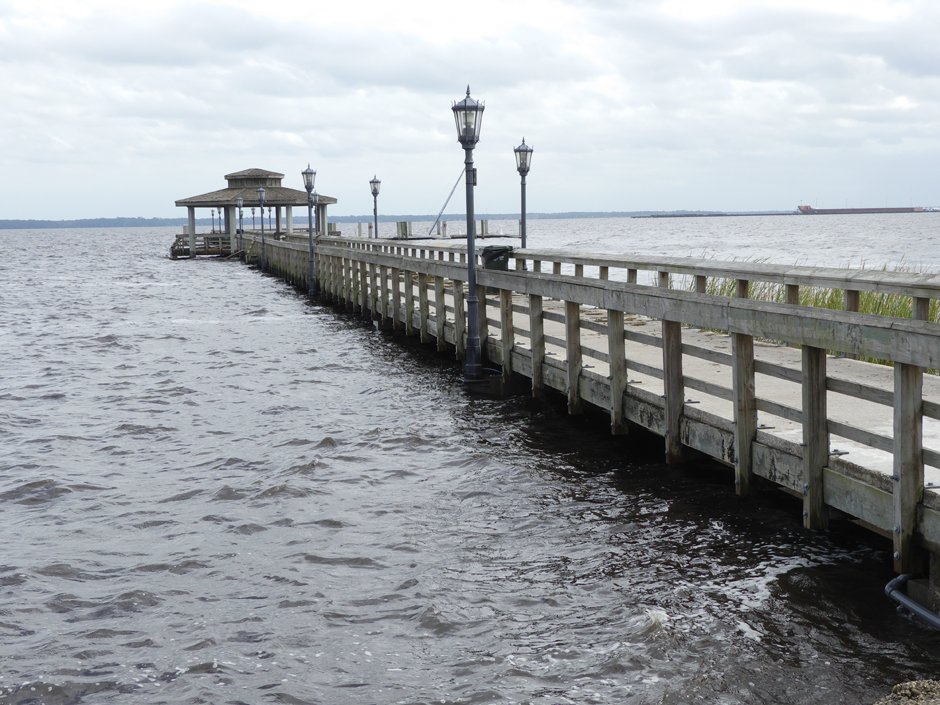 On the Clay County side of the river in Green Cove Springs, the pier on Walnut Street is badly damaged. Hard to tell if the park is damaged since they have been doing construction on the new swimming pool and all is still in chaos. Ronnie's Wings is open and serving their great wings. Waitress there said there was just a little water inside they needed to clean up.




As you can see debris, looks like a part of a smaller pier, is washed up along the river banks.




Appears to be damage to boats in the river and private piers. As you can see water levelis still very high.




Judging by water still standing behind the house on the corner of the pier that is under construction there was a lot of water came ashore.




We checked on one of the feral cat colonies in Green Cove Springs and fed at least five cats who are alive and well. Not revealing the location for obvious reasons but any of my cat people friends in Clay County who feed and care for those cats will recognize it.




The dockyard along Hwy 16 leading to Shands Bridge appears in pretty good shape but at least one boat is washed up on the banks. Could not get close enough to really appraise any damage.




SShands Pier which is a popular fishing and boat docking spot that parallas the Shands Bridge is almost gone and probabaly will never be repaired.




Trees are uprooted or snapped along hwy 16 on both sides of the bridge.br>



On the St. Johns side, power company and tree cutters are busy repairing downed power lines. Several are still visible on the ground. Probably workers are leaving old dead lines where they are until they put up the new ones and will then remove the downed ones. Power trucks are all over the county working hard.




Traveling south along Hwy 13 it is obvious the roads were impassable after Matthew passed. Huge trees have been cut and moved from the highway. Many just pul;led up roots and all and tumbled on homes and fences. This uprooted tree is just across the street from the river on 13.




Across from it, the family's pier and much of the boat house is gone.




You can still see traces of the sand which must have covered hwy 13. This is pretty much the way it looks along the entire stretch from the bridge on to Hwy 214. Much worse in some places so that this was the only safe spot I coudl pull off the road that wasn't covered with limbs. Hwy 214 becomes King Street, the main road leading to the historic district and the Bridge of Lions, in St. Augustine.




As we traveled into the historic district on King Street, water that once covered much of the area is now gone. Business are trying to get back to normal. San Sebastian Winery looked undamaged structurally but again I didn't see inside and know they had massive flooding. I turned down Riberia Street to check out the new St. Augustine Distillery and was relieved to see it looking pretty good structurally.




I am positive there was water damage inside as across the street, each house had tons of water damaged furniture, insulation and sheetrock on the curb.




Many of you may remember the old Colee Carriage Stable at 650 Ribera across from the distillery. It has much of the roof blown off. The building had been empty for quite awhile so no danger to horses or anyone due to the damage.




Lincolnville area also appears to have a lot of furniture and tree limbs along the curb and tarps on roofs.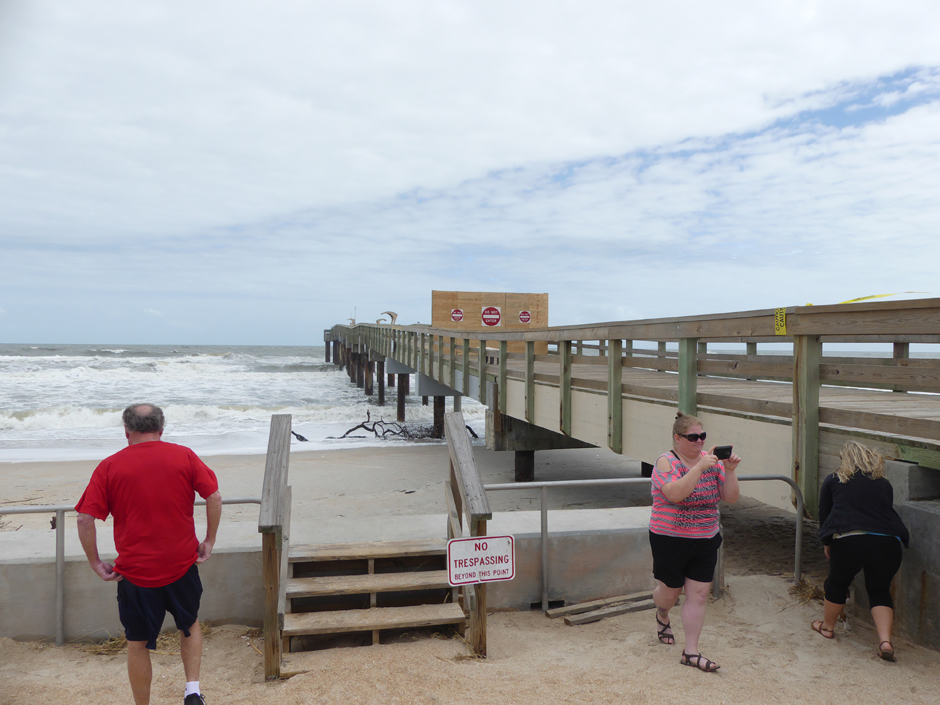 On A1A at St. Augustine Beach, the pier seems undamaged but is boarded up and closed.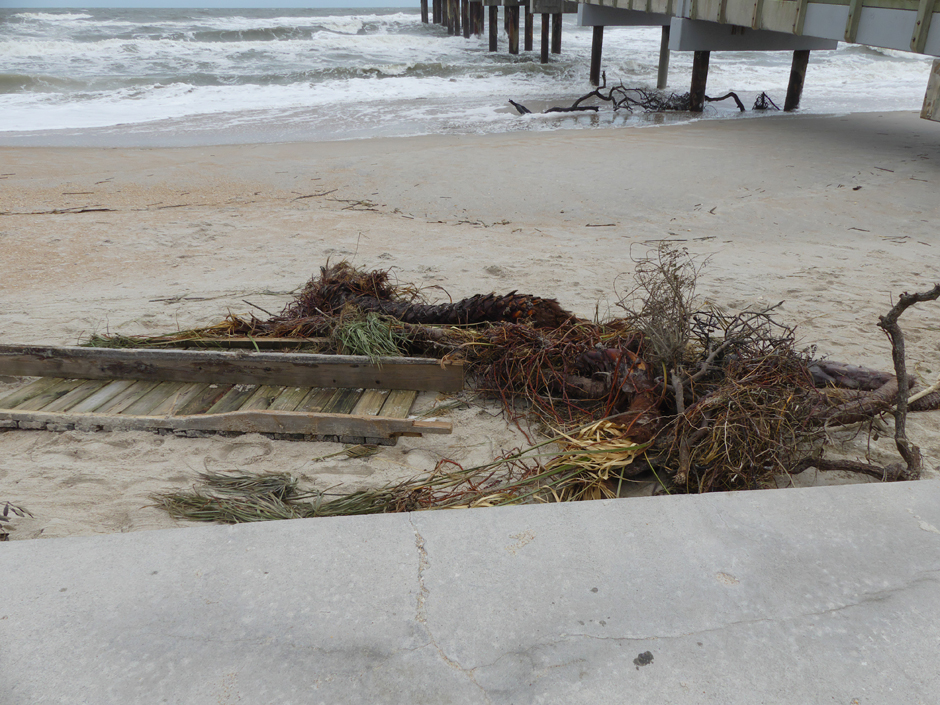 There again a lot of debris is washed up nearby.




Some cranes indicate hard work and huge pile of sand appears to have been brought to the site rather than washed up there.




There are some tarps on some roofs here and I suspect all over the county.r>
One of my FB friends has a lot of the storm coverage and photos as she lives in St. Augustine Beach. Her page is at https://www.facebook.com/kathie.pippin

Local news just reported St. Johns County will continue under a State of Emergency Conditions until next Tuesday, Oct 18th.