Published 9-1-2018
If you are tired of cookie cutter hotels and want a stay where you mix history, comfort, great good relaxing surroundings, cordial hosts and a friendly cat to pet try Bloomsbury Inn in Camden, South Carolina.
The Inn
Bloomsbury started life back in 1854 as a private home. Colonel James Chesnut, Sr., reputed to be the third wealthiest man in South Carolina at the time, built it for his daughter, Sally Chesnut and named it for his wife, Mary Cox Chesnut's, home town, Bloomsbury Court in Trenton, NJ. Col. Chesnut and his wife moved to Bloomsbury in 1862 to be able to know more of what was happening in the war.
Mary Boykin Chesnut and her husband, General James Chesnut, visited Bloomsbury often and in 1865 moved in there while damages to the Colonel's plantation, Mulberry, were being repaired. They later built their own home, Sarsfield, three blocks east of Bloomsbury.
Miss Kitty Stray on Bloomsbury Inn porch
The home itself sweeps you back to antebellum times with its elegant style. The stately encircling porch is furnished with rocking chairs to enjoy the beauty of its two-acre manicured garden. If you are lucky, the resident cat, Miss Kitty Stray, may come out to welcome you to her abode.
Inside the 13 foot ceilings and exquisitely decorated parlors welcome visitors. Upstairs, the four bedrooms are furnished as it would have been in the 1860s and each room is named for its early inhabitants. All the modern comforts such as full baths, air conditioning and wifi have been skillfully added without detracting from its southern charm.
My bedroom at Bloombury Inn believed to be the one Mary Boykin Chesnut used when she visited.
Parts of Mary Boykin Chesnut's book, Diary From Dixie, were written at Bloomsbury. From descriptions of looking out her window it shows that Mary Boykin Chesnut occupied one of the two front facing rooms. On a recent visit, I stayed n the room believed to be hers. What a thrill to think about walking on the same pine floor and looking out that same window as Mary Boykin Chesnut had so many years ago. The furnishings fitted the period although they were not ones she would have had. Still, the tall four poster bed, the claw-footed tables and the period settee made it easy to imagine Ms, Chesnut sitting in front of the fireplace writing down her day's adventures with no thought that one day her diary would be famous.
The Hosts
The history is only one of the reasons Bloomsbury is so special. The current owners, Bruce and Katherine Brown make your stay delightful. Both are retired Air Force colonels. Katherine spent 17 of her 25 years military service handling protocol/hospitality service for several four star generals and as a member of the transition team under President Clinton. Some of the personages she dealt with included the President and Vice-President of the United States, the Queen of England, senior military officers of all Services and Foreign Nations, as well as the Chairman of the Joint Chiefs of Staff, Senators, Congressmen and Governors. It was her responsibility to provide event planning and lodging; menu selection; provision of entertainment; transportation; and security.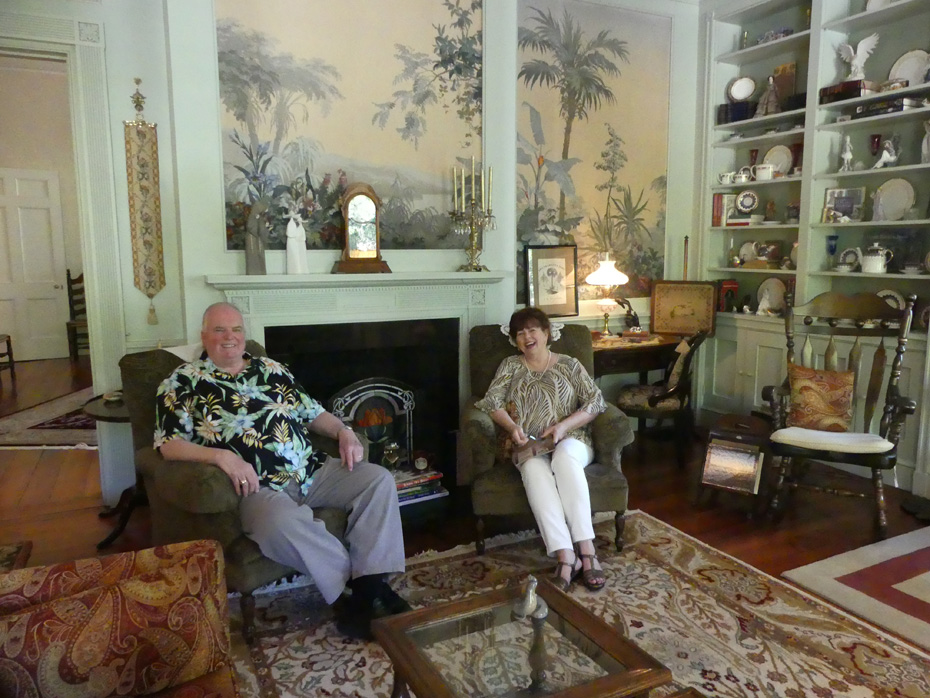 Hosts Katherine and Bruce make you feel so welcome.
The minute you enter the door Katherine makes you feel welcome. She also makes a mighty tasty breakfast worthy of a king or queen. The fact that she trained with Chef Victor Matthews of the Paragon Culinary School might have something to do with her culinary skills but her family recipes add to the mix.
Bruce is equally well versed in the hospitality field. During his 26 years of military service although his main field was as a B-52 instructor pilot, Air Staff officer, and Commander of the 15th Wing at Hickam AFB, HI, he also served as a protocol officer, aid-de-camp, special assistant, and executive officer to three different four star general officers in both the Air Force and the Army. While in these positions he was responsible for official visitations. He will make you feel right at home when you visit Bloomsbury.
When asked why they came to Camden and why a bed and breakfast, Katherine explained, "I wanted to be near my sister in Florence. We wanted-- well, I wanted-- a big, old, white house We looked at so many and saw a lot of beautiful places but we liked Camden and this house and the two of us just rattling around in here wouldn't be right. Bathrooms in each room were put in in the 1930s and with those Italian tiles in each bathroom. It was made to welcome guests."
Even with all that the house needed a lot of renovations. Bruce stated, "The bones were good but…" He showed me a book with each of the renovations they did. Amazing job with perfect results.
Their combined talents have brought them numerous honors since they opened Bloomsbury as an inn in 2005. They have been named Innkeepers of the Year for the Nation by BedandBreakafast.com, twice. TripAdvisor presented them with the People's Choice Award twice. They have received Certificates of Excellence every year since 2006. The most recent honor, Bloomsbury was named one of the most romantic inns in the United States.
The Food
One of the reasons for many of the awards is the superlative breakfasts. Katherine prepares not one but multiple items of gourmet quality each morning. Your day at Bloomsbury Inn starts with some version of fresh fruit and homemade bread. It'll be accompanied by their specialty Bloomsbury Blend Coffee, freshly ground and brewed, or if you're a tea drinker you choice of gourmet blends. I had an Earl Gray Tea grown at Charleston's Tea Plantation. Next there will be a savory or sweet entree.
First course at breakfast, starting with Strawberry Soup
As much as possible everything is local. The jams and jellies are homemade as are the biscuits Katherine makes in her grandmother's iron skillet. Pretty much everything is homemade and delicious. My favorites were Katherine's Bloomsbury Creamed Eggs served atop ham and topped with Hollandaise sauce and a fresh croissant and garnished with a perfect tomato slice. Then there was her Strawberry Soup. Trust me; you won't leave the breakfast table hungry.
Katherine's Creamed Egg is out of this world!
Bruce and Katherine wine and dine you later in the day with a social hour at six. It's a chance to enjoy a glass of wine and some cheese and snacks and get to know you hosts and fellow guests. This is old fashioned hospitality at its best.
For more info: http://www.bloomsburyinn.com/
We'd love your comments!