See the Missouri areas that inspired great authors
by Kathy Barnett
You don't have to live in New York to write a best-selling novel. You don't have to live in Hollywood to have that book turned into a hit movie or television series either. So what is the secret? What is the common denominator? The link is to live the life of a Missourian. When in Missouri, visit the roads to the homes of four famous authors that are open to the public so you can relive their stories. Stand in the same spots where they stood and touch mementos that were woven into the storylines of their tales.
Main Street U.S.A. Disneyland was patterned after the main street in Marceline, Mo.
Walt Disney returned to Marceline to take notes and photos when designing his theme park.
Photo credit Walt Disney Hometown Museum, Marceline, Mo.
Many do not know the connection of Walt Disney to the small Missouri town of Marceline located in Chariton and Linn Counties. With a population of only 2,221 in the 2010 census, it is known as a hometown community based on traditional family values and progressive economic development. It was Disney's hometown as a small boy with big dreams. He was only five years old when he first came to Marceline by train. Later in life upon returning, the train depot evoked his first memories of pulling into Marceline. Today, the Walt Disney Hometown Museum is housed in the now-restored Santa Fe Depot. The main focus, of course, is during his childhood years. There is also a unique collection of family artifacts displayed there and has never been seen anywhere else in the world. Main Street USA in Disneyland was patterned from Disney's memories of Marceline and his view of the main street through town. The street has even been renamed "Main Street USA."
The Walt Disney Hometown Museum is located in the restored Santa Fe Railroad Depot in
Marceline, Missouri. Walt was only 5 when his family first moved to Marceline
where they arrived by train and Walt was infatuated with train from then on.
Photo credit Walt Disney Hometown Museum, Marceline, Mo.

Make sure to take the time to visit the Disney Farm where Walt lived. The house is not open to the public and the farm is privately owned. However, you can sense the artistic electricity in the area and you are welcome to view the home from outside. Behind the house is where Walt's Dreaming Tree stood. Although the original fell in 2015, a cottonwood sapling had been planted nearby in 2004 by his grandson. Under those branches is where Walt learned to draw, write and dream of magical things to come. Today the "Son of the Dreaming Tree" may be visited by the public along with the Disney barn from dawn until until sunset. The barn was the setting for Walt's very first try at presenting a show. He dressed his pets and farm animals in costumes and sold tickets to the neighbors for 10 cents each to the "Disney Circus." However, his audience left unimpressed and his mother made him refund the money. It was a valuable lesson to him that he carried for the rest of his life: "Give the audience more than they expect and they'll walk away happy customers." Visitors from all over the World have left their written message to Walt on the interior walls of the barn.
Thousands of notes have been written to Walt Disney on the walls of the rebuilt barn
on the Disney family homestead. Open to the public from dawn until dusk.
Photo credit Walt Disney Hometown Museum, Marceline, Mo.

If you visit on a weekend between May through October, you are in for a special treat. The Uptown Theatre opens to the public and offers FREE movies. This nostalgic building is where Walt saw his first movie as a child. His movie, "The Great Locomotive Chase" premiered there in 1956. Walt and Roy Disney were both in attendance for that premier. In 1998, "The Spirit of Mickey" premiered with free commemorative tickets to each child. Mickey Mouse, Minnie Mouse, Donald Duck and Pluto attended that premier. Now under new ownership, renovations are in progress along with the Bed and Breakfast housed upstairs. It features Disney-themed rooms and a railroad-themed room, each with a private bath, shower, central air and cable TV. A full breakfast is delivered to your room.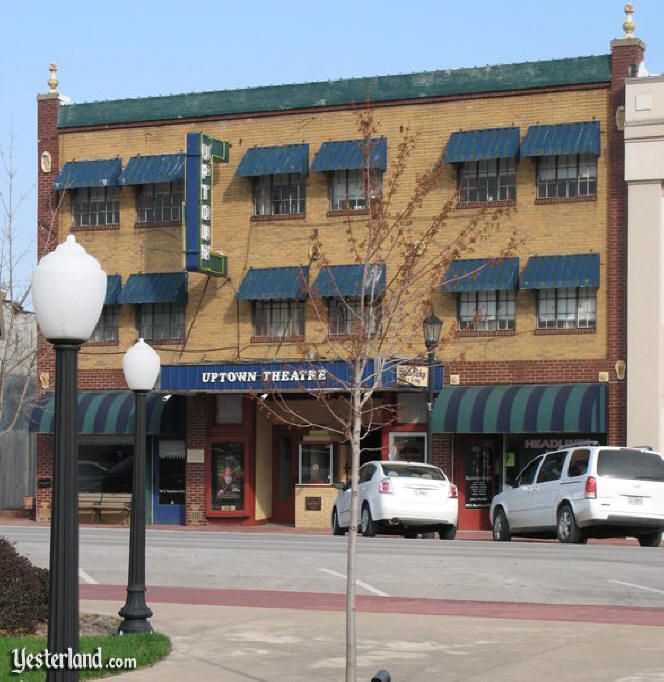 Walt Disney watched his very first movie at the Uptown Theatre and later premiered one of his feature films "The Great Locomotive Chase" there. Photo credit Walt Disney Hometown Museum, Marceline, Mo.

After Walt passed away, the Disney connections and memories in Marceline linger. Citizens of Marceline asked for a commemorative stamp to be issued in his honor, which was granted in 1968. The Post Office was renamed the Walt Disney Post Office in 2003. It's the only federal building named for Mr. Disney. So be sure to stop by and have a letter to home hand cancelled with Marceline's one-of-a-kind Disney cancellation as a souvenir.
Unlike Disney, most people already know Samuel Clemens, aka Mark Twain, grew up in Missouri because he described life of his hometown in his popular novels of Tom Sawyer and Huckleberry Finn. Both books were recreated into famous movies. After an apprenticeship with a printer, Twain worked as a typesetter and contributed articles to the newspaper of his older brother. Some of these articles, along with Twain's writing desk, typewriter, and first editions of major works are on display at the Mark Twain Museum in downtown Hannibal. Hannibal, located north of St. Louis on the Mississippi River, showcases tons of exciting historical attractions connected to the famous characters. First and foremost is a tour of Main Street because the stories started there. Explore eight historic properties including his boyhood home, Becky Thatcher's home and the museum for one ticket price. At the Interpretive Center, explore interactive exhibits for all ages. See how Twain turned his childhood friends into the famous characters of his novels. Ride a raft; paint the fence. Experience live performances and storytelling during summer months. The Museum Gallery features 15 original Norman Rockwell paintings depicting scenes from his novels.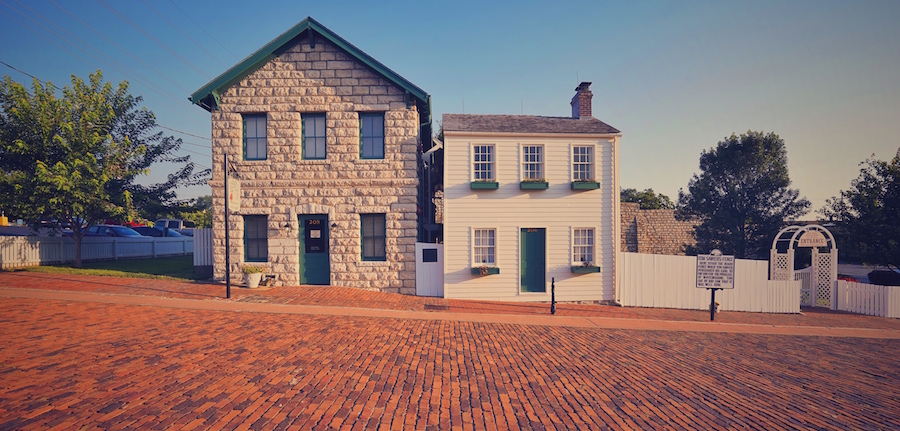 The stories started here – at Mark Twain's boyhood home.
Take a self-guided tour through eight historic properties and museums in downtown Hannibal.
Photos credit Hannibal Convention and Visitors Bureau.
Hannibal's newest family-friendly attraction is Karlock Kars and Pop Culture Museum located in a renovated three-story brick building near the river. Owned by Jackie and Steve Karlock, an eight dollar self – guided tour reveals classic cars and artifacts, such as arcade games, signs, movie props and historic juke boxes. A novelty shop on the first floor is a great place for finding a unique item to take home from Hannibal. The Karlock family also operates a haunted house and wax museum on the spooky side of Hannibal. Located at 215 Hill Street, don't let the exterior fool you. That skeleton peering through the top window warns visitors that something sinister is going on inside! You'll first enter a Holiday Magic area, offering small gifts and holiday items. Next, you'll enter a dark room where you'll be greeted by the unblinking stares of 27 wax figures, artfully sculpted by Martin Krewson. Go through another doorway and…the terror begins!
The newest museum in Hannibal is the Karlock Kars and Pop Culture Museum housing
classic cars and loads of artifacts. Photos credit Hannibal Convention and Visitors Bureau.
If you are able to visit in the fall, consider going during the annual Autumn Historic Folklife Festival. This year's date is Oct. 15 and 16. Over 100 artisans and craftsmen demonstrate the lifestyle and folk art from the 1800's. Find food vendors cooking over wood stoves and musicians strolling the streets through the crowd. There is a children's craft area, a wine garden, and cider fresh from the apple press.
Mark Twain was infatuated with the riverboats seen on the Mississippi River. He even became a riverboat pilot for a short while before settling in Connecticut. So in his honor, it is appropriate to take an excursion or dinner cruise on the Mark Twain Riverboat and soak in the sights of the beautiful Mississippi River. The evening dinner cruise is a buffet meal and features dancing to live musical entertainment. Allow a good two hours for this cruise while the afternoon sightseeing cruises last about one hour. There are only a few weekends left for cruises as they close the end of October and resume next May.
The Mark Twain Riverboat offers sightseeing and dinner buffet cruises along the Mississippi River
through October. Photos credit Hannibal Convention and Visitors Bureau.
Last on the list, but certainly not the least, take a Mark Twain Cave tour. Twain wrote about this cave in five of his books. Experienced guides will escort you on a one-hour tour through smooth walkways with no steps. Be sure to take a light jacket as the cave is 52 degrees year round. Also, wear comfortable walking shoes. Unlike the characters of Tom Sawyer and Becki Thatcher, you won't have to find your own way out. Visitors to the Mark Twain Cave Complex can also sluice for gemstones. Bags of gemstones can be purchased at the rock shop on site. Examples of the semi-precious gems you may find while using the 50-foot sluice are included with your bag. Experience "Mark Twain Live" by Jim Waddell at Cave Hollow Theatre, located within the Mark Twain Cave Complex. Raconteur Jim Waddell reweaves yarns first spun by Mark Twain, the creator of some of our most treasured literature. This presentation has been lauded by Twainian scholars for its authenticity of deliverance and mannerisms. Performances Wed. – Sun. at 2 PM April – November.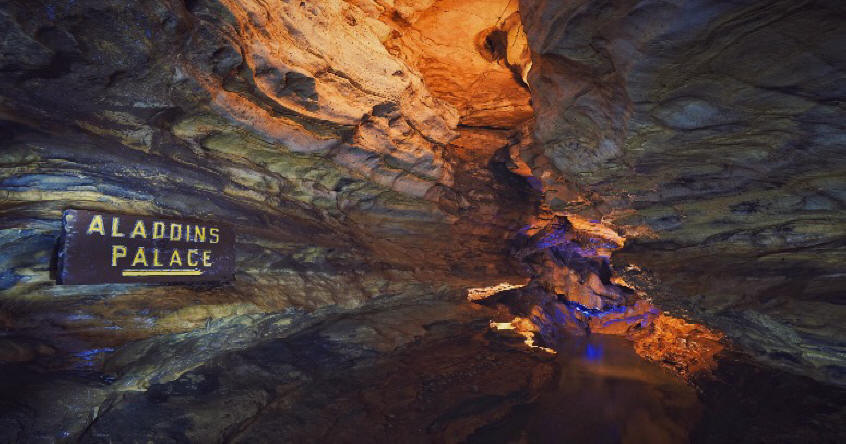 The Mark Twain Cave Complex proudly boasts both Missouri's newest and oldest show caves!
Photos credit Hannibal Convention and Visitors Bureau.
Another Missouri cave is what attracted visitors to Branson in the first place. Today, Silver Dollar City is one of the top theme parks in the nation. It wasn't always so. Before the theme park was Marvel Cave, home to two characters in Harold Bell Wright's novel "Shepherd of the Hills." Pete was a simple-minded character and roamed about the area describing someone who took care of him from the cave. Pete refers to that character throughout as "God."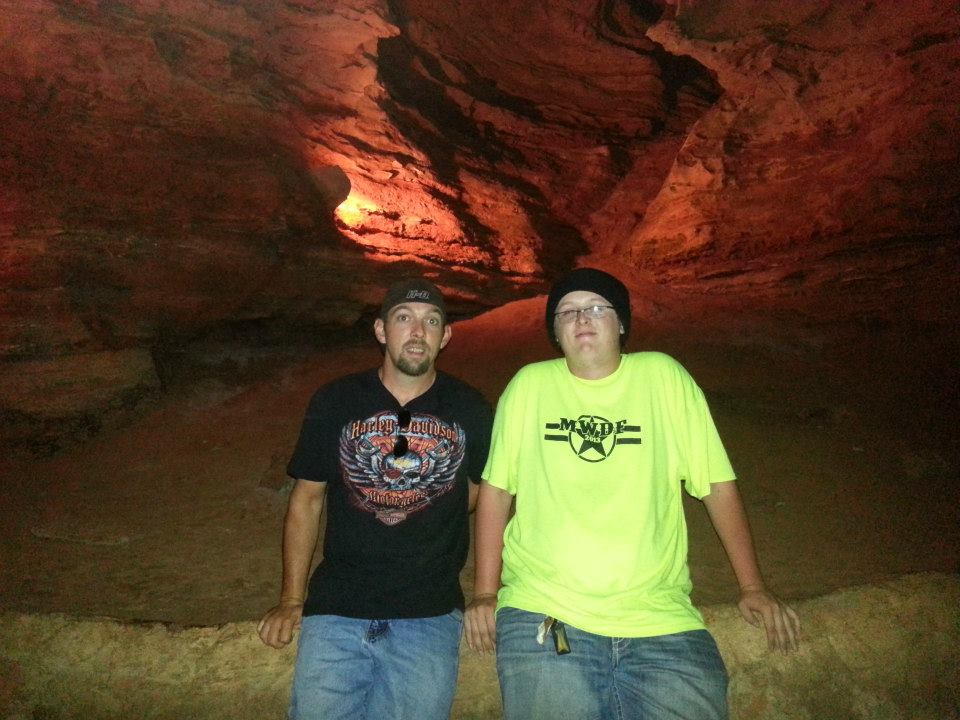 Visitors in Marvel Cave Photo credit Kathy Barnett
Old Matt and the Shepherd's common history (which only The Shepherd knows at the outset) involves Old Matt's daughter, who died while giving birth to her son (and Old Matt's grandson), Pete Howard. Unbeknownst to the Matthews, Mad Howard is Pete's father, and thus The Shepherd is Pete's grandfather. Pete calls his dad "God" because his dad takes care of him while hiding in Marvel Cave. He tries to teach Pete about God and Pete only understands God is good and his father is good, so his father must be "God."
Kathy Barnett's own copy
Photo credit Kathy Barnett
Shepherd of the Hills Inspiration Tower Photo credit Kathy Barnett
Harold Bell Wright was a best-selling American writer of fiction, essays and non-fiction during the first half of the 20th century. Between 1903 and 1942, this minister-turned-author wrote 19 books, several scripts for stage plays, and several magazine articles. At least 15 movies were made from his novels. Seven of Wright's books appeared on the top ten best seller lists, two of them twice. He's best known for his work, "The Shepherd of the Hills." It was later made into a movie by the same name starring John Wayne as young Matt. This tale of life in the Ozarks continues to draw thousands of devotees to outdoor performances where visitors can also see the cabin where the real Old Matt and Aunt Mollie lived. Wright is referred to as "the Shepherd" of the book since he was allowed to camp out and live on the property near the cabin while writing his book.
Tour Old Matt's Cabin near Inspiration Point where author Harold Bell Wright camped
on the property while working on his book, "Shepherd of the Hils"
Photo credit Kathy Barnett
The Baldknobbers are a gang of robbers who terrorize the countryside wearing frightening masks with horns at their
top and who rob banks and settlers as they see fit.
The outdoor play features more than 80 actors, 40 horses,
and an actual nightly burning of the cabin by the Baldknobbers.
Photo credit Kathy Barnett
Marvel Cave was originally called Marble Cave, after explorers in 1882 saw what they thought was marble on the cave's ceiling. This started the Marble Cave Mining Company, although later realizing there was no marble, ceased operations. William Lynch purchased the cave in 1889, and soon after opened the cave to the public. Cave tours continued into the early 1900s, and Wright was one of its visitors. Once his book was published in 1907, nationwide interest in the Ozarks began, drawing visitors who wanted to see the self-reliant and stoic hill people, the wooded valleys, the mountain "balds" and the incredible cave Wright had described. In 1950, Hugo Herschend leased the cave for 99 years. The Herschends made renovations to the cave, and in 1960 they opened the theme park, Silver Dollar City, on the surface above the cave. In the same year, "The Shepherd of the Hills" was made into an outdoor drama at The Old Mill Theater to promote the area to tourists. It continues in its 58th seasons in 2017 and is also the home of Inspiration Tower, the Sons of the Pioneers show and other gift shops and attractions. The Harold Bell Wright Museum is located within the World's Largest Toy Museum complex nearby. Marvel Cave is now known for being one of the largest caves in Missouri, having one of the largest cave entry rooms (the Cathedral Room) of any cave in North America, and for being one of the longest running tourist attractions in the Ozarks.
The series of books written by Laura Ingalls Wilder tell the stories of her growing up in the big woods of Wisconsin, the prairie of Kansas, the banks of Plum Creek near Walnut Grove, Minnesota and De Smet, South Dakota. The link to Missouri, is they were all written while living in Missouri during her later years. Laura and Almanzo moved to Rocky Ridge Farm near Mansfield, Missouri in 1894. Original manuscripts, Pa's fiddle, and other artifacts are displayed. You can tour the historic home and see the actual spot where Laura wrote, the museum of articles and momentos, the vegetable garden and even visit the nearby grave where Almanzo and Laura are buried. They lived at Rocky Ridge for more than 60 years.
Laura's home on Rocky Ridge where she wrote the books.
Photo credit Laura Ingalls Wilder Museum, Mansfield Mo.
After a movie pilot was filmed for the television series running from 1974 to 1982, viewers may still catch periodic reruns of the show. A movie based on that series is finally in the works by Paramount Pictures.
Pa's Fiddle is displayed at the museum in Mansfield, Mo.
Photo credit Laura Ingalls Wilder Museum, Mansfield Mo.
I was born and raised right in the center of all four locations – Sedalia, Mo. I love to write and I love the movies. So who knows? Maybe I have a chance to make it after all. Only the future knows…
Ads fund American Roads and Global Highways so please consider them for your needed purchases.
If you enjoy the articles we offer, donations are always welcome.