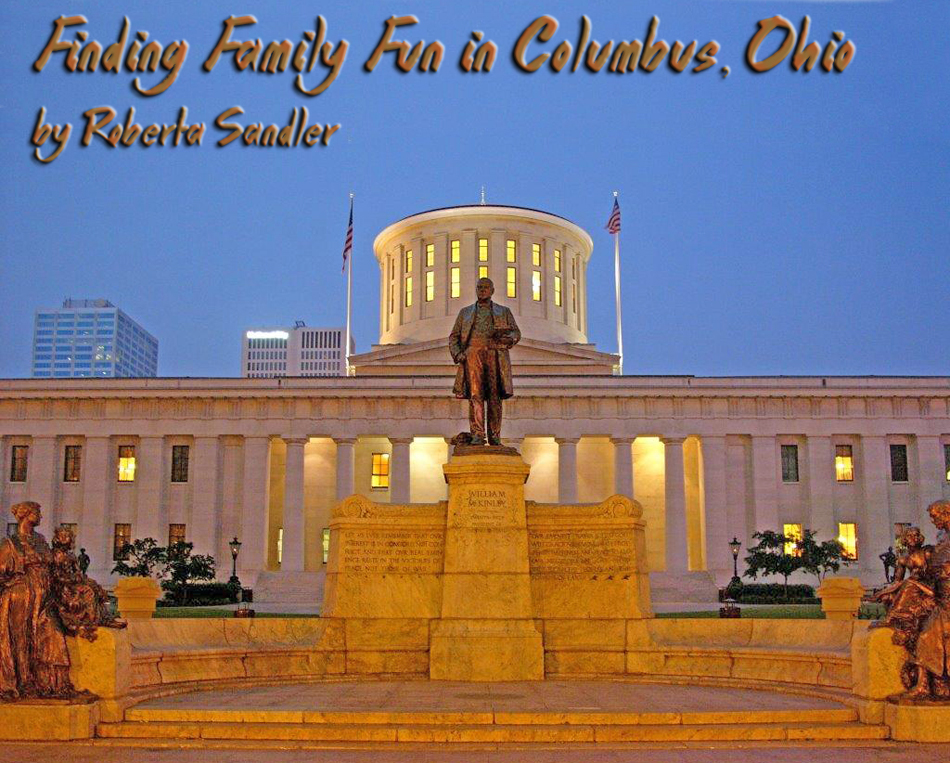 Columbus is such a lively city with so many family-friendly attractions and cultural venues that it easily finds a place on the list of best American cities to visit.
For kids, the first place for fun is the Columbus Zoo. Home to 7,000 animals, it has earned a reputation as the number one zoo in the United States. That may be due to the popularity and promotional efforts of its former director, Jack Hanna.
Grab your grandchild's hand and hop onto a train, tram or boat inside the zoo, so that you can circle areas that represent different regions and the animals specific to those regions. The zoo's Polar Frontier is home to the arctic fox and polar bears. Reindeer and bison roam the zoo's North American region, and koalas and kangaroos populate the Australia region. Not every zoo features such animals, so take advantage of this experience.
Columbus Zoo and Aquarium.
Photo: courtesy of Experience Columbus
Take a free guided tour of the Classical Revival-style Ohio Statehouse. Completed in 1861, it was, at the time, the nation's largest state capitol. If your school-age grandkids aren't impressed by the Rotunda's interior dome and stained glass skylight, they might be interested in the Civil War-era cannons on display, or the fact that Abraham Lincoln's body lay in state in the Rotunda en route from Washington, D.C. to Springfield, Illinois.
Want to see the world's only topiary interpretation of a painting? A topiary is a shrub trimmed and shaped in an ornamental manner. Bring your grandkids to The Topiary Garden in Old Deaf School Park in downtown Columbus. They'll be amused by the topiary recreation of Georges Seurat's painting, "A Sunday Afternoon on the Island of La Grande Jatte." The painting is so famous, it inspired a Tony Award-winning musical.
At the park, a large plaque shows what the actual painting looks like. It enables visitors to see the similarities between The Topiary Garden and the scene in the painting. The garden is "a landscape of a painting of a landscape" in a lush green setting.
Amid the garden's trees and pond, which represents the River Seine, there are 54 topiary people, eight topiary boats, three topiary dogs, a topiary monkey and a topiary cat. (But no partridge in a pear tree!) The largest figure is 12 feet tall. Like the figures in Seurat's painting, the topiary "women" wear Victorian clothing; the "men" wear top-hats.
The Topiary Garden Photo credit Roberta Sandler
Referees, coaches, lifeguards, traffic-control police officers -- they are among the people who rely on whistles. You can mention this when you take your grandchildren to the American Whistle Corporation in Columbus.
It is the only American manufacturer of metal whistles. A tour guide shows how a whistle works and how it is made. It begins with a strip of brass. Why brass instead of steel or plastic? Because brass amplifies sound and has excellent resonance. As for that little ball inside the whistle, what keeps it from getting stuck? Why does a whistle's length control the sound of a whistle? You'll find out, and you'll get a free whistle to take home.
Get tickets for a show at the Palace Theatre or the Ohio Theatre. Both theaters host Broadway Across America shows, touring artists and artistic events. The decor of these theaters is a show in itself, especially The Palace's giant chandelier and grand staircase in the spirit of France's Palais de Versailles, and the Ohio Theatre's 21-foot-high chandelier and Spanish-Baroque architecture and design.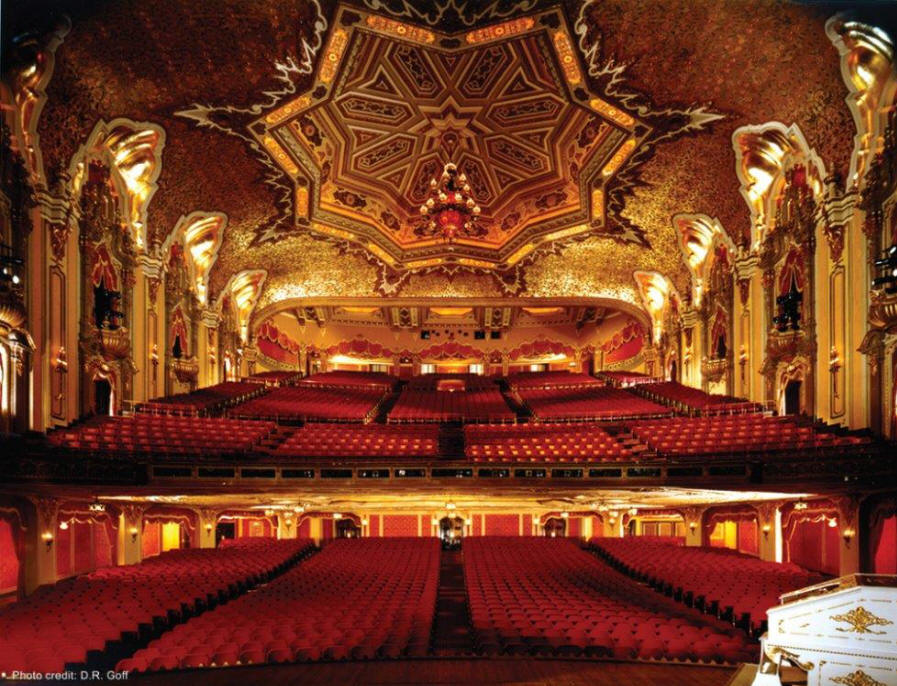 Ohio Theatre in Columbus, Ohio.
Photo courtesy of Experience Columbus
Your grandchildren will love the collection of old televisions and TV equipment -- some of the TVs date to the 920s! -- at the Early Television Museum. It's touted as America's only museum of its kind. Watch your grandkids laugh when they see the first wireless remote control, a hand-held unit, made by Zenith. It was an oversize flashlight with an "on" switch. Remember console TV's like Philco, G.E., RCA, Dumont? They're here.
Kids can test their mental prowess at COSI (the Center of Science and Industry), home to 300 interactive exhibits as well as permanent themed areas (Ocean, Space, Gadgets, Life, Big Science Park, etc.) Kids can test their physical prowess at the Scioto Mile, 145 acres of parkland along the Scioto River. This urban oasis features the country's largest free outdoor climbing wall and a 15,000-square-foot interactive fountain. And lots of fresh air.
Expose your grandchildren to American history at Kelton House Museum and Garden. In 1852, merchant Fernando Kelton and his wife built a Greek Revival-Italianate mansion in Columbus that the abolitionist couple used as part of the Underground Railroad. The tour guide reveals a lot about the Kelton family, the runaway young girl they harbored and raised as a member of their family, and what life was like for them during the Civil War.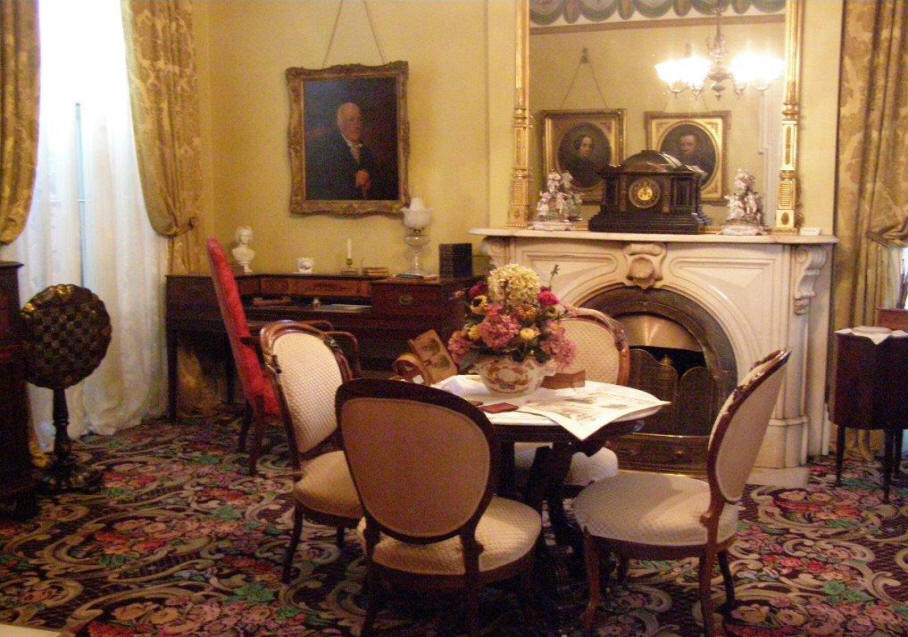 Dining Room at Kelton House Photo credit Roberta Sandler
Be sure you take your grandchildren to visit the neighborhood of German Village, which was settled in the mid-1800s and has been so beautifully restored that it is a step back in time. Order the sausage or bratwurst and potato soup at Schmidt's Restaurant und Sausage Haus; or order a picnic basket-worth of food from Katzinger's Delicatessen and have a picnic lunch at German Village's Schiller Park -- 23 acres of ponds and pathways.
While you're in German Village, step inside quaint shops that sell arts and crafts, home goods, chocolates and more, and do not miss visiting The Book Loft, because your grandkids will have fun exploring the pre-Civil War buildings that collectively are now 32 rooms filled with books, posters, puzzles, etc. You can easily spend a full day in German Village. It's more proof that Columbus is a great place to take the grandkids.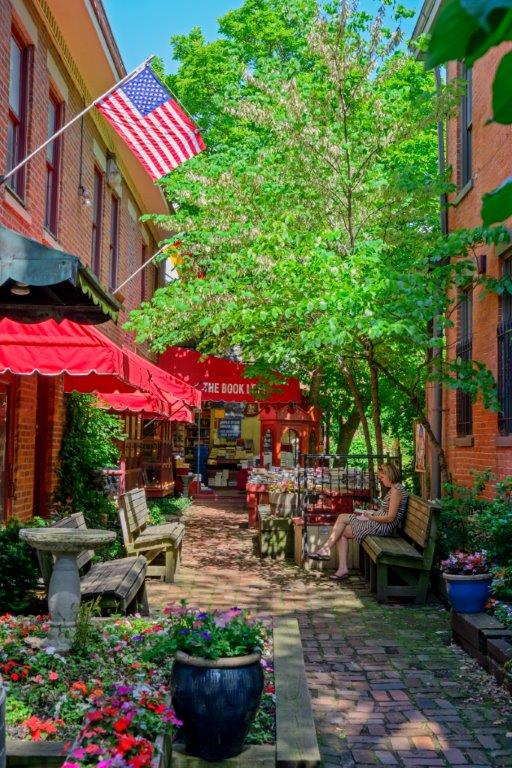 The Book Loft
Courtesy of Experience Columbus
For more information, contact
http://www.experiencecolumbus.com
American Roads and Global Highways has so many great articles you may
want to search it for you favorite places or new exciting destinations.