What kid doesn't like going to the circus? For that matter, what kid-at-heart doesn't have fond childhood memories of watching the animals and performers under the Big Top?
Sarasota, along the Gulf of Mexico on Florida's southwest coast, is referred to as the Circus Capital of the World and Florida's Cultural Jewel, and that's why it's such a wonderful destination for grandparents and their grandchildren.
John Ringling and his four brothers founded a circus bearing their name and later purchased another circus to create Ringling Brothers and Barnum & Bailey Circus. In 1927, the brothers made Sarasota the winter headquarters for their circus.
Sarasota's huge circus connection equals lots of attractions for younger and older generations to visit. At the top of the list is the Circus Museum which is one of several structures located on the 66-acre John and Mable Ringling Estate.
Ringling Museum of Art.
Peanuts and cotton candy, the Ringmaster, trapeze artists, clowns, bareback riders, upright elephants, tigers doing tricks to the whip-crack of their animal trainers, hand-carved wagons, and those artwork-like circus posters advertising The Greatest Show on Earth -- the Circus Museum brings them to life via exhibits, artifacts and memorabilia.
You haven't seen a circus from beginning to end, lengthwise and width-wise -- and neither have your grandchildren -- until you see one amazing, incomparable sight at the Circus Museum. It's called Howard Brothers Circus Model, a miniature replica of Ringling Brothers and Barnum & Bailey Circus.
The Howard Brothers Model, miniature circus.
This largest miniature circus in the world (1/4"-to-the-foot scale) is the creation of Howard Tibbals, a Tennessee philanthropist who constructed eight tents, 152 wagons, a 57-car train, 800 animals and 1,300 circus performers and workers including performers who move about. Everything is tiny and exquisitely detailed. This miniature circus takes up 3,800 square feet of space; you and your grandkids can spend hours looking at it.
Touring a historic house may not sound exciting to youngsters, but Ca' d'Zan, the Venetian Gothic mansion in which John Ringling and his wife Mable lived during the 1920s, is an exception. Children taking the guided tour will be awed by how rich and powerful Ringling was, thanks mainly to the wealth his circus generated.
Topped with a Belvedere Tower and designed to resemble the grand homes of Venice, Ca' d' Zan looks like a 56-room palace full of ornate furnishings, balconies, chandeliers, tapestries, coffered ceilings and, like something out of "The Great Gatsby," a dramatic terrace overlooking Sarasota Bay. John and Mable hosted parties on the terrace. A few steps below, Ringling would launch his gondola to take Mable for rides on the bay.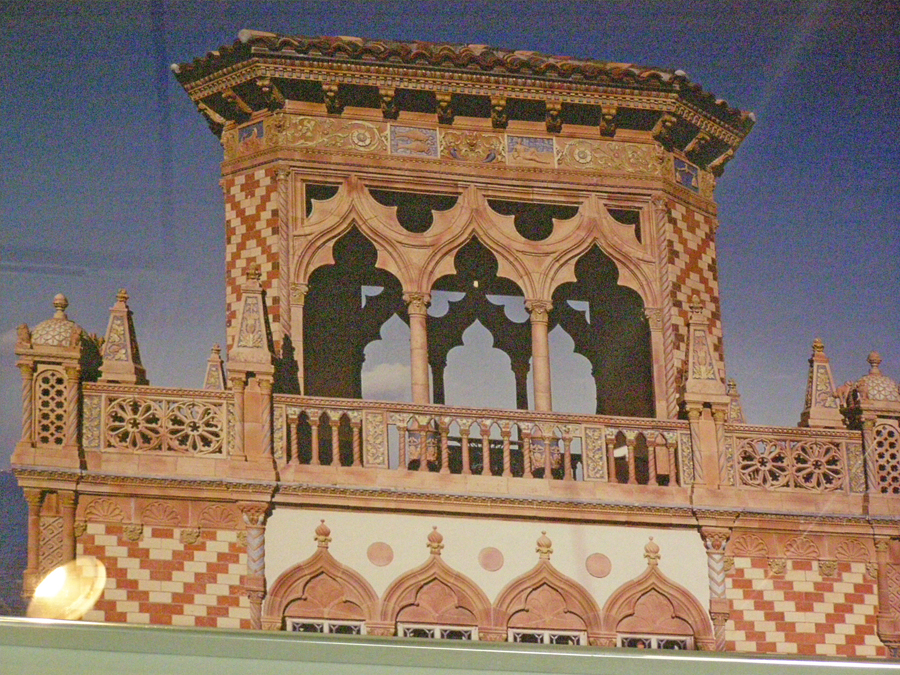 The Belvedere tower of ca' d' zan, John and Mable Ringling's mansion.
John and Mable were avid art collectors. Aside from furniture, they bought loads of paintings, statues and objets d'art during their European travels. Today, much of the artwork fills the John and Mable Ringling Museum of Art, which is the State Art Museum of Florida. It is located at the Ringling Estate.
Although kids and teens may yawn at the prospect of going to an art museum, what they will come away with is, at the least, a close-up view of the work of the Old Masters. Of the paintings John and Mable collected, some individually cover almost an entire wall. There are paintings by Rubens, Velasquez, El Greco, Titian and many other painters.
The art museum's courtyard is beautiful, not only for the palm trees and plantings, but because of the statues, especially along the upper perimeter of the courtyard, where copies of marble statues of Roman and Greek gods and goddesses stand like sentinels. The real focal point is a copy of the statue of David, which is at the end of the courtyard.
Legend says that John Ringling built St. Armand's Circle in downtown Sarasota so that Mable wouldn't have to schlep to Palm Beach to do her shopping. Upscale shops and cafes fill the circle. If you're old enough to remember names like Emmett Kelley, the Flying Wallendas, Gunther Gebel-Williams and P. T. Barnum, stroll along the Circus Ring of Fame -- in-ground plaques surrounding a small park at St. Armand's Circle.
Take the grandkids to Marie Selby Botanical Gardens. This 14-acre attraction is a delight for all ages, from the orchids and Koi Pond to the Ann Goldstein Children's Rainforest, an interactive, elevated rainforest display. Kids can climb on the powerful roots of a 100-year-old banyan tree, see plants that grow on rocks, walk across a rope bridge and enjoy nature-themed arts and crafts at the Kids Corner, etc
There's something fishy about Mote Marine Laboratory & Aquarium, which is a good thing, because you and your grandkids can take a close look at sharks, dolphins, manatees, sea turtles, stingrays and eels that are among 100+ marine species here. The aquarium features touch pools, viewable working labs and high-tech interactive exhibits. Want to have some ichthyology fun? Tour the Seahorse Conservation Lab.
You probably don't think of Sarasota as Amish country, but yes, Pinecraft is an Amish (and Mennonite) community in Sarasota. Treat your grandchildren to breakfast or lunch at Troyer's Dutch Heritage Restaurant in Pinecraft. The Amish-style, fresh-from-scratch food choices - the broasted chicken and homemade pastries are yummy -- earn a "thumbs up." The upstairs gift shop sells Amish jams, cookbooks, handmade jewelry, etc.
A word about the beaches. Sarasota's beaches, from Siesta Key to Lido Key to Longboat Key, certainly are in the "family fun" category. They're clean and beautiful. When it comes to traveling with your grandchildren, you'll be looking for family-friendly activities and attractions. Sarasota doesn't know how to disappoint.
For more information about Sarasota: visitsarasota.org; (941) 706-1253.
American Roads and Global Highways has so many great articles you may
want to search it for you favorite places or new exciting destinations.