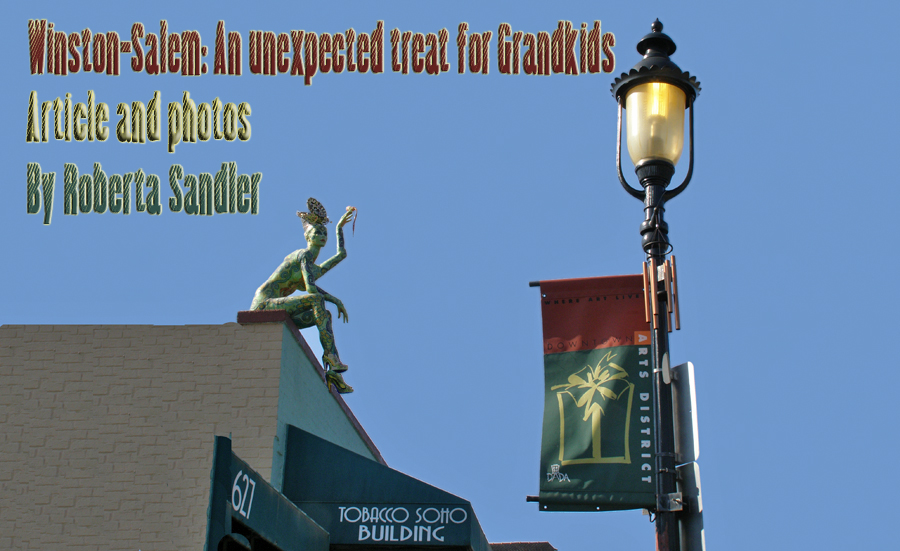 Who would have guessed that Winston-Salem is a great vacation destination for grandparents and their grandchildren?
With a population in excess of 235,000, several college campuses, an active arts scene, an array of great restaurants and a collection of fun attractions, Winston-Salem, located in the center of North Carolina (the Piedmont Triad), has vitality, charm and ample diversions for older and younger generations to mutually enjoy.
Few of us know much about Moravian history and culture. Are Moravians as aloof and stone-faced as the Pennsylvania Amish seem to be? No. At kid-friendly Old Salem Museums & Gardens (a Winston-Salem historic district), you'll discover that Moravians are warm, outgoing and welcoming, and their customs are intriguing.
Old Salem Museums and Gardens
In the 1700s, Protestants living in what is now the Czech Republic founded the Moravian denomination. Many of them made their way to Pennsylvania and eventually to Winston-Salem, where they settled on a tract called Wachovia. Theirs was a hard-working, industrious and close-knit community. It still is.
Moravians have always believed that men and women are equal. They refer to each other as Sister or Brother. Indicative of their sense of order, their hillside burial ground, God's Acre, is composed of sections called "squares," with married men and widowers buried in one square; married women and widows buried in another square; and single men, single women, boys and girls buried in their designated squares.
An 18th-century home in Old Salem
Old Salem, a National Historic Landmark District, is a living history museum. Artists come here to paint outdoor scenes like the gardens and the vintage wood and brick buildings, but even an old water pump or a doll that a Moravian craftswoman fashioned from pine reeds, may get captured on canvas. That's part of Old Salem's appeal.
| | |
| --- | --- |
| | |
| An artist captures Old Salem on canvas | Moravian dolls made from pine reeds |
Many of the homes are open for tours. Inside, costumed men and women work at various trades – tailoring, baking, blacksmithing, shoemaking, etc. A young man, dressed as a Moravian, sits pow-wow style and guides a sewing needle into white cotton material. He is sewing a sleeve onto the shirt he is making.
A cooking demonstration at Old Salem
At the Single Brothers' house (ca. 1769) visitors can view pottery and woodworking demonstrations, and at another house, a woman wearing Moravian attire gives a cooking demonstration. She explains that the whisk she is using is one that she made from short reeds she tied with copper wire. That's how Moravian women made whisks long ago.
Your grandkids will want to linger at Winkler Bakery, a wildly popular business since 1800. Here, Sister Nancy, a cheerful, chatty, middle-aged woman wearing a cap on her head and an apron over her long dress, sells goodies freshly baked in an oven that is heated with wood, just as it was 200 years ago.
The aroma of those newly-baked desserts is tantalizing, and while Grandma may have her eye on that beautiful loaf of bread, her grandchildren will be hungering for the Moravian cookies and sugar cakes which, frankly, taste heavenly. How can any child resist when Sister Nancy holds out a tray filled with goodies and asks, "Would you like a cookie? Go ahead. Have two." (I doubt that grandparents could resist, either.)
Sister Nancy at the entrance to
Winkler's Bakery in Old Salem
Sugar cake for sale at Winkler's bakery in Old Salem.
When kids wander through the public gardens of Old Salem, they grasp that the herbs and crops that Moravians grew here long ago, were meant for sustenance. At The Tavern in Old Salem, built in 1816 as an annex to a 1784 tavern (George Washington slept there), the wait-staff wears Moravian attire while serving locally-farmed food inspired by 19th-century Moravian families' recipes. The Moravian chicken pie is a popular entree.
When kids tour the two dozen galleries in Old Salem's Museum of Early Southern Decorative Arts, they see furniture, textiles and ceramics that Southern artists and craftsmen made long before the Civil War took place.
These exhibits help children to understand that in an era before the Industrial Revolution, before supermarkets and department stores, people had to be self-sufficient in order to survive, not only by growing their own food, but by making their own clothing and household goods. In that sense, Old Salem is a wonderful educational experience.
Just for fun, bring the grandkids to Mast General Store, an old-time mercantile shop founded in 1883. Watch them bypass the gear, clothing and footwear and beeline for the children's games, toys, books, dolls and stuffed animals, and the barrels overflowing with more than 500 current and old-fashioned candies.
At SciWorks, there are planetarium shows plus exhibits that expose young visitors to the principles of motion and force. One exhibit introduces kids to architectural design.
Remember Tom Hanks dancing on huge piano keys set into the floor in the movie "Big"? Your grandkids have the same opportunity at the Children's Museum of Winston-Salem. They can also climb a "beanstalk," peer at glass-enclosed fish and wildlife and pack and move Krispy Kreme doughnuts along a conveyor belt in the child-size doughnut factory. (Winston-Salem is headquarters for Krispy Kreme Doughnuts, Inc.)
Speaking of something sweet, at Black Mountain Chocolate in the city's Downtown Arts District, you and your grandchildren can observe the entire chocolate-making process from cacao bean to chocolate bar, and then reward yourselves with a yummy confection.
A bar of Black Mountain Chocolate
Winston-Salem is the gateway to the Yadkin Valley, North Carolina's wine-growing region, so head to Divine Llama Vineyards in nearby East Bend. Your grandkids won't be sampling wines in the tasting room, but they'll be excited, and so will you, by going on a llama trek with a llama -- a leisurely two-mile hike along pasture and vineyard.
(for more on Yadkin Valley)
llama trekking at Divine Llama Vineyards
The llamas are not skittish. Some of them literally get in your face, an innocent, funny gesture of curiosity and friendliness. They look like camels except that they're cute and furry, and they like being patted. This is one adventure that grandparents and grandkids will long remember.
up close and personal with a llama
Where to stay in Winston-Salem? Try something wonderfully different. Book a room at the Graylin Estate, formerly the residence of Bowman Gray, who was the son of a co-founder of Wachovia. Gray was president of the R. J. Reynolds Tobacco Company.
Gray's Norman Revival-style limestone home was designed to resemble a British manor house. Built circa 1932, and surrounded by sprawling grounds, it is now an 86-guestroom conference center-hotel with Medieval Period, Georgian Revival-style and Italian Renaissance decor and Louis XIV paneling. No wonder Oprah Winfrey stayed at Graylin.
Graylin has perks for its pint-size guests. They can frolic at the pool or rent bikes to pedal around the pathways. Best of all, they'll enjoy those pre-bedtime trips to the 24-hour snack kitchen for the complimentary stash of puddings, ice creams and cookies.
Biking around Graylin with the grandkids
Graylin is reminiscent of a castle, right down to the knight in the front hall – okay, it's just a suit of armor – but I suspect that Graylin is where Auntie Mame would choose to stay with her young nephew Patrick if she were visiting Winston-Salem with him. Think of Graylin as exposing your grandchildren to the good life!
For more information: