Cross Southern Hospitality and down home food with Big Apple chic and you get Frog Hollow Tavern in Augusta, Georgia.
Frog Hollow Tavern, a fun gathereing place
Food is mostly locally grown, superbly cooked and beautifully presented. The atmosphere is similar to a neighborhood upscale pub. You could stop in here after work or to celebrate a special occasion and be equally happy with your experience.
On my visit the salad was delicious as well as looking like a work of art. My pork chop was huge and cooked to a prefect medium. It was served with a generous helping of mixed greens and sweet potato. For dessert, I couldn't resist the Chocolate Flourless Torte. OMG! it was great.
If you can't find a wine you like here, you just don't like wine. There are over a hundred choices, most of them focusing on sustainable, organic, or biodynamic vineyards. But if you really don't like wine, that's okay. There is a complete bar. You can have any mixed drink you desire./span> One of the tavern specials is the smoky, barrel-aged Manhattan, classic bourbon cocccktail that is aged for 45 days in a whiskey barrel before serving, then strained and poured. Frog Hollow Tavern also sells the same style barrel-aged Rob Roy, Martini and Negroni. Chef Wight explained,. "It's a newer technique that people are using mostly in larger cities. It's a popular choice here,"
Dessert as art
Chef Sean A. Wight was inspired when he opened Frog Hollow Tavern. Chef Wright is a graduate of the Culinary School of the Arts Institute in Ft. Lauderdale, FL and has worked in several four star restaurant. He is recognized in the first-ever industry peer review of the nation's top chefs, "Best Chefs America."
He wanted Frog Hollow Tavern to be "affordable yet stylish dining." This is accomplished by giving guests a choice of small plates or regular dinner size and by using the freshest food available. Most of it is grown or produced nearby.
One hunky pork chop
For instance, the goat cheese used in some salads comes from Split Creek Farm is located in the South Carolina foothills of the Blue Ridge Mountains. The menu contains a lot of dishes served with grits, such as theCountry Ham & Gruyere Anson Mills Grits Fritters, SC Collard, Dilly Bean, Honey Chow Chow; the House Smoked Andouille Sausage, Anson Mills Organic Grits, Caramelized Vidalias, Tavern Mustard;
and the Wild Caught Shrimp, Vidalias, Pork Lardons, House Made Andouille & Local Tomatoes Over Organic Anson Mills Grits --this is the South, remember. That grits is stone ground by Anson Mills just across the Savannah River in Columbia, South Carolina.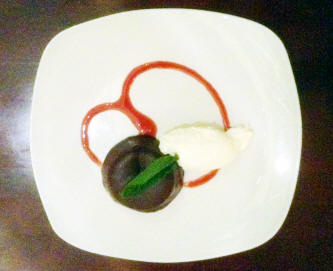 OMG
Of course, Vidalia onions come from nearby Vidalia Georgia.
My pork chop was so good because it came from Fudge Family Farms where hogs are raised outdoors with no antibiotics and have room to forage. I think you get the idea but to really appreciate Frog Hollow Tavern, there is only one way. Go dine there yourself.
For more info: