Trabue:
Doubly Delicious Dining
Trabue in Punta Gorda, Florida is where Paris, France meets Cracker Florida. Chef Keith Meyers creates a fascinating array of dishes where he combines the best of traditional French style cuisine with Florida's local offerings.
Chef Meyers' Mussels Provencal

A perfect example was our appetizer, the Mussels Provencal. It's a true French dish but here the delicate mussels are topped with gulf shrimp and flavored with tiny Florida cherry tomatoes pieces with a hint of citrus and combined with a healthy serving of mahi-mahi.

The mussels, shrimp and mahi-mahi come from nearby waters and the tomatoes and citrus are Florida grown.

For the main course we enjoyed etouffee made with gulf shrimp and stone ground grits with an andouille type sausage. An unusual dish for a French trained chef perhaps but Chef Meyers explained, "I don't like to be boxed into one cuisine. This is my take on French with a regional southern flair."

Chef Meyers' take on such dishes is what makes Trabou an exciting culinary destination. He combines the best French techniques with his use of ingredients from local farms and fisheries as much as possible.

----------
Chef Keith Meyers displays his Mussels Provencal

Chef Meyers learned his craft at the French Culinary School in Manhattan. Then for eight years he honed his craft in the Big Apple. He has been graded by some of the biggies. Right out of culinary school he worked for a French Bistro. He was shocked when Emeril Lagasse ordered a strip steak medium and Martha Steward had her pork chop well-done. He worked as sous-chef at a celebrity studded venue on Park Avenue in New York called Lever House Restaurant, voted one of the top five new restaurants in 2005.

I asked if he had cooked from many celebrities whole he was at Lever House Restaurant. He said "Robert De Niro ate there. A lot of New Yorkers are very eccentric. They are not impressed by celebrities. But there was one person that everyone could not stop looking at. That was Dolly Parton. She was the nicest person. Really down home. A lot of celebrities are too good to talk to ordinary people. Like Robert De Niro. He wouldn't speak directly to his server. He told his wife and she repeated the order to the server."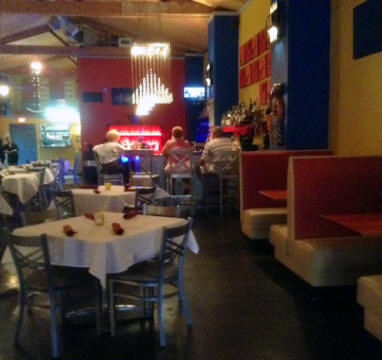 Interior of Trabue Restaurant

We finished off the evening with dessert, a

light caramel topped Tres Leche Cake. Not overbearing but tasty. Just enough after the large meal.

Trabue has a extensive wine list and a complete cocktail bar with lots of very Florida drinks.

The setting fits the food. It has a split personality. You have a choice of dining inside in a modern setting. The vivid primary color scheme is enhanced by sparkling blue-lit bar. The chandelier and the colorful art combine to made the setting cozy and smart. The loft dining table looking down on this scene is a perfect place for people watchers.

For a more relaxed, romantic setting you can dine in an enchanted garden. Colorful tables and chairs are ensconced in a fairy tale forest entwined with tiny lights. This setting is timeless Florida at its best.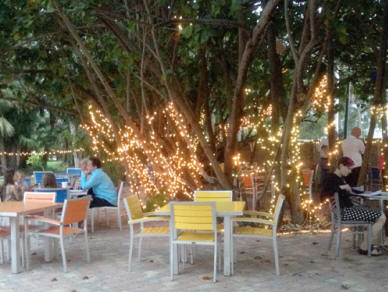 Enchanted Garden at Trabue Restaurant

Trabue takes its name from the original founder of the city, Colonel Isaac Trabou. who founded the town of Trabue In 1884. Later the town was renamed Punta Gorda.

For more info:

http://www.trabuerestaurant.com/