It's hard for any restaurant to stand out at the head of the pack in a city filled with outstanding restaurants like New Orleans, Yet, if you ask the experts to name some of New Orleans best restaurants, Antoine's will always be on the list. It's been way up there for a long time, 175 years of French Creole culinary traditions to be exact.
It's the oldest family owned continuously operating restaurant in America. They have been featured on shows like FoodNation with Bobby Flay and the Travel Channel and named one of the Top Ten Restaurants by both Food Network Magazine and Washington Post. Southern Living ranks them even better and names them one of the top five in New Orleans.
When I visited on a recent press trip, we were greeted by Rick Blount, current CEO and great-great- grandson of Antoine's founder, Antoine Alciatore. While we were seated in the Rex Dining Room being pampered by an army of servers, he told us a little of the history of Antoine's. He pointed out New Orleans was wealthy and the food traditions there grew very differently. Cajun cooking was all about home cooking and doing it in one pot. Creole cooking was about staff cooked food. It's about sauces and combining different spices and flavors. The Creoles were mostly French but there was a huge influence from Spanish, Italian and German. These wealthy families brought their ideas about cuisine with them. When they arrived they found an abundance of food but very different kinds than in Europe. Africans, who did much of the cooking for wealthy families, also had their own traditions about food. All of these cultures combined in New Orleans to create the Creole style of cooking.
Rick's great-great-grandfather, Antoine, opened a small exclusive pensione, a European style hotel and restaurant. He had a large family and he and his wife operated the small facility profitably. He had a great influence on this new style of Creole cooking. Antoine created a great variety of sauces. As Rick stated, "New Orleans must have been ready for that because Antoine became successful almost at once."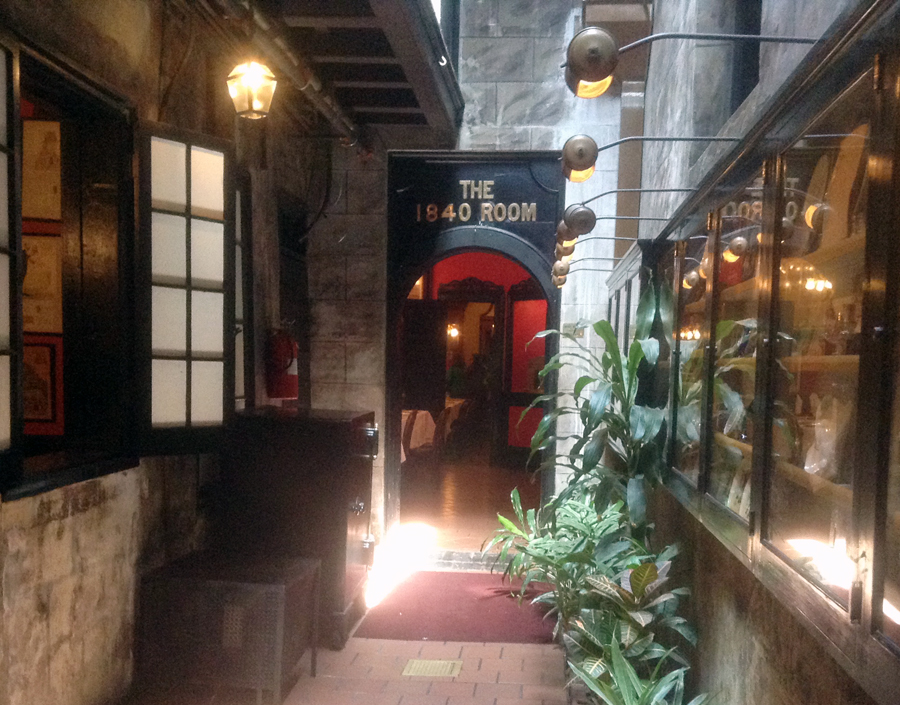 Jules, one of Antoine's sons, became the second generation to operate Antoine's. His mother operated the restaurant when Antloinie returned to France to die and be buried in his native county. Jules' mother sent him to Marseilles and Paris to apprentice to the masters. He returned and eventually took over operating the restaurant from his mother. Like his father he was a continentally trained chef. He was the one who invented Oysters Rockefeller, so named for the richness of the sauce. Jules married well, a plantation owner's daughter. He then bought up all the real estate around the original business. By this time the little pensiones like Antoine's were going out of style. Jules didn't like the hotel part of the business at all. Rick explained, "Jules had a different vision for Antoine's. He was a very good looking man and he liked himself a lot. He made Antoine's a celebrity spot. All the singers, and actors and prizefighters who appeared at the French Opera House, the Superdome of that time, could be found at Antoine's."
When the helm passed once again, this time to Rick's grandfather, Roy Alciatore, Antoine's changed again. According to Rick, his grandfather was "very different from Antoine and Jules. Jules was this big personality, a tall handsome man. Roy was Jules youngest son, short and a geek. His dream job was to broaden the technology of the time. He thought the Marconi telegraph was the greatest thing ever invented. He could type in on a keyboard and find out how the grapes were growing in France six months before he could get a letter back and forth. So he was at the right place at the right time for the business. Roy made Antoine's fine. Jules made Antoine's famous. Roy took Antoine's sort of Wild West Show and turned it into fine dining."
Rick came to work at Antoine's just after his grandfather died. The fourth generation running the shop there were his cousins William Guste, Jr. and Roy Guste. The staff liked Rick a lot and told him countless stories about his grandfather. But as he put it, "my cousins didn't like me at all. They said I was like a 'bull in a china shop.' I was politely asked to leave."
Then in 2004, there was a family crisis and Rick was on the board. As he tells it, "I made some sort of a smart-alec remark at a board meeting and someone said, 'Well, if you know so much about it why aren't you running the restaurant?' I replied, 'cause no one ever asked me.' That's how I got here."
Judging by the food, atmosphere and service, Rick is doing a fine job of being the fifth generation at Antoine's. They ran into some tough times when Katrina hit just a few months after Rick took over but they have come back stronger than ever.
Meanwhile as we were listening to the fascinating history we were feasting first on a series of appetizers. My favorites were Oysters Rockefeller and Pommes de Terre Souffles, Antoine's Classic fried puff potatoes, another of their specialties.
Of course we were treated to warm bread and butter and a tasty salad of mixed greens and tomatoes slices topped with creamy chicken salad crisscrossed with crispy bacon strips.
For the main course we enjoyed Filet with Marchand De Vin Sauce, a grilled center cut of beef tenderloin topped with Antoine's Marchand de Vin sauce and mushrooms.
Then our waiter, Charles Carter, brought in the pièce de resistance, a gorgeous Baked Alaska. To give you an idea of staff loyalty, Charles had been with Antoine's for about 17 years. He is a third generation waiter, following in the footsteps of his great uncle and his dad as well as one of Charles's brothers. Chef Michael Regua, who has been at Antoine's 30 years, outdid himself with our lunch.
Being a fantastic restaurant is enough to draw visitors but there is more to the story. Antoine's is almost a museum of his own history. Each dining room has a story. We dined in the Rex Dining Room. It is filled with elaborate costumes, crowns, scepters and other memorabilia of all the past royalty of Rex. Rick told us it was dedicated by Roy Alciatore in 1942 with the King of Rex as a visiting celebrity.
Even the architecture is a story. "The room is a courtyard infill that went between the back of one set of buildings and the stone horse stalls of another building on completely different lots. The room is on three different lots. People those days did things that today we would think were absolutely ludicrous. But they happened. A lot." Rick explained, "If you go to get a building permit, what lot do you say you are on? In those days, if you owned the property, no one cared whether you built across lot lines."
He told another story about his granfather deciding after prohibition to build a wine cellar. They went through a whole bunch of buildings and ended up with a 165 foot wine cellar as a way to celebrate and say "you can be proud of booze again." Rick finished the story with the comment, "We ended up with a window into the wine cellar on Royal Street that nobody looks into. I thought for sure someone would break into it but no one pays any attention at all."
Thomas, one of Antoine's bartenders led us around the old building. We started in the Annex, the first room to be added after the original dining room. It was originally a horse stable. It doesn't resemble a stable in any way now. There are pictures of some of the famous guests ranging from General Patton and President Roosevelt to Vanna White even Pope John Paul II. Patton's claim to fame here is he ate 24 Oysters Rockefeller, sauce and all. Since it is such a problem to move the Pope around, he asked for Antoine's to cater to the Seminary Building. This was the first time ever that Antoine's catered outside the restaurant.
Next we visited my favorite,The Mystery Room. Between the two rooms, you can see where the two sections were joined. You pass the famous ashtray collection. Roy would travel with a bunch of Antoine's ashtrays and trade with other places. Then people would send ashtrays. It got to be the thing to have your ashtray on display at Antoine's.
The Mystery Room is entered today through an archway but during prohibition, it was reached differently. They entered through the ladies room and down a hall where the broom closet then opened into another hallway that opened into a place where a door led to the Mystery Room. Obviously this was not advertized but as Thomas said, "People in the know, locals and people who had a regular waiter, knew about it. They would come in here and get their alcohol in a coffee cup and then the Maître d' would lead them back to their tables. If anyone asked where the alcohol came from they would say 'It's a mystery to me.' Thus the room got its name"
We visited the Dungeon Room which is the oldest part of the building and once was a Spanish dungeon back in the 1760s. Then on to the 1840 Room, designed like a dining room from a wealthy 19th century home, which is used by the Alciatore family for their private dining. The room is filled with family portraits and special memorabilia. One of the neatest artifacts here are one of the Edison light bulbs which was sent to New Orleans shortly after Edison invented them,
Proteus Room is a queen's krewe. The king of this krewe is always kept secret. Their invitations are the ultimate indicator that the recipient had been accepted as part of New Orleans aristocracy.
We went through the Escargot Room used by an exclusive gourmet club, Societe d'Escargots, which meets here monthly. There is also the Tabasco Room, done in bright red in honor of the spicy Louisiana product, and the Hermes Bar, once used as a dining room but more recently converted to a bar.
Naturally, we got a tour of the wine cellar. It is not to be missed. I have never seen another like it. It is actually a wine alley and you can see the window Rick talked about. Thomas told us, "After Katrina, the insurance paid between $800,000 to a million and they were paying at 20 cents on the dollar. It is about half a football field long and holds about 25,000 bottles of wine. Since Katrina, they have been trying to build it back up but some of the wines lost are difficult to replace. Some of the wines sell for as much as $18,000 a bottle."
Naturally, there are some ghost stories at Antoine's but I am telling those in the Chuckwagon Roundup feature of haunted restaurants so check here. Antoine's is celebrating their 175th birthday all year so go join in the party fun soon.
For more info: