Pizza was long a favorite in Italy's poorer sections. In the early 18th century Italian emigrants brought their favorite comfort food to the United States but it remained mostly a local dish served in Italian communities. Pizza popularity grew with the returning WW2 soldiers who had occupied Italy and discovered pizza as a welcome change for rations during the war. For the first time, restaurants serving pizza and chains specializing in the delectable pies sprang up outside of the old Italian neighborhoods and were welcomed with open arms. Here are a few fantastic pizza places I have visited lately.
Luigi's in Augusta, Georgia
When I visited Luigi's I expected to find great Greek specials. What I was happily surprised to find was their fantastic pizza. I was curious as to why when original founder, Nicholas "Papou Nick" Ballas, opened Luigi's in 1949, he billed it an "Italian Restaurant." It's still owned by the Ballas family. Debi Ballas, wife of Nick's grandson, Chuck, explained that people were not as used to Greek food then, so Nick felt the Italian food with a sprinkling of his native Greek dishes would work best. Today, it is Augusta's oldest Italian Restaurant so he must have known what he was doing.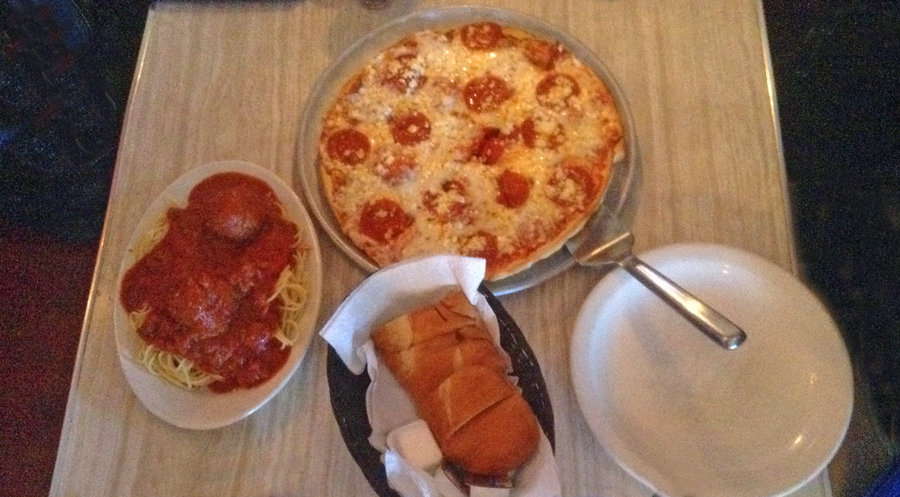 After Nick passed away, his son Chuck, Sr. and his wife, Penny, took over. Since Chuck was a big fan of Augusta's primary sporting event, The Masters, he began giving away tickets to friends and customers. Many of the golfers dined at Luigi's. Tradition is still a big part of Luigi's. A portrait of Nick hangs in its place of honor over the front door. A bulletin board of Masters Badges are placed in a prominent place neat the front of the restaurant.. Other traditions are maintained. The pizza sauce served is still the original recipe from Nick's family. Golfers as well as famous visitors still come to Luigi's. Debi told us golfers still come to dine there. "We're open six days a week but during the Masters, we open on Sundays too." Pictures of the golfers who had dined there adorn the walls. Debi is proud to mention the golfers who frequent Luigi's, "there's Ben Crenshaw, John Daly, Bob Murphy, Fred Couples, Davis Love III and Tom Kite. Jack Nicklaus family dines here every year but he cannot go our easily without being recognized." Some of the other celebrities who have dined there are Jackie Gleason, Dan Marino and Randy Quaid.
The pizza there is good enough to explain the restaurant's longevity. In fact, they bill themselves as "Home of Augusta's Original Pizza Pie." Their traditional pizza has a Greek twist. It is topped with pepperoni, homemade Italian sausage, mushrooms, bell peppers, onions, tomatoes and feta cheese. You can order a traditional Italian pizza with a variety of the usual toppings. Either way, they will come to your table hot and loaded and oh so good.
Pies and Pints in Fayetteville, West Virginia
I usually don't write about franchises but Pies and Pints is different. They are just starting a franchise and have no desire to cover the globe with cardboard-style frozen pizza. Just the opposite; owners David Bailey and Kimberly Shingledecker want to bring the freshest and most original pizza's to more people. As I write they have eight locations over West Virginia, Ohio and Kentucky, not counting the original restaurant which will never be part of the franchise. I visited the original restaurant in Fayetteville, West Virginia and was blown away by the variety and originality of their pizzas.
Their pies begin with a homemade hand-tossed crust coated with garlic oil and a bit of kosher salt. Cover this with a generous amount of mozzarella provolone and your choice of tomato sauce–or not. From there, the sky's the limit. Pretty much anything you can imagine topping a pizza is available. Picture red grapes, gorgonzola and rosemary topping your pie. Maybe you are a seafood lover. If so the Thai Pizza is going to be your idea of heaven with shrimp, coconut and curry sauce. There are quite a few vegetarian choices. As I said, almost any combination you can think up is found here. All are delicious.
Manager, Angie Bard told us one of the things that make Pies and Pints different, "Everything is fresh. There is no microwave or freezer in Pies and Pints."
To compliment the pizzas, there is the other half of the name, "pints." You will find different choices in the beers depending on the locations because Pies and Pints tries to bring you locally brewed beers and ales and imports from all over the world as well as the usual big name beers. At the Fayetteville location some of popular choices come from Bridge Brew Works, a small local brewer. You'll also find cider and wine.
Lupi's Pizza in Chattanooga
, Tennessee
Dorris Shober opened Lupi's in 1996 as Chattanooga's first New York style pizzeria. She had no experience in the restaurant field or any other business but she had kids that were willing to test her recipes. Kids always know good pizza and they were right. Dorris still owns Lupi's when had grown to five locations in Chattanooga and the surrounding area.
Lupi's was voted best Pizza in Chattanooga by the Times Free Press's "Best of the Best" for the last five years, and Cityscope Magazine's "Best Pizza" for the past ten years. Customers continue to vote it the best by their regular attendance. Lupi's Signature Pizza is one reason why. Its tasty handmade crust is covered with tangy tomato sauce, dripping cheese, Italian sausage, roasted peppers and garlic, red onions, and fresh basil.
Lupi's believes the best ingredients are local ones. From the flour to the pork sausages and all in-between, the ingredients come from within a hundred miles of the restaurant. They are truly green. The leftovers and scraps go back to local farmers to help feed the same pigs that produce the sausage. That is one really great circle. The pies at Lupi's are another great circle.
Lennie's in Bloomington, Indiana
This truly unique restaurant grew out of Bloomington's Indiana University culture. As anyone knows. no one loves good pizza more than college students. Lennie Busch and Jeff Mease were among those students in 1980. Drawn together as students, as adults they married in 1983. Pizza was important in their lives from the beginning. Jeff already was the proprietor of another pizza place before the marriage. They opened Lennie's together in 1989. If this sounds like the start of a romance novel, what comes next is stranger than fiction. Jeff and Lennie divorced in the early 90's but continued their business partnership and have remained friends.
College towns always have pizza but Lennie's introduced the campus and residents of Bloomington to gourmet pizza. College relationships factored again into making Lennie's the best possible pizza when a former dorm mate of Jeff's, Fred Manion, came to work at Lennie's as chef almost 20 years ago. Not your average story but then Lennie's is not your average pizza restaurant. It is one of Bloomington's best and most popular ones./p>
To accompany the pizza, Jeff and Lennie with a great team established Bloomington Brewing Company, located next door to the restaurant, to craft the best possible brews to accompany that perfect pizza. For non-alcoholic choices try their root beer it ranks with the best I have ever tasted.
http://www.lenniesgourmetpizza.com/
Perillo's Pizzeria in North Salem, Indiana
This is as close as you get to Sicilian pizza unless you travel to Sicily. Damiano Perillo emigrated here from a small town in Sicily. He studied at a culinary school in Palermo, Sicily's capital. Damiano grew up helping his grandmother cooking in the family kitchen and it is a part of his life. He says, "Culinary to me is always love. It's something you carry in your blood."
Another thing that makes Perillo's Pizzas special is his love of fresh herbs and all natural cooking. When we visited, he recalled the wild oregano that grew in the mountains near his childhood home and why no other oregano is quite as good. To maintain that level of freshness, his family has a farm from which much of the produce used in Perillo's food is obtained.
You will find many other Italian foods at Perillo's but do have the pizza. You won't regret it. This pizza is real Sicilian. The salami is smoked salami. The cheeses are Parmesan, Mozzarella and he allows some Wisconsin cheese as well as the Sicilian varieties. As for the finished products, Damiano states, "Everything you see here, we make it here."
Be sure you arrive early for lunch if you want that authentic pizza because, as Damiano explains, "Every morning we make our Sicilian pizza dough and serve it until we run out. When we sell out, we wait until the next day."
When it comes to food, Damiano has some good old fashioned values. "I'm against fast food. It's bad for small businesses. It's bad for future generations. It's bad for the environment." When it comes to food, Perillo's may not be fast food but they sure have good food.
https://www.facebook.com/Perillos-Pizzeria-289450174426944/
American Roads and Global Highways has so many great articles you may
want to search it for you favorite places or new exciting destinations.