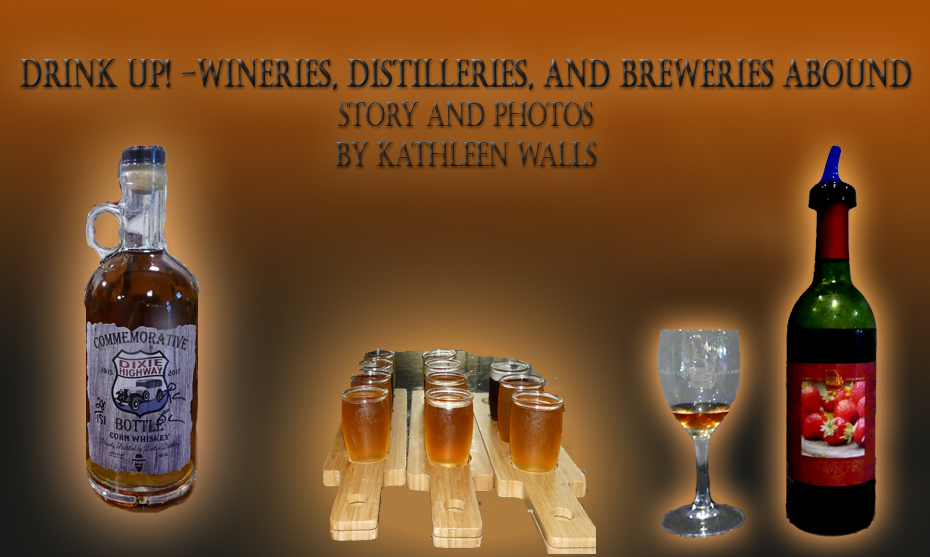 It seems like everywhere I go lately I find a winery, brewery, or distillery. Amazing how much of a back story there is on each one and how different the stories are. Here are some the latest I have visited.
St James Winery in St James, MO
St. James Winery ranks 14 of the top 100 most awarded wineries in the world. St. James Winery began in 1970 when Jim and Pat Hofherr began buying vineyards. They strarted small but today, they grow about 50% of their own grapes on about 1000 acres. The three Hofherr brothers all grew up in their parent's winery.
Peter Hofherr, second generation CEO, led us around the winery and regaled us of tales of growing up in the winery. He showed us how the operation went from his parent's modest 10k cases production to 225k cases now produced, making St. James the fifth largest winery east of the Rockies. In 1995 Bon Appetit named a St. James wine, Seyval, as one of the top 50 wines in the worlds.
Peter led us through the entire operation. They do everything here from crushing the grapes on to the bottling. Naturally, we got to sample a few of their wines. My favorite was a Moscato. It's a semi-sweet white with a crisp flavor blending nectarines, apricots and tropical fruit. Delicious!
"Missouri sort of skipped prohibition," Peter joked. "We had a large Italian population here that had come over from Arkansas. They had a lot of wine grapes growing here. They had Norton and Concord. At one time Missouri had grapes growing in over 47 counties and was the number one state producing them right before prohibition. " His dad learned about this in the 1950s when he was stationed and it influenced the decision to start the winery here instead of going to Sonoma.
Peter went on to tell us how they saw an increasing connection between wine drinkers and beer drinkers. In 2014 St James Winery joined in partnership with Public House Brewery. The resultant "fermentation campus" has been a boon for both parties.
He also told us a little secret. "We're planning on opening a distillery probably in 2018."
Josh Goodridge and Josh Stacy and their wives founded Public House Brewpub in Rolla, Mo in 2010. When they joined forces with St. James Winery it added a new dimension to both enterprises. When we walked over next door from St. James Winery we were met by Josh Stacy. He was busy checking controls on one of the vats.
Josh was justly proud of his new facility. He told us they now brew about 300 to 400 barrels per month where as in their earlier Rolla location they only did about 300 barrels per year.
Josh told of growing up helping his father, an award winning home brewer, bottle beer. He introduced his longtime friend Josh Goodridge to the craft. Both men were completely captivated by the art of brewing. When they opened the Rollo location, they brought their wives into the process. Josh is now the father of two kids of his own, Flynn now a school-ager and Nora who was just a few weeks old when we visited. Josh confined, "Flynn has Flynn's Irish Red so now I need to make a beer for Nora."
Another advantage of the collaboration is that Public House is now brewing some beers that are aged in oak barrels. He explained these have been used by the winery for first white then red wine so that most of the oak character is gone. He added "That is just what I want as I am not as passionate about the oak character as I am about the wine flavor it brings. This year we put out about a half dozen beers that were an infusion of beer and wine. We did a Moscato-Cream Ale, a Vignoles-IPA, Chambourcin- Hefeweizen, we took a lot of the varieties they grow here and we tried to figure out what beer they would work best with."
Public House is inventive in a lot of other ways too. They make a delicious hard apple cider and blend it with various other fruit. I tried some of the peach flavored and it was great. Their new Courtship Cranberry Ale is a first in their Neighbor Series created through the sharing of the cranberry juice used by St. James Winery to make their Cranberry Wine.
Their pub, The St. James Taproom, is intimate and cozy; the sort of place a lone woman would feel comfortable entering. Brandon Gregory, the bartender, made us all feel at home as he poured samples.
Another innovative collaboration is The Gardens at St. James between the two facilities where folks can enjoy a beer or glass of wine and some of either The Public House's farm-to-table food ranging from pub snacks to burgers, salads and sandwiches. On spring and summer weekends, there is an outdoor wood oven pizza kitchen serving delicious pizzas. You can play on bocce courts or a life-sized chess board or just sit and relax in this beautifully landscaped spot.
Folklore Brewing and Meadery in Dothan, AL
Folklore Brewing is relatively new in the brewing world. It's the brainchild of Jeremy Pate and although the brewery was opened in 2013, Jeremy has been home brewing since 1997. With a limited budget, Jeremy, with the help of his father, mother and sister, opened Folklore Brewing and Meadery on his 1960's era family farm.
Driving in to it was interesting. We passed old cars, piles of junk, old farm machinery, and a 1950s tractor with what looked like a skull on its seat. I found out from Jeremy that it was a cow's pelvic bones not a skull.
However when you park in front of the brewery, all is welcoming and friendly. We were met first by the brewery dogs, all rescue dogs; Nina, Buddy, and another for whom I didn't get a name. Buddy is the senior brewery bouncer. If there is a ball around he will entice you to bounce it for him. The day I visited, the three dogs were playing tug of war. There is also a rescue cat that I didn't get to meet.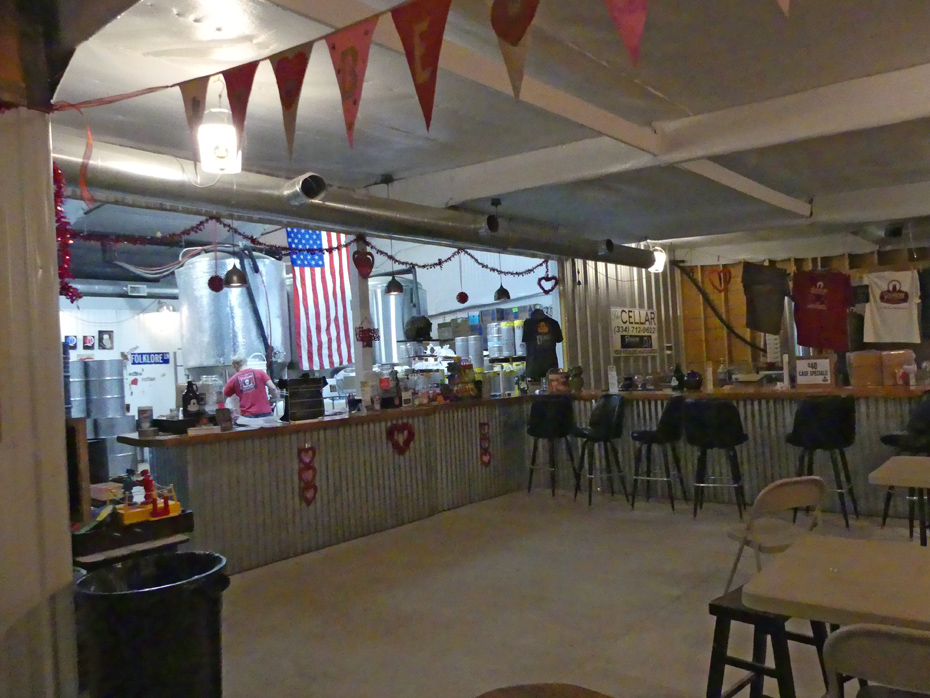 The human owner, Jeremy, greeted us on the front patio. It was casually set up with table and chairs. Inside the brewing area was small but clean. The taproom showcased Jeremy's milatary pride. He showed us the new tank that was almost twice as big as the current smaller tanks. Jeremy told us they would be pouring the cement behind the present facility for a 500 square foot addition to the brewery. Since this is a small time operation, Jeremy is the kind of person who is not afraid of hard work and does much of his own construction. He was justly proud of his facility, "We'll be making beer and mead, honey wine, there. On weekends, we have food at Fly by Night, our on-site restaurant, with snacks and eventually there will be a fryer to make all kind of food." (It is now open with burgers, sandwiches, fries and pretzels.) He is also planning on starting tours soon.
Grateful Red is the number one seller. Jeremy is planning on it being on sale statewide. He recently began canning instead of bottling. Naturally all of the brewery's products are available on tap.
They are open Thursday through Saturday and often bring in bands for entertainment.
Gate City Brewing in Roswell, GA
Gate City Brewing is a new brewery opened in 2015 by two home brewers and entrepreneurs, Pat Rains and Brian Borngesser. Pat met us and led us on a tour of the brewery. He explained the origin of the name, Gate City.
Pat's story goes like this, "1n 1864, that was the year Sherman started his march down 120 into Atlanta; burned everything in his path which eventually led to the end of the Civil War. Through hard work and determination the city was rebuilt. After it was rebuilt, it was pitched to investors as the Gate City to the New South. That's what this represents to Brian and me, new beginnings."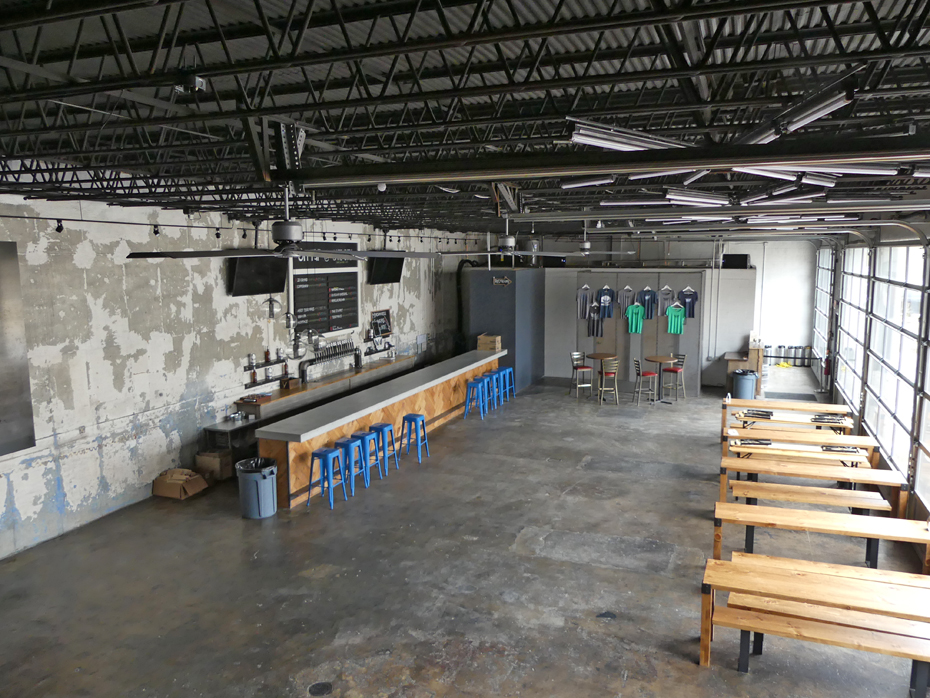 Gate City Brewing's new beginnings began when the two brewers began brewing and winning awards. They decided to take it farther and purchased this location which was formerly an old Ford dealership and auto shop in pretty rough shape. Pat and Brian tore it all down to the floor and started fresh. When I visited it is sparkling new with touches reminiscent of the building's origins in the rustic walls and floors. The manufacturing is done upstairs and the new taproom is open downstairs. They have music and entertainment on weekends. They partner with local restaurants or bring in food trucks to provide food at these events.
Their brew house upstairs, all shiny and new, There are a couple of the original little barrels. Pat commented, 'Those were what we were using before my wife kicked me out into the garage. They make up to 30 gallons per batch. We went up to these that make up to a thousand gallons a batch. It's been an exciting ride." Easy to see why he is so enamored with this new facility.
Pat was excited about the new Georgia legislation going into effect in September 2017 allowing brewers to sell beer to the public. Previously all beer had to be "given away" as part of a paid brewery tour.
They now have 20 beers on tap. Their first brew is called "1864 American IPA" in honor of the city's new beginnings as well as new beginnings for Gate City Brewing.
Rome City Brewing Company in Rome, GA
Rome City Brewing Company is actually part of a larger establishment, Brewhouse Music & Grill. The original building on this site was an Opera House built in 1880. After it burned, the "new" structure where we stood was erected in 1920 and served as a store for many years. Last incarnation was a five and dime. Ironically the historic location has reverted back to a place much like the original building, a place for locals and visitors to enjoy musical entertainment. You can enjoy food and drinks in the restaurant and bar and in back, see the local beer made.
The owner, Jay Shell, met us the night we visited and told us a little about the brewing company and his future plans. He had to talk loud as the place was filled with folks having fun and enjoying music. Most nights there is live music or open mile entertainment.
Jay told us that within a short time they are expanding just down the street where they can have a larger brewery. The most popular beer current is one called Short Hot Blond Ale.
His newest brew is named for a local "character" that was known and, in spite of her occupation, respected around town. "It's Peggy's Pale Ale, named for a brothel owner," he told us. The story goes that during WWII, the Battery General Hospital was bringing in a lot of wounded veterans. While they rehabilitated there was little to do in Rome until Miss Peggy opened her house. Apparently she became wealthy, owned a pink Cadillac and drove around town with her poodle that was dyed pink to match the car. She did a lot of good for the community and contributed liberally to good causes. Peggy died in 1991. The new brew seems to be as popular as its namesake.
Georgia Winery in Ringgold, GA
Georgia Winery is the oldest winery in Georgia. Haley Long led us on the tour and told how Dr. Maurice Rawlings, Sr founded the winery back in 1982. When he bought the land he found it was only good for growing grapes and the grapes that grew best was the Muscadine. He also discovered that Muscadines do better without any chemical fertilizers so the vineyard is certified organic.
Today, this is still a family winery. His granddaughter is CEO. The wines are still produced using Dr. Rawlings recipes. Haley told us, "One of the things Georgia Winery does different from most is the fermentation process. Most wineries ferment at between60 to 65 degrees. That only takes about 2 to 4 weeks. Here we bring the temperature to between 50 to 55 degrees. This takes much longer, about 6 to 9 months to finish fermenting. This is to get more of the fruit flavors instead of just the alcohol flavor."
We tasted a flight of three signature wines paired with cheeses. Anyone who believes Muscadine wine is always sweet and not dry is dead wrong here.
They also produce a few other fruit wines such as Blackberry and Strawberry. I sampled the Strawberry Wine and really enjoyed that one.
Mother Earth Brewery and Distillery in Kinston, NC
Mother Earth Brewery opened in 2009. True to its name it is the greenest brewery I have visited. Co-owner, Stephen Hill, is passionate about being kind to Mother Earth. He has several projects in Kinston all involving revitalizing old buildings. So it's only natural that when he started planning for a brewery and distillery, it would be in a renewed building.
The building he found was once a drive-through pharmacy. Today, it's a state of the art Leeds Gold Certified building. The second highest possible award for a company and the highest ever awarded a brewery. He kept about 95% of the building's original material in the upgraded structure.
I asked about a rack where several bicycles were hanging while we toured. Our guide, Jeff Laws, VP of the company's technology, told us "Some of our employees ride bikes or skateboards to work. There are a lot of things that go into a Leeds certification. Little things like keeping logs of how these employees come to work are part of it."
Other things are equally important like none of the grain used for the beer is wasted. The byproducts are sent to a local farm to feed the animals. Jeff went on to tell us "We were the first brewery in-- I believe the world—to use a 100 Gycol cooling system. The story was the company Stephen was looking at for coolers had an experimental model Gycol system but they said 'It'll be about a year before it is ready but if you want to be a guinea pig we'll do everything to make it work.' Stephen went for it making us the first brewery to use the environmentally friendly system."
The facility is spotless as our guide led up through the brewing area to canned and bottled. They produce six year round beers and another six or seven seasonal varieties. The distillery was in the process of being moved to its own facility so we didn't get an overview of that.
The bottle labels are painted by a local artist. Many of the pictures are very personal to Mother Earth Brewery. One label, Sisters of the Moon an India Pale Ale, was painted from a photograph of co-owner, Stephen Hill's three daughters dancing around a fire in the moonlight. Trent Mooring, the other co-owner, is married to one of the sisters.
When you step out the large taproom to the patio seating, you still see the green influence all around. There is a garden growing seasonal vegetables. Above the back of the patio is a large set of solar panels that produce enough power to run the entire operation. The taproom is modern and inviting but the wall is still the original old building. Stephen even has his own artistic attempt hanging there.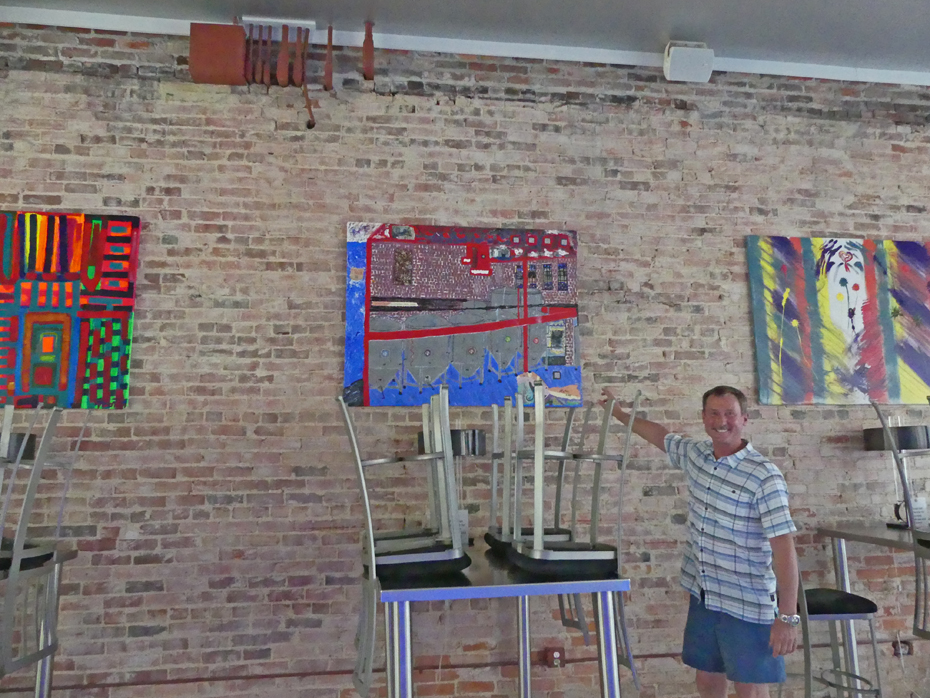 Tours run Tues-Fri 10am to 5pm and Saturday 1pm-8pm on the hour
Dalton Distillery in Dalton, GA
Fans of the old movie "Thunder Road" will be right at home visiting Raymond Butler at Dalton Distillery in Dalton, Georgia. He and his family have been producing real Georgia moonshine for more than 100 years. Southern moonshiners are inventive. They don't let the law stop them and they get creative about ingredients. Raymond has made liquor from many different things over the years. As he tells it, "Any kind of fruit, if it will ferment; I can make you drunk." Read more.