This was the conclusion of an unknown Ohio private who had tried to flee to safety during the Battle of Shiloh. He decided he had to stay and fight since he observed in this battle, there was no refuge to retreat into, no rear to hide a frightened man. The battle was everywhere at once.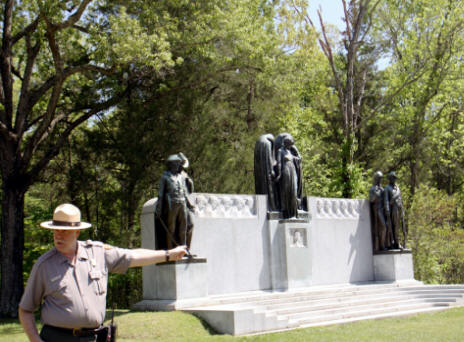 Charlie Spearman explains the Confedeate Memorial

The Shiloh Battlefield National Park is much like the battle itself, spread out over almost 6,000 acres counting the Corinth portion.There is a 12.7 mile auto tour route that takes you through the battlefield with 20 marked stops along the route. We started at the Visitor Center viewing Shiloh - Fiery Trial, a moving documentary showing the battle from multiple viewpoints. The most heart rendering being two young soldiers, one Confederate and one Union. It's a new movie which premiered in 2012. Several of the park rangers portray characters in the movie.

Shiloh Battlefield is a must see for any history buff. Plan on spending the better part of a day at least. Charlie Spearman, our park ranger guide, told us "This is one of the most pristine Civil War battlefields you will ever see."

He led us across the park. He pointed out some things of which you want to be aware. Pyramids of cannon balls mark locations of headquarters of commanders of various brigades and divisions.

Manse George Cabin, only surviving structure from the battle
One point about Shiloh is the composition of the armies here. For the Confederacy, you have General Albert Sidney Johnston, the second highest ranking man in the Confederate army. He outranks Robert E. Lee at this point. Almost anyone will recognize another name here, General P. T.G. Beauregard, who won his fame at Fort Sumter and Manassas.
Another name that will go down in history later is Henry Morton Stanley. Doesn't ring a bell? Let me give you a clue: Dr Livingston I presume. Stanley was a reluctant soldier to say the least. He joined the Confederate Army and found himself at Shiloh only after receiving several ladies petticoats in his mail from friends who doubted his patriotism. After being taken prisoner he switched uniforms at Camp Douglas, Illinois, to become a "Galvanized Yankee" and joined the Union Army for a short time, 18 days, but was discharged because of illness. He later joined the Union Navy making him the only man to serve in the Confederate Army, the Union Army and the Union Navy all in one war.
The Union brass include two future presidents, General Ulysses S. Grant and Major General James A. Garfield.Major General Lewis "Lew" Wallace, who won fame later for his novels, did not acquit himself well at the battle and his military reputation suffered for his mistakes throughout the remainder of the war. Of course, Grant and Sherman cemented a long term friendship.
Among the rank and file, 70% of the soldiers had never seen action at this point. Many would never see action again. When the smoke cleared there were over 23,000 casualties.
We walked down to Pittsburg Landing. (#19 on the auto tour) This was the Union encampment. There would have been numerous steamboats lined up bringing in supplies and troops and two gunboats for protection. Grant was the commander here. He had gotten lots of praise for his victories at Fort Donaldson and Fort Henry where he demanded and received what became his nickname, Unconditional Surrender Grant.
All of the Union generals were convinced Johnston was going to stay put in Corinth as that was an important railroad stronghold. The Confederate attack of April 6, when the Rebels burst out to the woods near Shiloh Church (#5) at a place called Fraley Field (#7), took them by total surprise.
Although, Sherman and Grant were not expecting an attack, one field commander, Col. Everett Peabody, was not so sure that the Union pickets reporting a buildup of Confederates was wrong. On his own initiative, he sent out an advance guard of around 200 men to check. It was these men that triggered the first Confederate gunfire. It was still dark and both groups are firing smooth-bore muskets. Not very precise under those conditions. The rest of the Union Army, including its commanding officers, were taken totally by surprise. Many of the Union soldiers retreated back to Pittsburg Landing and attempt to swim away and escape.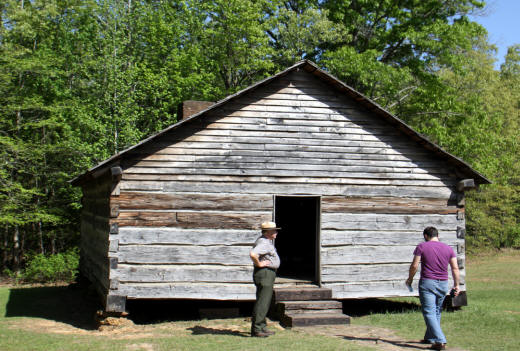 The reconstructed Shiloh Church

Shiloh Church is one of my favorite spots in the battlefield. The church is so simple and peaceful yet the number of dead at this battlefield was the greatest loss up to this point in American history.

Move on to the place where the South paid the highest price and lost their commander, General Johnston (#15). Many years earlier, Johnston had been wounded in his right leg and has no feeling in that leg. That played a big part in his death. Here at Shiloh, Johnston was wounded in the same leg and bled to death. Probably he was not aware of the wound. Beauregard took command.

We then visited the Confederate Memorial (#2 on the tour). This is where the Confederates almost won their victory when they captured about 2,100 defenders of what is called the Hornet's Nest (#10). Beauregard sent a telegram to Jefferson Davis stating they had achieved "a completer victory." (Oh the woes of jumping the gun literally.)

April 7th saw a different scenario. Beauregard thinks the Union army might retreat during the night. Instead, the Union Army gets reinforced and from the start of battle on the 7th, they take the inisitive and drive back the confederates. Beauregard realized it is his army that must retreat or be destroyed completely here. He marches his men back to Corinth even though they had lost less men, giving up Shiloh makes this a Union victory, albeit a costly one. The Union loses 13,047 men. 1754 are killed and 8,408 wounded with another 2,885 captured or missing. The Confederacy loses 10,699 men. 1,728 are killed and 8,012 wounded with another 959 captured or missing. Those who were previously predicting a short war now realize is will be longer and costively than anyone imagined. The nightmare was just beginning.

Shelby Foote, writing of the Battle of Shiloh in

The Civil War: A Narrative: Fort Sumter to Perryville, referred to the Battle of Shiloh thusly, "Waterloo had settled something, while this one apparently had settled nothing. When it was over the two armies were back where they started, with other Waterloos ahead"
<![if !supportLineBreakNewLine]>
<![endif]>

For more info:
http://www.nps.gov/shil/index.htm
<![if !supportLineBreakNewLine]>
<![endif]>