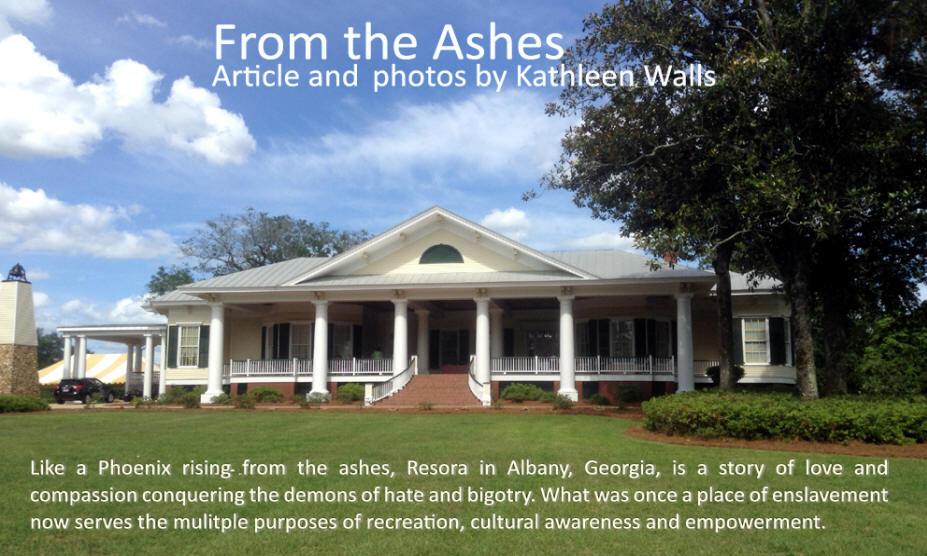 For the traveler, it's the recreation that may come to mind first. That is impressive and becoming more so in the future. There are currently four cabins and two suites in the plantation house where you can go for a peaceful retreat. The lake is a thing of beauty where you can contemplate the wonders of nature. It's an island of tranquility in today's madcap world. Whether you are a couple seeking a romantic getaway , a family seeking a safe vacation where all ages can enjoy nature or a group needing an inspiring event facility, this is the place for you.
Civil Rights Bus at Albany Civil Rights Museum
But this is so much more than just a vacation getaway or conference event. The name Resora envisions the concepts

of resilience, restoration, resource, and resonance.

The story is long and convoluted. Resora grew out of the concept of New Communities, a commune of African American farmers in the heyday of the Civil Rights Movement.

Nearby was the 1,638-acre Cypress Pond. originally a slaveholding plantation founded by the Tarver Family and later an exclusive hunting lodge owned by millionaire, Gerald Lawhorn. It is believed that Confederate President Jefferson Davis was once an overnight guest at the plantation. How such diverse models came together is stranger than fiction.



Rutha Harris sings one of the Freedom songs
Shirley Sherrod and her husband, Charles, were key figures in the fight to gain equal rights for African Americans in Albany, Georgia in the 1960s. That part of the

story is told eloquently at the Albany Civil Rights Museum. The movement began in 1961 with a visit by Dr. Martin Luther King, Jr.. The original plan called for him to give just one speech at

Shiloh Baptist Church. The one speech accelerated into three back and forth between Shiloh and Mt. Zion Missionary Baptist Church across the street. He so inflamed the hearts of the people that they began to march and protest discrimination.

Mt. Zion Missionary Baptist Church along with a 12,315 square foot museum space adjacent to it comprise the Albany Civil Rights Institute. On a recent visit there, I had the privilege of meeting several key figures in that struggle. Ms. Doris led out tour. She lived thought the marches and sit-ins n Albany and was able to give us the feelings as well as the facts. Freedom singer, Rutha Harris, later performed for us in Mt. Zion Missionary Baptist Church. She sang some of the songs that were prevalent during the Civil Rights marches. One song she taught us to sing along with was called "Oh Pritchett, Oh Kelley" referring to the sheriff and the mayor of Albany and the jailing of Black activists.
Shirley Sherrod explains Resora's goals

It was a little later in the visit when I met another important figure in the Albany Civil Rights Movement, Shirley Sherrod.

Shirley is the kind of person who you know immediately has no hatred in her heart for anyone.

As Shirley saw the Jim Crow Laws crumble, she witnessed a different version of racism. White farmers evicted Black sharecroppers who took part in marches or registered to vote. Black farmers were systematically dispossessed.

Charles, Shirley and other civil rights workers saw a need to do something to change the system. They traveled to Israel and studied the kibbutzim there and saw a workable system. They returned to Georgia and, in 1969, founded New Communities, a collective based on the kibbutzim where dispossessed minority farmers could own and work the land collectively.

With 5,700 acres under cultivation, it became the largest minority owned property in the nation.

Naturally there were some problems and acts of terrorism aimed at the successful farers but by and large they were surviving, selling their produce from trucks and to local stores. The severe droughts in Georgia in the early 1980s did what terrorists and racists could not do. It pushed New Communities to the edge of bankruptcy. The USDA refused New Community, along with other Black farmers, a loan to establish irrigations systems.

In 1985 they lost everything.

It was a knockout blow.
One of Resora's cabins nestled in the woods

New Communities was down but not out, however.

In 1997, a class action discrimination suit was filed that led to an eventual settlement for farmers who had been discriminated against . There were so many ups and down that Shirley said, "I had given up hope when finally, on the night of July 8th, our lawyer called saying 'Shirley, Shirley. Have you heard. We won!'

I'm thinking I'm about to hear 'Good news, we won: bad news, we were awarded a dollar.'

I said 'Is it at least a million dollars? She said, 'No it's twelve.' My husband and I cried that night and the next day we started pulling people together that were connected with the case. We made sure those families who were displaced got a $100,000 apiece and then we started looking for land."

The Sherrods, and Shirley in particular, have been the public face of New Communities for so long many people erroneously believe they are the ones who purchased and own Cypress Pond. Shirley made it very clear, it is not "their" property. They are just directors of the corporation. It belongs to the entire collective of New Communities.
One of the cabin interiors

Today,

New Communities has expanded its purpose. It created Resora which is composed of three elements, the Preserve, the Village and the Farm.

The Preserve

is dedicated to nature and man's place in it. There is abundant wildlife, the cabins, a campground, 85 acre Cypress Pond with boardwalks and fishing docks, hiking and biking trails and the cabins.

The Farm is the collective of Shirley's long-ago dream. It is already producing, thanks to the picturesque "Pecan Alley" filled with rows of stately pecan trees planted long before anyone dreamed of Resora. There will be resident farmers and "You-Pick-It' orchards. Naturally the Farm will have fields for experimentation and instruction. It will be a place where those who want to work the land can come together and reap just rewards for their efforts regardless of race or creed.

The Village is still a work in progress. Presently it offers the magnificent plantation home perfect for conventions and events with its tree-shaded lawn. Future plans call for a restaurant, inn, welcome center and possibly a chapel. It will be the public face of Resora.
Charles Sherrod and Emory Harris harmonize

When we visited, we were shown not only what Resora is now but what is to come. Shirley states her vision for Resora, "I envision a place where we can both farm the land and enrich the minds of people."

Resora is already doing just that. Several events have already been held there. On our visit there, our party stayed in luxurious cabins and main house suites. The food and wine was first class. Musical entertainment was provided by Charles Sherrod and Emory Harris, Rutha's brother. Both men had melodious voices that melded perfectly together. We were enthralled by the storytelling of Geraldine Hudley. When I retired to my cabin, the view of the lake from the porch was one of life's most soothing experiences.

Resora is wonderful today but it is also a living, growing project. Director of Hospitality, Danielle Blackwell sums up the feeling Resora offers as a promise for the future. She said, "People have visited here and said to me 'I can hear the former people that were here.' I want you to not just listen with your ears but listen with your heart and imagine what will be here a year, two years, three years from now."

For more info:
http://experienceresora.com/
Ads fund American Roads so please consider them for your needed purchases.
If you enjoy the articles we offer, donations are always welcome.