Cajun cooking has become popular all over the country now, You see "Cajun this," "Cajun that" and even "Cajun peanuts" at roadside stands all over Florida and Georgia but the best place to find authentic Cajun food still is in the heart of Cajun county.
I recently visited Lake Charles, Houma and the Cajun Coast with Travel Media Showcase and found my own culinary treasures there.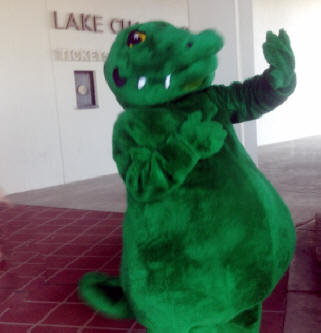 Gumbeaux Gator greets us at the Civic Center/td>

We started off our Cajun

dining at the opening night reception for us journalists by the Lake Charles Convention and Visitors Bureau held at The Brick House. They are a catering company that did themselves proud with local favorites. A sampling of our menu consisted of

Petite Crawfish Pies,

Chicken and Sausage Gumbo with Rice, Creole Corn Maque Chaux, Cracklins, Smoked Sausage Bites and of course, Boudin Links and Boudin Balls.

WWe had a few celebrities like Gumbeaux Gator, some Contraband Days Buccaneers, a few Mardi Gras Revelers and Louisiana's Lt. Governor Jay Dardenne. Gumbeaux Garor just pranced around and waved to greet us, Those Buccaneers and Mardi Gras Revelers helps us "pass a good time" but Lt. Governor Dardenne stole the show. He proved to be no slouch on the dance floor and held his own with all of us journalists that got on the floor with him. When Lil' Wayne and Same Ole Two Step began fiddling out some Zydeco music, that dance floor was a really fun place. There is a slight difference between Zydeco and Cajun bands. You'll hear accordions, fiddles and occasionally steel guitars in Cajun groups, in Zydeco bands there'll be accordions and rubboards instead.
Chris Miller & Bayou Roots/td>

The following night, the CVB did it all over again and stuffed us with Cajun food at the Lake Charles Civic Center. They had a real Fais Do Do with

Chris Miller & Bayou Roots. Man, those guys can do a mean version of "Don't Mess With My Toot Toot." We stuffed ourselves once again with some of the best seafood you ever tasted including

boiled crabs, jambalaya, shrimp and so much more.

Along with the strong seafood bias in Cajun food, you will see a lot of smoked meats. Both relate to the face that Cajun food was a food of the poorer people of Louisiana. Seafood is plentiful and easily caught here. Smoking was one of the earliest way of preserving food before refrigeration. It has become a staple in this area.

"We smoke anything that doesn't smoke us. Pork chops, deer, beef and pork sausage, turkey wings, rabbit, chicken and even boudin," says Dwight Billedeaux, owner of Billedeaux's Cajun Kitchen located at 2633 Fruge St., in Lake Charles.

Megan Hartman, senior marketing manager for Lake Charles/SWLA Convention & Visitors Bureau, told me this regarding food in Louisiana's Outback, "In Calcasieu Parish—known as the focal point of Louisiana's Outback—eating is serious business, but visitors will find that fun and enjoyment is stirred into the process. Beginning in January and February with Mardi Gras and ending in December with Christmas festivals, an endless buffet of Cajun and Creole dishes are prepared."

Here is a list of Lake Charles and Calcasieu Parish food related festivals:

<![if !supportLists]> ˇ <![endif]>January: Martin Luther King Festival in Lake Charles includes gumbo cook-off.

<![if !supportLists]> ˇ <![endif]>February: Mardi Gras in all cities and include food competitions.

<![if !supportLists]> ˇ <![endif]>March: Iowa Rabbit Festival, Iowa.

<![if !supportLists]> ˇ <![endif]>April: Westlake Family Food and Fun Festival, Westlake.

<![if !supportLists]> ˇ <![endif]>May: Contraband Days Pirate Festival with eating competitions and cook-offs, Lake Charles; Starks Mayhaw Festival, Starks.

<![if !supportLists]> ˇ <![endif]>June: Juneteenth Festival, Lake Charles, barbecue cook-off.

<![if !supportLists]> ˇ <![endif]>July: Cajun French Music and Food Festival, Lake Charles.

<![if !supportLists]> ˇ <![endif]>October: Calcasieu-Cameron Fair, Sulphur.

<![if !supportLists]> ˇ <![endif]>December: Southwest Louisiana Christmas Lighting Festival.

HHere are a couple of "real" Cajun restaurants you may want to visit.
Shrimp Arcadiana at Cafe Bayou
Cafe Bayou
After the showcase ended we headed off on our post tour of Houma and the Cajun Coast. We started out in St. Mary Parish and had our first sampling of Cajun food for lunch at Cafe Bayou in Cypress Bayou Casino Hotel. I had the Shrimp Arcadiana, a delicious concoction of six huge shrimp baked in a crabmeat dressing and topped with mozzarella cheese. It came with fries and native style corn. Other Cajun offerings on the menu were The Cochon, a pulled pork sandwich topped with homemade boudin, Catfish, Fried Shrimp or Shrimp Etouffee.
While not your typical Cajun restaurant, Cafe Bayou offers great Cajun choices as well burgers, steaks and other choices in an upscale setting. (For more about Cafe Bayou aand the casino owned by the Chitimacha. click here)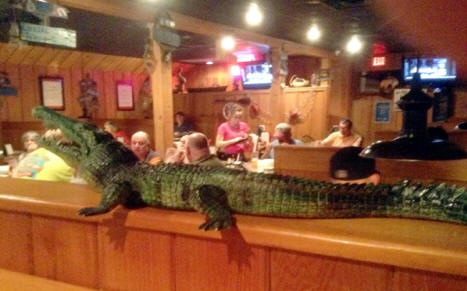 Boudreau and Thibodaux's stuffed 'gator
Boudreau and Thibodeau's
As soon as you step through the door of Boudreau and Thibodaux's, you know you are in Cajun Country. An large alligator perched on the front counter is one clue. The food smell is another. It just grabs you and screams "Ya gonna love everyting coming outta dis kitchen, you!"
Their menu reads like the bible of Cajun cooking with Crawfish Etouffee. Shrimp Creole. Alligator Half n' Half, Crawfish Half n' Half and that is just a start. They have a very large menu. You'll get anything from burgers to po' boys here. There is even a " Pick Y'Own Platter" where you "choose any two: grilled or fried jumbo shrimp, fried popcorn shrimp, grilled or fried catfish, fried crawfish tails, fried crab fingers, or fried oysters served wit' two side items"
Crab Cakes and dessert at Boudreau and Thibodeau's
Mike and Debra Blanchard opened Boudreau and Thibodeau's in Houma in 1998. They strive to use local products especially fresh seafood and offer a fun dining spot. The decor includes hundreds of Boudreau and Thibodaux jokes on the walls and under glass at the tables. The restaurant captures the light hearted fun spirit of Cajun culture's two best-known pranksters.
Just in case you never heard a Boudreau and Thibodeau joke, here's a sample:
Boudreau and Thibodeau were walking through the woods the other day, when a flying saucer landed near them. A door opened, and two little green aliens climbed down out of the spacecraft. Thibodeau asks Boudreau, "Mais, look at dat. What you tink dat is ?" Boudreau, aiming his shotgun at the little space critters, tells him, "Thibodeau, I don't know, but you hurry back to de camp, and start making a roux and put on a pot of rice !
BBy the way, the 'gator by the front door is stuffed just as you'll feel when you leave this fun dining experience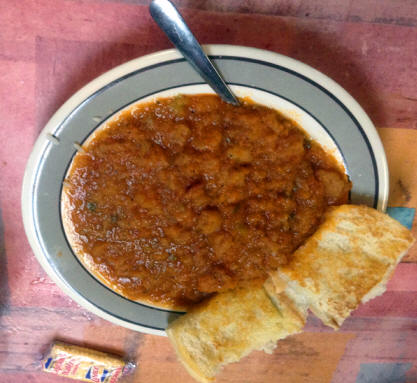 Crawfish Etouffee at Bayou Delight/span>
Bayou Delight
Boudreau and Thibodaux's is hard to beat when it comes to Cajun food but if you want to take the Cajun culture thing a little farther and get in some toe-tapping, two-stepping Cajun music, Bayou Delight is the place to go. The menu is filled with great Cajun dishes too and on Friday and Saturday. There is music and dancing. Three different musicians take turns providing the music. You and the rest of the dinner guests provide the dancing. The place fills up with regulars who can really show off on that dance floor. One older couple we met the night we visited was so much fun to watch. She was very Cajun looking with dark hair and brown eyes aand a short well-rounded body. He was a tall Texan all dressed in black. They were both in their eighties but when they glided around that dance floor you would have sworn they were two teenagers out for a night of fun. They were sitting at the next table and we complemented them on their dancing skill. They told us "We come every Friday night."
Larry White plays as dances swing around Bayou Delight's dance floor

By the time they left we were all BBF (best friends forever) and they came around our table and gave each of us a hug.. Cajuns know how to make everyone feel welcome in their town.

Making everyone welcome was just what Lonnie Crochet and wife's cousin, Doris Marie Abramson, had in mind 33 yrs ago when Bayou Delight first opened as a fast food restaurant.

Times were tight then with the oil bust but when they added a back dock and Alligator Annie Miller, who was famous for her swamp tours, began starting the tours from Bayou Delight's dock things began looking up and they began expanded the restaurant. Today they can seat about 100. Annie passed away and her son now runs the tours as "Alligator Annie and Son." (For more about swamp tours, click here)

A lot of recipes are Lonnie's mom and dad's or hand downs from Marie's family. One of their specials is Alligator Sauce Picuante. I wanted to try that one but they were sold out so I had Crawfish Etouffee instead and loved it.

When asked how they managed to keep in business with no formal culinary or business background, Lonnie stated, "Everything I know was taught to me by my mom and dad and just by figuring it out for myself based on the things I learned growing up. We have a lot of great cooks in our family, so Marie and I just put our heads together and we make it work. We use a lot of her recipes and I do most of the cooking and contribute any way I can. But we both have the same vision."

Their vision works. They have a loyal local following, lots of tourist busses and even overseas visitors. If you plan on visiting on Friday, better have a reservation. Larry White, who was playing some terrific Cajun specials like Jolie Blanc and of course My Toot Toot the night we visited, describes Bayou Delight as "Houma's best known little secret."

When visiting any of these restaurants you will enjoy authentic Cajun food. To again quote Justin Wilson, "I I GA-RON-TEE"

For more info:

http://www.visitlakecharles.org/listings/Billedeaux-s-Cajun-Kitchen/148957/?

http://www.brickhousecateringandevents.com/Events.html

http://www.marilynscatering.com/home.html

http://www.cypressbayou.com/dining/cafe-bayou

https://www.facebook.com/pages/Bayou-Delight-Restaurant/160620160641484

http://www.cajuncoast.com/events