Interior of Luigi's Restaurant

Luigi's is as much a tradition

in Augusta, Georgia as the Masters. Originally opened in 1949 by Nicholas Ballas, it is presently owned and operated by his grandson, Chuck Ballas Jr. and his wife, Penny. It's the oldest continually operating restaurant in Augusta and there is a reason why. They are proud to honor the family tradition of great Greek and Italian dishes. Penny explained, "The recipes are my husband's grandfather's. They have been passed down and sometimes adjusted to meet current trends. My husband still makes the sausage himself."

This attention to detail plus the old world décor and the friendly atmosphere make this a favorite eating spot for celebrities as well as just ordinary folks. Ben Crenshaw has standing reservation when he is in town.
Meatballs and spagetti and pizza at Luigi's

Jack Nicolas' family are regulars during Masters week.

Some of the

celebrities who have dined there over the years are

Jackie Gleason, Dan Marino and Randy Quaid.

Golf Digest consistently votes Luigi's as one of their favorite restaurants of pro golfers when they are at the Masters.

I had the Meatballs and Spaghetti for lunch. My companion ordered pizza and I had to swipe a slice of that too. Finished it all off with baklava. It was flakey layers of filo dough oozing walnuts, cinnamon and honey. It gives the term "finger-licking-good" a higher meaning and is my all time favorite Greek dessert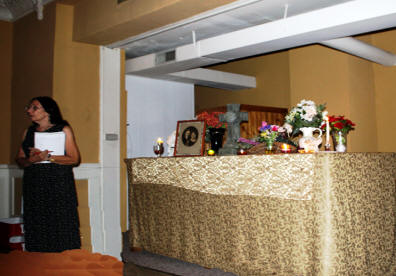 Memorial to founders at Castelli"s
Castelli's Restaurant at 255
in
Alton, Illinois
is another ethnic restaurant with a family tradition. Today, it's owned by Tracy Castelli and her brother, Matt. It's been in the family since their great grandparents, Alfonso and Teresa Castelli, and their son, Pete, opened in 1937.

Alfonse was a coal miner and Teresa learned cooking the hard way; feeding her husband, family and friends on his paycheck. When they first opened the restaurant in a simple house, people stood in line to get a taste of Teresa's cooking.

There were some rough days in the restaurant's history but one thing is still the same. People still stand in line to get a taste of the great food.
Cannoli at Castelli"s
My choice was Chicken Parmigiana. It was plump, juicy and covered with a rich tomato based sauce and tons of melted cheese that had me almost drooling even before the first bite.

Salad was fresh and tossed with their special house dressing. Dessert was a real Italian Cannoli. Yummie!

The atmosphere is true Italian also. Tracy and Matt have not forgotten their roots. The restaurant is now housed in a modern brick building that seats 325 but inside there are pictures of the early locations and family on the walls and even a table set like a shrine to honor Alfonso and Teresa.

Tracy, who usually greets guests, will be happy to tell you more about the restaurant and family's "good old days."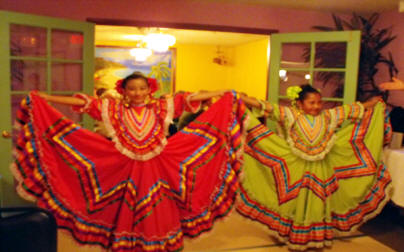 Mexican Cultural Dancers perform at Rosita's

Rosita's

in

Scotts Bluff Nebraska

celebrates tradition in their food and décor. This part of Nebraska had a large Mexican population so the food has to be authentic. Owners, Paul and Rosie Lermus offer real Mexican food. It's not frozen. It's not fast food. One good example is their chips. They are puffy chips, called Ponchos rather than the usual flat tortilla chips. Their salsa is spicy not bland.

I enjoyed their Chicken Fajitas but the many other dishes, tamales, tacos, enchiladas, and others looked good too. Their fried ice cream is a really unusual dessert.

When you visit be prepared to relax and enjoy the atmosphere. Each dish is made to order so it may take some time.
That fantastic fried ice cream
The atmosphere really makes Rosita's special. Out front you will love the huge metal sculptures.

Inside the décor is bright colors with many Mexican murals and paintings on the walls.

As might be expected, Cinco de Mayo is celebrated in a big way here.

You might get lucky and enjoy a performance of the young Mexican Cultural Dancers. Three of the young girls performed the night we visited and we were all blown away by so much talent in such young girls. These kids are fabulous.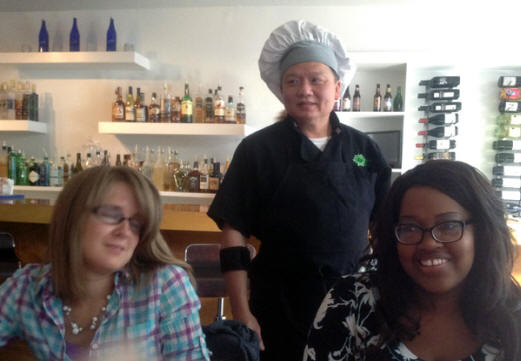 Chef Tom with some happy customers at Lemongrass Thai Bistro


Lemongrass Thai Bistro

in

Macon, Georgia

is one of the most unusual restaurants I have ever visited. It is a traditional Thai restaurant that specializes in Thai Fusion food. The Thai menu is extensive and very authentic. The owners, Gary Schechterle and Tom Sarrtsud, pride themselves n the freshest and most innovative food.

When we visited for brunch I got a huge surprise. The brunch was right out of a Louisiana Cajun kitchen. I had the Fresh Corn Gourmet Grit Bowl with shrimp, Andouille Sausage and eggs. The grits was Red Mule Stone Ground and the corn was Georgia grown. It may not be Thai food but it was lip smacking good. And they had lots of hot tea choices complete with a ceramic pot to keep it nice and hot. Hate it when places only have coffee. (Hey restaurateurs, some of us don't drink that stuff.) Coffee drinkers don't write Lemongrass off. You are not left out they have lots of choices in coffee too. They even have coffee and chicory for Louisiana people.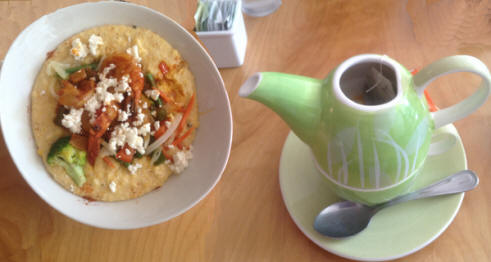 Grits bowl and tea pot at Lemongrass
You might even find things as varied as Creme Brulee French toast, fried chicken, Eggs Benedict or a Po'-Boy there. One reason for the unusually broad variety is Chef Tom. He was originally trained in French cooking and worked his way through the kitchens of New York learning every type of cuisine imaginable. He progressed from a lowly dishwasher to the executive chef at the 4-Star InterContinental Hotel.

These are just a few of the great ethnic restaurants around our great county. When you travel, always be willing to experiment and try new things especially food. It is a rewarding experience.
For more info: