Saint Augustine's Newest Museum is Painful: Medieval Torture Museum
Next time you hear someone say "These shoes are torturing me!" send them to visit the Medieval Torture Museum. I'm not kidding. Saint Augustine's newest museum is a look at a not-so-pretty past. Remember at one time there was no law against cruel and unusual punishment. The museum is well worth a visit. It's well researched and historically correct.
Although most museums containing antique items are filled with signs saying "Do not touch," Director, Scott Abrams told me. "We encourage people to touch and handle these instruments." Thus, visitors here can really get a "feel" for things. Coincidentally, the director's nickname is "Grimm."
You step past a simple hangman's noose and from then on things do get grim. Talking about shoes, consider the Spanish Boot for example. Vertical boards were fitted around the prisoner's leg and then stakes or later iron spike were driven in along all sides breaking or stabbing the prisoner's bones. Then there is a small iron sandal looking device where the heel can be tightened like a vise compressing the foot into ever smaller space and eventually crushing the bones of the foot. I'll never complain about shoes pinching my toes again.
Today if you have had a few too many you risk a DUI ticket or even a night in jail in a climate controlled cell. Before you complain too much consider what was done in medieval times. You would be placed in a barrel where you would sit for a full day in a public square soaking in your own excrements. Passersby would laugh and mock you. Every now and then someone tossed a bucket of icy water over you.
Next time you get the urge to pass on a particularly juicy bit of gossip, consider what would have been done to you in those days. The Gossipers Violin was a devise with a triple set of clamps that held each of your hands a few inches apart and bent in a line with your neck which was the third clamp. You sat for a few days with hands and neck aligned rigidly in one position.
Heretics and those accused of witchcraft, usually women, got to ride the "Spanish Horse." Imagine a sawhorse with a sharply pointed triangle for its center bar. Then imagine being seated astride that beam with your legs either unable to touch the floor or tied down with weights. Ouch!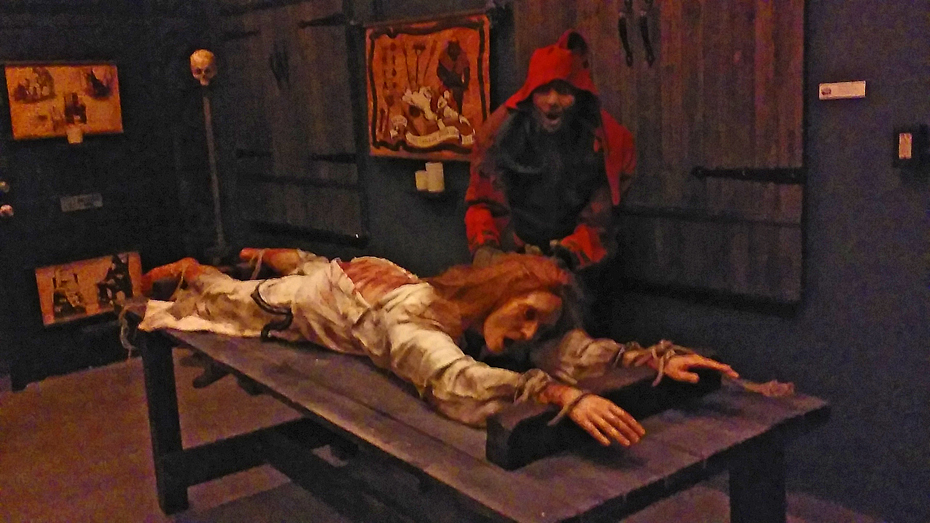 Unfaithful wives and atheists often got a taste of Spanish Tickling. This was a method of tying the prisoner down to a table stretched our full length. The "tickler" would grasp a sharp item resembling a set of ultra-sized cat claws and rake it over parts of the body. It sunk in deeply and often tore through ligaments and muscle. You notice "Spanish" comes up often. That's because they excelled at this especially at the height of the Spanish Inquisition.
Probably the most terrifying display here is the torture by rats. A prisoner is bound flat down on a table with an open-bottomed cage filled with rats placed on his stomach. To make it worse, hot coals are placed atop the cage causing the rats to dig deeper into the helpless prisoner's abdomen. The exhibit is shockingly realistic but thankfully the rats are not real.
Sharing the same building, a sister museum, Micro Masterpieces Art Gallery, is filled with beauty that is in direct opposition to the Medieval Torture Museum.
The gallery is filled with tiny masterpieces. And I do mean tiny. You need to look through a microscope to even see them. The detail is amazing. There are portraits of famous people, castles, buildings, cars and my favorite, a train engine.
The detail on this is amazing yet it is so small that you can't even tell what it is without looking through the microscope. The wheels, the smokestack and even a small driver are so perfect.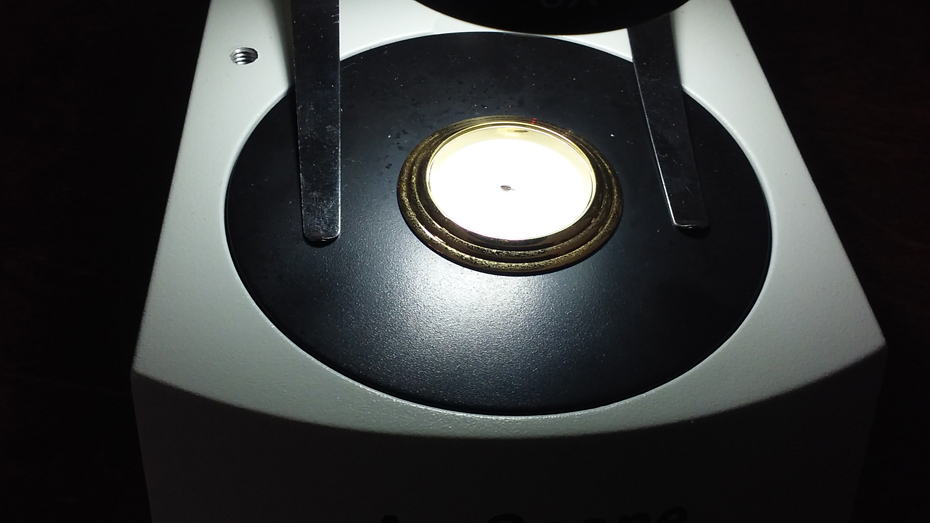 Scott, who is director of both the museum and the art gallery, explained. "To qualify, an artist had to be able to put horse shoes on a flea." He pointed to a piece of art under a microscope and sure enough it was a life-sized flea done in gold with tiny shoes on his feet.
The gallery has the largest collection of these micro masterpieces in the world, including the Guinness Book of Records world's smallest book.
For more info:
http://medievaltorturemuseum.com/