Exploring Country Stores, Part 2:
Some Favorite Things Gallery
315 Old Corinth Road, Hadley, NY
The Old Corinth Road Bridge, commonly referred to as the Hadley Bow Bridge, was built by The Berlin Iron Bridge Co. in 1885 atop the foundations of an 1813 bridge. The Bow Bridge is unique in that it is the only remaining half-deck (roadway passes halfway between the lower and top chords), lenticular, wrought-iron, truss bridge of only two or three ever built. Because of this, it has been listed on the National Register and recorded by the Historic American Engineering Record. The bridge fell into disrepair and was closed to vehicles in 1983. Through extraordinary efforts, the Hadley Bow Bridge was repaired and opened to traffic on 8/25/06. The reopening celebration marked the first time in 23 years that the two halves of Hadley were again linked by an operational bridge. (photo and caption courtesy Susan Wilder.)
You'll find the small hamlet of Hadley, NY, connected to its larger neighboring hamlet, Lake Luzerne, by a bridge over the Hudson at tumbling, churning Rockwell Falls. A stone's throw away is a new train station, part of the Saratoga and North Creek Railway. Hadley is perched at the confluence of the Hudson and Sacandaga Rivers, a breathtaking site that is spanned by two bridges, one, the recently-restored historic Bow Bridge, and the other, higher up, a railroad bridge over which once rumbled passenger and freight aboard the Delaware and Hudson Railroad, and now still used by the Saratoga and North Creek trains. This town that is so steeped in history and natural Adirondack wonders is the perfect site for Some Favorite Things Gallery, a gift shop in which each item is as fresh and unique as the wildflowers along a mountain trail.
If you find your way to Hadley and ask a local for directions to the gallery, you may get a blank stare. "Gallery? Here?" So just ask them to point you toward the former Agway feed store, and they'll direct you to Old Corinth Road, the road that delivers you the gallery in just a few yards and then continues over the historic Bow Bridge. You'll find a sign outside proudly attesting to the fact that all items are made locally (read here, "not in China,") and up on the porch – formerly the loading dock – you'll find an inviting display of wares to entice you into the shop. For a bit over a year now, proprietors Sue Wilder and Roni Shuman have been welcoming visitors into the shop, excitedly showing them each locally-produced item. The number of vendors has about tripled since their grand opening during Hadley's Maple in April Festival in 2015.
Roni and Sue had a long history of volunteering together on community projects – the town's bicentennial, Hadley's annual Maple in April Festival, as officers of the Hadley Business Association, and then a brief stint with a seasonal Christmas shop. After much discussion and guidance from SCORE volunteers, they took the plunge and opened Some Favorite Things Gallery. They love supporting local artisans and knowing they are helping to sustain the local economy. An additional high is reached when patrons of the gallery comment on the quality and originality of the local products.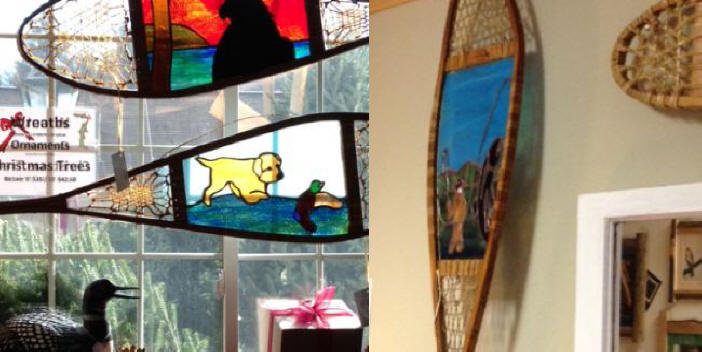 When this writer visited Some Favorite Things Gallery recently, Sue gave us a tour. "Everything we have is unique, one-of-a-kind art from some of the most talented artists in the North County," says Sue. She goes on to enumerate examples. "We have hand-carved bass wood fish made by Darryl Bradt of Lake Luzerne Fish That Don't Get Away." Then she showed us Made-For-You snowshoes with stained glass inserts of local adventures and nature created by Sarah Moore. She pointed out benches, pencil holders and bookends created by Dan Randall of Hadley, all made from repurposed old covered bridge timbers and beaver gnawed poplar. The tour continued with a rainbow of colorful woven items, including placemats, sock rugs and seat cushions, as well as baby blankets and hand-dyed mohair wraps. Next came outstanding paintings of Adirondack scenes and wildflowers painted by local artist Lynn Benevento. The tour continued with pottery, soaps and soy candles.

Sue and Roni never stop thinking of new things to do at the shop, and right now are expanding into a previously unused area of the building, to accommodate larger handmade items. In December the shop becomes a Christmas boutique, and in summer the deck will host "Market Place Thursdays" with fresh produce and local services, like knife sharpening.
If your Adirondack trail takes you near Hadley, be sure to stop in at Some Favorite Things Gallery to see what's cooking. Check for more on Facebook.
https://www.facebook.com/Some-Favorite-Things-Gallery-627423594054567/
All photos courtesy Susan Wilder.
American Roads and Global Highways has so many great articles you may
want to search it for you favorite places or new exciting destinations.
Ads fund American Roads and Global Highways so please consider them for your needed purchases.
If you enjoy the articles we offer, donations are always welcome.